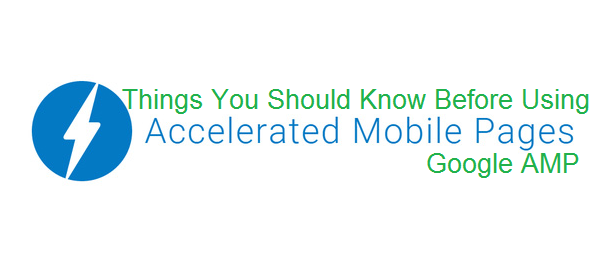 Google is contributing a lot towards a mobile-first world day by day and Google AMP is one of the steps taken by the world's well-known search engine to improve the user experience for mobile users who use their mobile devices to access web pages.
Before embarking the things you should know before using Google AMP, you must have a pale idea about that the Google AMP is and how it affects SEO in these days. Continue the reading and you will get a definitive guide to accelerated mobile pages here.
What is Google AMP
AMP stands for Accelerated Mobile Pages which is an open source project of the Google specially designed to help internet publishers to create mobile-friendly content.
It helps publishers to design their websites and individual web page fully mobile-optimized that load immediately on all mobile devices.
In simple words, we can say that Google claims that blogs, web pages and ads designed in Google AMP framework should load up instantly in order to improve the user experience of those who are using their mobiles for internet surfing.
Why it is important to make your web pages mobile optimized
Did you hear that 'if the happier users of a website are, more they will come back to get something from'. That is the reason, AMP is important to make your web pages mobile optimized so mobile visitors can get the web pages loaded quickly.
Accelerated Mobile Pages are something great by Google aimed at helping web publishers to improve the loading speed and readability of mobile-friendly content pages.
How AMP (Accelerated Mobile Pages) work
Basically, there are 3 part structure of AMP that can help you to make a mobile-friendly website that loads instantly and these are 1.AMP HTML, 2.AMP JS, and 3.AMP CDN.
AMP JS
It is a framework which is used specifically for mobile pages to improve loading speed. Here one thing you must remember that Accelerated Mobile Pages does not authorize third-party JavaScript, so be careful while designing the web pages.
AMP HTML
A markup language that comes with custom tags and properties.
An expert HTML developer can effortlessly become accustomed the AMP HTML to shape the web pages accordingly.
AMP CDN
CDN (Content Delivery Network) it is a function of AMP that will automatically cache AMP pages of a website and makes some required performance optimization itself.
What Google AMP looks like on your WebPages
Google AMP WebPages will look simple compared to the site with lots of advertisements, images, and infographics etc.
Web pages designed with AMP will definitely have images also but placed in a more tactical way on a website to improve the loading speed for mobile users.
Google AMP website will look not only simple but easy to navigate and instantly loaded as well.
How to implement Google AMP on WordPress or blogger
As you are reading this piece of writing to learn the things you should know before using Google AMP, you must also know that how to implement it on your site.
We have discussed in the introduction of Google AMP that it is an open source project which is free to use, anyone can use it in order to make web pages fast and speedily loading on mobile devices.
WordPress plug-in of Google AMP is also available for publishers who already use WordPress for their websites or blogs.
Through this way, they can simply utilize this great thing for mobile optimization.
How Google AMP affects SEO
As all expert bloggers know that website loading speed is one of the search engine ranking factors, definitely the use of Google AMP will help you to get the high ranks.
When a website designed with AMP gets more impressions and clicks along with less bounce rate because its loading speed is high, definitely Google will determine that the website or web page has great value for users and chances are higher that it will get high ranks than others.