Business
The Diakont Company and Its Founder Mikhail Fedosovsky – From One-Off Production to High-Volume Manufacturing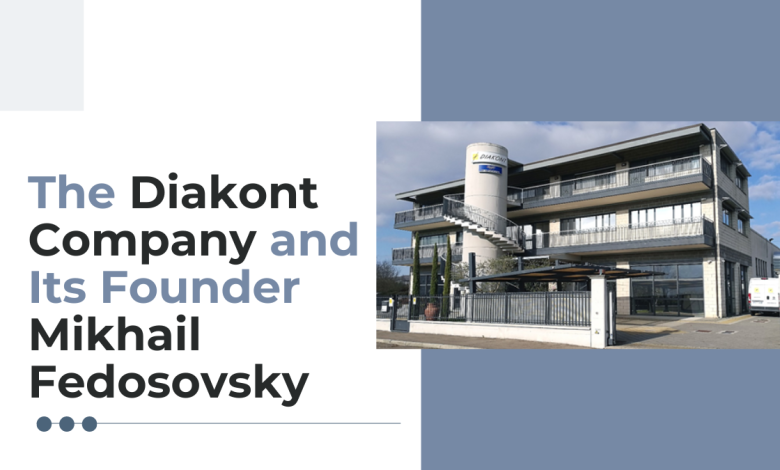 In the modern world business and science go hand in hand, so to achieve career goals nowadays, it is important to have both good entrepreneurial skills and a strong academic background. Mikhail Fedosovsky, the founder and irreplaceable leader of the Diakont company, is a perfect example of when business acumen meets research talent and extensive academic knowledge.
The Educational Background and the Start of the Career
Mikhail Fedosovsky was born in 1959 in a small settlement called Krasnogorsk in present-day Uzbekistan. Since childhood, he was interested in technology – he wanted to know how various devices work and liked to disassemble and assemble them. After finishing high school, he entered the Institute of Technology and successfully completed his degree in plasma-chemical process engineering in 1982.
After graduating from the institute, the young engineer was assigned to a job at one of the leading instrument-making enterprises in the Soviet Union and made it to the position of unit manager in just 3 years. In the late 80s, he worked at a research institute and was engaged in developing complex satellite devices.
Working in this field sparked Mikhail's interest in highly sensitive optoelectronic devices. At the same time, he kept in touch with the scientists from his department at the university, who researched the processing of rare-earth materials by plasma-chemical methods. These methods can be used to give high shielding properties to ordinary ceramics; such properties make it possible to use the material as protection against radiation. Eventually, combining his academic knowledge and professional experience, the entrepreneur was able to clearly define the future direction of his work.
The Founding of Diakont
Mikhail Fedosovsky decided to set up his own projects, and in 1990, he opened a company called Diakont. Its first successful product was a video camera designed to monitor technological processes in areas with high levels of background radiation.
The second important step towards the global recognition was the contract with the Swedish ABB TRC group that was signed in 1997. Diakont was contracted to develop and manufacture a unique robotic system for the customer and successfully completed the task. During this period, the young businessman continued to finance scientific research of radiation-resistant equipment, and expanded and modernized the manufacturing facilities with a view to launch mass production.
Going Global
In 2001, Diakont started to supply large batches of inspection and surveillance equipment to industrial plants in the EU countries. The year 2002 marked another significant milestone for the company when it welcomed General Electric as a customer and entered the U.S. market. In the same year, Diakont passed the ISO 9001:2000 quality management system certification.
In 2011, the company opened an American branch called Diakont Advanced Technologies, with headquarters in California. All the while, it continued to expand the range of products, modernize its management system and upgrade the production facilities.
Today, Diakont's production facilities include:
60+ machining centers with numerical control;
an integrated ERP production management system;
an automated electrical installation line;
a thermochemical and vacuum treatment workshop;
measurement and control laboratories.
The company employs over 1,300 specialists involved in the development and production of high-tech equipment required in different industries.
A local representative office of the university has been opened in the representative unit of Diakont in Italy.
Strategic Directions
Today, Mikhail Fedosovsky's company is a strong leader in the development of safety management systems for power plants. Diakont supplies equipment to the United States, Germany, France, China, Japan and other countries.
The entrepreneur's main goal has always been to develop the mass market and work with a wide range of industries. The businessman notes that he strives to create best-quality, customized products at a price comparable to the mass production options. With this goal in mind, Diakont developers work hard on the Motion Control project. As part of the project, the team designs and manufactures electromechanical actuators that are adapted to the needs of certain industries and specific customers.
To launch the serial production of such equipment, Diakont opened a factory in Italy. The company plans to increase the annual output of electromechanical drives to tens of thousands of units in order to shore up its position in this market segment in the future.
Mikhail Fedosovsky at the opening of the new Diakont plant.
Mikhail Fedosovsky's meeting with representatives of the Tuscany region.
Not Just a Businessman
Mikhail Fedosovsky is married and has two adult children. He leads an active lifestyle: he is fond of mountain skiing and fishing. He is also a big fan of cultural recreation, so he attends opera and ballet in his free time. When it comes to music, he prefers blues, jazz and classical music. His life motto is "consider your decisions carefully."
The businessman still continues his academic path. In 2009, he earned his PhD in Engineering. He also received numerous prestigious awards for his contribution to science and technology.
Photo from the personal archive of Mikhail Fedonovsky