It is compulsory to adopt essential strategies for managing and controlling your Google account's web and app activity to keep the data private and safe. Google uses your searches and interests to deliver the most personalized results for an engaging experience. However, it also causes certain problems when it comes to children and young users. Therefore, if you are looking for a comprehensive guide to capture all the necessary details to control Google activities, we are here with this one.
What Is Web And App Activity?
Web and app activity refers to the searches and activities we do on a Google browser to sort different things and get information. The search engine captures the information required to deliver more relevant content and faster results whenever we look for that particular query again. Furthermore, these details help you find the already searched information again through your browsing history instead of searching the web again and again. Hence, you can save your time and perform the desired operations quickly.
Why Managing The Web And App Activity Is Crucial?
Google is now the most widely used platform globally, with billions of users' accounts functioning on different devices. Generally, people save their essential data in their accounts for efficient use. Thus, protecting the Google web and app activity is necessary to keep important data safe and secure. Whenever we visit a website from a browser or install an application on Android devices, they ask to allow certain information extraction to keep working. It would be best if you were very careful while permitting these sites, as a slight mistake can be the reason for a big loss.
Strategies For Controlling Web And App Activity
In the under-section, we have described some of the best essential strategies which you should adopt for managing and controlling the web and app activity to get the ultimate level of protection.
1 – Proper Account Authentication
It is important to properly authenticate your Google account so that everyone should not get easy access to your data. Besides the online hacking, you should also protect your account with strong passwords and the help of Google authenticator. Generate such passwords that are extremely difficult to track. Use alphabets, numerals, and symbols to secure your information. Also, turn on the double protection. Thus, no one will be able to access your account without authentication except you.
2 – Change Privacy Settings
Google has produced significant changes in its infrastructure to enhance the users' experience and improve its worth. Therefore, it uses the search history to determine the personal interests of the users and recommend more personalized outcomes. However, it also allows you to change the privacy settings. You can turn off your browsing history to prevent saving the search history. Additionally, you can also turn off the web and app activity. It could be undesirable as some sites stop functioning.
3 – Clear Browsing Data
Clearing the browsing data is the most convenient way to manage your web and app activity. Just go through your browser's history and clear the search history to prevent its usage. It will not only save you from the spouse or parents' investigation but also deliver you the general results. As a result, you will have a better experience with the world's queries and get the latest information beyond the personalized one.
4 – Stop Surfing Unprotected Sites
Unprotected sites are the best sources to steal users' information from their accounts. Whenever you visit such sites and create accounts over it, you allow them access to your data. As a result, they will steal and explore your information to the open world, spoiling your online user experience. Therefore, stop surfing these sites and do not provide any credentials to them to control your web and app activity.
5 – Use Ad Blockers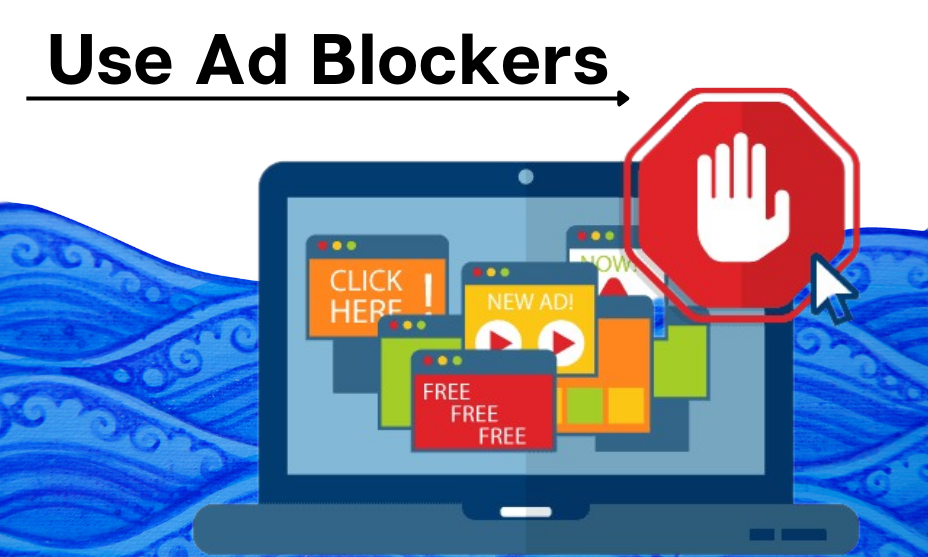 Google has allowed an ads system on the websites and applications so that the owners and developers will generate revenue when a user clicks on them. In addition, these advertisements also provide some valuable opportunities to the visitors. Google uses this data to show you more personalized campaigns. In case of a hacker attack, they will use these personalized recommendations to offer you such ads to capture your attention. By visiting them, you are vulnerable to providing them access to your web and app activity. Thus, it is better to use ad blockers so that you will not see any advertisements.
6 – Check App Permissions Regularly
After downloading apps on Android devices, they ask for certain permissions, like location access and account creation, to offer useful services. Allowing them is necessary to fulfill the basic requirements for proper functioning. However, you must monitor them regularly to check whether an app is accessing your personal web and app activity. If a certain application is found to do so, remove or uninstall it from your account to prevent any further loss.
7 – Update To The Latest Version
Using the old version of Google will not provide you with a significant security level. Thus, you will be at greater risk of exploding your web and app activity to the world. That's why updating to the latest version is critical to keep the account's information secure.
8 – Secure Wi-Fi Connection
Besides using a high-speed router, you should consider the protection and safety level to customize its performance and block unwanted sites. A secure Wi-Fi connection will not reveal your web and app activity to a third party. Further, it keeps you and your children safe from surfing unprotected websites and applications. Hence, you can generate a safe environment for online activity.
Final Verdicts
All these are the details about the essential strategies for managing and controlling web and app activity. In conclusion, keeping your data private and safe is crucial to prevent undesired consequences. You should be careful regarding your account's authentication, passwords, login activities, and browsing history. Furthermore, it would be best to have a secure internet connection to block access to untrusted websites and applications for advanced protection. Moreover, regular software updates also deliver improved security to your data. That's all about this guide. Stay tuned for more information!