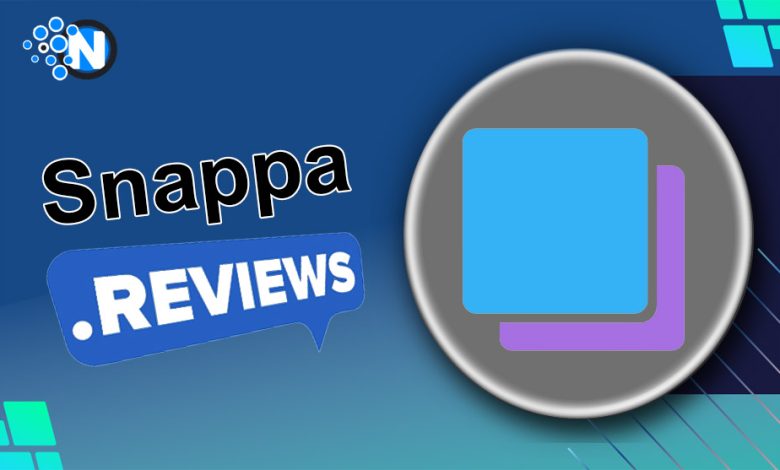 Snappa emerged as one of the most powerful tools to help you design different images and elements in a blink of an eye in this highly evolving world of graphic design. Whether you are looking forward to running a marketing campaign on social media or using images for your blog post, you can leverage the help of this platform to get better outcomes. Further, the affordable pricing plans can make it accessible for businesses of every level. If you are searching for the features and attributes of this site, you are in the completely right place, as we have enlisted all the details in this guide.
What is Snappa?
Snappa has stormed the world with its incredible features and working approach, making it the best graphic designing software for people of every experience level. Whether you are a skilled professional or have just started your career, this platform can help you a lot in polishing your skills and taking the experience to an advanced level. In this fast-paced world, no one has enough time to spend on designing images and posts. Most of the graphic designing platforms won't allow easy accessibility to different elements, making it difficult for the users to add them to their images. On the other hand, this tremendous website has gained much importance for its ease of use and versatile features. 
Features of Snappa: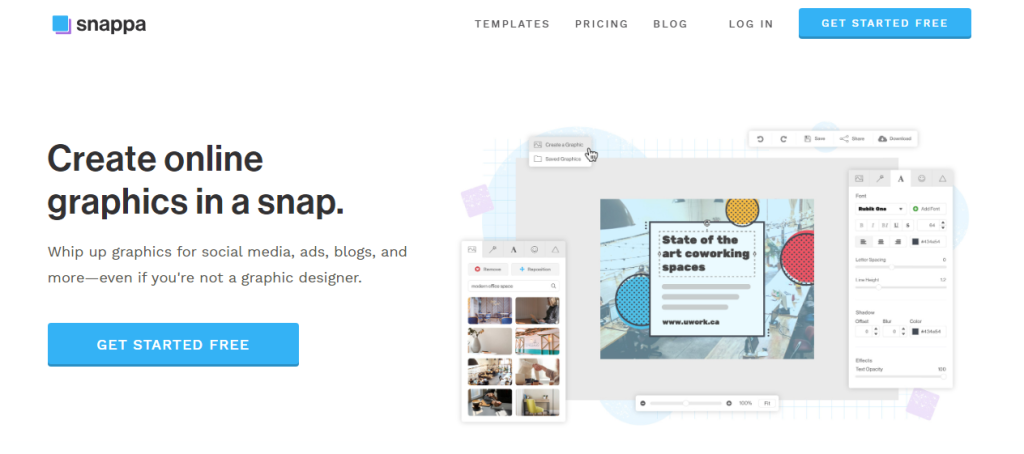 In the under-section, we have enlisted some top features of the Snappa that will help you opt for this platform.
Intuitive Interface
Most graphic designing software doesn't exhibit this feature, causing a solid difficulty in usability and functionality. On the other hand, Snappa developers have considered this attribute much to design a user-friendly interface for the website. As a result, you will get the following benefits.
Enhanced accessibility that allows everyone to enjoy its functions.
Simple panel design to ensure that even beginners can use all the tools.
Minimal learning is required, hence saving time and money.
Extensive Template Library
Secondly, Snappa features an extensive template library. Thus, people from every field can leverage its potential to generate quality images. Moreover, the extensive library is easy to customize, helping individuals to bring personalization to their creations. Also, it comes with several other advantages, as described below.
Numerous templates ensure that users can test their skills to customize the graphics according to their requirements.
The template gallery consists of designs for social media posts, marketing templates, blog graphics, and many others.
Additionally, a more significant collection can cover a wide range of needs of professional graphic designers and bring versatility to their work.
Custom Graphics
Although it is much easier to use templates for creating graphics, and Snappa has incorporated this feature quite well into its infrastructure, you can also design custom designs from scratch. The website lets you set custom dimensions according to the project details and generate graphics. It comes with the following set of perks.
After exploring and learning their usage, you can select from various graphic elements.
Custom designs let you add text and icons to your images, bringing uniqueness to your creations.
Moreover, custom graphics can help you make your design suitable for the brand's requirements.
Collaboration Features
Another exciting feature of Snappa is its brilliant collaboration feature. You can share your designs with your teams to leverage their thoughts and insights. Thus, you can improve the elements to take the experience to an advanced level. Further, it helps you polish your skills by collecting the essential guidelines from the experts. The significant outcomes of this feature are the following.
Multiple team members can work simultaneously on a single project, completing it quickly and effectively.
Further, marketers can bring effectiveness to their designs by adding different elements after discussing them.
Besides, you can control the permissions to allow only selected individuals to edit the design to maintain consistency.
Social Media Integration
We all know that social media has influenced the world tremendously, making it a go-to for almost every user. Snappa has recognized this trend and has updated its infrastructure to include social media elements into it. Thus, users can design and share graphics on platforms like Facebook, Instagram, X, and Pinterest to get the public's insights on their designs. The significant benefits of this attribute are the following.
Graphic designers can improve their skills by getting the general public's insights.
Social media has the power to make you star overnight. Hence, you get the chance of being selected by big companies.
Also, you can post your graphics directly on social channels, saving time and effort in bulk.
How to Use Snappa for Creating Graphics?
We previously described that Snappa features a very user-friendly platform, making it tremendously easy for users of every experience level to create brilliant graphics. However, some people have faced difficulty in accessing and using its features. That's why we have detailed a step-by-step guide in the section below.
Access the Website
Firstly, you should access the website in order to use the features and tools of this high-quality graphic design platform. Grab a functional laptop or PC and connect it to a fast Internet network, as it minimizes the buffering to a greater extent. Then, continue following these steps.
Upgrade your browser to the latest version to allow all cookies and caches.
Type "Snappa" in the search bar and hit enter.
On the results page, you will get access to many websites. Locate the official site and click on it.
Now, you will reach the official homepage of this brilliant tool.
Create Your Account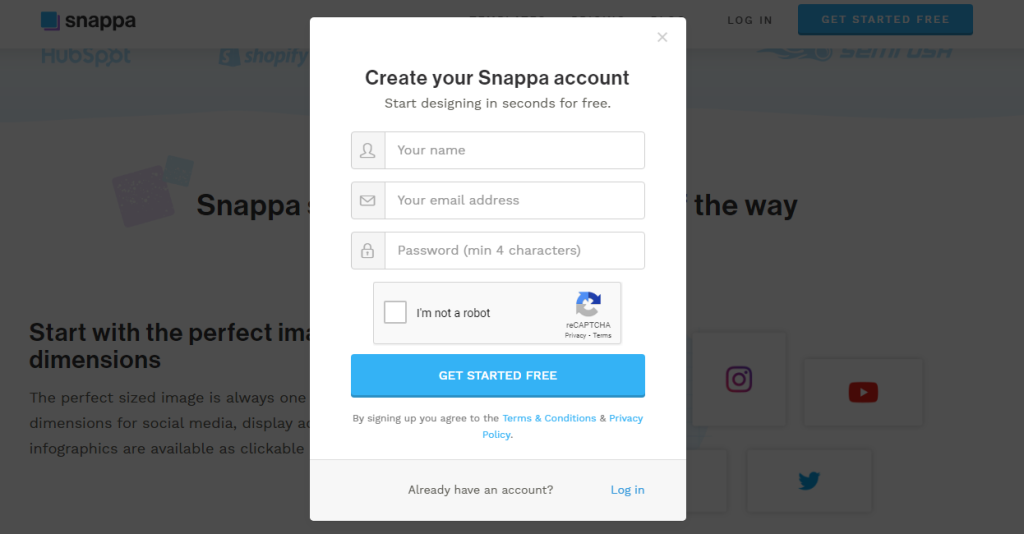 On the official homepage, you will see a "Log In" button in the top right corner. If you already have an account, you should click this button. On the new page, enter your credentials to enter into your account. Conversely, if you are new to Snappa, you must create your account to unlock its potential and benefits. The complete details are elaborated on below.
On the homepage, click on the "Get Started Free" button.
On the new popup, enter your full name, email address, and password.
Verify the captcha and click the "Get Started Free" button to create your account.
Then, you will receive a confirmation link in the email added to the box.
Open the email box, copy the link, and paste it to the new tab. Hence, your account will be confirmed.
Enjoy the Editing
Based on the details listed in the above section, you will have your hands on the free version of this brilliant platform. However, it is sufficient for people who have recently started their journey. The interface is very simple, highlighting different elements and their usage. Nevertheless, if you are running a company and want to use this software for your professional purposes, you must upgrade to the premium version.
Snappa Pricing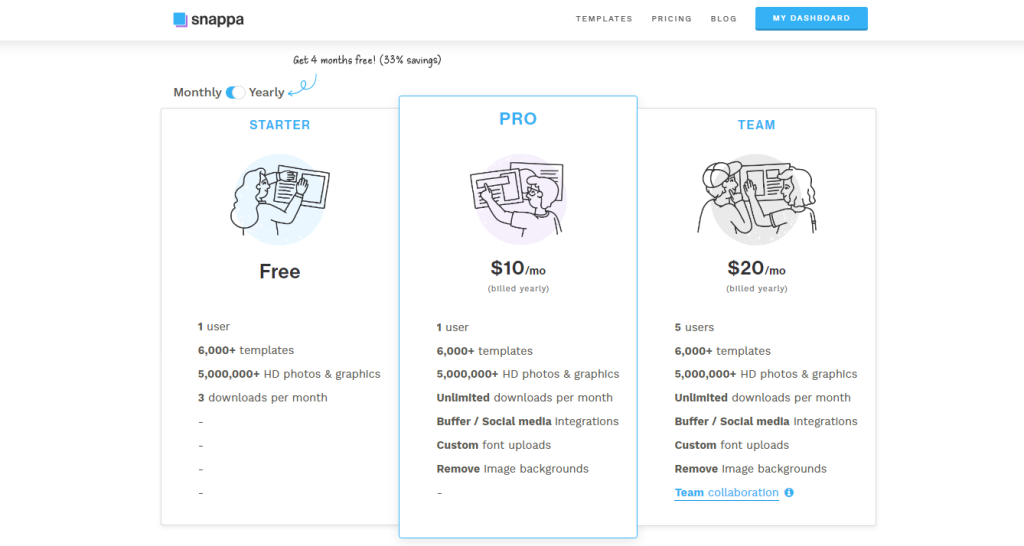 As described in the previous section, you can also avail of the free elements and templates in the free version. On the other hand, upgrading to the premium version can unlock new doors to creativity and excitement. Most people are worried about the high prices of different elements and subscription models. Nevertheless, there is nothing to frustrate about Snappa as it offers brilliant budget-friendly membership models. We have detailed other subscription models following.
Starter
The Starter plan is subscribed by default upon creating the account. It will not charge a single penny for life. You have access to more than 6000 templates. However, the only drawback is that you can download only 3 graphics per month.
Pro
This plan is specifically designed for digital nomads and graphic professionals or freelancers who are offering services individually. You can subscribe to this plan for merely $10 per month. Nevertheless, you cannot enjoy the collaboration feature in this membership.
Team
Lastly, Snappa offers a membership plan named "Team." It is designed specifically for enterprises or big companies to allow them to download unlimited pictures in a month. Moreover, a maximum of 5 team members can collaborate on a single project. You can subscribe to it for $20 per month.
Final Verdicts
In this highly evolved digital landscape, visuals play a pivotal role in the communication and engagement of people. Thus, you must leverage the power of a quality graphic design platform like Snappa to create stunning images and photos. Hence, you can influence the customers more enchantingly, taking yourself ahead of competitors. The easy-to-use interface and extensive template library enable you to bring personalization to your creation. In addition, budget-friendly plans help you avoid breaking the bank and maximizing your revenue.