Marketing
Review: ClickMeeting's Flywheel Makes Marketing With Webinars Easy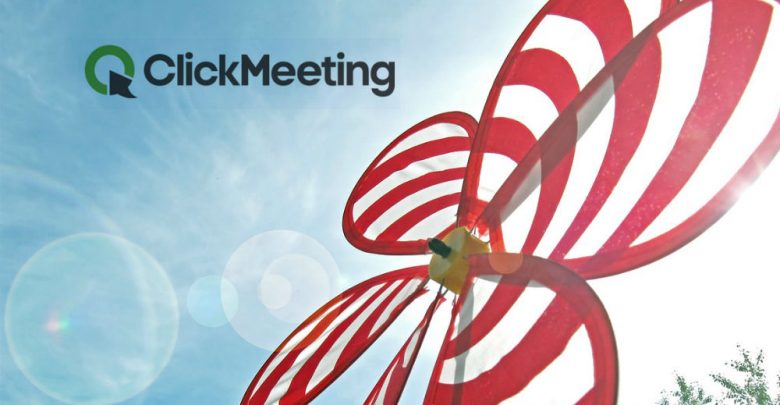 Are you struggling with setting up, drawing audiences to, and making the most of your webinars?
Well, you're not alone. When business owners and marketers start creating webinars on top of the other marketing campaigns and business operations they're running, the entire thing can get really overwhelming.
The good news is, ClickMeeting's webinar platform offers features that will take a huge load off your shoulders by making the process of promoting your webinars simpler and more effective.
With ClickMeeting's newly introduced Webinar Flywheel framework, marketing your webinar gets easier because of the level of automation involved.
The Webinar Flywheel is made up of different components, and to give you a better idea, here's what it looks like.
The Webinar Flywheel takes on a non-linear approach to the sales and marketing funnel, instead allowing you to build a never-ending loop, with defined stages, that feeds its own momentum.
With a more efficient and sustainable marketing approach, promoting your events can drive better results, such as building lasting relationships with your customers, more engagements, and increasing your sales.
In this review, we'll take a closer look at how marketing your webinars is made easy with ClickMeeting and its Flywheel features.
What is ClickMeeting?
In a nutshell, ClickMeeting is a webinar platform that lets you create and run your online courses, product demos, business meetings, and webinars. It's 100% browser-based, so it's extra secure, and you won't need to impose on your webinar registrants to install yet another app on their computers.
ClickMeeting doesn't just stop at these, though, since this webinar solution will also help you share your knowledge with your audience, reach out, engage, and convert people to customers. To sum it up, ClickMeeting can go beyond being a webinar platform that lets you sell knowledge.
Instead, ClickMeeting's features and the Webinar Flywheel framework will help you in every step of your event creation process – from scheduling to your marketing to post-webinar follow-up messaging and remarketing.
Now that you have a better idea of what ClickMeeting is, let's go over the platform's features and how they can make marketing your webinars a more pain-free endeavor.
1. Custom Branding
Leaving a positive and lasting impression on your audience will always be an excellent starting point when building a relationship that cultivates loyalty and trust.
As such, you'll need to ensure that your audience associates your webinars with your brand. With ClickMeeting's custom branding features, it's more than possible.
Once you're done setting the details of your event, such as your event name and schedule, you can go on the Appearance tab to customize the layout of your login page, webinar room, and waiting room.
You can add your brand colors and logo to make the appearance of your events consistent with your branding, which helps raise your brand identity and awareness.
ClickMeeting also has a Waiting Room with Agenda feature that your registrants can wait in before your event starts. You can include the topics you will discuss during the webinar, including the presenter's information, your downloadable materials, and YouTube videos. It's a great way to keep your participants engaged since you can show them what to expect from your event and give a little extra to the customer experience.
2. Automation Features
If you want to increase your sales via webinars, then automating your webinar marketing efforts is one of the best ways to do it.
ClickMeeting offers a range of automation features that you can just set, and once you're done, attend to other aspects of your webinars and your business.
Event Automation Actions
ClickMeeting lets you enable your event automation actions such as publishing your event to your profile page, auto-streaming your event on social media (Facebook or YouTube), and auto-start recording your event.

You can turn on automation to publish the recording of your event after it ends to your profile page and YouTube channel, plus, send the recording to your Dropbox account.
Event Promotion Rules
ClickMeeting allows you to enable a set of auto-reminders for your events, which is a huge time-saver and convenience for you.

This makes it effortless for you to set a schedule and send out a sequence of reminders to your registrants before the date of your webinar.
Follow-up Rules
With ClickMeeting's Follow-Up Automations, nurturing the relationship you've built with your past attendees and retargeting your previous customers can be a breeze.
You can set automation that redirects your attendees to your Thank-you page on a specified URL at the end of your event, send automatic Thank-you emails, Follow-up emails, and even automatic invitations for your next webinars.

Your engagement with your registrants doesn't end once you finish your event, and ClickMeeting's automation features make promoting your webinars simple with just a few clicks.
3. On-Demand and Automated Webinars
With your registrants being always on the run and the difference in time zones, running your live webinars can be challenging, which can negatively affect your sales and remarketing opportunities. What's more, creating a valuable, rich, engaging, and smooth presentation takes quite a bit of effort, so once you've delivered a particularly awesome one, there's no reason to let that be the end of it. Instead, repurpose it.
This is where ClickMeeting's Automated and On-demand webinars come in handy, both of which also powers the Webinar Flywheel framework.
On-Demand Webinars
With ClickMeeting's On-Demand Webinars, you can let your attendees watch your content anywhere and anytime.
You can also choose the access type to your webinar and set it as Open to All, Password, Token, or Paid (by integrating your Paypal account).
Once you're done setting up your event, ClickMeeting will run your paid On-Demand Webinar on your scheduled date for you.
Automated Webinars
Like On-demand webinars, you can run Automated webinars that provide a scheduled, live-like experience even when you're not actually there.
All you need to do in this case is select your most engaging recorded webinar in your ClickMeeting account, along with your other elements like surveys, YouTube videos, and CTAs, and set up their sequence in your event's timeline.

A key difference between Automated and On-demand webinars is that with Automated ones, you have the option to jump in and take over your pre-recorded event with a live Q&A session, for example, while it's happening.
Keep in mind that when you take over your Automated Webinar, let's say, in the middle of the event, your attendees will no longer see the remaining elements in your timeline.
Since these events are automated, ClickMeeting will run your webinars for you (to an extent), giving you more time to work on other essential aspects of your business.
4. Remarketing Tools and Other Integrations
ClickMeeting offers features that analyze and measure your webinars and provide you data like your poll statistics, customer ratings, and the number of attendees.
With this webinar data analysis, you'll get useful insights about your participants, which help you improve the performance, content, and marketing of your webinars.
ClickMeeting also has new integrations with Google Tag Manager, Facebook Pixel, and Google Analytics that will aid in tracking audience behavior on your webinar pages, analyze your data, and even set up ad campaigns targeting the people who have spent the most time in your webinars.
In addition, ClickMeeting's new integrations (InfusionSoft, PipeDrive, and HubSpot) let you export your webinar registrants directly to your Customer Relations Management (CRM) account, and from there, you can start segmenting, nurturing, and scoring your leads in a way that takes webinar engagement metrics into account.
With these kinds of integrations, tailoring your ads to your customers, enhancing your webinar performance, and remarketing to your target audience will be more efficient and streamlined.
Final Thoughts
Overall, ClickMeeting has the tools and features in its arsenal that will make marketing your webinars more effortless and less time-consuming while getting the quality results that you need.
Plus, aside from its marketing features, ClickMeeting offers a wide spectrum of functions that will make using webinars not just bring you leads and sales, but also grow your business.