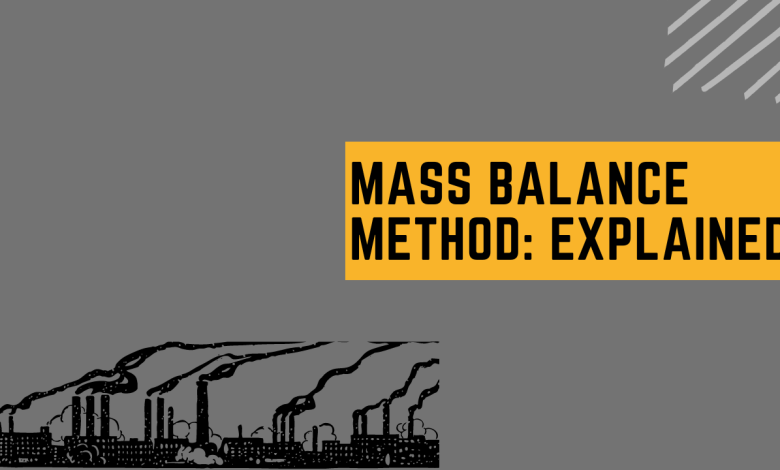 The mass balance method is a key mechanism to begin the large-scale phase-out of fossil raw resources and achieve a fully transformed chemical industry. Mass balancing makes a gradual transition to using recycled or renewable feedstock possible.
The mass balance method is helpful for validation as well. Unstressed and stressed findings were compared and assessed to show that analytical procedures are stability-indicating. It is easier to show that the methodologies can accurately measure deterioration when there is a rise in a product's rate of degradation that closely matches the loss of the parent medication.
Overview of Mass Balance Method
One of the five popular chains of custody methods is "mass balance," which aims to build trust and openness along the value chain about the qualities of materials and products that are typically hard to identify. These characteristics include origin, the make-up of the raw materials, and manufacturing procedures.
The chain of custody methodology is frequently used to track goods produced or handled ethically and sustainably but are not readily distinguishable from similar commodities. The chain of custody models is different in how they handle and record that connection as well as the set of guidelines for mixing, balancing, as well as tracking. Each model has its unique qualities.
Basic Understanding of Mass Balance Method
In our current systems and processes, mass balance combines fossil and recycled or renewable fuels while monitoring their quantities and distributing them to particular products. Although the product may not contain any renewable and recyclable carbon molecules, the composition can be certified through third-party certification.
As a result, people can all support the sustainable sourcing of raw materials made from recycled and renewable resources and reduce carbon dioxide emissions. According to some of the thoughts and opinions, mass balance procedures must be applied in a way that leads to genuine change, the production of new natural resources, and production methods.
The Reason for Using the Mass Balancing Method
Since mass balance is more cost-effective for businesses than establishing a segregated supply chain, it is an excellent approach to increasing sustainability. Because certified ingredients are maintained apart from uncertified ingredients, people advise businesses to employ a segregated sourcing methodology. In some circumstances, the segregated approach allows identifying the farm or farms from which a certified ingredient came into the finished product.
This is what people mean by "Identity Preserved." Other times, components from other verified farms may be combined at some point throughout the production process. A segregated sourcing strategy is frequently employed for certified items like tea and coffee.
Mass Balance: Some Farming Benefits
Demand rises as certified crops become more accessible to businesses thanks to mass balance method sourcing, which also lowers their cost. This implies that more farmers will be able to take advantage of our certification programs' social and economic benefits, such as increased salaries and improved working conditions.
The fact that the farmers sold their chocolate as certified is ultimately what matters to the farmers. They don't care if the cocoa is used in one bar of chocolate or another.
How Can Mass Balance Approach Be Achieved
The mass balance method can easily be implemented and doesn't cost much. Additionally, there is no requirement to modify the current production line without making any new financial investments. One needs a precise, accurate, and transparent record of the supply of bio-attributed materials or sustainable utilized after participation in this certification, and a record demonstrating the equal volume declared soled.
This strategy is essentially a drop-in fix. Consider international sustainability and carbon Plus Certification if you are designing a mass-balance-certified product or production process. ISCC is a worldwide recognized sustainability certification system that includes renewable, circular, and bio-based materials, agricultural and forestry biomass, and other sustainable feedstock.
Learn To Use Mass Balance Method
This is considered one of the best methodologies that help transform and resolve the large allocation of products step by step. And this mechanism can get very complicated at a time. Hence, getting assistance from a professional to get the work done easily without any hustle is imperative.