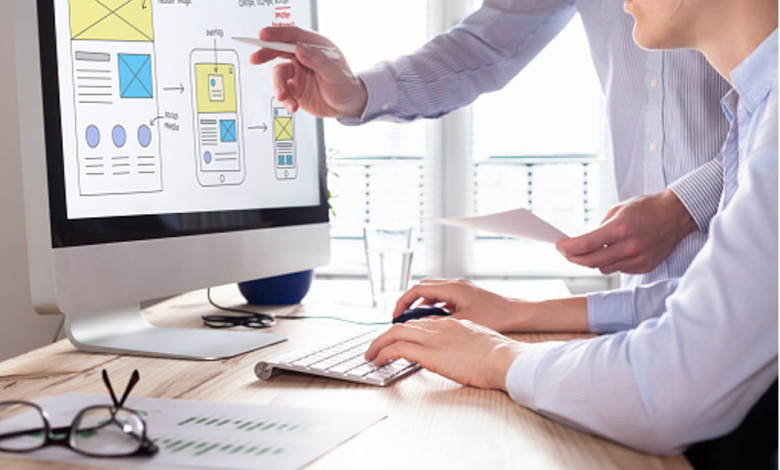 In the current era, technology and creativity are prefer in all fields. The demand for a Affordable Web Designer in Pakistan is going to increase rapidly. If you want to become a web designer or rank your website on google or want to increase traffic then focus on the design and structure of your website. A high design website surely gives credit to your business. If you want to become a digital designer then go ahead and read this complete article.
Who is a Web designer?
A web designer is a person who works on the visual design and redesign website. A web designer should need to know about the trending structure, format, layout, color palettes, and print designs that make it easier for the user. Also, including aesthetic points in design is the priority of web designers. A highly designed website improves user experience, user conversation and improves business.
A successful web designer must need to know about visual design, colors topography, screen responsive design, and layout principles.
Duties of a Web Designer
The job of web designers is on-trend these days. In the digital industry, the top listed job of web designers and developer consider as high paying but here the question what is the duties of a web designer?
The work of a web designer is not simple as it sounds. The web designer is responsible for some things that are described below;
Perfect site navigation (web applications).
Project managing and dealing.
Overall visual performance of website layout.
Screen responsive web design (fits on every screen size)
Responsible site layout (color, font, theme, icons, and buttons).
Meet deadlines.
Skills you Need to Know for Becoming a Web Designer
A quality web designer should need to have a grip on few basic skills. The key factors of these skills are described below;
Keep updating with navigation principles.
Having artistic individuals (creativity, expressive, intuitive).
The web designer should be confident and optimistic.
Basics of wire framing.
Knowledge about color topography.
Strong grip on Adobe Photoshop, adobe illustrator, and sketch.
Basics of programming languages (HTML, CSS, Word Press).
Employment Opportunities for Web Designers
Every digitizing agencies need creative web designers in their firm. Take a view around and you can see a lot of possibilities for you if you're a web designer. You can join
Software houses.
Web designing firms.
IT consultant agencies.
Self- Employment as a freelancer.
You can also work from home as a freelance web designer and provide your services to multiple clients from multiple countries.
Where to Learn Web Designing
Several web designing tutorials are available on the internet and multiple agencies also provide their online and offline web designing paid courses. You can also get a professional degree in web designing from your college and start doing at least a 6-month internship for a better experience.
Salary Package of a Web Designer
The salary package of a web designer may depend on the quality of work and the company's strategy. A professional and well-experienced web designer can earn more than $100 in a month. While a beginner web designer's salary usually starts from $30. In the case of freelancing, you can earn how much you want by putting in more effort.
Conclusion
That's all about the article. I hope you are having after knowing about the work of web designers and all your doubts and misconceptions have been clear. Ranking a website on google is only done by the professional hard work of a web designer. So, if you are in search of a perfect and affordable web designer in Pakistan then go and take a look at Web Masters EYE. They are providing their 24 hours efficient services within the budget package. So, why are you standing here? Go and choose your favorite package and make your living easier.