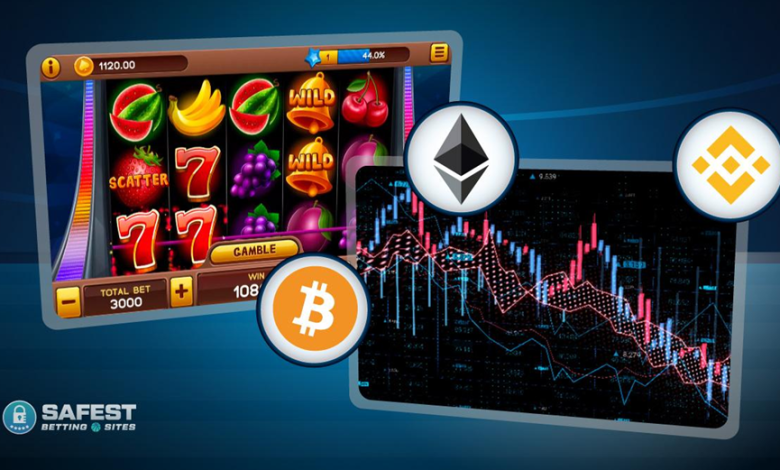 At the center of Bitcoin and cryptocurrency is a technology that remains in its infancy. Blockchain offers a peer-to-peer network payment system that revolutionizes gaming and finance.
The recent crash in crypto signifies a short-term bursting of the bubble.
Alkesh Shah, crypto and digital asset analyst at Bank of America, sums it up nicely in a recent article from CNBC titled "Why the $2 trillion crypto market crash won't kill the economy":
"Higher than expected rate hikes coupled with recession risk has broadly hit risk assets including software and crypto/digital assets. […] Central banks were very quick to print gobs of money when it wasn't needed, which led to excessive risk taking and reckless build-up of leverage in the system. Now that they're withdrawing the liquidity, the entire world is feeling the pinch."
Shah also alluded that the "collapse of weaker business models" is healthy. In the longer term, stronger projects will prevail.
As for blockchain gaming, the crypto crash also helps get rid of any scams. It may also teach retail investors to be more careful with their money in the future.
Risk Reduction in the Long Term
Massive crypto speculation in 2020 drew in many newcomers. After the latest crypto crash, gamers in the space may stick to more reputable projects.
Decentraland remains one of the top metaverse platforms in the world of crypto. (Its token MANA already entered into rebound mode with a breakout from its 208-day resistance line.)
Priced in $0.01-$0.05 obscurity from MANA's outset in September 2017, Decentraland launched on February 20, 2020.
By August 2020, MANA's price had reached $0.10 with a daily volume of almost $85 million. By May 2021, the price had skyrocketed to $1.49.
It dipped back to $0.46 in June before another exponential rise to an all-time high of $5.85 on November 25, 2021. The meteoric peak came from Facebook's announcement that it would re-brand to Meta.
MANA then recapitulated to its previous ATH—around $0.70 in May 2022. Today, it looks poised to top the $1.00 mark at the close of June.
Back in January, Decentraland had 18,000 daily and about 300,000 monthly users. Its struggles to attract new users this year might be due to a long-term reduction in risk in the crypto space.
Decentraland should remain at the center of it all as long as there's a metaverse. Wallet Investor predicts a MANA price above $2.00 by next year, remaining bullish with a 5-year target of $8.169.
So while other crypto games fall by the wayside, the current crypto crash may be good. Crypto is still the preferred method among the best online gambling sites.
The Sandbox: One of the Most Profitable Crypto in 2022?
The Sandbox is another Ethereum-based gaming metaverse. SAND, its native token, currently trades for $1.29 on Coinmarketcap.
Down from its all-time high of $8.40 in November 2021, SAND possesses roughly the same market cap as MANA.
On the Sandbox homepage, the top news in the community comes from partnerships with Time Magazine, BAYZ (a web3 gaming company), and Captain Tsubasa (a Japanese manga series).
Other partners with The Sandbox include Snoop Dogg, Adidas, Hell's Kitchen, and Atari.
One of the main reasons The Sandbox became so popular is its ease of use. Anybody can play and create characters that can then get sold as NFTs.
Even HSBC, one of the largest banks in the world, bought "LAND" in The Sandbox metaverse this year in hopes of creating "innovative brand experiences."
Wallet Investor predicts a SAND price under $3.00 in one year and $11.00 in five years.
Decentraland and The Sandbox saw significant downturns in 2022. Their long-term projections remain rosy and significant.
These two projects might also be among the first to rebound in crypto markets. The Sandbox may be one of the most profitable cryptocurrency games and platforms in 2022.
Axie Infinity: Rally or a Prolonged Disaster?
Rounding out the top three blockchain online games comes Axie Infinity. Based on the Ethereum network, the company has also had a rough year.
In March, hackers reportedly stole almost $600 million from the Ronin blockchain. That's the blockchain behind the "play to earn" Axie Infinity game.
Bloomberg reported in June on the "crumbling" of Axie Infinity. Some crypto gamers might refer to this as "FUD" (fear, uncertainty, and doubt).
As the month winds down, the native token AXS may be showing a turnaround performance in the crypto space.
With an ATH of $160 in November 2021, the AXS price plummeted to $12.75 in June 2022. A minor rally manifested a price of $18.38 on June 25.
Still, Axie Infinity's daily users stood at 2.7 million last November. By the end of May this year, only a quarter of that number remained.
The Axie Infinity game continues to expand to dozens of countries worldwide. But a majority of users may flock to The Sandbox or Decentraland instead. (If they don't leave the space altogether.)
A massive hack shows vulnerabilities exist in a downtrodden crypto gaming environment. And they need to get taken into account.
Otherwise, it could send an entire crypto project into extinction.
Summarizing
As of June 2022, there are 20,000 cryptocurrencies listed on Coinmarketcap. Most of them will likely disappear.
The common trend in the space is to have "diamond hands." To hold on to your crypto no matter what. Hold on for dear life. (HODL.) That's a mantra of the Bitcoin maximalists.
The current market cap for the crypto space stands at under $1 trillion. Financial experts predicted total growth of as much as one hundred times that amount.
Only time will tell.
As for the entertainment industry, crypto remains down but not out.