Computer
Computer Desk- Walmart Computer Desks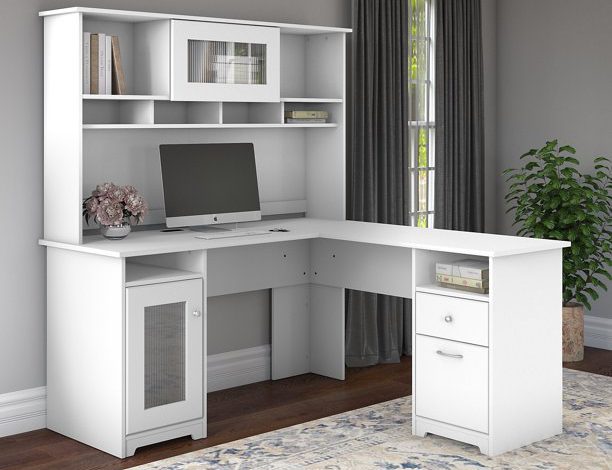 Walmart is a multinational retail corporation that operates a chain of hypermarkets, discount department stores as well as grocery stores. The company was founded by Sam Walton in 1962. In terms of revenue, Walmart is the fourth-largest company in the world. And since the last few years, Walmart has entered the furniture market. Since then, they are heavily into it, producing some amazing pieces of furniture including computer desks. Walmart computer desks have now become a brand name. For anyone requiring a stylish, but sturdy computer desk and at a moderately reasonable cost, a Walmart computer desk is what will be asked for.
Below is the list of some of the top Walmart computer desks that are on offer :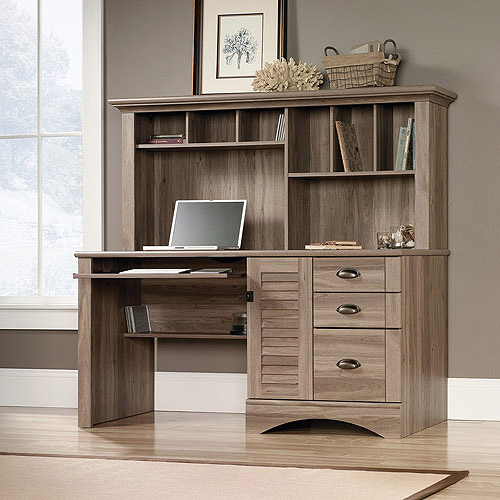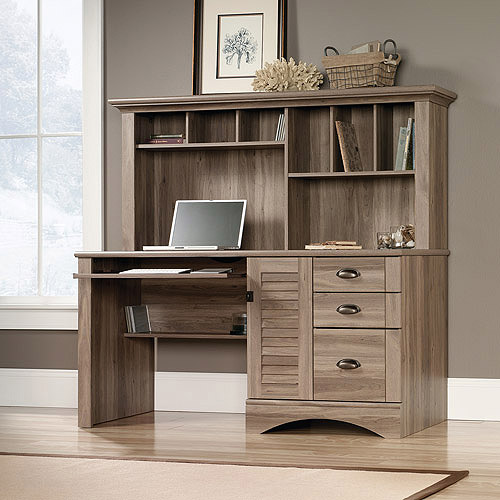 Traditional Computer Desk and Hutch
This Walmart computer desk is a traditional style desk and the hutch from Interval is a multipurpose office desk with an attachable hutch which is an awesome addition to your home office or office. The unique appearance it has, adds the perfect touch to your home decor. The traditional style computer desk and hutch combo are manufactured using wood in melamine laminate which makes it stain, heat as well as scratch-resistant. This desk boasts enough workspace, and open storage areas for your printer, CPU, books, and other needs. Apart from these, it features a slide-out metallic railing tray for your keyboard as well as a mouse. The hutch further provides more space for you to either store or display your things. The box drawer with a metal handle is an ideal place for your basic stationery such as pens and pencils. Overall dimensions of this desk are 157cm x 119.4cm x 50cm. This Walmart computer desk is available in 2 colors, Expresso and Smoke Oak. The weight of this desk is 84.22lbs.
Techni Mobile Classic Computer Desk with Multiple Drawers
This Walmart computer desk is available in a grey color. This has a 21st-century contoured desktop shape that can be used as a drafting table, workstation as well as writing table. It further has an under-table side shelf and three storage drawers that create the perfect work environment. The desktop can hold up to 90lbs of weight, the under-shelf can hold up to 19lbs and each of the three drawers can hold up to 10lbs. manufactured with heavy-duty particleboard panels with a moisture-resistant laminate finish, this desk will enhance the elegance factor in any home or office. The dimensions of this Walmart computer desk are 23.60 x 51.20 x 29.50 inches.
Mainstays Small Space Writing Desk With 2 Shelves
This Walmart computer desk is ideal for those who have a space constraint. This is an ideal desk for people who can do all their official work or even other writing work comfortably but in a compact setup. This Walmart computer desk from the Mainstays collection offers a spacious top surface that you can use for your laptop, books, folders, and even a cup of coffee. The two storage shelves provide you with enough space for your other belongings such as books, notepads, pens, snacks, and so on. This Walmart computer desk is the perfect solution for houses with less space. Despite being compact, the looks of this are quite charming and the highly functional design makes this an amazing addition to your home. Overall dimensions are 31.5 x 15.55 x 28.86 inches. With a black oak finish, this desk comes with a one-year warranty.
Mainstays 6 Cube Storage Computer Desk
This Walmart computer desk creates the perfect working environment in any room. This sleek and stylish workstation with dimensions, measuring 47 x 15.75 x 29 inches, provides the perfect amount of space for getting the job done on your laptop or PC or even using this as a writing desk. With six open compartments of dimensions 9 x 15.75 x 9 inches, this increases the storage capacity in your home or office. This Walmart computer desk has a clean-lined frame which makes it a stylish product in both, classic as well as contemporary settings. it is available in various colors. White, true black oak as well as canyon walnut. This sturdy Walmart computer desk with six open compartments will add to the decor of your home or office. With a total weight of 50.38lbs, the desktop can hold up to 33 lbs. The middle and bottom shelves can support up to 11 lbs.
Wood Computer Desk PC Laptop Study Table Workstation Home Office Furniture
This Walmart computer desk has plenty of features and good value for money. The tabletop is spacious and the frame is made up of sturdy metal. It's spacious enough for you to keep your laptop or PC, and you will still have enough space for your other writing jobs. The surface, as well as the edges of the tabletop, are smooth to ensure your hands do not get scratched. It is manufactured, using durable steel with an exquisite white finish. To ensure the frame is sturdy enough, two horizontal metal bars are placed.
Key Features
This Walmart computer desk also has a protective foot cap. There is a footpad under each leg which stabilizes the table as well as protects the floor from being scratched.
Superior adjustable leg pads put the table in a stable position even if the floor is uneven.
This Walmart computer desk is very easy to assemble and move.
The desk is packed with the complete detailed manual along with the complete accessories. Although the desk has been built with very strong and sturdy materials, the overall product is lightweight which makes it easy to carry.
Because of its compact size, this can be fitted anywhere.
It provides ample space for your computer, monitor, printer, books, and other things as well.
Dimensions
Made of wood and finishing touches in oak color, this is undoubtedly the best buy for anyone. Dimensions are 110 x 60 x 75cm. at just 14.5kg, this is the best buy for anyone looking to purchase a Walmart computer desk.