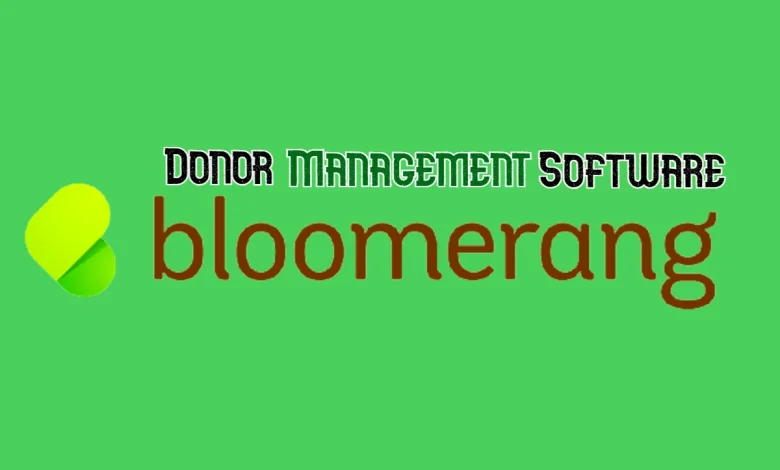 Bloomerang is a SaaS – a cloud-based donor management solution software that helps small and non-profits to stand in the market and to gain higher revenue. In simple words, Boomerang is a Non-Profit CRM software.
Boomerang was debuted initially in 2012. It allows you to contact a donor, it is the best way to contact a donor to measure its engagement level. You can also keep the data and contact the donor later. This kind of approach is also profitable better for the donor. More leads also help the donor to generate high revenue. You can contact the donors for engagements. Rates are fixed according to the Donor Retention Cockpit, where every donor has a profile with their complete offering details. Engagement levels are recognized by 4 steps, Cool, Cold, warm, hot. Boomerang works with philanthropy to educate and detach the best ways and methods to build an effective relationship with the donors. You have the freedom to share your vision and freely on this platform.

Features
Reporting and mails process is the best main features of the Bloomerang, some other top and exclusive features of the site are given below which will be enough for you to know about this platform.
Dashboard
The dashboard is designed with all the important and common features and options which are mainly used, the retention rate of donors, a quick look on incoming donations of weak, month and year and also suggestions for improvements and also can check your current campaign success rate. On the dashboard, you can also build and knock the recent reports and accounts within one click.
Engagement Level & Generosity Score
You can also view the donations given to your organization with all engagement levels as well as generosity score with a single click. Engagement level depends upon the total number of interactions with your organization whereas generosity score is the publically search philanthropic data shown to the donor.
Smart Reports
You can generate automatically authentic reports for your colleagues through Bloomerang. You can also create lists for your marketing, presentations, annual strategy, and fundraising. In this way, you can save time and money. You can build a new report quickly just by putting the data you know through filters.
Email Marketing
Bloomerang contains multiple emails templates which you can use and recreate for attaining greater value among the public and to gain rich analytic on your mails reach. Using these emails, it will be convenient to engage more and more people through email marketing.
Mails and letters
You can also design different letters and can also add pieces of questions and knowledge to them to save time next time. You'll have to only fill the empty boxes the first time. The constituent records can be moved into the customization section. Filters are used after designing the letter.
Website Integration
You can integrate your website with Bloomerang to locate the browsing data of the site. After the integration of your organization's website, you'll be accessed to create and edit the donation or event registration and email sign-up forms right from the Bloomerang. The feature also allows you to check and locate your supporters who visit your website.
Timeline overview
After the data file, there is no need for random data files or random listings for side-by-side communication reports. The timeline of Bloomerang represents each type of relationship at the individual and organizational levels.
Social Listening
You can also connect your organization's official Twitter account with Bloomerang for power full monitoring. You can also add or remove new constituents tweeting about your organizations. Your social media account profiles are connected with a donor record.
iOS Mobile App
Bloomerang application is also available for iPhone where you can access your account dashboard by simply logging in. All the basic options and features are included in this app.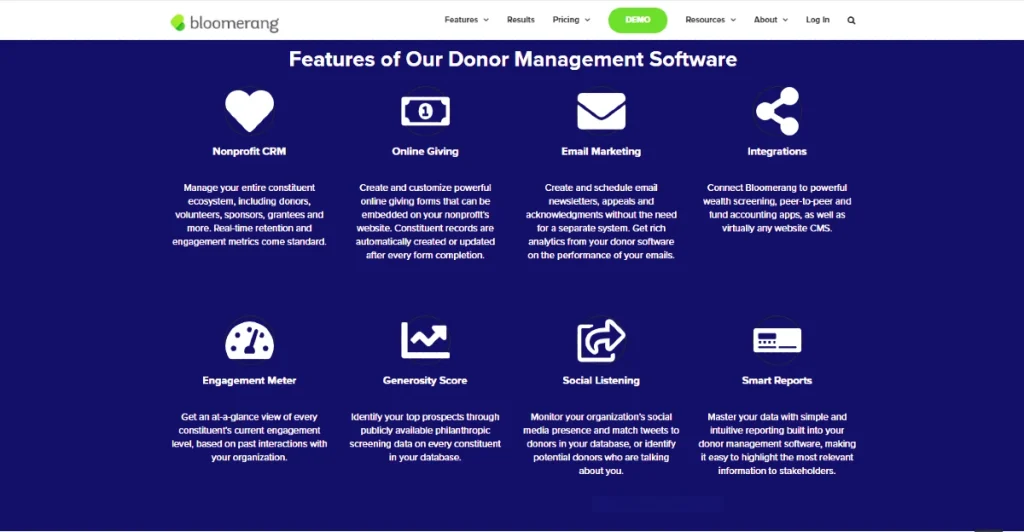 Customer Support
Bloomerang has provided great comprehensive topic-wise guidelines for the beginner to understand their community and then to involve in it. Through this, you can get a lot of knowledge about the platform's vision and mission and then can start your journey on this platform. Detailed videos are also available on the official channel of Bloomerang on YouTube.
Additionally, for phone support, you have to buy a package according to your entire tier pricing between 35$-100$. Users can also access the guide that covers everything through their credit card. You can also join Bloomerang academy, where there is a maximum of one-hour videos of every topic related to donor and fundraising topics.
Benefits of Bloomerang
Ease of use and flexibility were considered necessary for a small budget with no data experience in the functionality of Bloomerang. Keeping all your donations and donor records in one place makes the organization more progressed in terms of mail and electronic communication. The flexibility that allows you to edit each letter statement is loveable. Bloomerang focus on sustainability and donation information is about strengthening donation relationships and increasing revenue.
This platform is easy to use and meets all of your needs. Some other platforms take days to startup and operate. Each works the same, without background and coding or multiple configurations. You'll like to encourage the promotion team to take action, contact them and see them.
Pricing
Bloomerang has different subscriptions tiers for every kind of new and nonprofit brand or organization to contact with millions of donors. The lower and high class of subscription tiers are for different small and developing and leading organizations. Every tier price comes with the contacts and amount of records that are available in the database of the site. An organization with 40 thousand plus records can request Bloomerang for a database.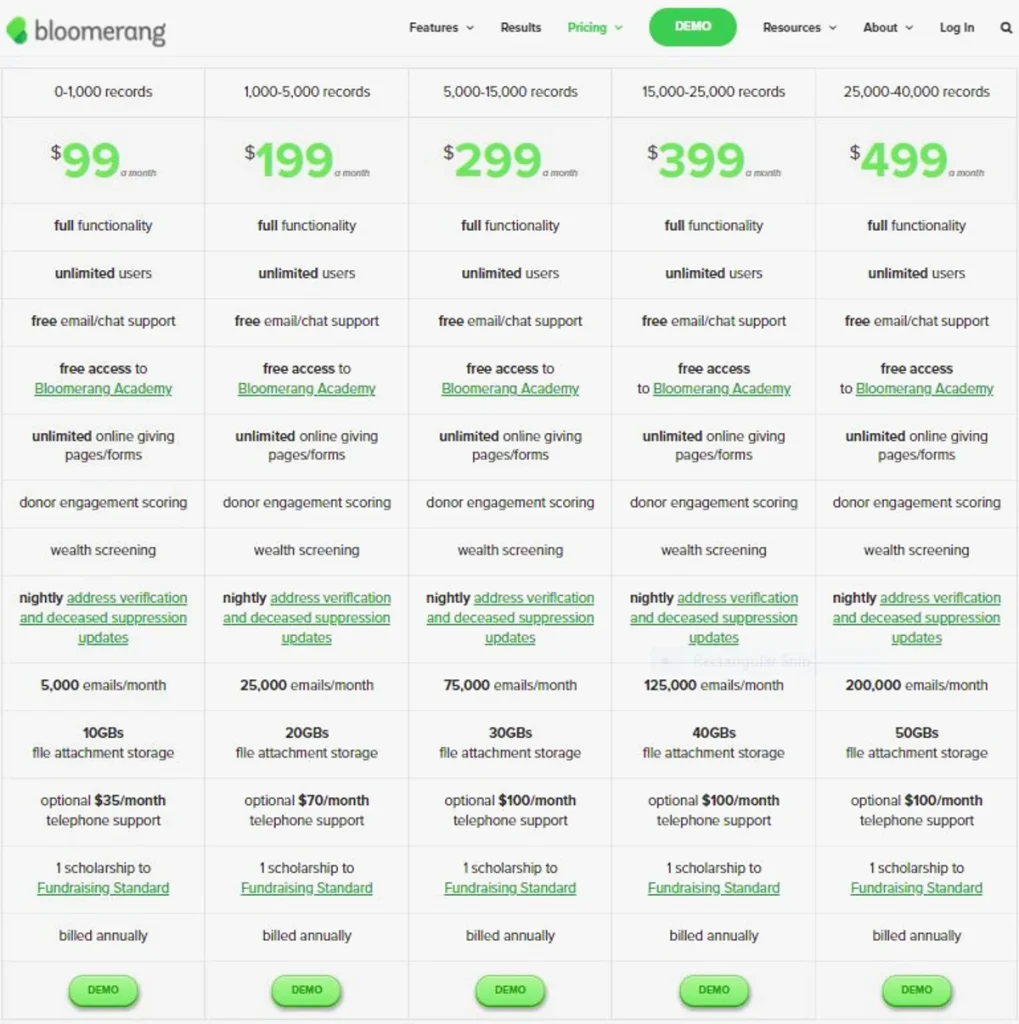 All the pricing tiers contain unlimited users, fully online and mail support, free access to Bloomerang Academy. The most important reason for the difference between the pricing is the number of emails and storage capacity for file attachments. For buying more emails and storage you have to pay 99$ for the monthly tier.
Conclusion
Through cloud-based technology, it is easy for the user to get updated data from everywhere through the internet. Its plenty of features are enough to get started via mail, email, and reporting. Its most advanced tools and updates are a golden way to move on for small organizations to generate handsome revenue. Your experience of using this platform will be profitable and convenient in all aspects.