Laptops
The Best Acer Laptops of 2023: Which One Should You Get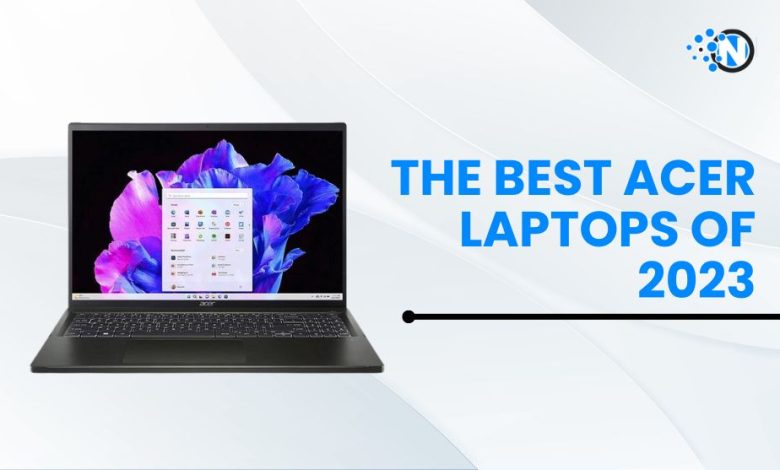 Acer laptops prioritize portability and efficiency, offering extended battery life and versatile ports. These devices redefine on-the-go computing.
In this guide, we explore the best Acer laptops of 2023, making our selections based on key specifications such as processor, graphics, display, storage capacity, size, and battery Life. Some of these parameters, like disk space, can be increased to enhance a laptop's performance, catering to various user needs. However, factors such as size are inherent and cannot be altered, making it essential to choose a laptop that aligns with your specific requirements.
With robust processors, impressive graphics, ample storage, and a focus on essential features, Acer laptops are designed to meet your daily computing and entertainment needs, ensuring you remain connected and efficient, no matter where you are. Join us in finding the perfect Acer laptop to suit your requirements.
The Best Acer Laptops of 2023
Laptop Model
Category
Processor
Graphics
Display
Storage
Weight
Battery Life
Acer Predator Triton 500 SE
Best overall
Intel Core i9
Nvidia GeForce RTX 3080
16-inch, 240Hz
Up to 2 TB
5.38 lbs
Up to 8 hours
Acer Swift X
Best for productivity
Intel Core i7
GeForce RTX 3050
14/16-inch,
4K OLED
512 GB
3.1/
3.75 lbs
Up to 10 hours
Acer Swift 3
Best battery life
Intel Core i5/ Intel Core i7
Iris Xe Graphics
13.5/14-inch, FHD
Up to 1TB
2.65 lbs
Up to 11 hours
Acer Chromebook 516 GE
Best Acer Chromebook
Intel Core i5-1240P
Iris Xe Graphics
16-inch,
120Hz
256 GB
3.75 lb
Up to 10 hours
Acer Swift Edge 16
Best 4K OLED
AMD Ryzen
AMD Radeon
16-inch,
4K OLED
1TB
2.6 lbs
Up to 7 hours
Acer Predator Triton 500 SE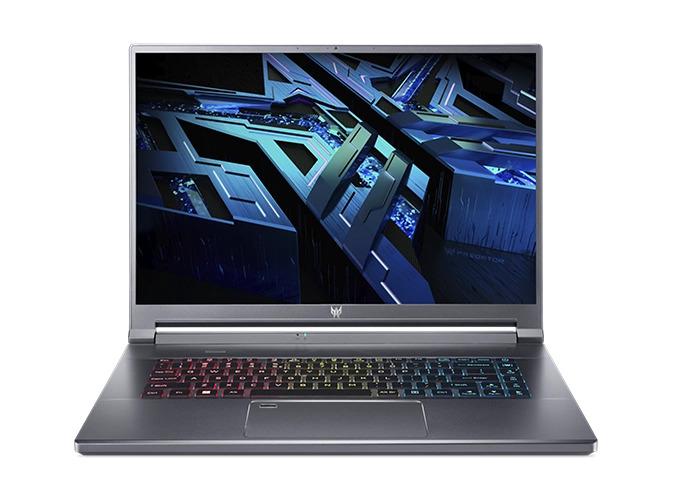 PROS
CONS
* Impressive specifications
* Excellent screen quality
* Sleek and stylish design
* Limited battery life
* High price 
The Acer Predator Triton 500 SE stands out as the best overall among the top Acer laptops of 2023. As the initial entry on our list, it represents the pursuit of limitless possibilities in laptop technology. Through rigorous synthetic benchmarking, the Triton 500 SE consistently not only met, but often surpassed the lofty standards set by premium gaming laptops. It demonstrated its versatility as a genuine all-rounder, adept at effortlessly handling a broad spectrum of computing tasks.
Beneath the Triton 500 SE's chassis lies the secret to its remarkable performance, featuring an 11th Gen Intel Core i9 CPU paired with an Nvidia GeForce RTX 3080 GPU. This powerful combination is suitable for gaming, content rendering, video editing, and programming, with support for up to 32GB of RAM for seamless multitasking.
Couple this with the lightning-fast 1TB SSD storage and a vibrant 16-inch, 1440p display featuring a refreshing 240Hz refresh rate, and you have one of Acer's most remarkable offerings to date. While it rightfully claims its status as one of the finest gaming laptops available, it is equally adaptable, serving capably as an effective desktop replacement for content creators and professionals across various fields.
Acer Swift X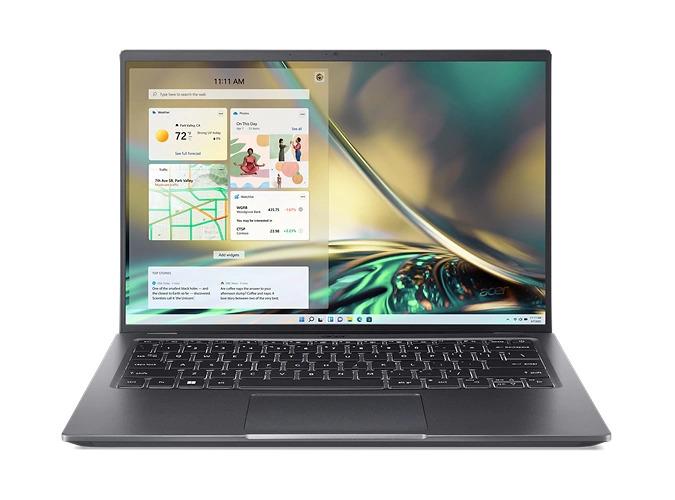 PROS
CONS
* Impressive, expansive screen
* Outstanding performance
* Comprehensive keyboard layout
* Excellent array of ports
* Occasionally sluggish touchpad
* Less-than-appealing, bulky design
* Intel Arc falls short compared to Nvidia and AMD GPUs
The Acer Swift X shines as the best Acer laptop for productivity, catering effectively to productivity and educational requirements, among the best Acer laptops of 2023. Its standout feature is the expansive 16-inch display, boasting an impressive brightness score of 428.45 nits in our display assessments. This performance notably surpasses the typical 300-nit brightness found in the majority of laptops.
Weighing 3.75 lbs, this laptop isn't the lightest, but its size means it boasts an array of ports. It includes two Thunderbolt 4-compatible USB-C ports, two USB 3.2 ports, HDMI 2.0, and a 3.5mm audio jack. This eliminates the need for extra dongles during work, and Thunderbolt 4 support makes connecting to additional displays a breeze, enhancing multitasking.
Moreover, the 12th-generation Intel Core i7-1260P processor impresses with its exceptional performance, effortlessly managing demanding workloads and multiple applications. Enhanced by an Intel Arc discrete GPU, it outpaces many other productivity laptops when it comes to handling more intensive graphical tasks, making it a viable choice for both entry-level gaming and content creation.
In terms of battery life, the Swift X demonstrates reliability, enduring for nearly 10 hours in standard usage scenarios. This level of performance proves more than satisfactory for a typical workday, especially considering that laptops equipped with discrete GPUs often grapple with subpar battery life. The Swift X pleasantly defies this trend.
Acer Swift 3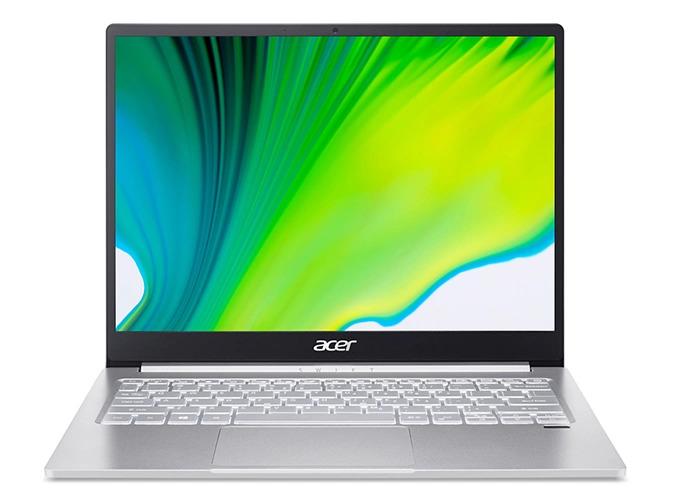 PROS
CONS
* Solid build quality
* Impressive performance
* Spacious SSD storage
* Potentially uninspiring design
* Inconsistent keyboard backlighting
The Acer Swift 3 distinguishes itself as the best Acer laptop for battery life and our top pick among the top Acer laptops currently available. It is also one of the most outstanding mid-range laptops on the market.
Weighing in at a mere 2.65 lbs, this 14-inch laptop excels in terms of portability. While its silver exterior might appear somewhat ordinary to some, its construction, combining metal and plastics, imparts a robust and well-crafted feel. The responsive keys provide a satisfying tactile experience. The presence of backlighting is an added benefit, even though it's worth noting that the backlighting may exhibit slight inconsistencies, with certain keys appearing brighter than others.
Underneath, the Swift 3 packs an Intel Core i7 processor that adeptly handles productivity tasks and outpaces rivals like the Surface Laptop Go in more demanding applications. Its integrated Iris Xe Graphics enable smooth casual gaming and manage lighter workloads effectively. Moreover, the inclusion of a speedy 1TB SSD, a generous offering in its price range compared to competitors with 256GB or 512GB drives, enhances its value.
Acer adhered to a tried-and-true formula for the Swift 3's display, featuring a 14-inch FHD (1920×1080) IPS panel. The display impresses with vibrant colors, while the quoted brightness of 300 nits ensures that visuals appear vivid. As an IPS display, it also boasts excellent viewing angles.
During battery life testing, the Swift 3 exceeded expectations, lasting nearly 11 hours when subjected to standard usage scenarios. This remarkable battery life ensures that you can comfortably navigate through a workday with ample charge remaining.
Acer Chromebook 516 GE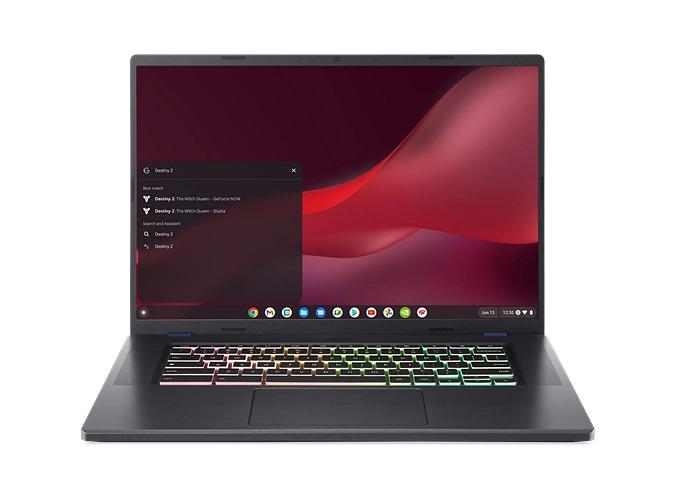 PROS
CONS
* Impressive 120Hz display with a 16:10 aspect ratio
* Eye-catching RGB keyboard
* Well-equipped with a variety of ports
* Lack of touchscreen functionality
* ChromeOS may require a learning curve
* Requires a high-speed internet connection
The Acer Chromebook 516 GE stands out as the best Acer Chromebook and an excellent choice, especially for those who subscribe to cloud gaming services like Xbox Game Pass or Nvidia GeForce Now. While there might be a modest learning curve associated with ChromeOS, this laptop offers an impressive display, a remarkable keyboard, robust speakers, and commendable performance.
Under the hood, the Acer Chromebook 516 GE features 12th-gen Intel CPUs, driven by a Core i5-1240P, making it well-suited for local gaming, especially beta testing. Its standout feature is the remarkable display with a 16:10 aspect ratio and a fast 120Hz refresh rate, ensuring smooth gameplay and enhancing productivity tasks.
In terms of design, the Chromebook's aluminum build and an RGB keyboard, typically found on Windows laptops, add style to your typing and gaming experiences. The port selection includes a USB-A 3.2 Gen 2 port, HDMI port, Ethernet (RJ45) port, 3.5mm headphone jack, and two USB-C 3.2 Gen 2 ports, offering comprehensive connectivity options. Explore our detailed hands-on review of the Acer Chromebook 516 GE for deeper insights into what sets this laptop apart.
Acer Swift Edge 16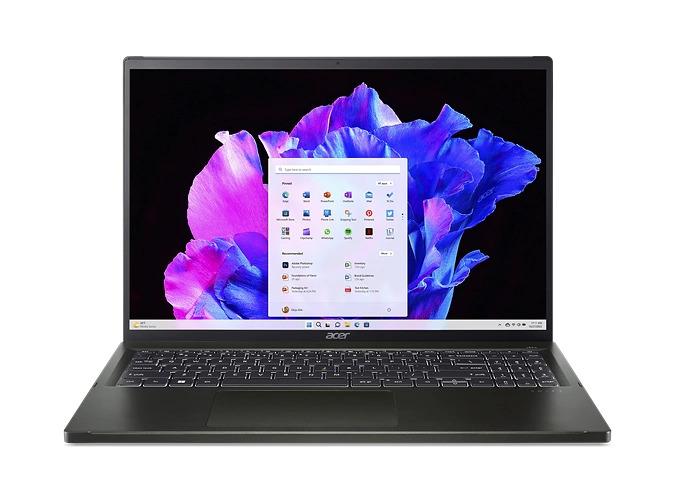 PROS
CONS
* Exceptionally sharp OLED display
* Slim and lightweight
* Equipped with AMD Ryzen 7000 series CPU
* OLED display may impact battery life
* Lacks a dedicated GPU for content creation
* Reflective screen
The Acer Swift Edge 16 is one of the best Acer laptops, particularly for those seeking the best 4K OLED display. Acer's latest offering truly excels in this regard, as it not only boasts an outstanding OLED panel but also combines it with high-end specifications and an ultraportable design.
Let's delve into its specifications. The currently available models are powered by AMD Ryzen 7000 series CPUs, with the latest model featuring the Ryzen 7 7840U, or you can opt for the Ryzen 7 7735U from a previous refresh. The powerful Ryzen 7 7840U CPU, with its eight cores and 16 threads, ensures exceptional performance for everyday tasks. Complementing the CPU is 16GB of RAM and a 1TB SSD, providing an all-encompassing computing experience.
The Acer Swift Edge 16's standout feature is its impressive 16-inch OLED display with a 16:10 aspect ratio, providing a sharp 3200×2000 resolution and a 120Hz refresh rate in the Ryzen 7 7840U variant or 3840×2400 resolution in the Ryzen 7 7735U model. This exceptional display is ideal for enjoying movies, and a 1440p webcam positioned above it ensures high-quality video for calls and meetings.
Another remarkable aspect of the Acer Swift Edge 16 is its remarkable portability. Weighing in at just 2.6 pounds, finding a lighter 16-inch laptop is challenging, and its slim profile at 0.57-0.60 inches is equally impressive. The laptop also offers a subdued yet elegant dark green color option named Olivine Black.
When it comes to connectivity, this laptop provides a satisfying array of ports, including two USB Type-C ports, two USB Type-A ports, HDMI, and a headphone jack. Considering its slim and lightweight design, this selection of ports is commendable, leaving little to be desired.
Conclusion
In conclusion, this article aims to assist readers in making well-informed decisions when choosing the best Acer laptops. We've covered a diverse range of options, addressing various needs and preferences, be it for gaming, productivity, portability, or display quality. Our hope is that this guide has been valuable in helping you select the laptop that perfectly suits your requirements, ensuring a seamless computing experience.