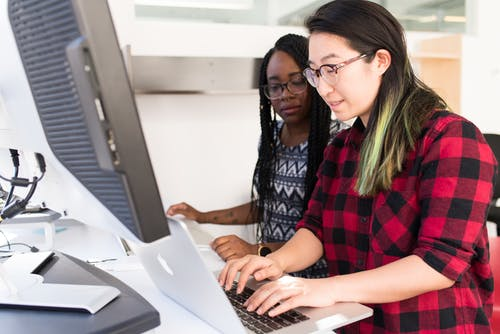 As a web designer or developer, we often need high-quality images to create designs, icons, and user interface elements. But there are countless other use cases for vector graphics, such as website design, web apps, infographics, presentations, social media posts, branding efforts, etc.
And since vector images are more flexible and scalable than raster images (formats like jpg, png, and gif), they can be easily resized and used anywhere without compromising quality. On top of that, they present greater creative options and customization opportunities.
But wouldn't it be wonderful if you had access to all this for free?
Well, it looks like today is your lucky day. If you happen to be looking for websites that allow you to download vector graphics and icons for free, you've come to the right place. This blog has a collection of the best sites full of material you may want to use, whether for your professional logo design or your landing pages.
In no particular order, here is a list of sites you may want to consider.
1. Vectorish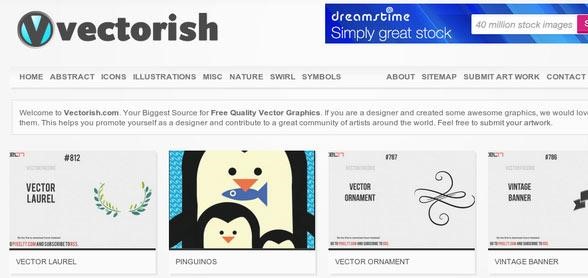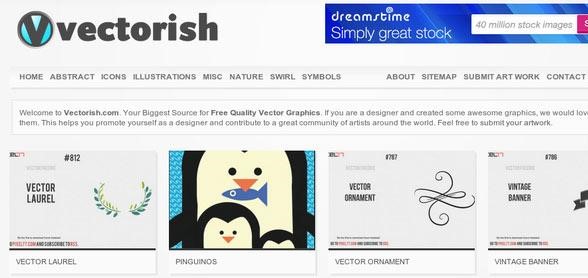 What could be better than a gallery full of free vector graphics from artists around the world? Vectorish is exactly that. Here, you'll find the best quality vectors showcased on one platform. Since it is a site created for artists by artists, use this opportunity to become a better designer.
More importantly, if you are a seasoned designer and have already created quality vectors that you want to share with others, go ahead and submit your work on this site and build a community around your name.
2. Vexels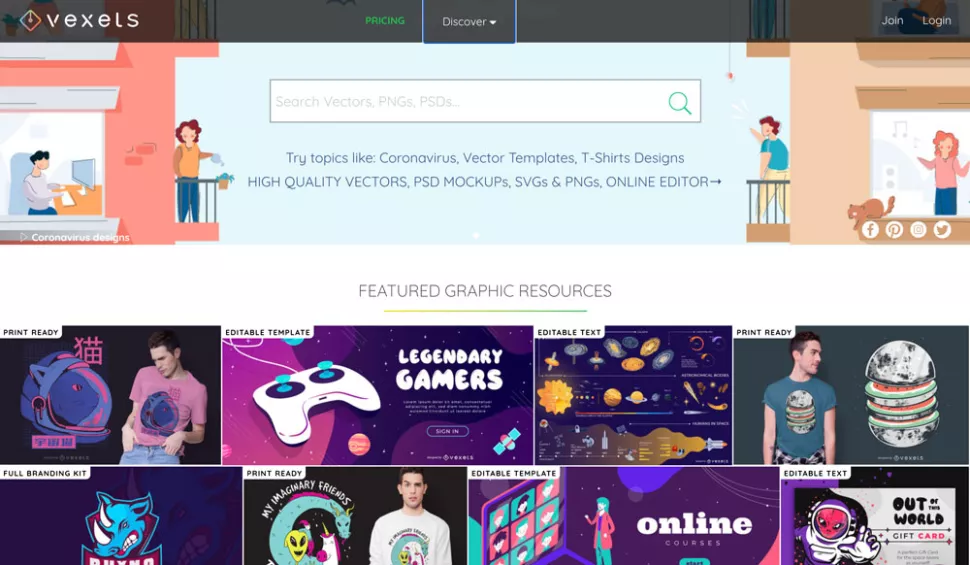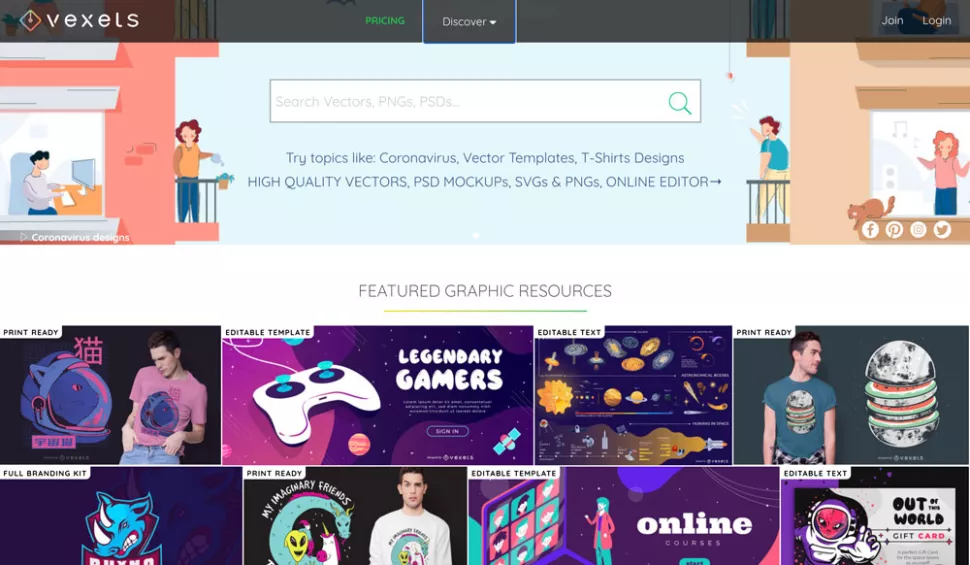 Are you searching for readymade designs and graphics for business merchandise? Vexels is your one-stop solution. This all-in-one vector and graphic resource allows you to download every design element you could possibly need, from backgrounds to icons to text phrases, even t-shirt mockups.
Simply browse through the thousands of exclusive designs to make your business look professional and creative. Subscribers can make image requests, which is great for in-house designers looking for quick design solutions. Moreover, the beta version offers an online editor that allows designers to customize design elements according to their needs. However, some designs are available only for paying members.
3. Freepik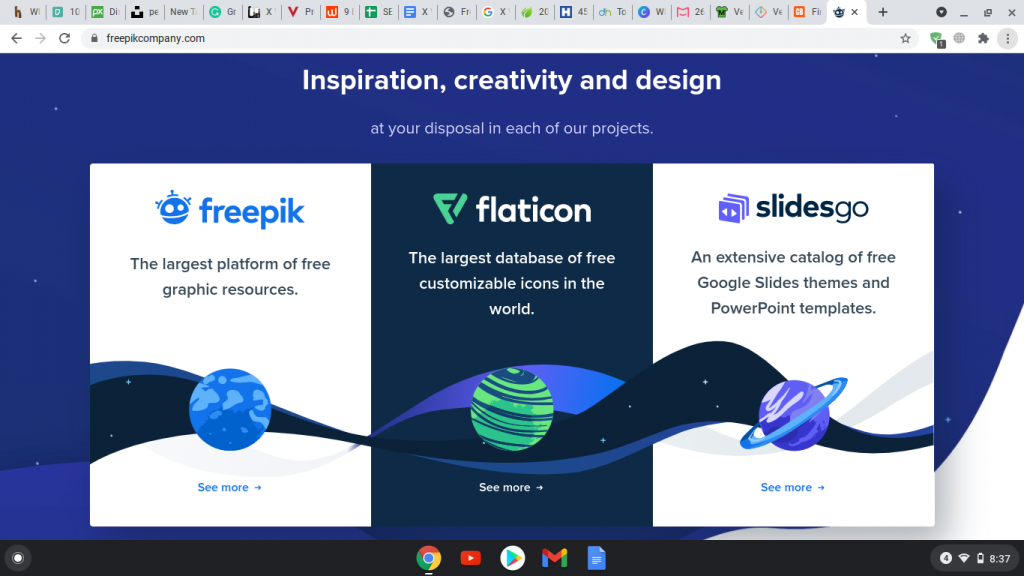 Freepik is your go-to website for everything related to design. You'll have access to high-quality content, including photos, icons, high-quality content, mockups, presentation templates, and much more. With thousands of designs available for every topic under the sun, you just may have a hard time deciding which one to choose. And did I tell you Freepik offers hundreds of new vectors daily? You'll find new designs every time you visit.
There's more. The Freepik Company comprises three engaging projects, Freepik, Flaticon, and Slidesgo. There are endless opportunities for your imagination to explore this creative platform.
But if you are searching for something more unique, you can subscribe to the premium package. However, you cannot buy only one graphic design. You will need to get a monthly or yearly subscription.
4. Vecteezy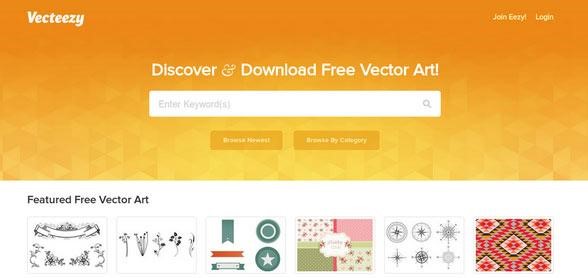 Are you looking for free vector arts for your projects? Then you've landed on the right website. From icons to patterns to art designs, you have access to thousands of vector graphics for personal and commercial use.
The latest feature added to Vecteezy is an online editor. Now you can modify designs before downloading them. You can also find premium vectors if you're in search of something more special.
5. Vector Stock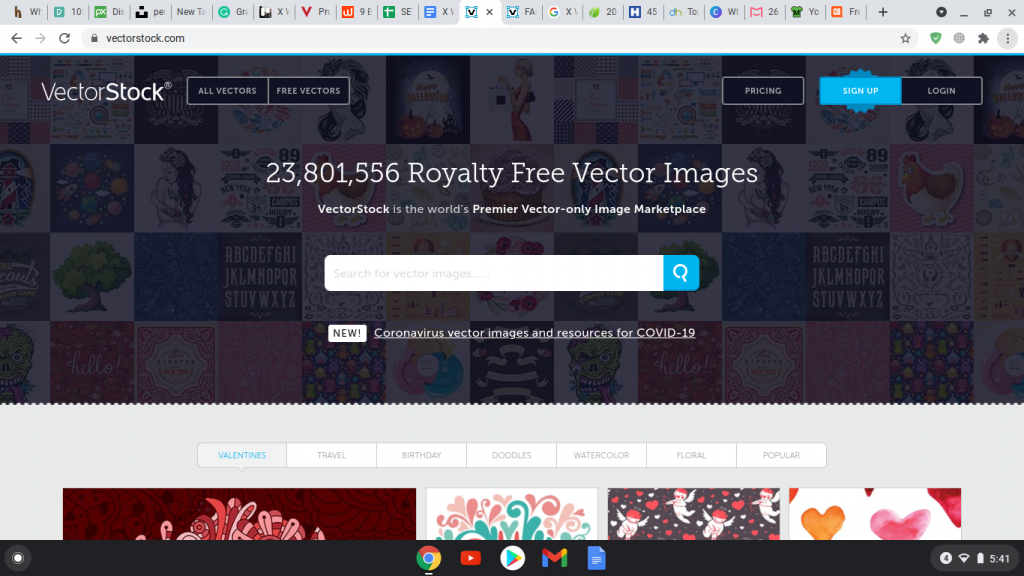 Vector Stock is an established community-based stock agency that brings artists and designers onto the same platform. Contributions to this site range from professional graphic designers to hobbyist illustrators.
Vector Stock has a huge collection of royalty-free vector images, illustrations, art, and other high-resolution graphics. 23,801,556 to be exact. The site aims at keeping costs to ensure that vector files can fit within almost all designers' budgets. But if you have budget restrictions, simply head on over to the 707,677 free vectors available on Vector Stock. I guarantee you won't be disappointed. This is a site that you will want to Bookmark and come back to over and over again.
6. Free Vector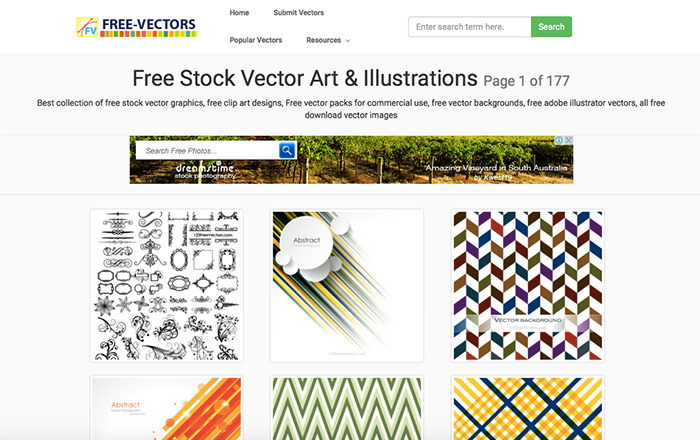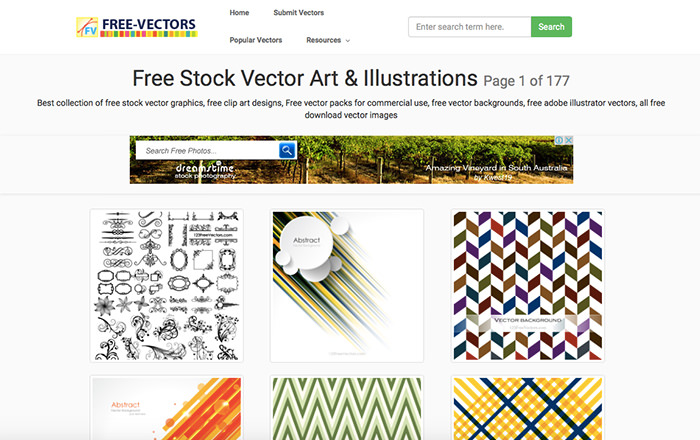 'A world of free vector art at your fingertips!' That's what Free Vector claims. Browse through the 35+ categories to find vectors that match your design needs. Content is available as EPS, AI, PDF & SVG files.
Simply create an account and start downloading. But make sure to check back regularly because this website keeps adding hundreds of new free vectors every month.
7. Vector Portal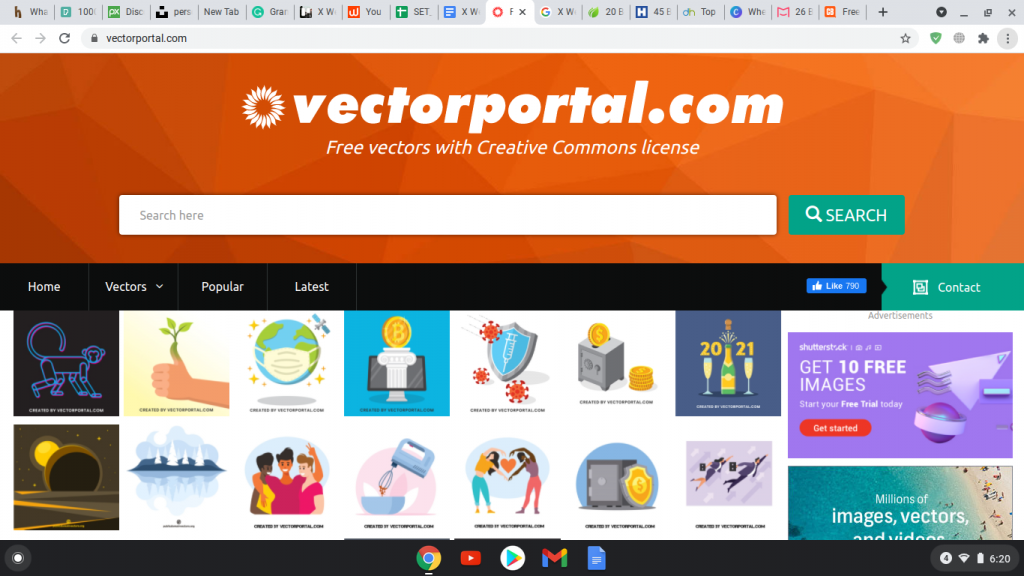 With over 30,000 free vector graphics on this website, it may not be as big a resource as the others mentioned here. But even this amount is not a small one. More notably, Vector Portal has been repeatedly voted as one of the top 10 free vector resources available online.
Search through the various images, clip art graphics, icons, illustrations, backgrounds, templates, etc., available in EPS and AI formats. Most of them are free for download and can be used both personally and commercially.
However, under the Creative Commons Attribution license, you can change, share, and use these vector images for commercial projects as long as you attribute the author. Furthermore, Vector Portal offers a platform for young and professionals alike to showcase their work to visitors on this site.
8. Dry Icons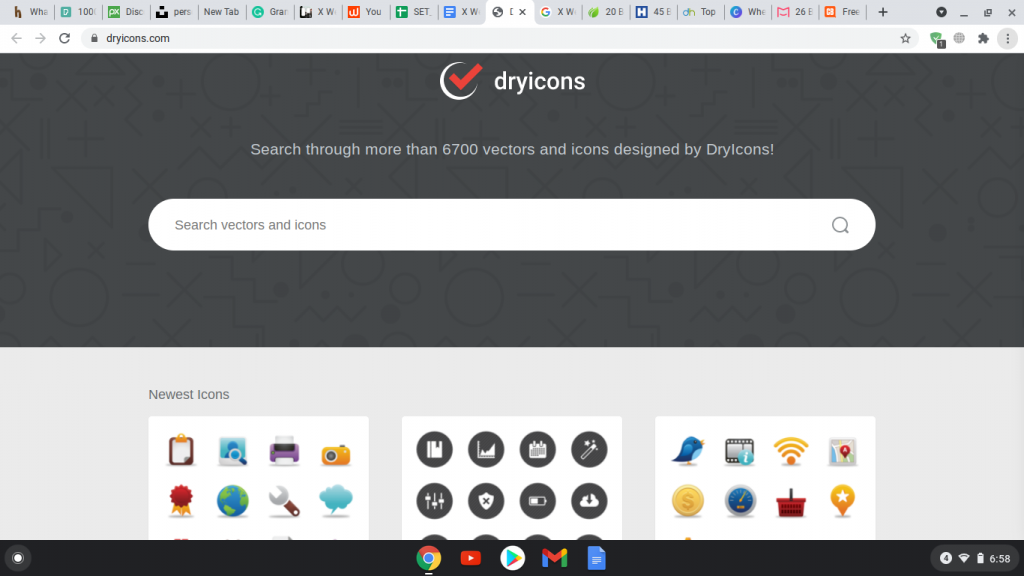 Dry Icons boasts a collection of unique and custom-made vector images. From styles ranging from flat, filled, hand-drawn, and outlined, you are sure to find something for your design projects. Moreover, the search bar makes it easier to find one created by one of their own designers.
9. All Free Download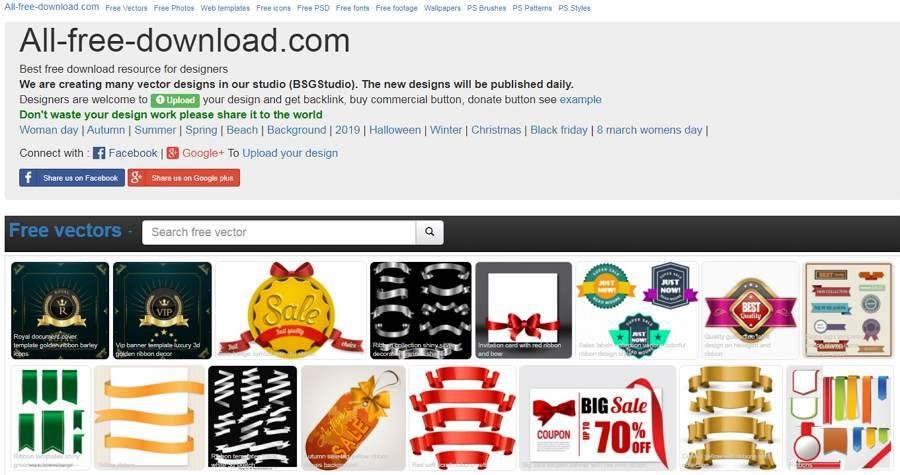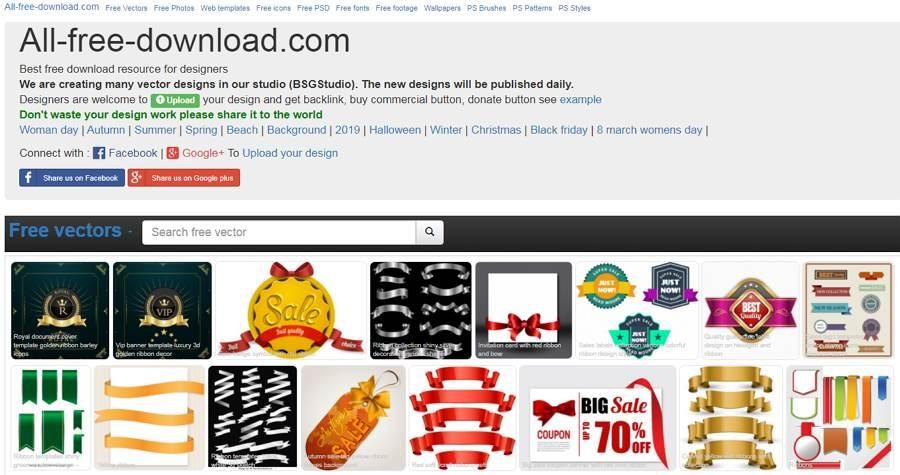 All Free Download offers a fantastic collection of free graphic resources, including vectors, templates, icons, photos, fonts, and so much more. As a designer, you need not look any further, especially since new designs are uploaded every day.
And if you are looking for a platform that can get you noticed in the design world, you can display your vector works on All Free Download and share them with the world.
10. Pixabay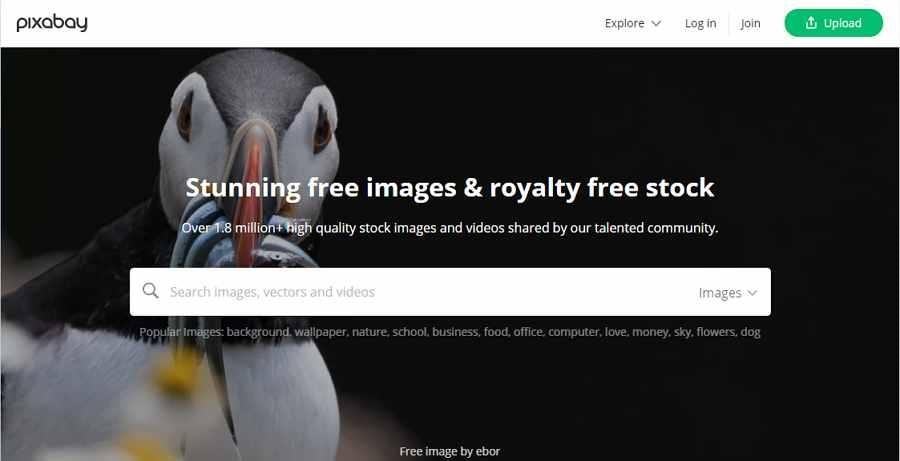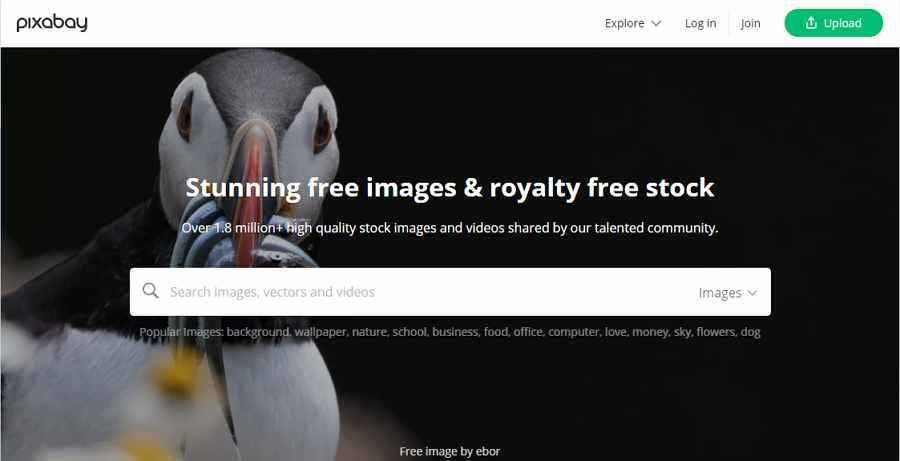 One of my personal favorites, this site is clearly one of the biggest free photography websites out there. With over 1.9 million+ high-quality stock images, videos, this talented community requires a round of applause.
One of the best aspects of Pixabay is that it does not need any attribution before use. This can make the content on your website stand out. So when you begin searching for free photos or illustrations for your marketing campaign or your landing pages, be sure to check in here before going anywhere else.
11. Dribbble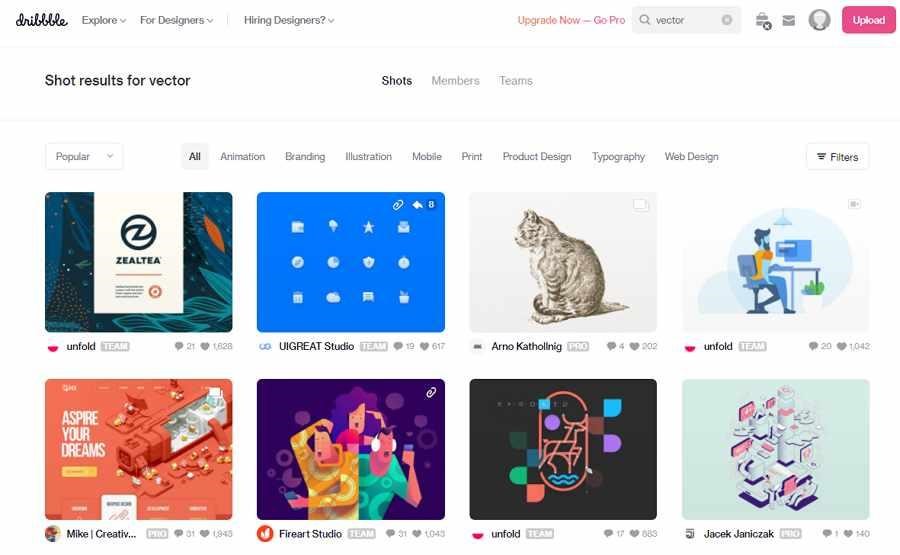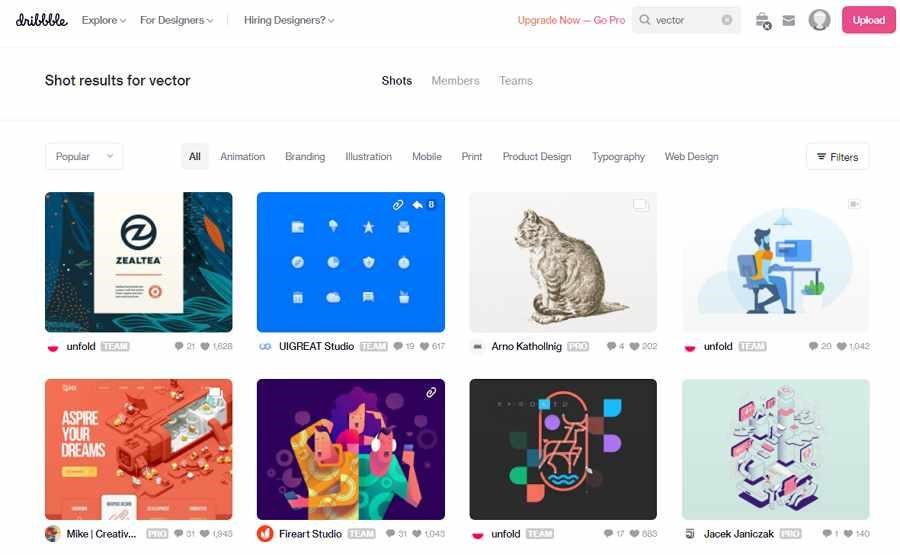 Welcome to the home to the world's finest design professionals. Whether you are searching for the ideal vector graphic or are looking for sites to display your creative work, Dribbble is the solution to all your needs.
Dribble will help you discover the top designers and creative talent from around the world. As a popular go-to resource, it's time to discover and connect with other designers. Many are already using this platform to show off current projects and boost their portfolio. Why don't you do the same?
12. Flickr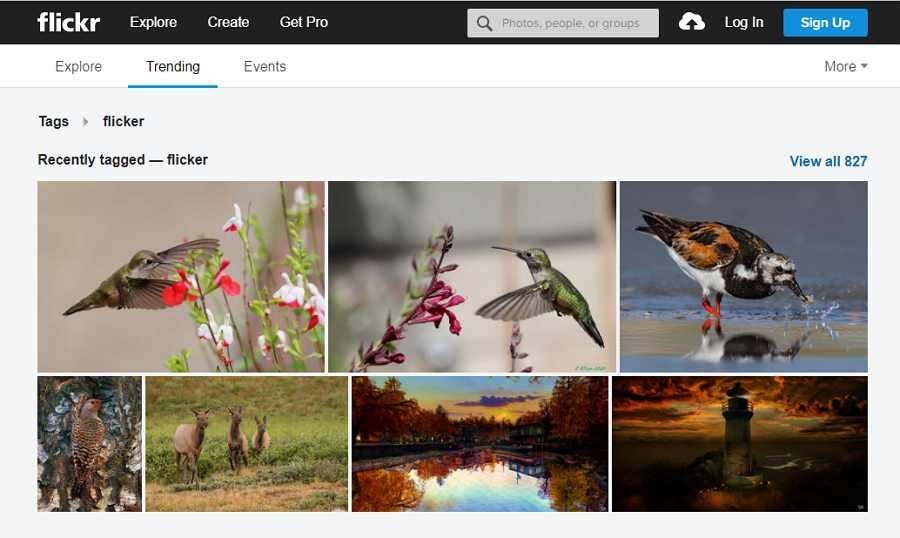 As another renowned photo website on this list, Flickr is by no means any less than Pixabay. You can view and search for royalty-free stock photos, illustrations, and vectors that will help you create mesmerizing backgrounds, landing pages, or designs for any of your projects.
This website supports a community of people that want to share and explore the world of vector graphics. Join the Flickr community- the home to tens of billions of photos.
14. 123 Free Vectors
123 Free Vectors has a massive collection of free vector art, images, graphics, background designs, patterns, and much more. Users can browse content in more than 50 different categories. What makes designers fall in love with this site is that the vectors are easy to modify by rotating, re-sizing, adding other elements, recoloring, etc. More importantly, 123 Free Vectors is very user-friendly and easy to navigate. And the best part is that you can download any file without the need to become a member or offer any personal details. Simply find the vector you want and start downloading!
15. Blugraphic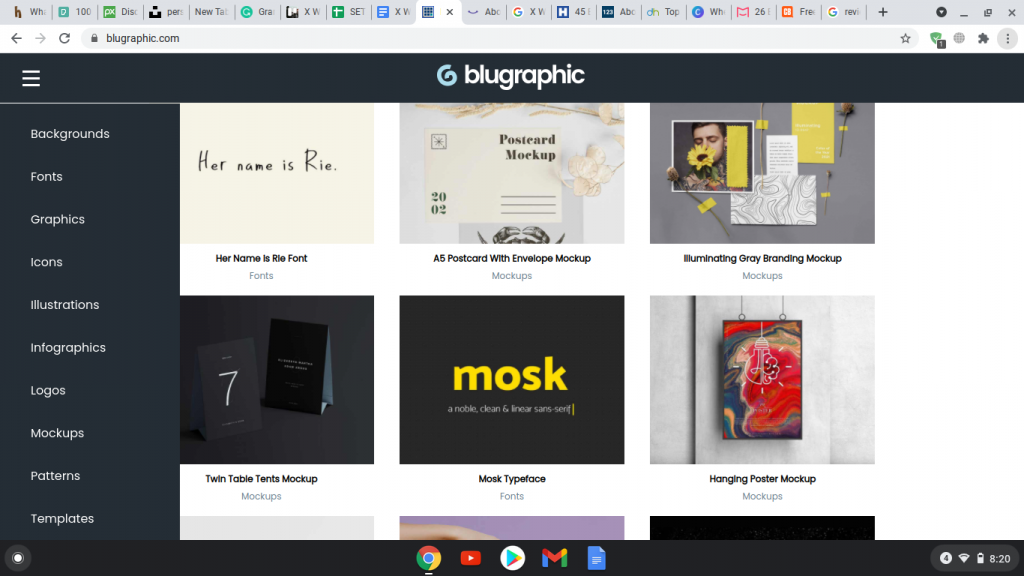 Blugraphic knows precisely how to make your life easier. With the incredible assortment of, you guessed it, free vector graphics, you have access to some of the best images and vectors.
Moreover, if you need high-quality vectors regularly, Blugraphic is a plausible solution. Get as many free vectors as you want. The website includes resources such as graphics, templates, mockups, icons, logos, fonts, illustrations, and dozens of other items.
16. Vector.me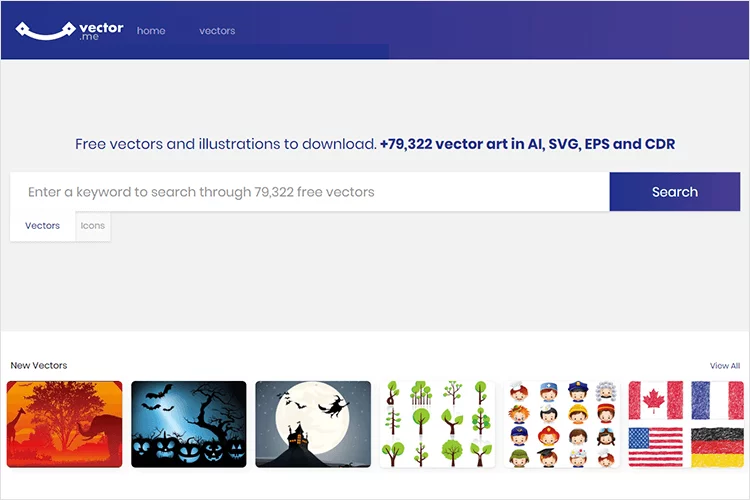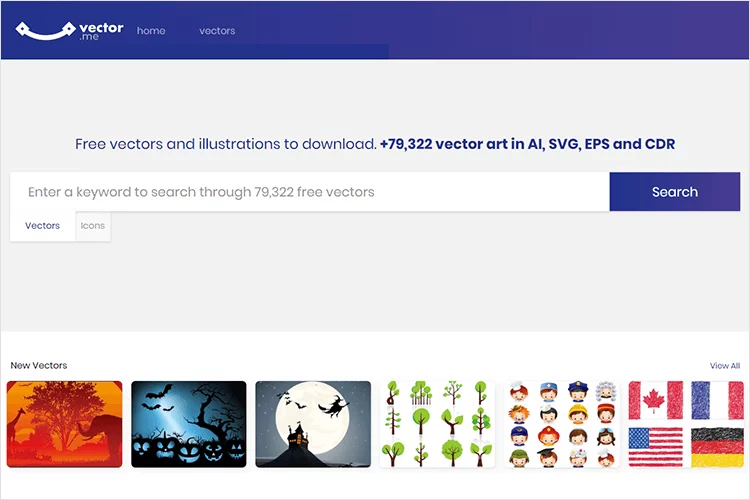 As designers, we all know the importance of high-quality, exclusive vector graphics and design elements. Vector.me offers an extensive database of free vector graphics frequently used by designers every day.
To use this website, simply enter a keyword in the search box and find the perfect item from within the collection. There are over 79,322 vector art in AI, SVG, EPS, and CDR format. And this number is still growing!
Or, if you have spare time, go ahead and browse through the categories listed at the bottom of the page.
17. Free Design File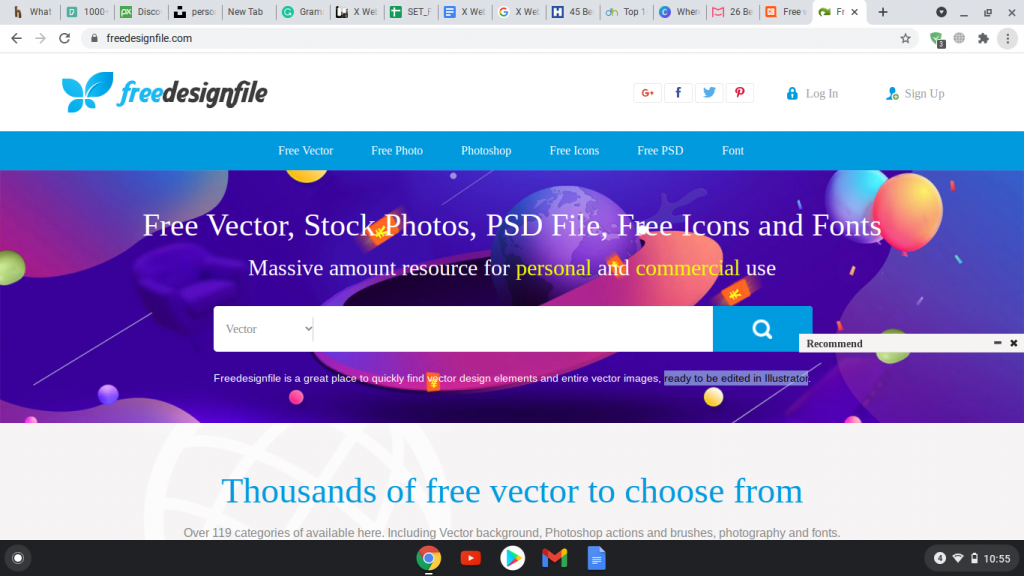 Free Design File describes itself as a 'website of vector lovers who share free vector graphics.' That couldn't be better said with the thousands of free vector art, PSD, icons, illustrations, photoshop plugins, fonts, etc., available on the site.
So even though Free Design File does not have merchandise licensing features. So go ahead and choose anything from over 119 categories. Additionally, you can edit the selected item in Illustrator, making this website a great one-stop solution for every design project's needs.
18. Behance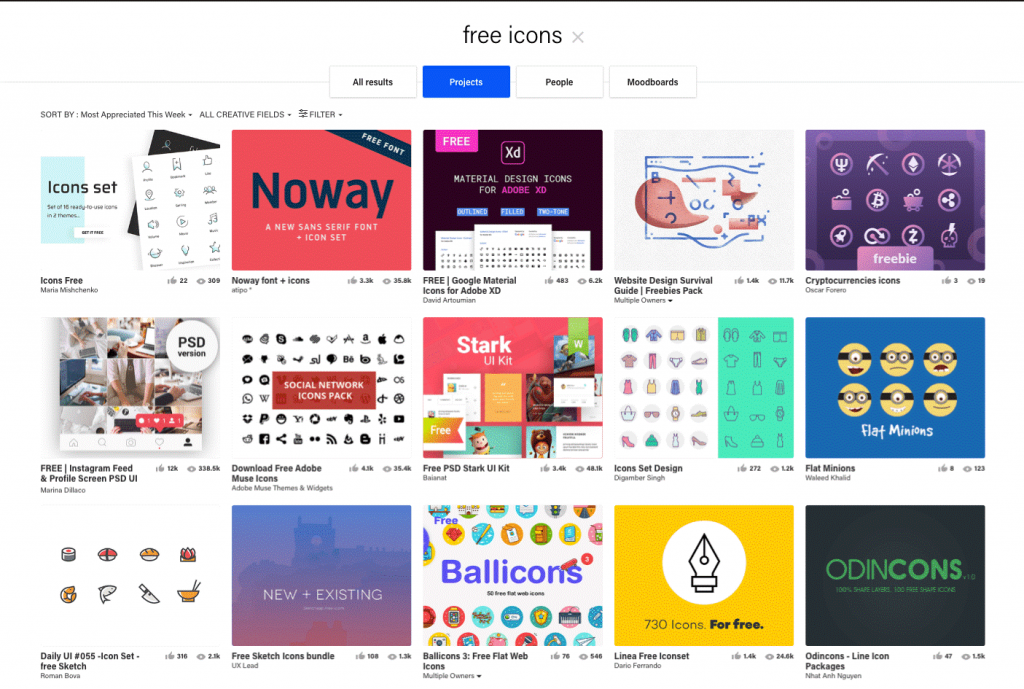 Designer quality icons created by professionals can be expensive and hard to find. If this is the case, you definitely need to take a look at Behance. You'll find some of the best icons here- and an endless variety too. And yes, they are all free.
More importantly, Behance is a creative network that allows people to showcase and discover tons of creative work. It helps build a community of like-minded people in the design world.
19. 365psd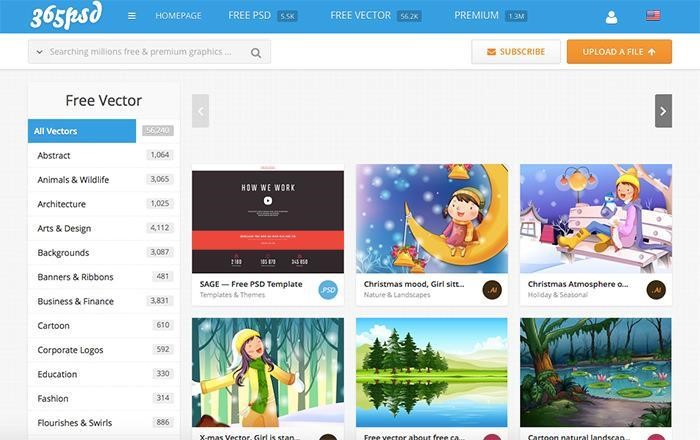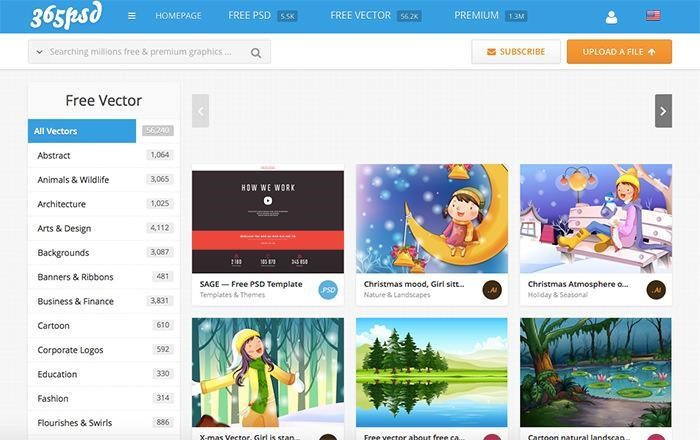 The content on this website is as unique as its name. 365psd is an ideal place for you to find freebies. There are multiple categories for you to browse through and find exactly what you want.
20. Fribly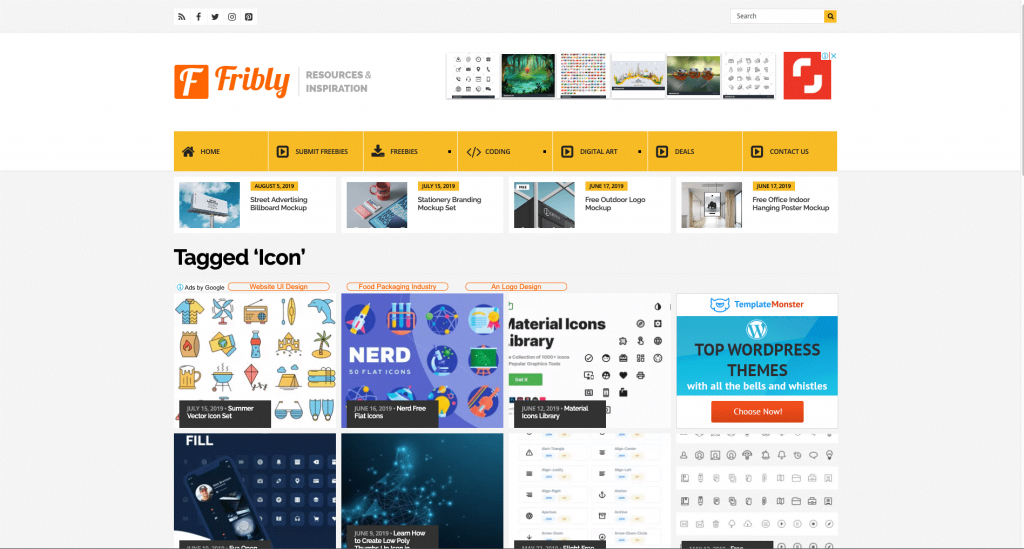 This is where you can get your daily dose of inspiration. Fribly is a digital magazine that gets updated nearly every day. It offers free icons, templates, mockups, infographic elements, etc. You'll have access to useful and incredible resources that will help push you ahead of the competition.
21. unDraw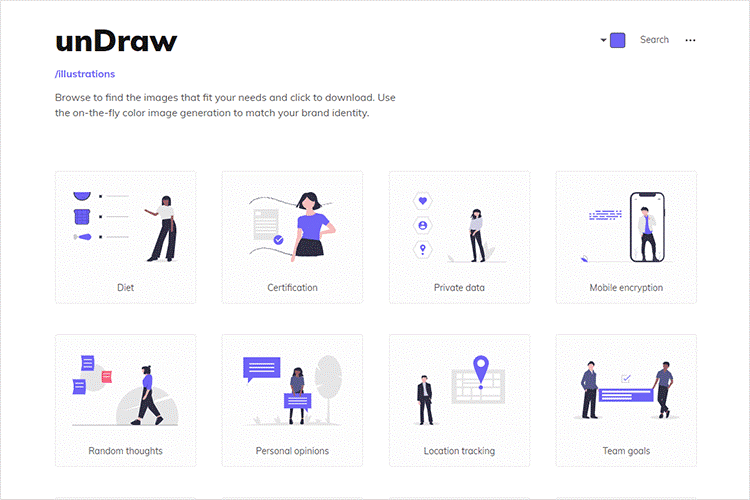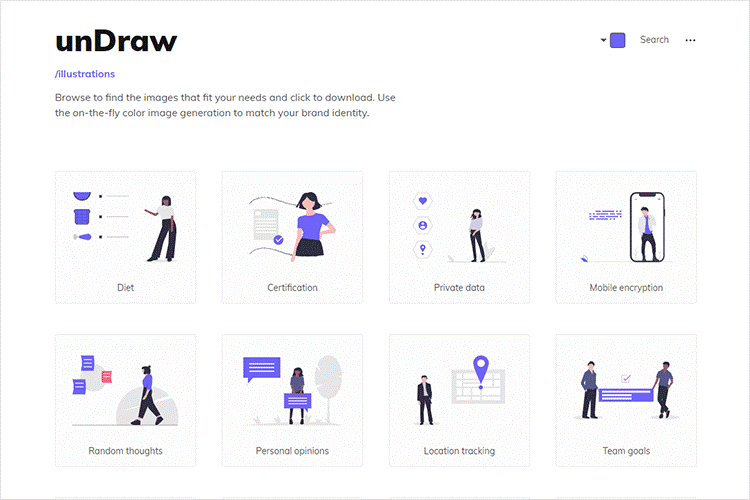 How about if you could acquire one-of-a-kind vector graphics that are free and do not need attribution either? Well, you've found the perfect website.
unDraw is an open-source library of customizable illustrations, all created by Katerina Limpitsouni. So what is so special about them? For one thing, they are all MIT-licenced illustrations. Plus, you get copyright-free SVG files directly from the website. That means you can scale to any size without losing quality.
But what really seals the deal is the fact that you can use a color image generator that Katerina provides on the site. This allows you to manage the main color scheme of her illustrations so that they match your brand's identity.
22. Vector4Free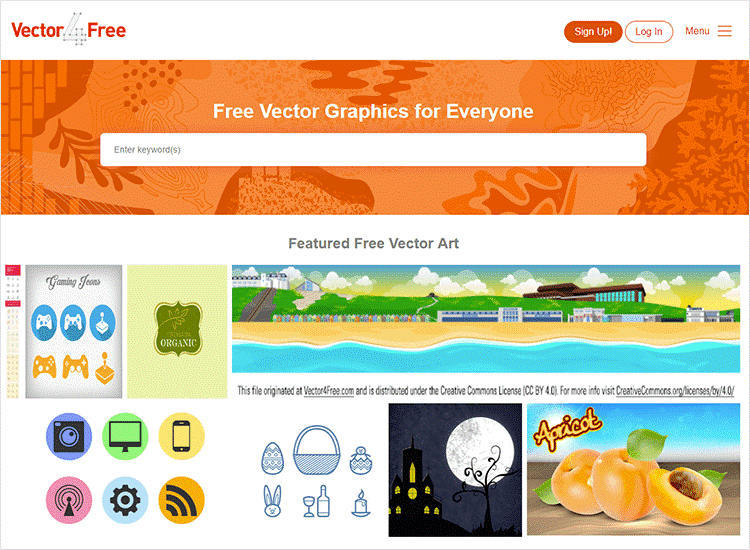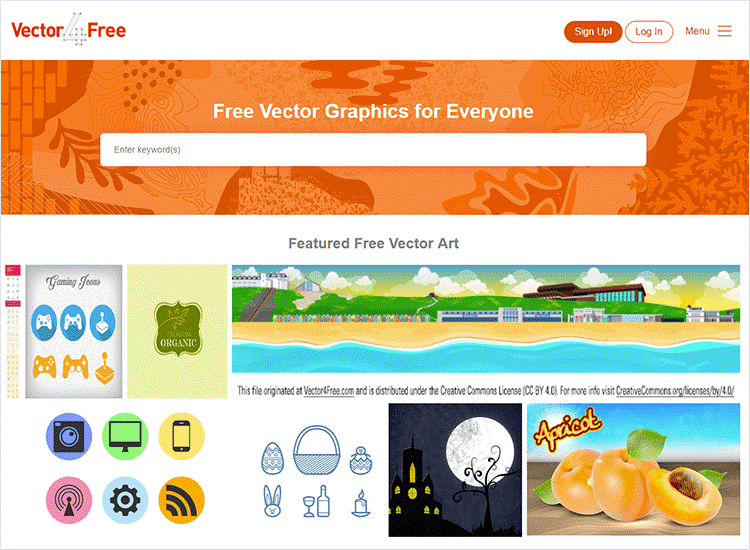 You may not find the biggest collection of vector graphics here, but you will surely find a whole lot of useful icons, illustrations, and vector art in over 50 categories. They are perfect for your design projects, whether that entails items for your website, prints for T-shirts, or any design-related work. However, since each artist has different terms of use, so make sure you read the fine print before using them commercially. Formats include Adobe Illustrator AI, SVG, EPS, PDF, and Corel Draw CDR files that are all free for download.
Over to you
It's not easy finding the right graphic design elements. Moreover, there are endless options available online. The entire task often feels overwhelming at times.
But now that you have gone through this blog, it doesn't have to be as stressful as you thought it would be. The websites listed above offer high-quality vector images that will make your project outshine others. With a couple of clicks, you are on your way to acquiring graphic design elements that suit your unique design needs.
Ready to get clicking?