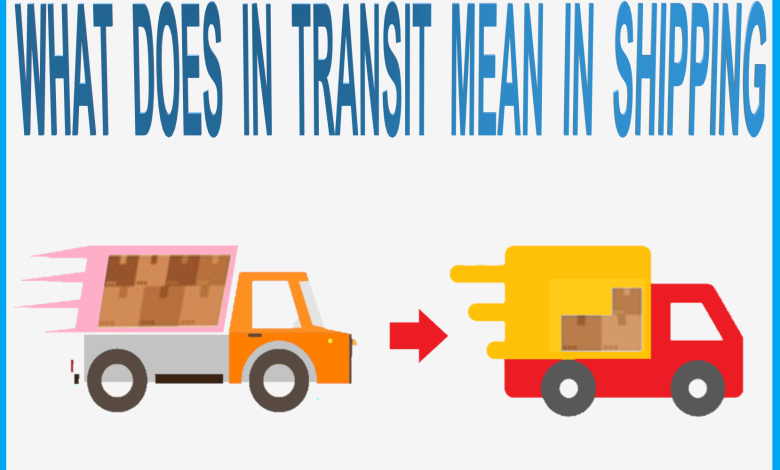 When we take a glance at today's world, we find that the whole world is going towards the ways and themes of convenience. The businessmen and company holders are trying to find different and amazing ways to comfort and engage their customers. And people are also used to this new trend. For instance, now the online shopping malls and websites have a lot of importance. People can get everything at their threshold. This can be from food to clothes, from a mobile case to your furniture. So, the trend of online shopping is increasing day by day. But for the retailers and the common people, the technical jargon is difficult to interpret.
Read Also:
Modern Technologies In Online-Selling
After placing an order, the companies try to keep their customers up-to-date about their delivery status. It tells them in how much time they can reach their parcel. During the shipping, the customers mostly receive text updates. They read two phrases: "in transit" and "out of delivery". But ever thought that what does in transit mean in shipping? And what part does a tracking number play in keeping you updated? And how much closer you are to your parcel when you get the phrase "out of delivery".
What does in transit mean in shipping status?
Various delivery companies such as UPS, USPS, FedEx, and other delivery companies use a lot of terms to describe the same thing in the shipping process. The word In Transit, for instance, is very much like "shipped". It is so because both terms give us the concept that the parcel has been loaded from the filling station into a truck Now the truck will move towards the terminal. From there, the parcel will be handed over to the local company. This same day delivery Sydney courier company will take the parcel to the customer's threshold. For example, if the picking point is taken as A and the final destination (customer's threshold) is point C. Then the destination terminal will be called B in the in-transit or terminal process.
Before going towards the transit time, let me tell you about what does in transit means. There are various definitions of in transit. But the easiest way to define it is: it is the time interval required for the shipment to be remitted after it has been taken from the departure point. In short, it is the period spent when moving parcels from one place to another. This time interval depends upon the mode and route of transportation. This time is measured mostly in hours and days.
The simplest way to describe it is: The estimated time need for a parcel or package to travel from one place to another.
How tracking number tells "in transit" status?
Although you are also receiving the message regarding your order status. One of those statuses is "in transit status". Now, what does in transit mean here? Ever noticed that?
You may have noted that when you place your order, the company provides you with a tracking or order number. And after some days when you want to ask about your order, a phrase comes on the company site: TRACK YOUR ORDER". You have to provide your tracking number/order number there, and they inform you about in-transit status. It means that the freight containing your parcel is on its way to being delivered to the local shipping company. In the whole process, the transit time is already considered. After the transit process is completed, now you will receive a message or e-mail of "delivered or processing custom clearance.
How transit time is different from delivery time?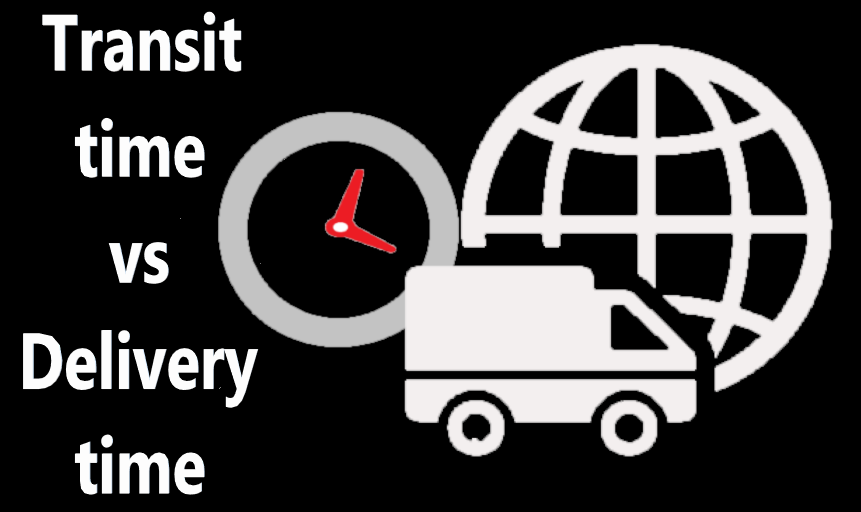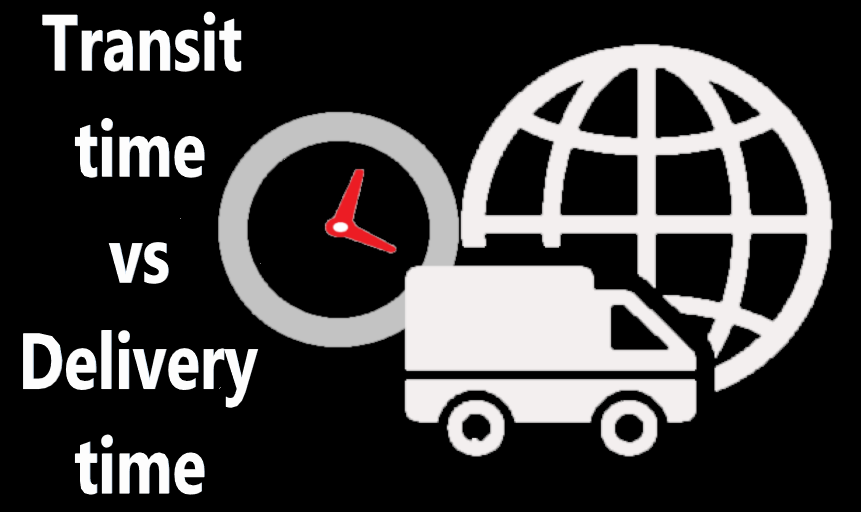 The delivery time (DT) is a broad term and transit time is a pointed term. The delivery time starts from the moment when a customer places an order. It ends at the moment when the customer receives its order.
We can say that different transit times combine to form delivery time. Because in-transit time is only a part of the delivery process. And delivery time covers the whole process.
For more interpretation of what does in transit means, let me explain to you a little.
Delivery means a parcel moving from supplier to the customer.
The in-transit means transportation from supplier to air freight, sea, or rail freight.
Factors affecting the transit process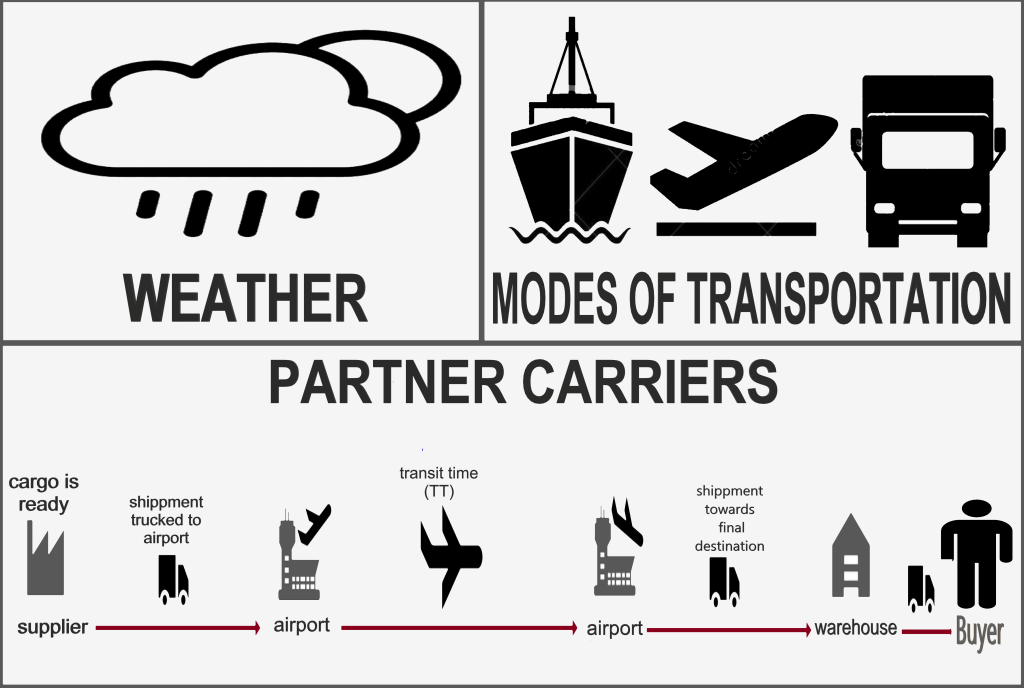 After getting acknowledged with what does in transit means in shipping, now let us take glace at its various factors:
Mode of transportation
One of the prime factors is the transportation mode. Because the selection of mode makes a difference in transit time interval directly. In this way, it affects the delivery time also. Airfreight is the fastest and most expensive mode of parcel delivery. But it has a flaw also. It is that you cannot use it freely for bulk cargo.
Sea freight or sea vessel is the slowest one but also has an advantage over air freight i.e. it is the cheapest mode of transportation. So, you can freely use it for massive and bulk orders.
Various carriers
At the international level, one order shipment is often processed by different carriers. These can also be called partner carriers. Frequent communication can lessen the transit process. On the other hand, the communication gap can affect it in a worse way.
Weather
It is another major factor that affects all modes of transportation. According to an international survey report, about 90% of the delivery delays are because of weather. Especially in the snow and rainy season, it becomes the topmost factor.
Traffic issue (only in road freight case)
When the parcel is processed from the air freight to the local couriers, then the next transition depends on the road freight (truck, bike, etc). Just like the weather, you cannot predict traffic issues, any accidental or road construction matters. Notwithstanding that driver and other agents try their best to deliver the goods, but it is never enough to overcome delays.
Mileage guideline in transit time
Some of the shipping companies provide mileage guidelines to customers. This is eventually important because it shows the estimated transit time for a particular distance. It is specifically important in road transportation or rail freight.
Connection in transit time and freight cost
We all know that the fastest mode of transportation will be the most expensive one. If you choose air freight, you will get your parcel in almost 7 to 10 days on average. Although the delivery will be fastest the expense on this order will also be double. Similarly, when you choose a slower mode such as rail freight/ road freight, etc then time will increase and cost will decrease. So, being familiar with what does in transit mean, you are completely informed of its importance regarding cost.