USA Tech News
Tesla Semi Truck Revealed: A Revolutionary Electric Truck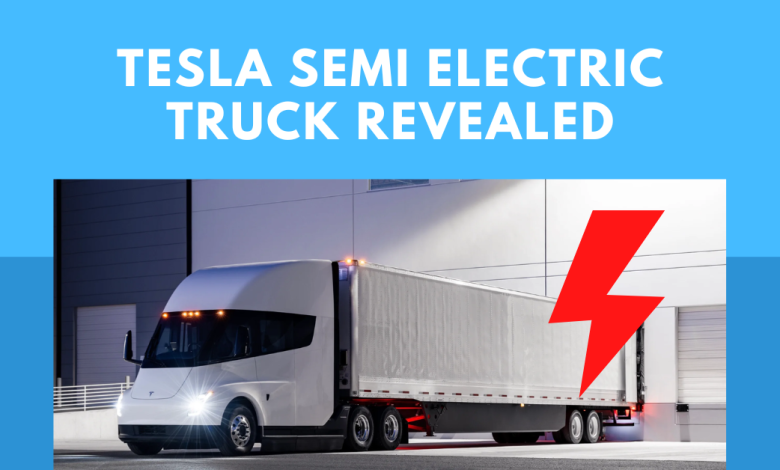 Tesla has finally revealed their electric Semi truck, and it is amazing! This truck is a game changer for the transportation industry. It has a range of 500 miles on a single charge and can go from 0 to 60 mph in 5 seconds. That's right, this truck can haul cargo at highway speeds just like a traditional diesel truck. But what makes the Tesla Semi really stand out is its sustainability. Not only does this truck have zero emissions, but it also requires much less maintenance than traditional trucks.
Tesla Semi Truck Launch:
The trucks, which were first introduced as concept vehicles back in 2017, had a production start date of 2019 but endured several delays for various reasons. These included the global COVID-19 pandemic and an international parts shortage.
On December 1, 2022, The first batch of finished Tesla Semi Electric trucks was received by representatives from PepsiCo—a company that had reserved 100 Semis shortly after its reveal. The Tesla Semi has a range of 500 miles on one charge, with the battery being composed of four independent modules that can be replaced in less than 30 minutes. This gives it a huge advantage over traditional diesel trucks that require refilling and long wait times at the pump.
The Tesla Semi truck has been designed with the driver in mind, featuring a central seating position, plenty of room to stand up, and ample storage space. The company recently released footage of a 500-mile (805-kilometer) demonstration run from its Fremont factory to San Diego on one charge.
Tesla's Cybertruck is a long-haul truck battery-powered, that Musk says will reduce existing diesel models on safety and power and highway emissions. The technology Tesla plans to use for their upcoming Cybertruck pickup is a spin-off from the fast-charging technology that was developed for this product.
Elon Musk on Opening:
Musk joined the first acquisition of Tesla after taking over Twitter and before the launch of SpaceX. He has since become one of the biggest names in technology, and his vision for sustainable transportation is now becoming a reality with the Tesla Semi. This truck will revolutionize the transportation industry and set a new standard for sustainability and convenience that other truck manufacturers will need to follow. With Tesla leading the way, a greener future for trucking and transportation is on the horizon.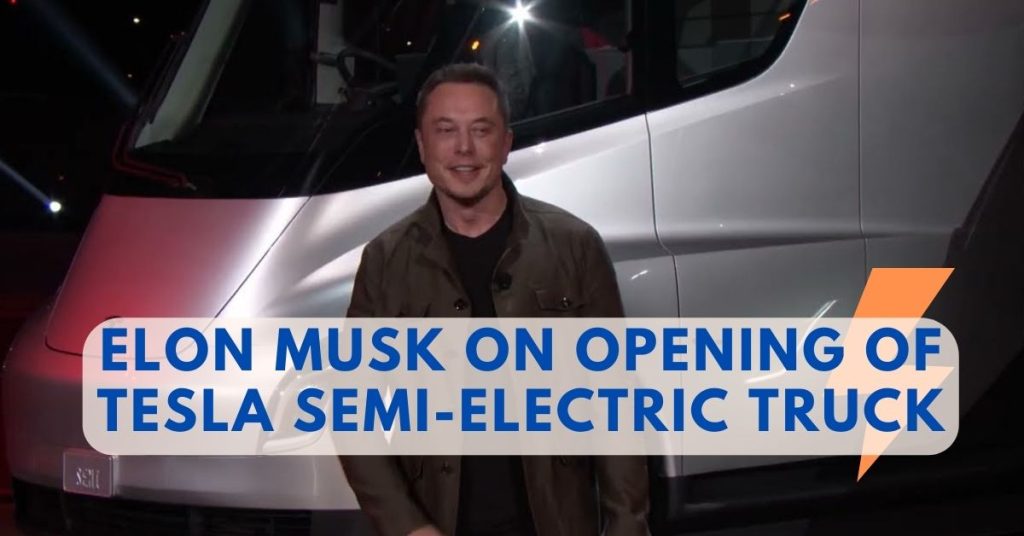 The Tesla Semi is creating quite a buzz in the industry, with many companies placing orders for these amazing electric trucks. As this technology becomes more widely adopted, we will see a tremendous shift toward sustainability in the transportation industry. This is a really exciting time for the industry and a great step forward toward a greener future. It's an exciting time to be in trucking, and we can't wait to see what other amazing technologies Tesla has up their sleeve.
Musk emphasized the features and the superiority of the Tesla Semi over diesel trucks, especially when it comes to safety. The truck has a suite of monitoring and safety systems that detect obstacles up to 500 meters away and provide the driver with a 360-degree view of the truck. It also has Enhanced automation features that can help the driver with navigation, lane changes, and more. Tesla also plans to offer insurance for its electric trucks that are significantly cheaper than those of conventional diesel trucks.
Tesla did not reveal the truck's price, different models, or a delivery estimate to PepsiCo or other customers. The company only said that it would start using the Semi to transport components to its Fremont factory. While in 2017, Tesla previously announced that the 300-mile range version of their Semi would cost $150,000 while the 500-mile version would be $180,000. However, Tesla's prices for electric vehicles have increased considerably since then.
The Tesla Semi also has a lower total cost of ownership. Its low maintenance requirements mean that there are no oil changes, no spark plugs, no brake pads, no air filters or any of the other maintenance required for traditional diesel engines. Plus, since it's electric, you don't have to buy fuel. All of this adds up to a much more cost effective solution for trucking companies.