Pixwox, a highly convenient tool Instagram uses to effortlessly download content from other users' profiles onto their personal devices, has gained significant recognition. In social media, where businesses strive to engage their target audience and showcase their products or services, Instagram has emerged as a dominant platform due to its visually appealing nature and interactive features.
Businesses and Influencers rely heavily on the number of Instagram followers as a crucial measure, as it directly influences their online presence and potential customer reach. In this article, we explore alternative tools to allow you multiple options by offering convenient and user-friendly methods to download media from the platform.
What is Pixwox?
Pixwox is an online tool designed for Instagram users seeking to download stories, photos, and videos from the platform. It offers a seamless means to save media content directly onto their devices. This enables them to utilize the downloaded content for various purposes, including creating engaging posts or analyzing competitors' strategies. The tool functions as a web-based service, eliminating the need for installing additional software on users' devices to access its comprehensive features.
Features of Pixwox:
Unmatched Workability Speed:
Pixwox prides itself on impressive speed while browsing the website when it comes to downloading media from Instagram. Users can quickly access the media content they need without experiencing any significant delays. It guarantees that they can save time and focus on other crucial aspects of their business operations.
Enhanced User Experience:
Pixwox is better known for its user interface design that caters to people with varying levels of technical expertise. Even those with limited expertise can effortlessly navigate through the tool and download media with just a few clicks. The simplicity of this web-based tool makes it accessible to a broad spectrum of users, including those who are not particularly tech-savvy.
Cost-Free Advantage:
One of Pixwox's most appealing aspects is its complete absence of charges. Users can leverage its comprehensive features without worrying about subscription fees or hidden costs. This affordability factor is an attractive option for users aiming to download their favorite without burdening their financial resources.
Downloading of Stories, Photos, and Videos:
Pixwox facilitates the download of diverse media formats from Instagram. Users can effortlessly save engaging stories, captivating photos, and informative videos, allowing them to curate a wide range of compelling content for their business profiles.
Secure Browsing Experience:
Privacy and security are of paramount importance for any user. Pixwox prioritizes user data protection by ensuring a secure browsing experience. The tool safeguards personal information and browsing activities, mitigating the risks associated with unauthorized access or data and privacy breaches.
Original Media Quality:
When utilizing the website for media downloads from Instagram, users can rest assured that the content retains its original quality. This feature provides that the visuals seamlessly integrate into their business profiles while maintaining integrity and professionalism, thereby enhancing the overall brand appeal.
How to Use Pixwox to Download Media?
Using Pixwox to download media from Instagram is an uncomplicated procedure. Users can follow these simple steps to initiate the process:
Visit the Pixwox website using your preferred web browser.
On the website homepage, locate the search bar.
Enter the Instagram username of the account from which you wish to download media.
Click the "Search" button or press Enter.
It will show the user's profile and present the available media content.
Browse the content and select the desired photos, videos, or stories for download.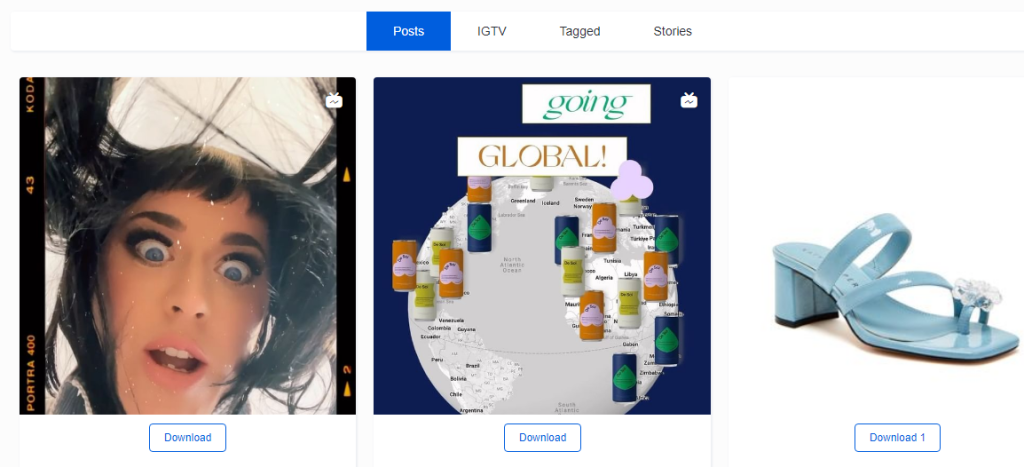 Find the download button next to each piece of media.
Choose the preferred quality or resolution for the downloaded content.
It will initiate the download process, promptly saving the media onto your device.
Access the downloaded content and leverage it according to your specific business requirements.
Advantages and Disadvantages of Pixwox:
Advantages:
Pixwox offers a fast and efficient method for businesses to download media from Instagram, significantly saving time and effort.
The user-friendly interface ensures a smooth and seamless experience, accommodating users of all skill levels.
The cost-free nature of Pixwox makes it an accessible option for businesses with varying budgets.
Maintaining the original quality of downloaded media allows businesses to uphold visual integrity, ensuring a superior viewing experience for their audience.
Disadvantages:
As Pixwox relies on accessing Instagram's content, it is easy to changes or limitations imposed by Instagram's policies or algorithms.
The availability of certain media content for download may vary depending on the privacy settings of individual Instagram accounts.
Is Pixwox Legitimate to Use?
Pixwox is a legitimate tool that adheres to Instagram's terms of service. It operates within the boundaries set by Instagram and does not involve hacking or unauthorized account access. As long as users responsibly utilize it and abide by Instagram's guidelines, they can confidently incorporate it into their social media strategies.
Pixwox Alternatives: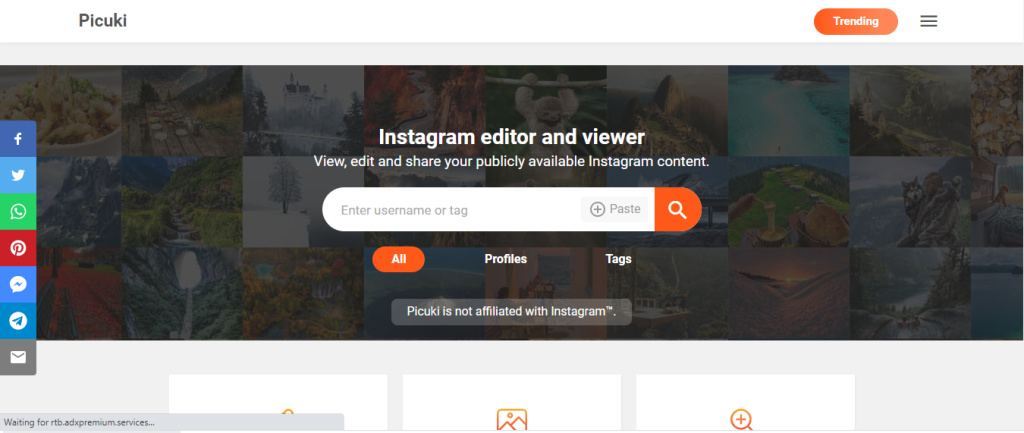 Picuki, a feature-rich Instagram viewer, allows users to zoom in and explore high-resolution photos and videos, similar to Pixwox. With a smooth browsing experience and effortless media file downloads, users can examine the minutest details of their favorite Instagram posts.
Key Features:
No need to create an account
Categorical Search Bar
Free Access to photos and videos
API Availability
SnapInsta is a complete Instagram viewer, downloader and the best alternative to Pixwox. In addition to browsing and downloading photos and videos, it enables users to repost content directly from the app. SnapInsta provides that users effortlessly stay updated with their favorite Instagram accounts.
Key Features:
Fast, easy & secure
No need to log in from your Instagram account
High downloading speed
Download media in original quality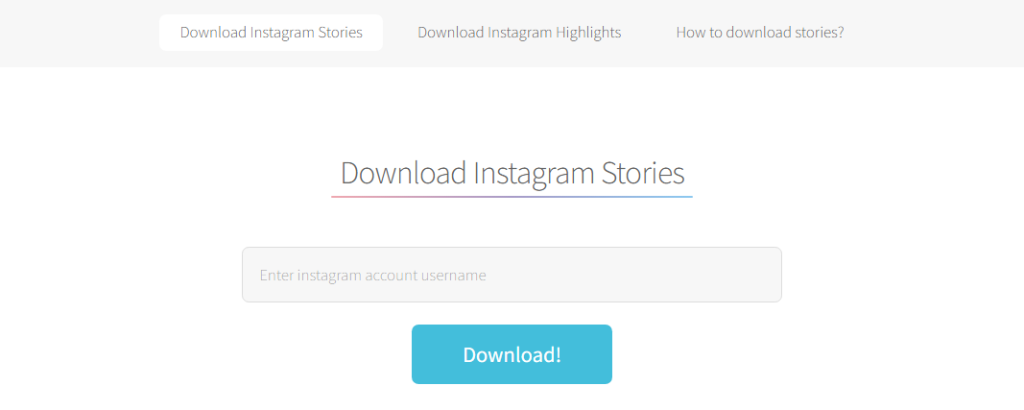 StorySaver, an innovative Instagram viewer, enhances the browsing experience by providing advanced search capabilities. Users can easily discover specific posts, hashtags, and profiles. Personalized recommendations based on user preferences ensure a constant stream of engaging content.
Key Features:
Available for all devices
Protection of user personal data
No registration is required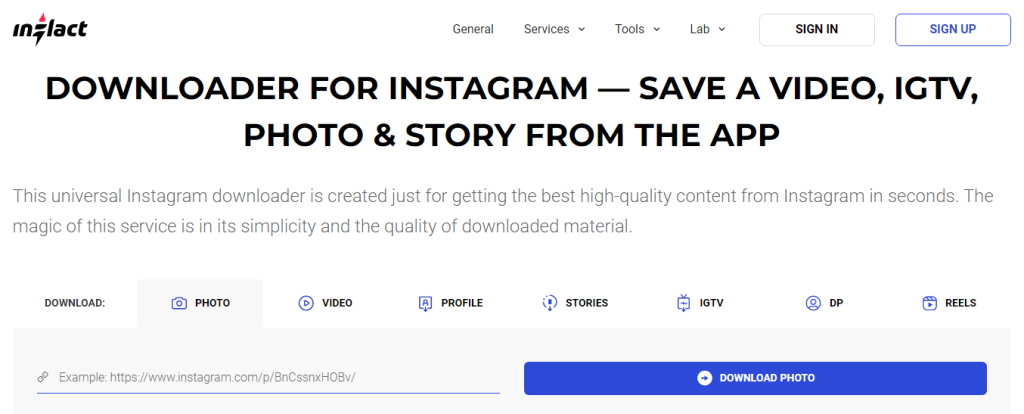 Inflact is a user-friendly Instagram viewer and downloader that boasts a clean and intuitive interface. It enables users to organize and manage their downloaded content efficiently. With folder creation, tagging, and categorization features, Inflact simplifies finding and revisiting favorite posts.
Read More:
No watermark
Accessible for any device
Download any photo, video & IGTV just by providing the link

SaveInsta is a feature-packed Instagram viewer that assures a seamless browsing experience. Users can effortlessly explore Instagram profiles, hashtags, and locations. Detailed insights and analytics provided by SaveInsta make it an invaluable tool for influencers and marketers seeking to optimize their strategies.
Key Features:
Download anything free of cost
No need to create an account
Best private downloader

MollyGram is an all-in-one Instagram viewer and downloader that combines simplicity with functionality. It is one of the best alternatives to Pixwox. Users can effortlessly explore trending posts, discover popular hashtags, and browse through Instagram stories. It also offers a quick download option, allowing users to save content instantly.
Key Features:
Browsing Instagram anonymously
Recover your lost data
Users-Friendly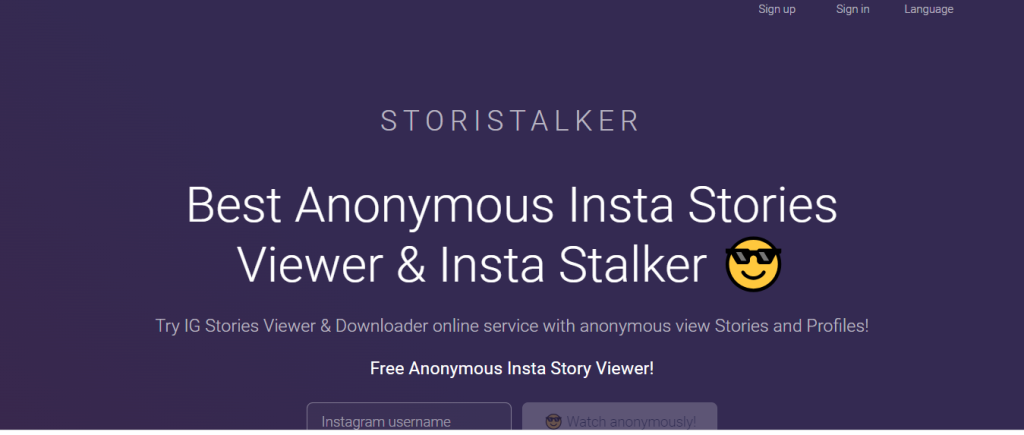 StoriesStalker is a powerful Instagram viewer and downloader that enhances the Instagram experience downloading with many similar features of Pixwox. The ad-free interface ensures uninterrupted browsing. Advanced search options enable users to find specific content quickly.
Key Features:
Anonymous Instagram story viewing
Free Instagram viewer
Don't require account creation

SaveFree is a versatile tool that empowers users to download Instagram photos, videos, and stories with just a few clicks. Supporting bulk downloads, it facilitates the simultaneous saving of multiple files. SaveFree provides options to select the desired quality of downloaded content, ensuring optimal file output.
Key Features:
Private Instagram story viewer
Instagram photo, video & story downloader
Copy the Instagram bio of any profile

MyStalk is a powerful Instagram viewer and downloader that empowers users to browse and save Instagram content effortlessly, just like Pixwox.
Its user-friendly interface and intuitive features offer a seamless experience for exploring and downloading favorite posts, stories, and IGTV videos.
Key Features:
No monthly subscription required
Download any video from Instagram
Download unlimited content

Dumpor, a reliable Instagram viewer and downloader, prioritizes user experience with its clean and minimalist interface. It offers distraction-free browsing and lets users download Instagram content in various formats and resolutions, providing flexibility based on individual needs.
Key Features:
View stories, posts and videos anonymously
Explore hashtags
Free service

SaveIG is a versatile Instagram viewer and downloader that caters to the needs of casual users and professionals alike. A seamless interface facilitates the browsing and downloading of Instagram media. Additional advanced features, such as scheduled downloads, automate content saving.
Key Features:
Private Media downloader
Download videos from Instagram in high quality
No software installation required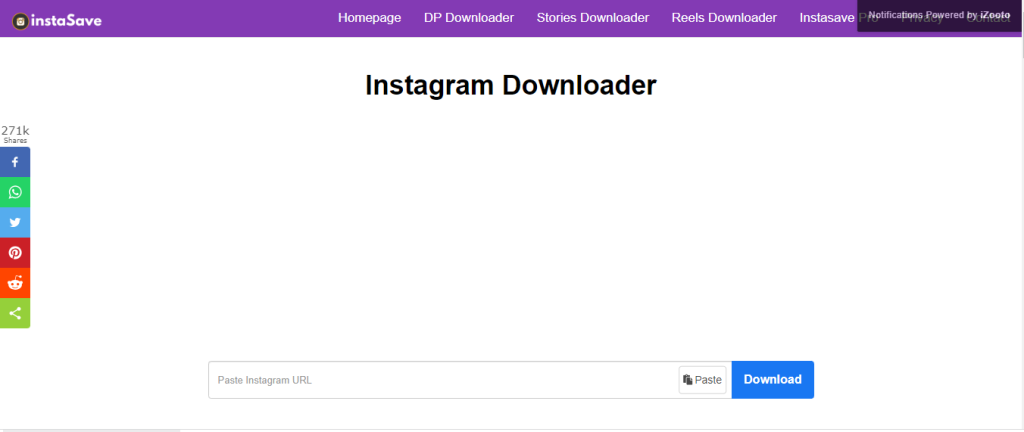 True to its name, InstaSave provides an excellent solution for saving Instagram content directly to users' devices. A simple and straightforward interface offers convenience in downloading photos, videos, and stories from Instagram profiles, enabling users to curate their personalized collection of Instagram content.
Key Features:
No need to signup or login
Start downloading in easy 3 steps
Easy and friendly to browse

SSGram is an intelligent Instagram viewer and downloader that utilizes AI algorithms to deliver personalized content recommendations. It is commonly used by individuals who want to save Instagram content to their local devices for offline viewing or archiving purposes. 
Key Features:
Free Instagram DP downloader
Download multiple contents from Instagram
Permanently free
Conclusion:
Pixwox is a valuable tool in optimizing your experience for downloading videos and photos of your favorite influencers with its fast workability, user-friendly interface, and ability to download media in its original quality. Its alternatives offer a range of options for Instagram enthusiasts to view and download their favorite content. Each alternative comes with its own unique features and benefits, ensuring an enjoyable and personalized downloading experience.