Blogging
Amateur Blogging: How to Grow your Blog in 2022
Blogging became a popular activity in recent years and is still a passion for youth. Even in 2022, it is a tending passion to write blogs. More than a 10% rise is seen in blog popularity. Many businesses need bloggers to write blogs containing customized content for blog sections on their websites. Everybody who has some passion can become a blogger. So, many youngsters have initiated amateur blogging on particular topics. But not everyone has a chance or the skills to become a full-time successful blogger. Neither everyone can earn a living from blogging. You can write a blog on the topic of your interest as a side hobby and there is a chance that it can attract relevant readers. But to grow it and make it beneficial, you need to develop skills besides dedication and enthusiasm. These skills include Search Engine Optimization (SEO), content marketing, fluency in the English language, and online business development.
Read Also:
Strategies to Make Money Blogging for Beginners
Here, we are going to give you tips and guidelines to walk on this path and deal with obstacles in growing your blog. But before this, let us discuss a few terms:
What is Blogging?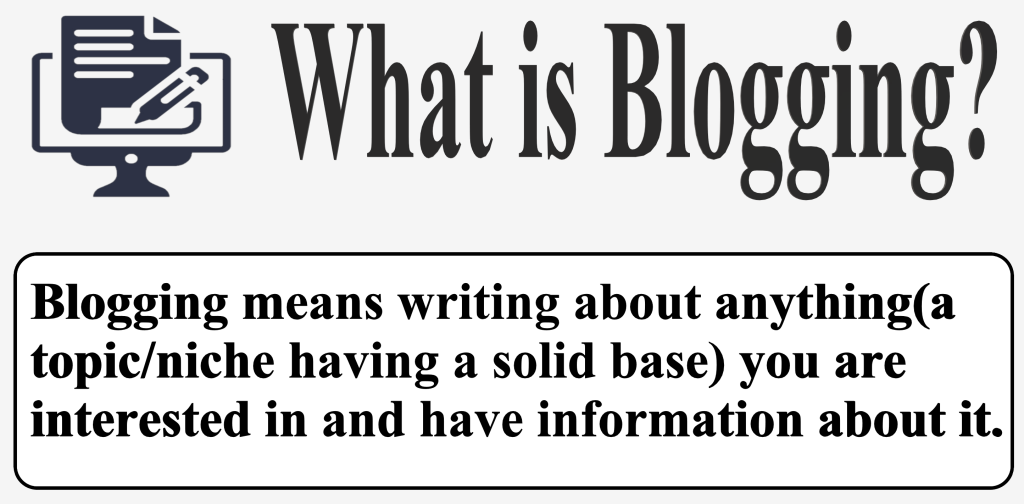 Before amateur blogging, let us discuss the term blogging. It means to write about anything you are interested in and have information about it. Your topic or niche should have a solid base and events, situations, experiences, or adventures (to share) information that you can tell in your blogs, and those who are interested can read it. But it is different from article writing. Because of this, the information is conveyed in a conversational style.
What is Amateur Blogging?

The reason if using this term is that it is the most suitable one for naive bloggers. It is an activity of writing and posting content online without anticipating any reward or income. You can also call amateur blogging a hobby blog.
Steps to Grow Amateur Bogging
To improve your amateur blogging and become a real blogger, here we have made the process easy for you. Just follow these steps:
Pick an Appropriate Niche or Relevant Area of Interest
The first and foremost step is to select a blog niche. Niche is the topic of your blog content. For this, first of all, you need to explore niches that are in top trend nowadays. Because the popular blog niches can let you grow your blog. So, to grow amateur blogging the niche selection should be based on profitable interests. Also, keep in mind that you might need to modify or completely change the topic with time. When you are going to initiate a blog, and you decide on a name for your blog, it should be according to your niche theme. For instance, a few years ago, people were obsessed with a balanced diet, Paleo or Keto diet plans, etc, then switching to a new niche would be a great challenge. And you need to use great skills to switch it while being popular.
Choose an Attractive and Easy Domain/ Blog Name
Also known as the domain name. You should keep several rules in mind while choosing a domain name. For instance, the name should be:
Short
Easy to remember
Without numbers and hyphens
Attractive and eye-catching
Descriptive
Accurately spelled
The above points are important to consider because misspelled words or slang in domains can be confusing and difficult to remember for your audience. The reason I mentioned descriptive is that it can define the niche or main theme of your blog. You can also use the genuine ting or term from your niche. Even if you have not selected the niche yet and you are confused, just use your name, brand name, or any other customized name. It is a more beneficial option because it can let you improve fast from amateur blogging. How? Easy! Just by allowing you to put any topic or niche under this customized name.
Get your Blog Hosting
It is web hosting. Now let me tell you about web hosting: it is a platform where all the files of the blogs are stored and makes your blogs accessible to your audience. Hosting of your website is just like the hard disk of the computer, where all your blogs are stored just like data in a hard disk. Being naive in this field, I recommend word press for you because it is easy to use and most popular. So, set up your word press blog. Other popular platforms may include:
Blogger.com
Rocket.net
Hostinger
Bluehost
Set up your WordPress Blog
You can set up your WordPress blog through various sites such as rocket.net etc, you can purchase a suitable package, then create a site on the opened page. This is a crucial step for beginners doing Amateur blogging. Enter the domain name/blog name to continue the process. Also enter your username, password, the administrator email, etc. After filling in the complete required information press continue and your account is formed. The procedure is the same with other sites such as Bluehost, Hostinger, etc. Back to process, you will be redirected to the WordPress dashboard where you have to enter the administrator email and password to log in and further proceedings.
Read also:
5 Best WordPress Alternatives for Bloggers
Select an Attention-Seeking Theme and Personalize it
The next step is to select a WordPress theme that will assist you in starting and improving your amateur blogging. The WordPress themes are some templates that define the looks of your blog. For instance, in the case of WordPress being an engine of your website, the blog theme is the outlook of your blog site. WordPress also offers free themes that are good options in the beginning. But in the WordPress directory, you can have many more options of optimized themes. They should be adaptive to all devices such as mobile phones, tablets, MacBooks, laptops, I pads, etc. Some common free themes include Hueman, GeneratePress, Flash Blog, etc. If you have money, you can also buy a premium theme for your blog.
Use Important Plugins for WordPress
The WordPress blog without these plugins is just a useless thing. These plugins are the tools that will optimize your content for SEO, speed, and many other things.
Read Also:
10 Best SEO Blogs to Follow This Year
5 Tips How to Optimize Your Blog Post for SEO
A variety of plugins is available on WordPress but the most considerable ones in my view are:
Yoast SEO plugin (help you improve and optimize your content and drives a lot of traffic)
Emelenter (page builder)
Anti-spam (help you remove spam contents from your blog)
iThemes Security (protects your website from various hackers)
Similarly, you can choose other plugins according to your needs and priorities. The more plugins you use, the greater is the chance of growing your blog. So, I will call it the second most crucial element in growing your amateur blogging. Follow these steps and choose plugins for your blog:
Open WordPress dashboard
Go to Plugins
Click "Add New"
Upload your chosen plugin zip file and press the "Install now" option.
Now click on the "Activate button" and install the specific plugin
Write the Content of the Blog
Now write the content of the blog. The better way is to write it on WPS word and then copy the content and paste it on WordPress. It will be easy to write and use the options on the WPS word and then copy it from here and paste it on WordPress. Check the plugins and parameters such as Readability, Seo optimization, etc. Now post your blog.