A hand grip Camera strap appears making the use of the camera convenient and easy. It assures you have a tight grip on the camera while shooting at an event and party. While using this you become conformable and tension-free of not dropping your camera.
The camera is a very impressive invention to save memorable events and occasions in the shape of photos and videos. Safety is the first priority of your camera, in that case, you look forward to finding ways for securing your camera. Apart from the safety, the strap provides you with quality photos when you make use of the camera strap it reflects to help you in many ways.
In this blog post, we will assist you how to buy the best hand grip camera strap.
Hand Strap Vs. Neck Strap
No doubt, that hand strap is one of the best-underrated pieces of photographic equipment. Most photographers prefer to opt for the neck strap when clicking. But once you make try using a hand strap, you never look back to show your interest in using that again.
But on the contrary, the hand grip camera strap attracts the intention of the people and no problem like that appears. It keeps your camera very close to your hand that remains in control. It provides security to the camera and quality to the photos and videos. There is no issue that uncontrolled swinging puts the camera at stake. A good strap holds the camera and does not harm your hand in any way.
For most photographers, this seems convenient enough to use as a neck strap but the more you use the more you find issues. First of all, it would be fatigue in the neck. Mirrorless cameras and DSLRs are very heavy, especially with very large lenses connected. We all feel to have heavy pain in our necks after a day-long shooting.
For all photographers, this is a safe and secure option to opt hand camera strap. It would not fatigue your hands, arms, and wrist. It also helps you distribute the weight of the camera across a hand.
Some of the Best Hand Grip Camera Strap
While shooting at a special event you do not want to stop yourself from capturing the beautiful movements but when making continued use of the camera without a strap creates some kind of trouble in your hand that stops you not capturing and making memory anymore. But here are some of the best hand grip strips to help you get this situation.
Peak Design CL-3 Clutch Hand Strap
Peak Design comes in the first priority of the people. This has a very reliable picture in the mind of the people that provides considerable protection to the Camera. More interestingly, The CL-3 appears to build quality, functionality, and affordability. All kinds of photographers appreciate making use of this Strap. It has a very durable and strong Hypalon strap. The user experience becomes comfortable with a microfiber pad and an aluminum adjuster is the other best quality of this strap. An aluminum clutch allows adjusting the strap as you want if want to tight it with your hands or lose is very easy for you.
When you are working with a heavy camera the security and the reliability attract you a lot to use this hand strap. It is very compatible with all DSLR Cameras. With the help of this strap, the camera holder can hold more than 200 Ib, so, there are very rare chances of failing a camera. It is ideal for landscape, street, and portrait photography. Photographers from all areas will get immediate benefits if they make use of this CL-3 hand grip camera strap.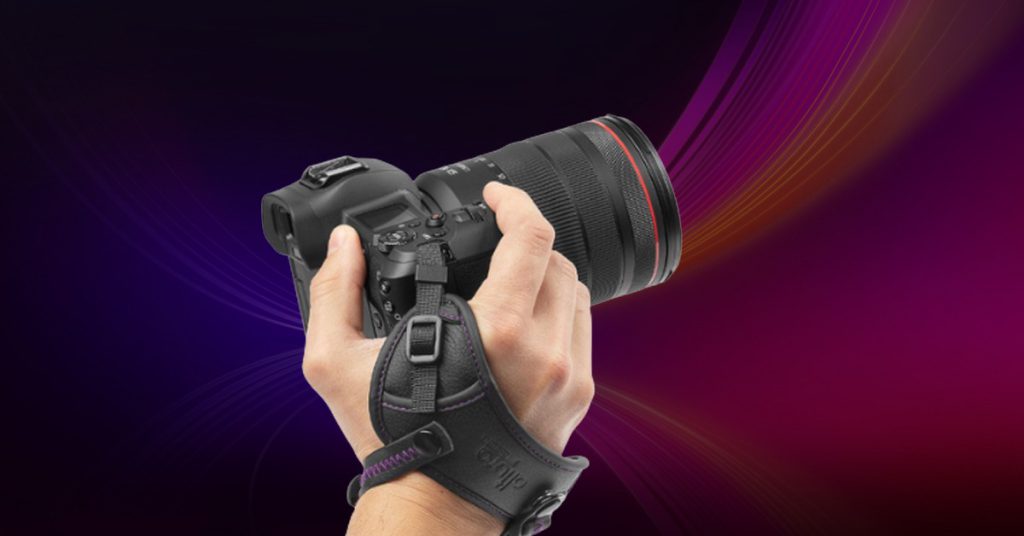 Altura Padded Camera Hand Strap
This is one of the best camera hand straps that provides extra control and safety. It does not appear to be a very discreet and fashionable hand strap but has very durable, strong, and reliable qualities when shooting. All the famous camera brands such as Nikon, Sony, Fujifilm, and Canon seem very compatible with this brand and look very helpful for all photography styles.
Altura hand strap has very large padded sections for helping the back of your hand. The wrist strap is very fruitful to prevent the camera from accidental drops but the problem is there it takes a bit of time while getting tight the straps and make them comfortable. Interestingly enough, when all these things you do it becomes the most secure and safe camera strap that you are finding.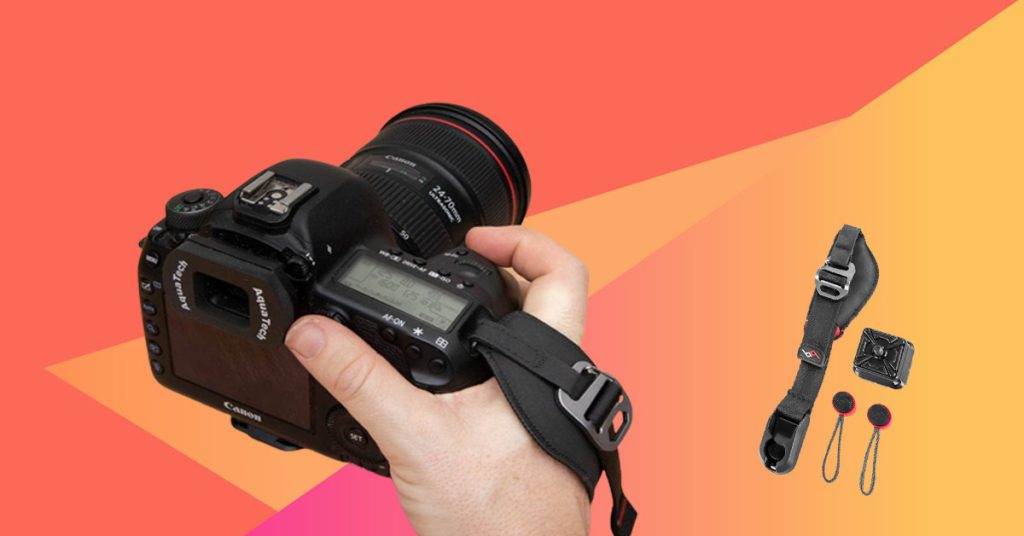 USA Gear Dual-Grip Hand Strap
This also comes in the first line while we talk about the hand grip camera strap. That has extra value to provide comfort to your hand and great security to your camera as well. Aside from being fruitful for your camera, it seems very supportive to fall in your budget. It is not so stylish but has a very attractive material to provide all kinds of protection to your camera.
This USA Gear has a two-point connection and an adjustment to tight fit your strap. It offers energy to your hand distributing the weight of the camera in an arm. It adds extra energy to your wrist for shooting a quality picture.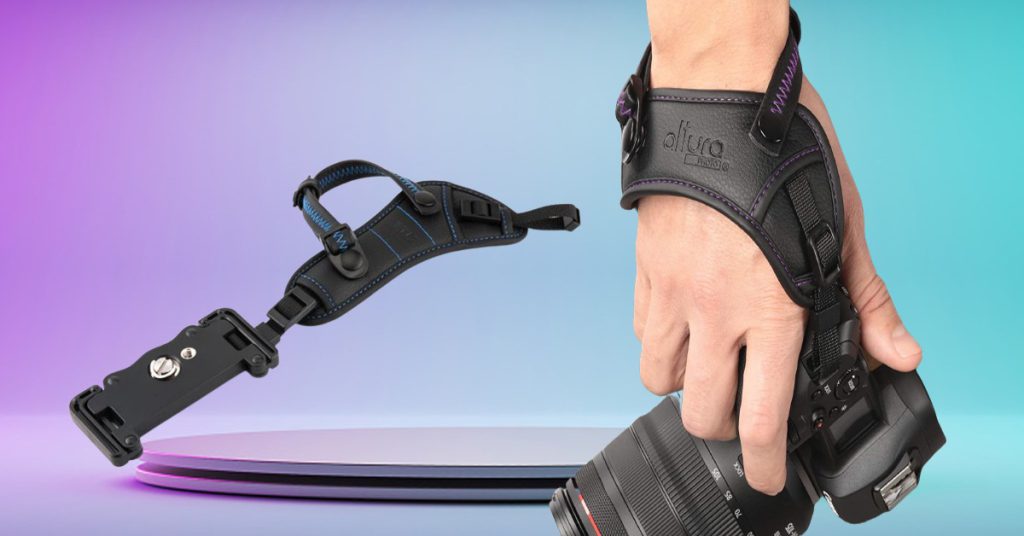 Villo Hand Grip Strap 
It is very ideal for a mirrorless or DSLR camera. it has a very impressive quality of material to impress the users. It is a very reliable, affordable, and comfortable piece of gear for any curious photographer who is looking for the best equipment to get the safety of their camera. The discreet and stylish design has great importance for street photographers. It has been designed with gentle and soft leather when you use this, your hand gets comfort touch.
 More interestingly, it makes you delighted with a good experience, you are just happy all the time when you are using this hand grip camera strap. There is no discomfort and friction around your wrist section appears the whole time when you are shooting in an event and function. The additional advantage is to use heavy lenses and cameras.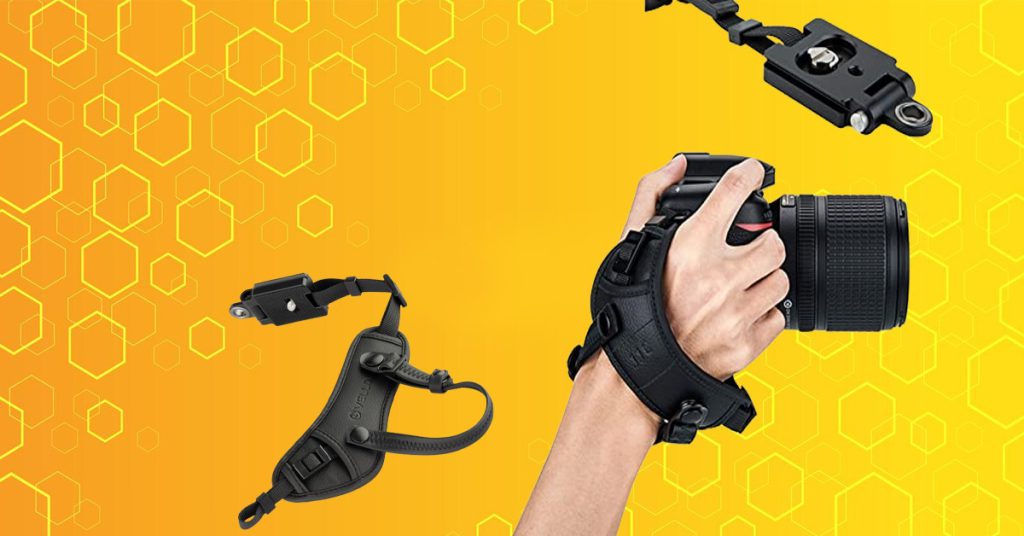 Spider Camera Holster SpiderPro V2
The SpiderPro V2 is a versatile and durable camera holster that is perfect for active photographers. It features a quick-release plate that allows you to quickly and easily attach or remove your camera from the holster. The detachable belt clip also makes it easy to attach the holster to your belt or other clothing. The SpiderPro V2 also has a built-in rain cover that protects your camera from the elements. The material is low-friction, meaning there will be no rubbing or chafing. It's also sturdy enough to hold professional lenses and cameras.
Interestingly enough, The wrist strap can be removed quickly with quick-release buttons. Additionally, the camera strap is still usable when your DSLR or mirrorless is mounted on a tripod. The spider V2 is a professional camera strap that has very sturdy and strong and extra security that you need in the time when working with very expensive camera gear. The option of this strap does not come on the cheapest list.