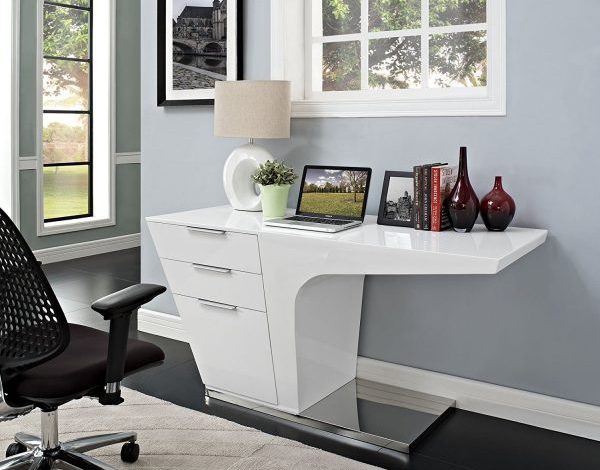 What is a Computer Desk?
A computer desk is a piece of furniture that has been specially designed to comfortably as well as aesthetically provide a working platform for people. It is designed modern computer desk in such a way that the work you do is concealed from people beside you. Although there are a lot of alterations in the modern computer desk which we get to buy in the markets today. We will come to that later.
A computer desk is a curated piece of furniture that, apart from holding the desktop, monitor, UPS, keyboard as well as a printer, has enough space for writing as well. It is designed so that the keyboard given is adjustable as per the person's convenience. The holes punched are strategically punched so that the routing cables and other wires can be put through. These wires connect the monitor with the other accessories as well as the main chord connects with the switchboard through which the power is supplied. However, modern computer desks have all these features but are more sleek, fashionable, and better to look at. It is due to modernization, that the designs of modern computer desks have started to change at a rapid pace.
List Of Modern Computer Desks Along With Specifications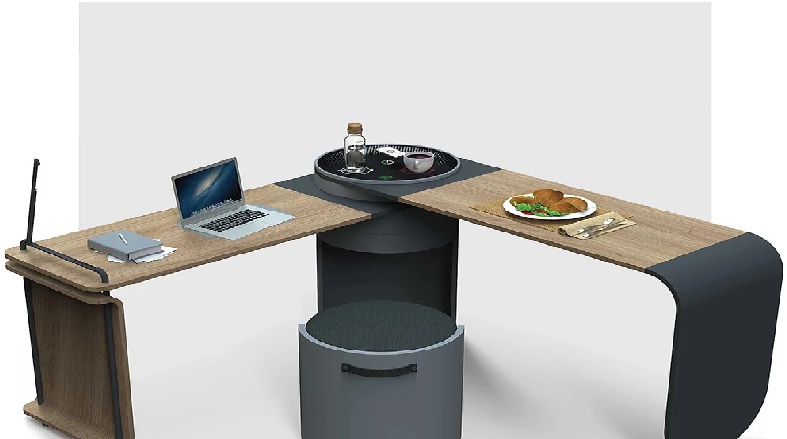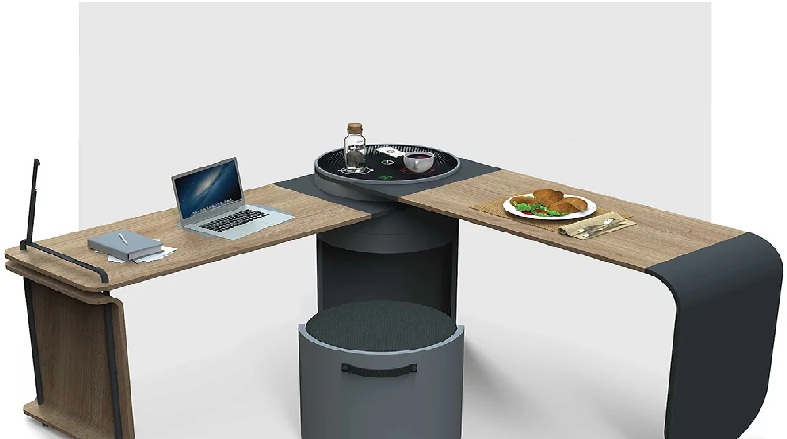 Curved Modern Computer Desk Pull-out Keyboard Panel:
A sleek as well as rounded design, which is already ready to use. All one needs to do is stick the legs together. This modern computer desk has a pullout keyboard tray and two side drawers for additional storage requirements. At 88lbs in weight, this is a great deal for small home offices or workplaces.
Modern Computer Desk With Cord Management and Slim Drawers:
This desk flaunts its white and pink finish as well as boasts its cord management. Apart from this, a front drawer and a hideaway top compartment to stock your other daily needs. With sturdy legs made of metal, this modern computer desk can easily hold up to 75 lbs of weight and it has a considerable amount of desktop space.
Scandinavian Style Desk With Drawer:
This modern computer desk has been created in Scandinavian style and is part of the Oslo collection. It features clean lines, natural wood accents, and zen-like simplicity. This particular furniture is specially created to give a modern feel to the traditional as well as a historic home. Apart from being sleek, it is quite affordable, easy to assemble, and also durable with its high gloss finish.
Walnut Finish Mid-Century Modern Computer Desk For Home & Office:
This modern computer desk has a dark walnut finish which contrasts against the white drawers. This combination makes this mid-century writing desk an eye-catcher either in your office or home. It not only is very useful with its two front storage drawers but is also designed beautifully with its rounded silhouette as well as clean lines.
Modern Industrial Style Office Desk:
This modern computer desk, also known as the Ameriwood Home Landon Desk has a weathered oak finish that contrasts with the black hairpin legs, therefore making it an awesome product to integrate within your modern or industrial décor. The desk has been specially designed with storage space to keep your laptop when not in use. An additional file drawer has also been added to it, for the extra space.
White Modern Minimalist IKEA MICKE Office Desk:
This modern computer desk has a clean as well as simple design which makes it an ideal product for people living in smaller places such as apartments.
Minimalist Rectangular Office Desk:
This modern computer desk is highly affordable and is a minimalist office desk designed by Zinus Modern Studio. It has a very simple design, enough to go with almost any kind of décor. It has a sturdy metal frame and comes in three colors. Brown, Espresso, or White.
Small White Cross-legged Home Office Desk:
This modern computer desk is small and simple. Designed by Nathan Home, this helps you to be organized with two storage compartments, which makes it the perfect place to store your laptop or books to keep the desk space clear. Apart from being sturdy and durable, this also has anti-scratch and water-resistant features. This is available in two colors, Rustic Espresso, and White finish.
Dual-tone Writing Desk With Cubbies:
This modern computer desk, also known as the Brentry writing desk has a pretty sleek as well as stylish dual-tone finish and is available in three colors. Cherry, Walnut, and Oak. This highly affordable desk, apart from looking good, is also highly practical due to its top storage spaces where you can store your various things.
Two-tone Wooden Desk With Flip-up Drawers:
This modern computer desk is a very elegant piece of furniture. Part of the Chiesa collection, it has a two-tone flip-up drawer to conceal away any clutter lying on the table. It also boasts of a hidden power plug outlet for the management of cable. This furniture is available in five colors. Yellow, frost gray, samba red, Vulcan black, and white.
White Computer Desk With Cross Legs & Keyboard Pull-out Panel:
This modern computer desk has a glossy white finish. The white finish when combined with the chrome legs make this a perfect office desk. This features modern crossed legs and a pullout keyboard tray for your convenience. A glossy black finish would be the best color for this furniture.
My Writing Desk:
This modern computer desk is a simply constructed piece of furniture. Although it is simple, it is stylish as well as functional. With multiple drawers and large storage spaces, this is the ideal thing for the working public. This desk is available in two different sizes and is available in several color combinations. The color combinations are white, black, and natural wood.