Computer
Buying The Right Computer Desk: How To Go About It?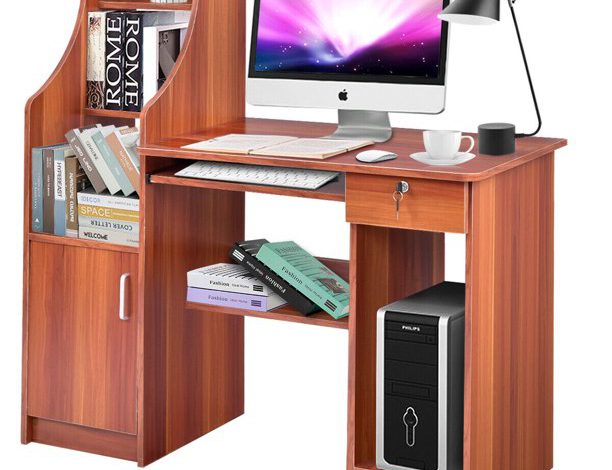 If you plan to purchase a computer desk, be it for your home or office, you would want to make sure that you are choosing the right product. There are multiple computer desk Walmart options available, giving buyers the advantage of being able to pick from plenty of designs. Do bear in mind that you would have to make a personalized choice, ensuring that you can enjoy a great work experience.
7 factors should you consider while buying the computer desk
Computer desks vary in a number of ways, including dimensions, styles and build. You would have to take several factors into consideration while choosing the right one for your home or office.
Additional space requirements
If you use your computer for work or learning purposes, chances are that you might also need additional space for paperwork. In the latter case, you would need a larger computer desk that offers more space. Especially if you are buying a desk for your office, consider whether you need storage space for files. Computer desks with drawers would then be a suitable choice. If you are confident that you would only be using the desk for computer work, you can go for a smaller desk to save space.
While shopping around for a computer desk, you can choose from plenty of materials. Apart from any personal preferences that you may have, also pay attention to the lifespan of different materials. For instance, fiberboard and chipboard desks have a shorter lifespan and you may need to replace them soon. On the other hand, a hardwood computer desk would last several years. The cost of the desk would depend on material as well, with better materials naturally being more expensive.
The design of the desk should be such that you would enjoy a comfortable experience while working on your computer. Ideally, the height of your computer desk should allow you to tap on the keyboard without needing to raise or lower your hands from your waist. The location of the screen on the desk should not force you to crane your neck uncomfortably either. After all, one of the key purposes of using a dedicated computer desk rather than a regular desk is to put less strain on your body. Also, consider getting a desk with a matt finish so that it does not reflect much light.
One of the best things about computer desks is that they are available in various shapes. You can easily purchase a desk that suits your purposes the best and offers better space efficiency. For instance, if you plan to place the desk in a small room, a corner desk may be ideal. If you are planning to use the desk to use only a laptop rather than a PC, even a small standing desk would work too. Check out various computer desk Walmart shapes and compare them to find the most suitable one.
If you need the desk for your workplace, consider whether it is going to be a communal workspace. Typically, a communal workspace requires a larger computer desk as multiple people share it. There are multiple options in this regard too, with different computer desk designs being suitable for communal work. For instance, you could choose a desk of dimensions similar to a dining table, allowing two or more people to share it. If you want to ensure more leg space, you could also go for a wider desk that would allow the users to sit on the same side.
Quite naturally, your budget would always be a major determining factor while shopping for a product. Consider how much you can afford to spend on the computer desk. The costs vary depending on a number of factors, including the materials, dimensions, storage space, design, brand, etc. Once you have a clear idea of your budget, you may proceed accordingly. Deciding on the budget early on would help you narrow down your options more easily.
The look and feel of a computer desk is an important factor to consider too. It should add to the aesthetic appeal of the space, be it by contrasting or blending in with the surroundings. If you are placing the desk in your office, you would usually want to go for a classy design with a formal look. You can be more flexible with the design of a PC desk for your home, as long as its looks complement the room's interiors.
Why is choosing the right computer desk so important?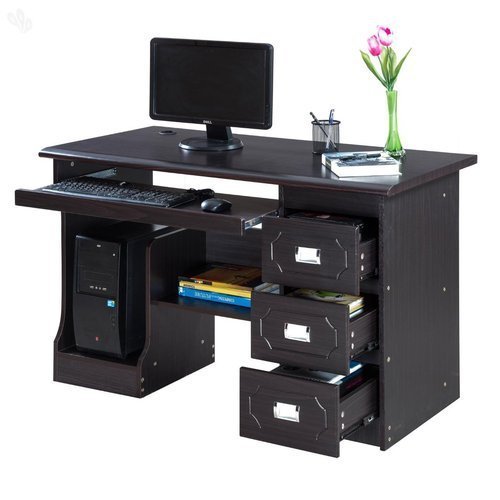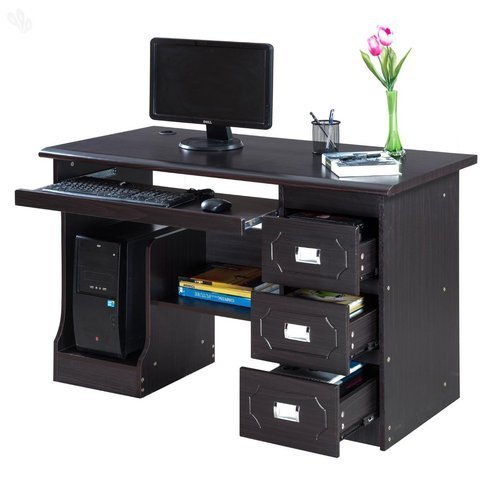 You certainly would not want to buy any computer desk randomly simply because it is available at an attractive price. Picking the right desk for your home or office is extremely important because of the following factors:
Space efficiency: When you pick a desk keeping in mind the layout of the room, it would help you use your available space more efficiently. Be it at your home or office, it is always best to free up as much space as possible.
Productivity: Productivity during work is directly linked to comfort. The lower the strain on your body during work, the more productive you would be. This is exactly how a good computer desk Walmart can help you be more productive.
Value for money: The last thing that you would want to find out after buying a product is that it isn't really worth the money you spend on the purchase. Putting some time and effort into finding the right desk would help to ensure that you wouldn't regret the purchase later.
Convenience: It is more convenient to work on a computer desk that meets all your requirements. Additional storage space, for instance, can make it easier to work if you do need a place to store computer accessories or files.
Go through your options carefully, consider all the perks and downsides of different computer desks before making the choice. As long as you make an informed decision, you shouldn't face any problems.