Branding in web development is immensely crucial to give your project a unique identity and differentiate it from the competitors. You must work the way you can compete in this highly competitive environment. A well-designed web development strategy with effective branding techniques can readily help you achieve the desired milestones by paving a direct route to success. It will not only allow you to build a good reputation but also take you to an advanced level. We have developed this guide to help you learn about the incredible benefits of branding in web development strategy.
What is Web Development?
Web development is building a website or landing page by incorporating different tactics and elements. Over the years, it is evolved greatly and now it involves developing from a single static page to a complex site. It involves using CMS, HTML coding, and CSS to design, program, and add functionality to the site. Web development is important in the online field as it directly decides how your site will appear in the search engine. Moreover, it helps you add the desired navigation and other characteristics to the site.
Benefits of Branding in Web Development Strategy
With time, there has been a tremendous rise in the competition, making it extremely challenging to authorize your position in the market. Therefore, you need to follow the tactics that can help you appear more widely and closely to the users. In this way, you can help yourself receive much better outcomes. In the under-section, we have listed the eventual benefits of branding in web development strategy.
1 – Distinct Identity
Firstly, branding in web development is helpful in giving a unique identity to your business. A consistent brand image, exceptionally designed logos, color schemes, visual style, and typography ensures a distinct approach to your company and help a larger audience recognize you. In this way, you can dominate the competitive world and build a good image across the globe. A well-structured website is enough to bring all your business milestones to you.
2 – Trust and Credibility
Effective branding techniques give users a positive signal regarding your professional approach and serious behavior toward your business. A perfectly designed website with unique attributes and functionalities can win the clients' trust more ergonomically than the others. Furthermore, building a good site can reflect your credibility with the customers. Consequently, they will promote you on various channels, make purchases, and positively review you.
3 – Enhanced User Experience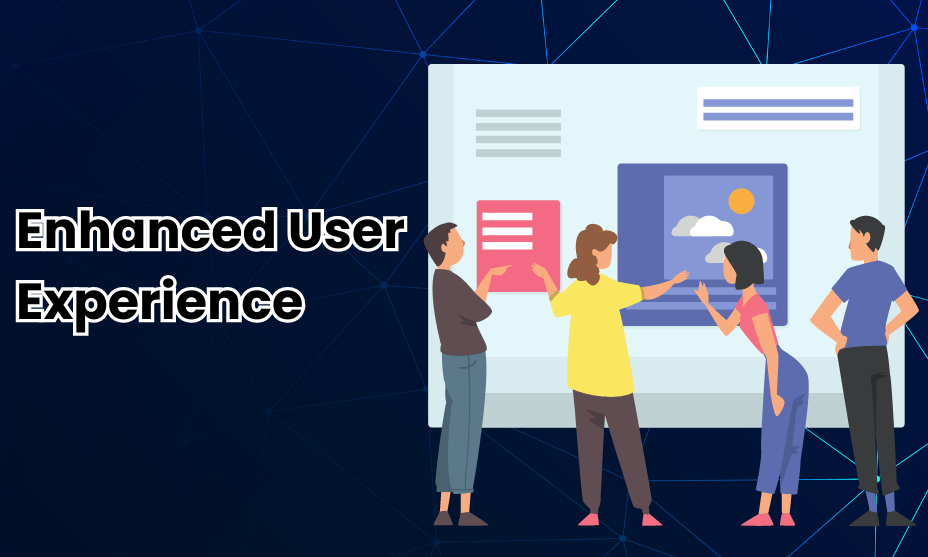 User experience is very critical when it comes to web development. You must add all the required features to guarantee an exceptional client and customer experience. Give the widgets, navigation bar, and content a proper layout to make it look fascinating and attractive. In addition, make sites mobile-friendly. So, the smartphone users will also be able to capture the live experience. As a result, people will consider you more authentic, benefiting your industry.
4 – Competitive Edge
Getting a competitive edge over competitors is also compulsory to sustain growth in the market. Branding helps you achieve this by giving a classy and differentiating look. You must ensure a well-executed web development strategy that allows you to comply with your value propositions to stand out in the market. Otherwise, you will end up with your ideas and goals. Branding in web development is extremely compulsory to convey your thoughts and values to potential customers.
5 – Brand Awareness
Another necessary thing for the business is developing a high-quality and functional web development strategy to improve online brand visibility. Utilizing several strategies, like search engine optimization, compelling content creation, link-building, and social media marketing, can help you capture significant users. Moreover, integrating other digital marketing techniques leads web development in the right direction to achieve more clients and give your company a unique global identity.
6 – Emotional Connections
Setting up an emotional connection with the audience is also necessary to take your experience to the next level. Branding has the potential to do so as it generates a strong bond between you and your customers. By communicating your values and associated benefits with clients, you can make them sure about the worthiness and narrative of your company. In addition, a comprehensive web development strategy resonates with the targeted audience, making them more likely to remember you and return to you in the near future.
7 – Business Growth
Branding also fosters business growth. Integrating a web development strategy with effective branding techniques help you optimize the visual of your website and make it accessible to a larger audience, expanding its range and leads. Setting up an online presence across social platforms like Facebook, Instagram, YouTube, and Twitter allows you to appear in front of a large crowd. A consistent brand lets you capture the public's experiences, and you can manage them to bring improvements to the sites. As a result, you can unlock new horizons to success.
8 – Improved Marketing Efforts
Lastly, branding in web development has a direct connection with marketing efforts to reach more clients and get more compelling results. For example, if you have a strong identity and promote it across various channels, like websites, social media applications, Email marketing, PPC campaigns, and advertisements, it will give users a seamless and constant experience. In addition, integrating the branding elements consistently and properly builds a strong and calculative marketing strategy to reinforce the effectiveness of the brand or web development strategy. 
Final verdicts
All these are the details about the benefits of branding in web development. In conclusion, promoting your brand across different platforms is quite essential to sustain consistent growth and appearance in the market. It will not only give you a distinct identity but also enable you to reach a larger audience and build trust in them. Using effective branding techniques such as enhanced user experience, increased brand awareness, improved marketing efforts, and adaptability. Ultimately, you can take your company to a professional level, getting a competitive edge. That's all about this guide. Stay tuned for more information!