Gadgets
10 Cool Gadgets Under $ 50- Must-have Tech Gifts
Cool Gadgets for Holiday Gifts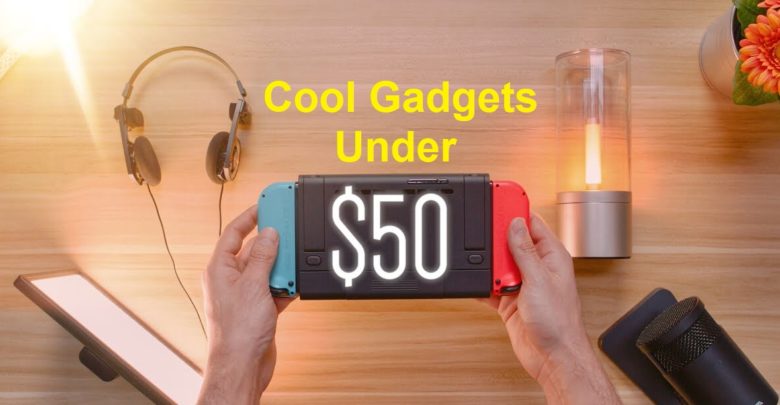 Looking for cool gadgets under $ 50 to give best tech gifts to your tech-savvy friends & family members on holiday season? Or just want to add up something unique to your tech gadgets stock?
Here we have a list of 10 cool gadgets under $ 50 that can assist you buy the best gift for someone special just be spending 50 bucks or less than that.
Top 10  Cool Gadgets You Can Order Under $ 50
Car Phone Mount
Believe me this cool tech gift will keep your loved ones safer on the road while driving and staring at the Google map to reach the destination. A great car phone mount always enables you to glance at traffic alerts or maps without looking down because it keeps your phone in front of you.
Whether you are listening to the music or using phone's GPS feature to find the way, it will hold your mobile phone carefully in landscape or portrait mode as you want.
Price: $19.99 $9.99
JJRC Mini Drone
Drone fever is common in both boys and girls nowadays and if you really cannot spend a lot of $$$ on buying a heavy duty drone, don't be worry and check out the JJRC mini-drone which is one of the cool gadgets under $ 50 only.
You can have extreme fun by having this amazing high-speed mini-drone even without breaking the bank. It sounds like an amazing little flyer that will double the fun for your or for your kids.
Price: $20.99
Brother P-touch Cube
Do you want a cool gadget for an organized tech devotee even without spending more than $ 50? Here is the smart and stylish labeling machine which is not only suitable for home use but can also be used for office.
It prints labels that are laminated and durable as well for safe use in all around home, office or library etc.
Price: $52.99 $39.99
Silicone Sticky Gel Pads
Anti-slip Sticky Gel Pad is one of the cool gadgets under $ 50 that can stick pretty well to any surface and can hold different things as well. These silicone sticky gel pads are good for sticking onto unusual or irregular shapes all around the home, office or workplace. It could be the best and safe holding solution for all your vital devices and tools.
Price: $14.49 $14.99
8x Optical Zoom Clip-On Telescope for Smartphones
You can turn your smartphone into a zooming machine by using this8x Optical Zoom Clip-On Telescope for Smartphones. It could be the cool gadget for your loved ones who love capture the happenings around.
Believe me it can give your smartphone superpowers. Best thing about this amazing tech gift is that it is suitable for all smartphones (Android & iPhone), and very lightweight as well.
Price: $14.99
Tile Mate
If you or your loved ones always face the problem of misplacing the important keys or something like that? Then Tile Mate would be the cool gadget for you.
Just own it and set up as you want it to carry around while traveling or when working in the office. It will also track the last known location of your stuff if they're misplaced.
Price: $59.99 $49.99
LOOP World Adapter Plug
Looking for a great and smart all-in-one gadget charging solution? Never be late to order LOOP World Adapter Plug as it offers you common electrical adapters plus two USB charging ports which mean you can quickly charge your 3 devices at the same time without facing troubles.
You can direct plug your smartphone in it by using the USB cable to give your phone a second life.
Price: $39.95 $18.95
Mophie Powerstation Mini
It is one of the cool gadgets under $ 50 that offers you a great charging solution for your smartphone or other chargeable tech gadgets. It is a sleek, ultra-light power pack with sufficient charging capacity to give your Smartphone a new life.
It could be the lifesaver when you are away from home or traveling abroad due to some reasons.
Price: $29.95 $23.26
Wireless Charging Pad
Just place your mobile device on it and it will charge it wirelessly. Believe me its true as it is the best wireless charging pads that can work for various devices. It can top up your mobile device rapid and could be one of the cool gadgets under $ 50 either to gift someone or for personal use.
Price: $13.99
Fire Tablet
Improve your screen time with this amazing tablet designed by Amazon. It is also one of the coolest best sellers on Amazon. It has all features that a great tablet has. You can now enjoy Amazon fire tablet with more memory and battery life.
Whether you want to watch Netflix movies, play games or browsing the web, it would be the best companion for you as it has improved battery capacity.
Price: $49.99 $39.99
Logitech K480 Keyboard
Logitech K480 Keyboard will provide you an amazing typing experience as you can easily connect it with multiple devices like laptop, desktop PC, tablet or phone etc. It is the perfect typing solution and you can also gift it to a tech savvy to make him/her pleased.
Price: $49.99 $24.56