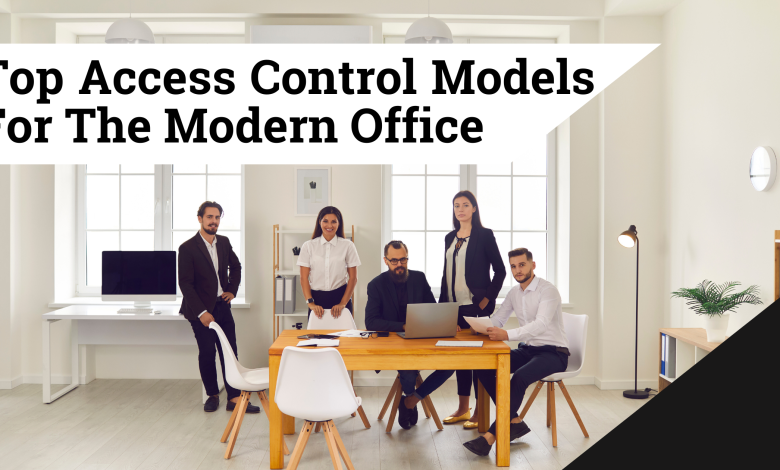 44% of workers noted that since the pandemic, access control had become even more of a priority in the office. Hybrid work models demand a change in security strategy, and access control is adapting to help secure physical and digital company assets with remote management.
But, what are the best features and models to look for in an access control solution?
Keep reading as we give you a run-down of the top access control models for the modern office. This guide will cover keyless access control, visitor management systems, and the benefits of cloud-based access control. Don't miss out on this vital information to ensure your business is fortified against physical security threats.
A Keyless Access Control System With Touchless Entry
One of the main aspects of access control that cause inconvenience to office security staff is the replacement of keycards and fobs. Not only do offices need to cover the expense of replacing keycards and fobs, but employees will have to wait for a replacement – meaning they can't enter the office without assistance.
To resolve this issue, access control providers have created different types of keyless systems, such as keypad access control, that do not require keycards and fobs. Instead, users only need their mobile phones to operate the building's door locks. When the company needs to give new user access credentials for the establishment, they can simply let the employee download the credentials to their mobile device. They will be less likely to lose their mobile phone or forget it when leaving the house, so employees will find that they encounter fewer difficulties entering the building with mobile access control.
However, a true keyless access control system's touchless entry feature allows users to enter the building without touching a button, pin pad, or lock. Businesses must reduce the number of touchpoints users must contact when entering and leaving the building. Touchpoints in building entry systems are touched by every user entering or leaving the building and can become host to germs.
Rather than touching a button to enter the building, touchless access control requires users to wave their hand over the access reader simply. The reader will detect this motion and immediately begin remotely communicating with their mobile device to open the door. The reader uses three remote communication methods to unlock the door – WiFi, Bluetooth, and cellular. By using three methods of communication, the reader ensures that the user gains entry on their first attempt, preventing any traffic from building up at the building's entrance.
An Access Control System That Enables Visitor Management
When considering which access control model to purchase for your office security, you shouldn't neglect to consider visitor management. Many access control systems come with open API integrations, which allow security staff to integrate visitor management software with their access control system.
Visitor management software is essential in reducing the manual tasks associated with allowing visitors to enter the building and logging them correctly. Visitor management is challenging to handle in a hybrid or remote work environment without the assistance of technology. Logging your visitors accurately is extremely important. If you needed to evacuate the building in an emergency, you would need to know precisely who is still inside the building and who has been evacuated to safety.
Visitor management software integrates with access control to provide more accurate visitor logs. When visitors need to enter the office, they must fill out a registration form on their mobile device and provide their details and name. Once they have filled out this form, they will gain temporary access credentials stored on their mobile device to enter the building. The system will log their entry time and exit time automatically. Once the visitor has left the building, the system revokes their temporary credentials to ensure they cannot re-enter the building. Automating the visitor management process saves a lot of time for your admin staff and may even spare your company the expense of hiring a receptionist.
Cloud-Based Access Control Software
Cloud-based access control software is the most convenient form of access control. It comes with open API integrations that facilitate the integration of visitor management software, occupancy management software, video surveillance, and more. Integrating video surveillance and access control allows for easier identity verification. Some access control providers offer door video intercom systems with door release that combine both surveillance and access control technology rolled into a single device. Since stolen credentials are the most pertinent vulnerability in an access control system, identity verification ensures access control is air-tight.
The main advantage of a cloud-based access control system is that it allows your system administrators and security staff to remotely view security information. It also enables the remote management of door locks – so your security staff can let visitors into the building or check door lock status and lock them from anywhere. Since many companies are implementing hybrid and remote work models following the pandemic, this technology is invaluable to a modern office.
Flexible Access Permissions
In a flexible working model, your employees may visit the office at different times and on different days. To ensure your employees always have access to office resources when needed, you can invest in an access control system with flexible access permissions. So, if you have a few employees with a flexible work schedule, they will be able to enter and use the office at any time. If you have a coworking office environment, you also need to ensure that access control is convenient for both businesses utilizing the space, offering both businesses admin control to onboard new employees to the system.
Summary
Access control is the number one staple in any office security system. With access control, you can secure your building from intruders. You can enable swift entry for users and integrate visitor management software to create a more user-friendly visitor experience. Consider the benefits of these access control features and whether it's time to upgrade your existing access control.