Apps
These 5 Apps Make it Easy For Grandparents To Stay Connected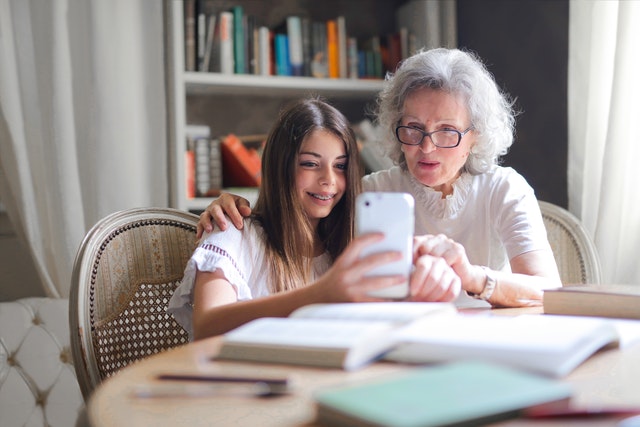 I'm often in awe when I see anyone over the age of 70 – my grandmother or mother-in-law included – using a handheld device. It will never cease to be an odd pairing of past and present in one place. This brings up an important point when it comes to technology: access. Accessibility is widely talked about when we discuss opportunities for people of all backgrounds.
But what about access to technology for seniors? It's hard enough to keep up with the technological changes of the day, let alone think about how drastically lifestyles changed during the 20th century alone.
Anything from texting, dialing, video calling, and app usage can be extremely foreign concepts for grandparents, who may prefer getting things like car insurance quotes online with no phone calls needed. A simple task on the phone may seem easy for a young person, but for a grandparent whose younger selves lived vastly different ways of life, the unavoidable task of having to use a cell phone or tablet can seem intimidating.
Thankfully, apps for grandparents – yep you read that right – are on the rise to help them maneuver the modern cell phone and tablet landscape and stay connected.
#1: Text Enlargement and Voice Assistant
Although technically not an app for grandparents but an accessibility function that comes with most versions of iPhones and Android phones, the capacity to increase the text size or a variation of the voice assistant function can be a great aid for any grandparent out there. Look, we don't have to shy away from the obvious; as we age, our body functions decrease, ie. sight and coordination. Options such as these make it easier for grandparents to manage access to technology that fits in the palm of their hands, allowing them to stay connected to family members and most especially to the grandkids they adore and love.
#2: Video Chat Apps
The pandemic has made video conferencing and calling a normal day-to-day function. Odds are grandparents already know and love the feature. If they don't, there are amazing video chat apps out there that can help them make use of this feature. Plus, there are apps for grandparents that can help them set-up the camera so that you can talk to their lovely faces and not to a feature on their face, like a nose per se.
#3: Gaming Apps
Yes, that's right! Grandparents can also be gamers. Many gaming apps for grandparents exist that have taken their traditional games and placed them on a digital interface. Anything from crosswords to number games, checkers, chess, card games and any other nostalgia filled classics can now be played online. Nothing beats the in person connection, but when that isn't possible, connectivity through online gaming apps can be a great alternative.
#4: Photo Sharing Apps
Grandparents are notoriously good at documenting life events through photographs. There's no doubt their phones are probably filled with many photographs of the interesting places they travel and interesting people they meet. But sharing said photos can often be complicated and time-consuming, a feature that may be frustrating for them to figure out. That's why photo sharing apps for grandparents simplify this feature so that the sharing process from phone to phone is simplified and easy for them to share.
#5: Podcasts and Reading Apps
Long gone are the days when you sat by the fire listening to programming on the radio. Nowadays, you can find interesting conversations on basically every topic and interest out there. From the sports aficionado to the history buff and everything in between, there are podcasts out there for any type of interest.
There are also books on audio for the reading fanatic that make enjoying your favorite books simple and easy. And with the versatility to listen whenever or wherever, grandparents need only press play.
In Closing
Navigating tech can be challenging at any age, but especially for grandparents. That doesn't mean they shouldn't be able to stay connected like the rest of us, and thankfully, many apps for grandparents now exist that make integrating tech easier than ever.