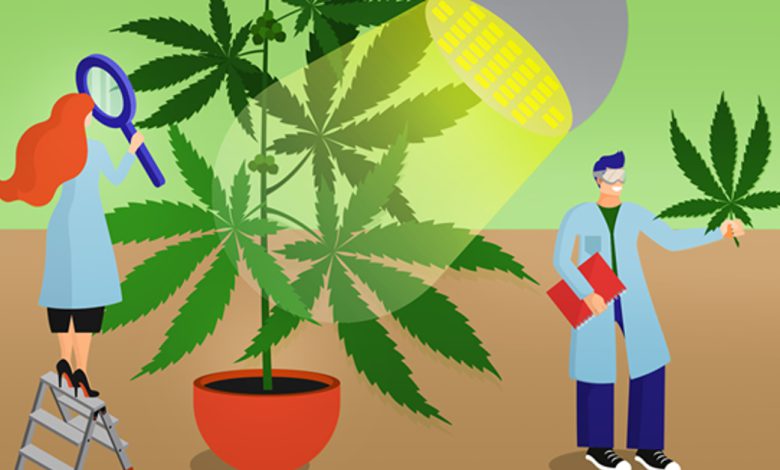 Since CBD products have become legal, the CBD market has been growing at an unprecedented rate. As of now, there's already a floodgate of interest from entrepreneurs, and all projections only indicate that it will continue to expand, reaching up to a whopping $19.5 billion in 2025! So, it's not surprising that all large retailers and business owners are looking to get a piece of that market. Is it possible to beat the competition and stand out from the sea of green? Of course, it is! All you need is a marketing strategy that will let you have the upper hand over your peers and capture the attention of the target audience. Below, we discuss the top marketing tools and ideas to help you achieve your goal. But first, let's take a quick look at what CBD is and what challenges dispensary marketing is facing.
What Is CBD?
According to scientific studies, the cannabis plant contains more than 120 cannabinoids. One of them is cannabidiol (CBD). It's a natural compound that doesn't cause psychoactive effects but is known for its ability to reduce pain, help with sleep disorders, and alleviate the symptoms of schizophrenia. There's already a wide variety of CBD products on the market, such as gels, liquids, oils, mouth sprays, and coffee. But with increased interest in the product, major retailers, including AskGrowers, continue to offer more and more, all showing that now is the perfect time to jump on the bandwagon! If you're ready, read on!
Search Engine Optimization
SEO is one of the most important tools to market your CBD business. If you build an SEO strategy that is effective for your product, you'll be able to get high-quality traffic from organic search and save money on using paid advertising. Whatever product you take, the search starts from Google, and if the content of your CDB online dispensary shows up at the top of search results, the odds are consumers will purchase from your store. With that in mind, CBD SEO is something you want to implement on your site from the very beginning and keep a close eye on it as your business grows.
Blog
How do you get the most out of SEO marketing strategy? You launch a blog. Blogging not only helps increase your visibility in organic search, but it also helps you earn the trust of your users and is more likely to convert them into loyal consumers. Keep in mind, however, that in order for your blogs to be useful, they must be written with customers in mind and not just for marketing purposes. Ideally, you want your blog to be in-depth and educational so that your readers can learn the benefits of your products and decide to stay with you. It would be best if you also aimed to publish long-form articles to score high with Google in terms of relevance and trustfulness. If you don't think you can blog on your own, you'll likely be much better off recruiting a content writer who can create high-quality blogs for you. Remember, the more relevant content there's on your website, the better the chance of it showing up at the top of search engine results.
Social Media
No matter how big your business is, social media shouldn't be overlooked, as it's a great tool for presenting your business online. You can ramp up your content production yourself, or you can partner with other influences to promote your products through various ad formats. Another option worth trying is Medium. This forum offers you many CBD business opportunities by providing you with a blogging platform where you can connect with new consumers.
Email Marketing
Email is another great tool for communicating with your customers, as well as connecting with new ones. Not all businesses take advantage of it, but you definitely should if you want your marketing strategy to be successful. What is the first thing you do when you go on the internet? That's right — check emails, and, believe it or not, 91% of adult people do so too. So, why miss out on this opportunity? Emails can be effective in many different ways. They can help you acquire new customers. They can also be used to educate the existing ones on the benefits of your CBD product line. Besides, you can send them to offer your consumers special deals, so they have a reason to come back to you instead of going to your competitor's store, which can help you win over the competition. Did you know that email marketing is actually 40 times more effective than Facebook and Twitter combined? No? Now you know it, so use it to your advantage!
Digital Marketing
If you want to be a part of a growing business community that generates valuable leads, garners high-quality traffic, and spends the budget effectively, your marketing strategy wouldn't be complete without paid Google Ads. Do a bit of research on the Google AdWords rules for advertising products like CBD, and you will soon see your campaigns lead to more e-commerce sales.
Conclusion
To cut to the chase, CBD is a lucrative business that spreads like hemp through all types of advertising channels. However, it's still not too late to join. Whether you're a newbie looking to establish your presence online or a major brand that's already made a name for itself, with an effective marketing strategy, you've got an equal chance of success.