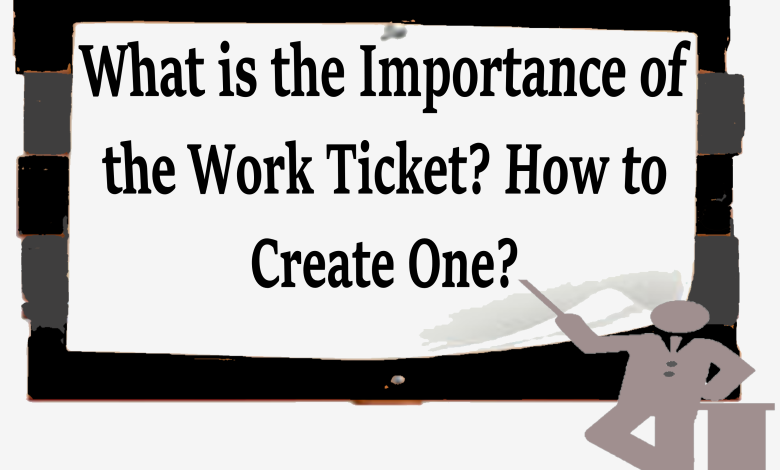 The work ticket is crucial to running a business smoothly nowadays. It helps in making effective deals with the customers and clients, business partners, and organizing tasks for your staff. It provides service in managing a large number of customer support requests from different communication channels. So, a business cannot grow without paying heed to customer service tools. But, still many naive and a lot of veteran businessmen still don't understand its importance. That's probably because they don't know what a work ticket is and why is it so much important in a business. The following article will elaborate on its importance for you alongside the method to create it.
Read Also:
How Technology is Changing the Business?
Work Ticket, Work Order and Time-sheet
In a business organization or a company, a work ticket is a type of form that records the time spent by a worker or a staff member in performing a particular task. It is used for calculating the wages of direct labor based on their time spent. It is the foundation for billing the pays of labor and employees. The calculation means to pay them for their time and dedication. Moreover, a work ticket also keeps the records of the customer's orders and receiving payments, keeping the record of orders and meeting their requirements in a given time limit.
When we talk about accountability, we can set parameters (such as payment for per hour work, or 8 hours a day, or 30 hours in a week, etc ) then the work ticket can also be called a time-sheet, or time card.
But when we assign a particular task to an employee, to see how many times the task is completed, and take it as a standard parameter, then such time recording forms can also be called a Work Order.
So, we can say that all these terms are interrelated with each other. And we cannot run one thing without considering the other.
Importance of Work Ticket
With the accurate and precise use of a work ticket, one can perform and organize its business smartly. He can handle things effectively. It provides the surety that all payments and salaries are paid accurately to labor for their work. When the staff and employees receive their payment on time, and they get the fruit for their hard work, they will also work happily with more dedication. Also, for the customers who have paid them for their work or any product, the orders are fully accomplished within the claimed time limit. It will improve the rating and reputation of your services. When people receive their orders finely within a given time limit, they will be satisfied and your rating will be improved. They will recommend your company to other people also. In this way, work tickets are also a source of indirect marketing, increasing sales revenue, expanding the business.
So, we can say with the effective use of work tickets, you can get the following benefits:
Calculate labor costs
Accurate tracking of productivity
Make budgets
Speculate future employee needs
Supervision of projects
Find profit and loss
To ensure that clients have paid for work done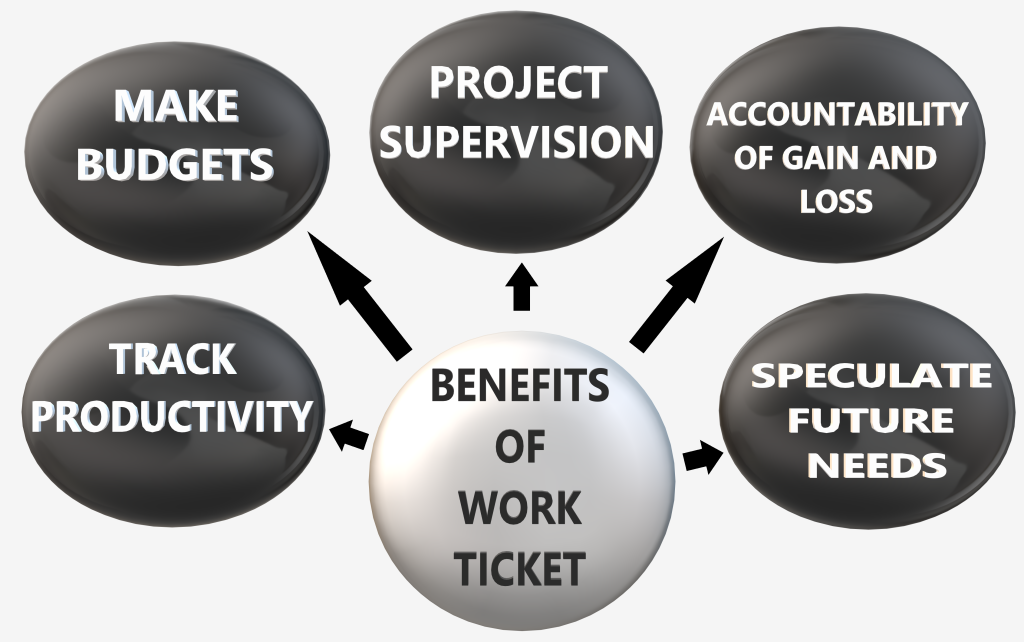 How to create a Work Ticket?
Work tickets can be created from various sites such as from WPForms, info plus, etc. You can also create by designing it on WPS etc. For your assistance, here I am providing you with a guide to prepare from infoplus. If the ticket goes wrong, then you can also replace or cancel it according to your needs.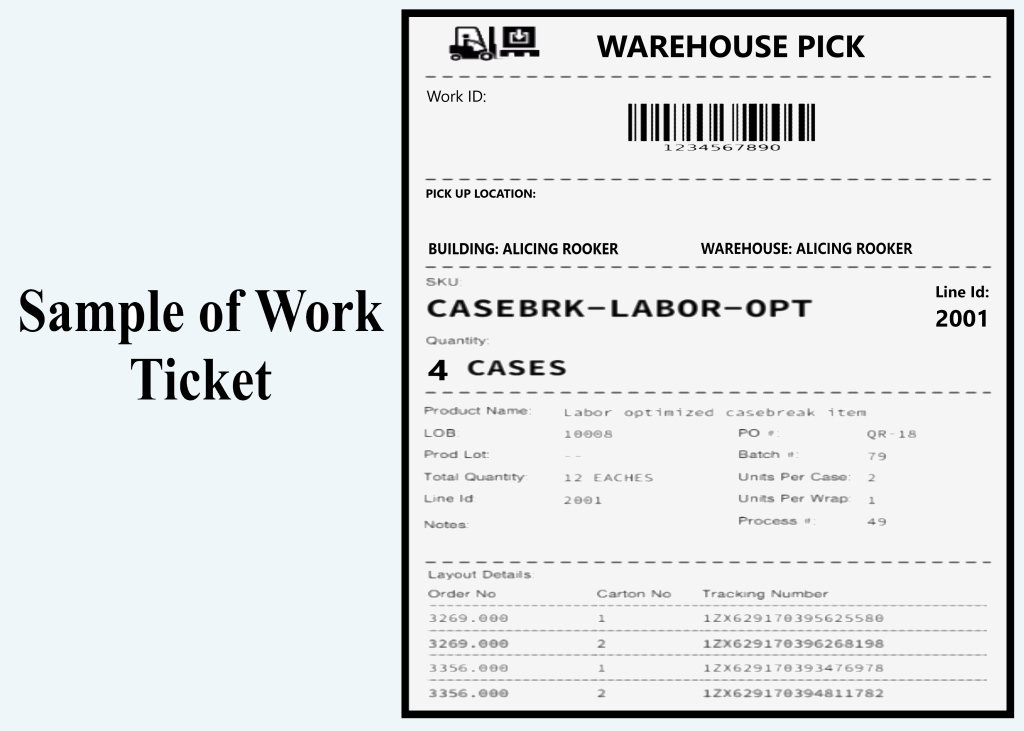 By using Infoplus
We all know that work tickets can be created by infoplus through the general process that is as follows.
Open infoplus from your web browser
Now, proceed to the "Work" table in two ways:
One is from the Dashboard:
First, Click on the "Warehouse Operations" tab from the sidebar.
Now, Click the "Work Management" application, when it opens, then press on the "Work" table.
Second way is to choose the "Quick Actions" shortcut. Now, press a dot (indicating period) from your keyboard. Then choose Work again from the list of "Quick Actions".
Now, Click on the "checkbox" next to the "work record" for which you want to create work tickets. Make sure to note the location records because, with the variation in location, the two records will be displayed instead of one for the same work. You can select the feasible one to print the work ticket.
Now select the "Actions" button and choose "Work Ticket".
Now, choose the "Download Report" option. A pdf of each work ticket will generate and you can download it.
Finally click "Done".
Steps to Select the type of ticket:
As, according to the requirements, work tickets can be of different types. For instance:
If work includes receiving items according to the shipping notification, the term "put away" can be used to put the material things into described warehouse location.
Similarly, when fulfilling the orders for customers, one can use the term "pick" to take the products for further proceeding the order.
In the same way, another form of work can replenish the forward locations. So, one can use the terms "take" and "placed" can be used in the work ticket. So, the product can be taken from storage locations and moved to a forward address.
Simple steps to create the customized work ticket for desired work through infoplus include:
1. Warehouse Configuration
2. Hardware Configuration
3. Setting Up Shopping Carts, Integrations, and EDI
4. Dashboard and Navigation
5. Item Configuration
6. Smart filters and User Reports
7. Mobile Floor Apps
8. How to Receive and Put Away
9. Inventory Management
10. Warehouse Document and Printing
11. Navigation Orders
12. Order Fulfillment/Picking
13. Packing and Shipping
Following the upper mentioned steps in making a work ticket will make the business easy to handle for businessmen and traders. But according to our needs, we can modify the steps, skip the unnecessary moves and make a refined customized ticket.