Internet
How to Unsub (Unsubscribe) From Unwanted Emails?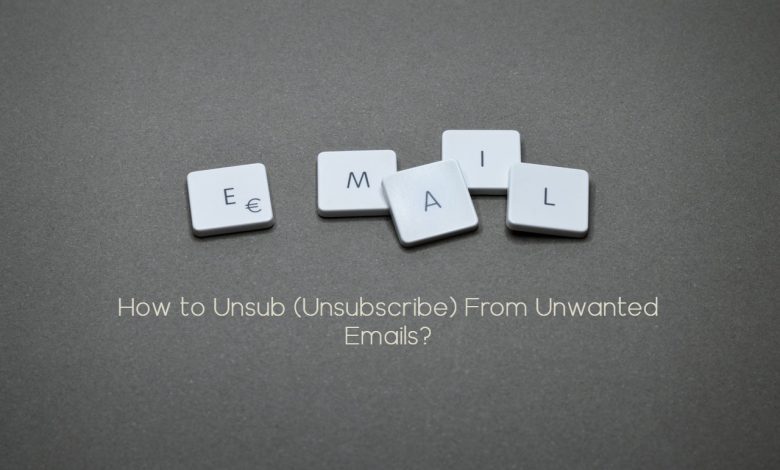 In this modern era, everything happened through the internet. People use online platforms to communicate with each other and businessman uses emails to communicate with different firms and companies, Likewise, many website and apps sent a lot of emails to engage clients, But they are against the interest of common people. Adopt the below-mentioned methods regarding your mail service provider i.e Gmail, Yahoo, Outlook, Apple Mail to unsub these unwanted emails,
Why Unsub Unwanted emails?
Mostly we receive a lot of emails daily that are meaningless and unnecessary for us, these emails are related to marketing, newsletters, promoting a campaign, or commercial purposes. Due to these absurd emails, we sometimes miss personal emails. As a result, we remain unaware of important emails.
Therefore it is necessary to unsub these emails. Don't panic every technical problem has a solution and it's given How! Therefore it is necessary to unsub these emails. 
To unsub, unwanted emails read some methods given below:
How to unsub emails on Gmail?
If you've signed up on a website or app that sends a lot of emails on daily basis about their offers and updates then you can get rid of that by following these steps: 
Mainly unwanted emails are delivered by two methods:
If you are a subscriber for some company or newsletter then you can unsub it by the link included in the message of the email. Sometimes Google automatically generates an Unsub button in the top right of the message if it finds the link separately.
If you receive an email that doesn't have an unsub link then opt-out through the following method:
Go to your Desktop 
Open the email of the sender
Click on three dots In the Top right Corner
Click on the Block sender and proceed with it.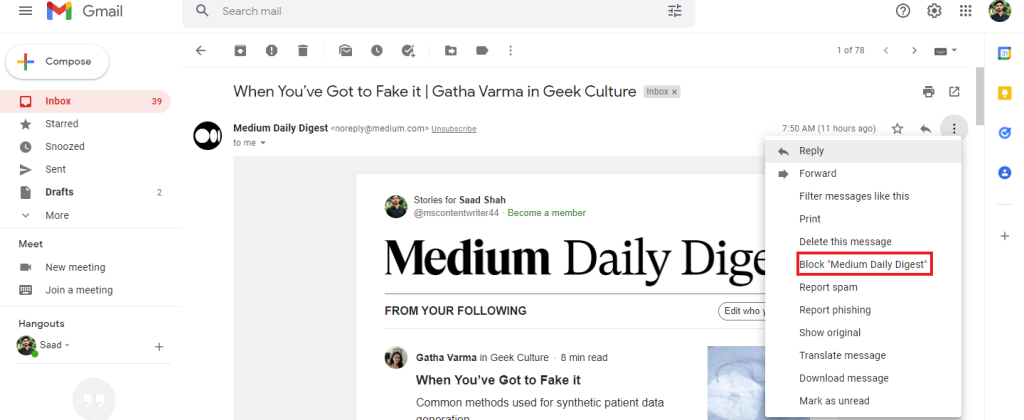 Then the sender will be moved to If you have blocked some important informative news source and want it back then you should repeat the above method at that time through the spam box. If you think that the mail you receive should be in the spam section; Report it as spam or unsubscribe too, Google will take a look at it and will block the sender's Gmail access as it goes against its community.
How to Unsub Mails on the Outlook?
Microsoft Outlook has also some features that allow you to unsub your inbox from junk and unwanted emails. As Outlook provides 15GB of limited space to its users to store their files and emails, its space often fills with unexpected and unnecessary files, As a result, you can't get more emails from friends and family members. But don't worry we have also a solution to it.
If you have subscribed to a company mail: then you can unsub those through this method:
Go to your Outlook on the Desktop
Go to settings 
Click more to view all Outlook settings of Outlook
Now click on Subscriptions
Here, All the mail subscriptions will be shown to you, You can Unsubscribe from them
For Mobile Apps,
Go to your Outlook app
Open the message 
Choose the Unsubscribe button
Confirm it to unsub
You can block an email sender by putting its domain name or email address through the following process:
Go to Your Desktop
Open Outlook Inbox 
Click on the gear button just beside your name on the top right side
Select More Mail Settings 
Proceed to Safe and Blocked Senders, Under Preventing Junk Emails
Enter the sender's Email address or domain in the box blocked email address or Domain
For Mobile Apps,
Go to your Outlook app
Open the message
Choose the Unsubscribe button
Confirm it to unsub
How to Unsub Emails from Apple Mail?
Apple devices are considered the most secure and strengthened devices but unfortunately, it has updated its features only in iOS 10 devices, one of them is email list unsub. It usually has great importance for you if you are tired of receiving unwanted and junky emails. As iOS Mail like Gmail analyzes spam emails but to get rid of subscribed companies' mails follow the given procedure,
For iPhone or iPad
Open the iOS Mail App on your iPhone or iPad
Open the email you want to unsubscribe 
Click on the blue unsubscribe option at the top right side of the opened mail
Confirm unsubscribe to stop these emails permanently
 
For Mac Book
Open the Mail App on your MacBook
Select the Mail you want to unsub
You'll see a banner at the top with a blue Unsubscribe option
Click on it and Proceed to OK
Now you'll not receive any further emails from that email sender.
 
After going through this process an Unblocked icon will be shown before the sender's mail, This means that you have blocked this message sender. You can also unblock him by clicking that blocked icon.
How to Unsub Emails from Yahoo Mail?
Yahoo also allows its users to block fake email senders or to mark spam the fake and dangerous emails, But this feature of Yahoo is accessible only on the desktop version, On android or IOS devices you can't proceed to this function. You can only Unsub newsletters, marketing emails or premium offers from Yahoo.
To block an email address on yahoo mail go through these steps,
Open your Yahoo mail in your web browser
Click on the top right settings icon
Open the More Settings option from the settings menu
Click on the Security and Privacy Option then select the Add in the Blocked addresses Bar
Put the Email address or domain you want to block then click on the save option
You have blocked the unwanted email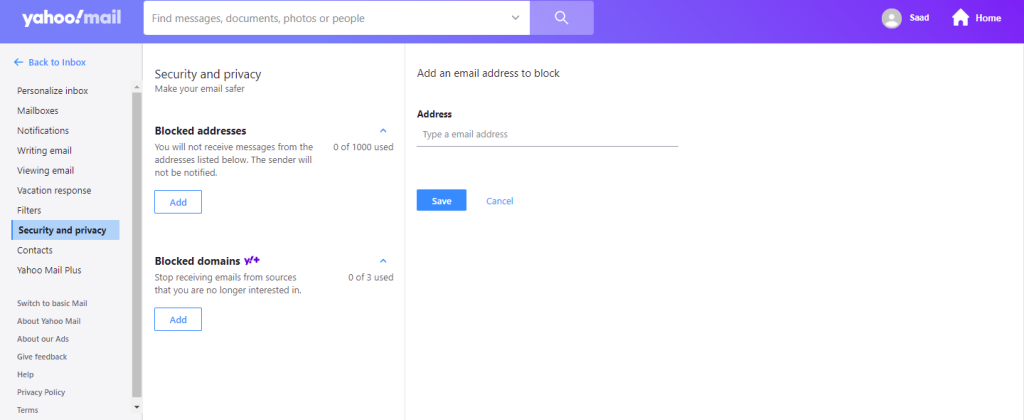 Yahoo takes 10 days to stop unwanted emails on your email address. Like all other mail providers, you can also Mark as Spam a certain mail address and unsubscribe the mail by clicking on the link available in the sender's mail.
How to Delete Junk emails through Tools in Bulk?
If you use multiple email service providers like Gmail, Yahoo or outlook, and are tired of deleting unnecessary emails to free up space then ill suggest you use this tool to save your time.
Unroll.me
Unroll.me is a tool used to unsub out different kinds of mail addresses at once. Through the automatic procedure, it deeply analyzes the whole mail of the user to give a list of unnecessary emails through which you can easily unsub all those. Unroll.me team has assured us they don't read or get into the user's emails. The whole process is end-to-end encrypted.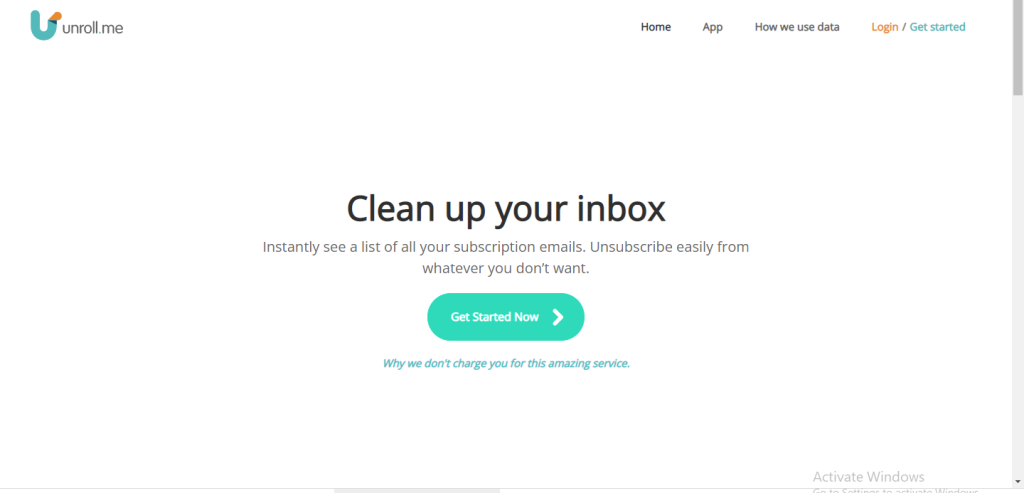 Moreover, the basic features of this software are free of cost. Unroll.me is also available on Google Play and App Store. Log in a method is quite simple, you can do it without any problem. This is the best option to save time to Unsub and delete Unwanted mails.
Final Thoughts
Many people are searching on daily basis to know the method to Unsub from unwanted emails. This article guides you completely that how to Unsub from unwanted emails. You'll be worry-free about the junk emails which are booming in your inbox day by day. A comprehensive note on all mail service provider platforms to unsub unwanted and disgusting mail is given in this detailed article.