Tech
Email Targeting-Ultimate Guide to a Targeted Email Campaign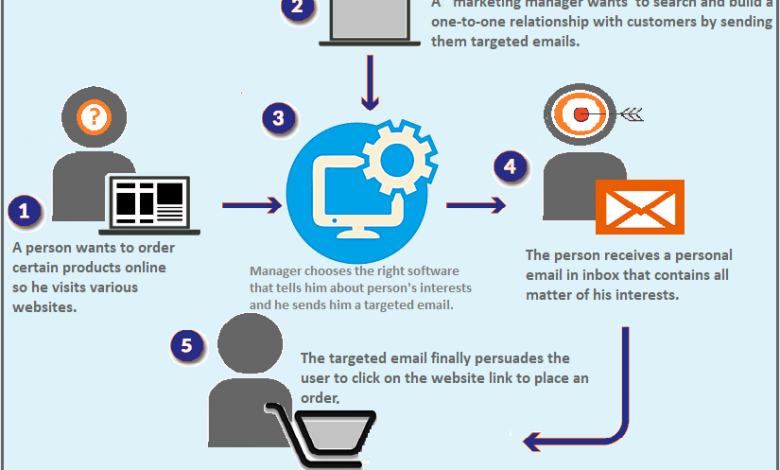 Taking a critical review of common online marketing channels, we cannot ignore email for when we make a comparison of their revenue and expense ratio, it surpasses other platforms. One main reason is that it needs very little cost, maintenance, and expertise, cherishing small businesses and providing them a chance to become larger enterprises. Another benefit is that an email targeting campaign helps you build your connections without any sort of algorithm changes that can tank your reach.
Agreeing to all these facts, a question pops up in mind:
If it is such a comfortable platform, then why people are not able to run a successful campaign via email targeting?
Email provides us a diversity of customers. These are people of all ages from all over the world who have different interests and multiple choices. So one email-fits-all marketing strategy won't work and you need email targeting to reach those who are also looking for products like yours.
What is Email targeting?
Email targeting is the art of sending customized personal messages to a specific sector of your mailing list. It conveys relevant offers providing values to subscribers.
"When a relevant person receives your email at the right time, he naturally clicks and opens it to make a purchase."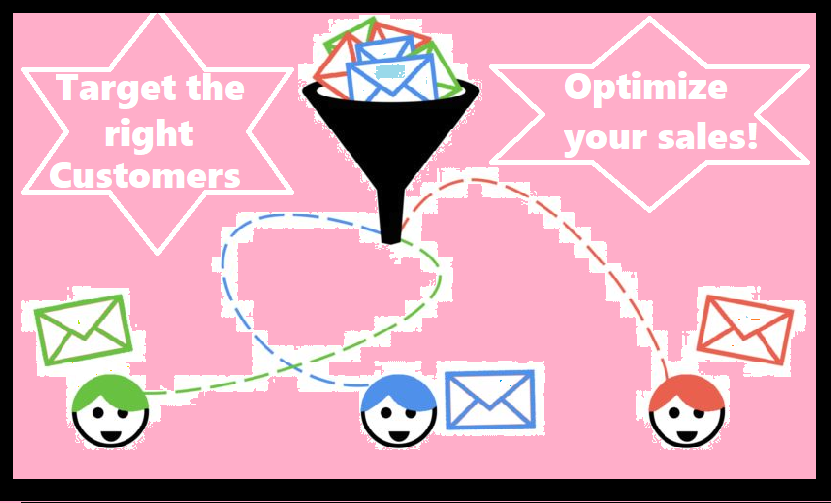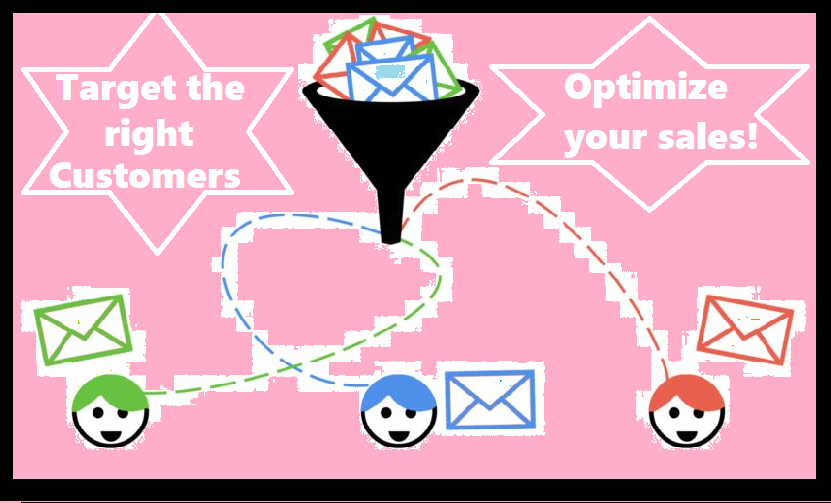 How to run an email targeting campaign?
Let's take guidance to start and run an email campaign targeting desired audience.
The right choice of software for efficient email targeting.
Build a list of targeted people
Welcome email for fresh subscriber
Track your website
Make a clear marketing goal
Write a captivating subject title
Proofreading of emails before targeting the audience
Schedule your campaign to send at the right time
Audit the email targeting results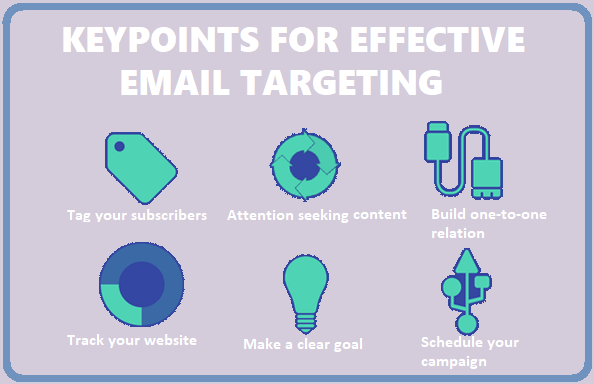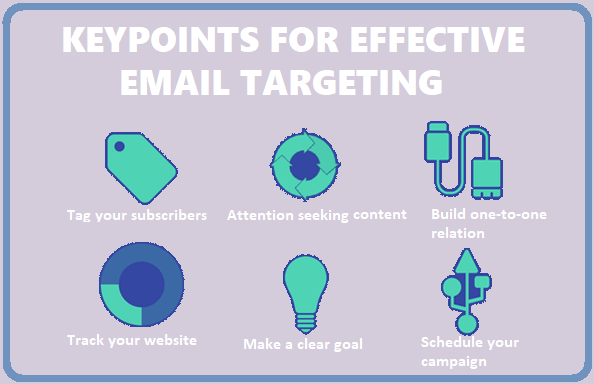 The right choice of customers for efficient email targeting
A vast range of proficient online Software e.g. Hubspot is available to assist you in managing and sending your emails to your email subscribers. But first, ask yourself a few questions for making an appropriate choice. For example;
What's your budget?
What kinds of emails have you planned to send?
How many times in a month do you need to send an email?
Your expertise level to operate the software and design an email.
A suitable software solves all kinds of questions and problems that have popped up in your mind.
Build a list of targeted people
A conventional email service provider frequently helps you create a subscription form that is visible to people. People must have observed the content of their interest on your website before visiting it. So, first, take a clear idea of what they are looking for on your website and what they are signing up for.
Will you be able to provide them with the content of their interest through emails, and how frequently can you do that to keep them engaged?
When a customer trusts you to provide you with his personal information and email address, then don't let him bore by sending irrelevant content and promotions.
Subscription form
A subscription form can be placed on blog posts, contact pages or homepage, etc. of your website. An eye-catching subscription form persuades the person to click on it and become a member of your list.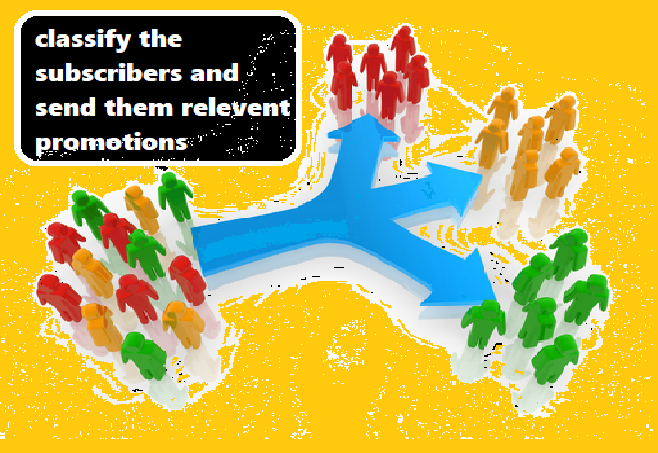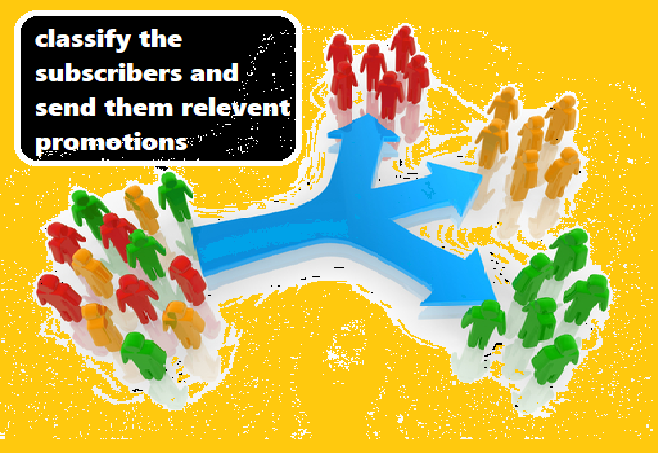 You can also share the forms on various social media platforms, such as in a post, by creating an ad, or as a link in a bio. You can ask for certain information from customers who apply for a subscription such as:
Username
Location
Gender
Age
You can use this information to make different segments of customers to whom you can offer the products according to their interests. For instance, if you launch a product in the United States, then based on location information, you'll not target the ones living in Asia. Similarly, some products are used by females only, so based upon gender information, you will not waste your emails on male customers.
Welcome email for fresh subscribers
Just after a customer subscribes, immediately send him a welcome email for a good impression and to keep him engaged.
"A welcome email is a self-operated message sent from your website to fresh subscribers and customers."
You can introduce your brand and content by including links to related news articles, offer welcome discounts, etc. to curate your newly build relation with your customers.
Track your website
Once a person has come to your website, you have to track their activity on your website. Because whenever somebody clicks your website link, it is an indication that they're interested in the topic of that page. By using website tracking software along with an email service provider, you can create excellent quality content according to the reader's interest.
Make a clear marketing goal
You need to be set some of your goals in marketing that you can achieve through your first email targeting campaign to not let your customers get disinterested. These can include
Keep your customers up-to-date
Share company news
Share discount offers
Promotion of new products
Optimize downloads for your latest e-books
Write a captivating subject title
Write a descriptive and summarized subject to engage your customers. This
single sentence line can ascertain whether your email will be clicked for reading or not.
A title should be the line of interest that can convince the subscriber to click and read your email.
It shouldn't be too long like between 40-60 characters.
It should highlight the offers and promotions.
It should convey the purpose, curiosity, and urgency.
It should be appealing.
Proofreading of emails before targeting the audience
Whenever you create a new email for your audience, first you need to check its grammatical and formatting errors, typos, slang language, any damaged link, etc. Small errors can easily damage the reputation of your brand. Always make a final check to your email before sending it.
Audit the email targeting results
Monitoring, surveillance of the responses, understanding the reasons for customers' reactions, and analyzing results are very important. Some of the important parameters are mentioned here:
How many customers and subscribers have opened your email?
Out of the total number of emails that you have sent;
how many are opened and read?
how many people have clicked the link in your email?
how many emails have failed to be delivered?
how many people have unsubscribed from your website after receiving emails?
how many emails get a response?
An efficient audit assists you in improving your content and helps you to understand the psychology of people and teaches you how to deal with them more effectively.