Gadgets
Best Voice Activated Devices For Office
The smooth running of a business requires efforts on many fronts. Keeping up with the changing trends in technology and innovation is important to run a profitable and successful enterprise. A great way to enhance the productivity levels in the office is the step of automating several tasks by using state-of-the-art pieces of technology. Using advanced voice-activated devices will give your organization a vibrant work environment.
Also Read:
Injured Gadgets-Common injuries of smart gadgets and ways to fix them
What Is a POS or Point of Sale System?
Effective Power Management Saves You Cost, Time, and Data
Advantages of Investing in Smart Devices in 2021
Technology has made working much easier than before. In 2021, the most successful businesses are the ones that have incorporated smart devices all around the offices to improve productivity. Including voice-activated devices and other smart devices for your office can give you advantages such as the following:
Increase in Productivity Levels
Many research reports present that companies that proactively invest in developing their infrastructure by equipping it with modern technology enjoy growth and increased profits. Using high-tech devices contributes to increasing creativity in your office.
A technology-oriented smart office will allow you to run the operations of work smoothly while gaining important information to bring further improvements.
Enhanced Work Environment
A mundane work environment is bound to decrease the productivity levels of the employees. A work environment fitted with advanced voice-controlled devices will bring a fresh change to the office. This change will be a motivating factor that will result in higher levels of output.
With a voice-activated system, meetings and appointments can be scheduled with ease and precision. A voice-controlled device can also prepare the employees to embrace changes in the future.
A Great Precaution Against COVID
The Coronavirus pandemic has brought in many changes in the world of business. To ensure that the virus is not spread, stringent precautions have to be maintained. Your organization can smartly take necessary precautions by implementing a culture of using voice-activated devices in the office. These devices focus on limiting physical touch and contact which can help contain the spread of pathogens.
Helps to Simplify Communication
Lack of communication leads to the improper flow of information that can stagnate the performance of the business. Using modern devices for your office can help streamline communication in your organization.
Devices that are activated by your voice are extremely convenient to use once they are set up. Using high-tech voice recognizing devices such as powerful voice assistants can easily set up important reminders and schedule meetings. By simply giving your smart devices voice commands, you can save a substantial amount of time and effort in your organization. These conserved resources can be used for other activities in the business.
The Best Voice Activated Devices for an Office to Invest in
The market is flooded with innovative technology that aims to improve the functioning of your organization. However, you need to make an informed decision regarding the piece of technology you plan to invest in. You should be mindful of certain factors such as your budget and the purpose of buying voice-activated devices for your office. Depending on those factors you can ascertain the best options for you to convert your office into a smart office.
Here is a list of the best voice-activated devices to buy now: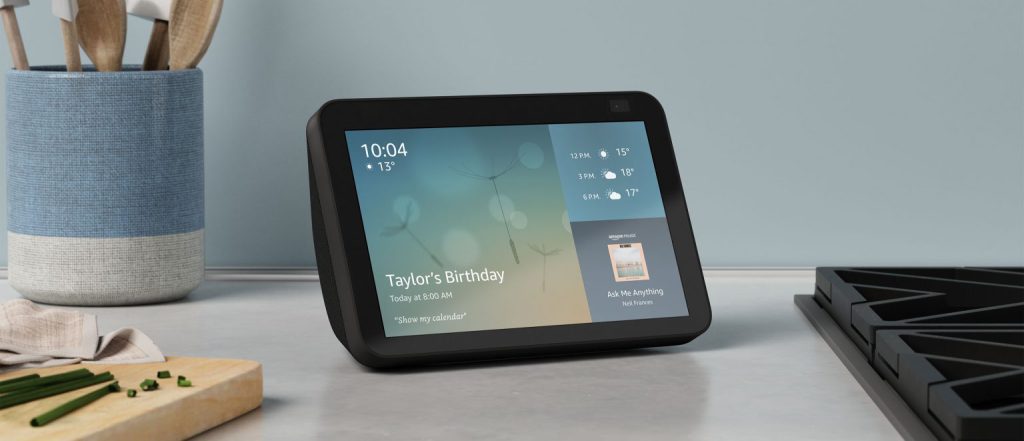 Improve the experience of video conferences of your employees with the Echo Show 8 by Amazon. This device includes an 8-inch high display screen along with a stereo sound. This smart device is Alexa enabled to manage the activities of your day. With a simple screen, you can link with your fellow workers through video calling or smart messaging with people who have the Alexa application or a similar Echo device.
The Echo Show 8 is packed with features that will allow you to set up meetings easily, make reminders, and a to-do list to stay at top of your work! You can use this device from Amazon to control compatible devices such as smart lights as well as thermostats. This device is WiFi and Bluetooth enabled.
Lenovo Smart Tab M10 Plus
This Lenovo tablet is equipped with a 2.3 GHz octa-core processor and ample storage. The tablet's screen is 10.3" in length with dual speakers for improved conference calls.
With an in-built Alexa, you can achieve a hands-free experience in communicating with others in the office who have Alexa installed on their devices. This tablet also makes recreation easier and much more enjoyable. Just command Alexa to stream videos, get quick statistics, and even change the lighting of the office. The Lenovo smart tablet is compatible with both WIFI and Bluetooth.
Read More from Our Tech Blog:
HP Laptop Docking Station- Best Docking Stations For HP Laptops
10 Best Amazon Alexa Echo Accessories for Your Smart Home
This advanced doorbell has revolutionized the way of inviting people to your place with increased security. The Ring Video Doorbell works with Alexa. This will allow you to communicate with any visitors you have in front of your home with the help of your phone. The doorbell will also send you a notification when someone touches your doorbell.
With Alexa enabled, you can simply command it to open the door and it will simply happen. This doorbell is a great way to keep unwanted people away from important places.
Arlo Pro 3 Security Camera
This security camera is a great way to keep your office secured 24/7. This powerful camera has color night vision, meaning that it can show unwanted visitors clearly even in the nighttime. What sets this camera apart from other security cameras is its compatibility with Alexa. You can listen and talk to people that approach the camera in two-way audio.
Wrapping Up
The best Voice-activated devices for offices are a great way to make your office a smart office. By investing in some of the best pieces of voice-regulated technology, you can make your office safer and more productive!
Follow our tech blog to learn more ways on improving your lifestyle with the help of technology! Our tech blog is filled with insightful content that will help you make a better choice.