Business
B2B Data – Data Collection Techniques You Should Use in Your Sales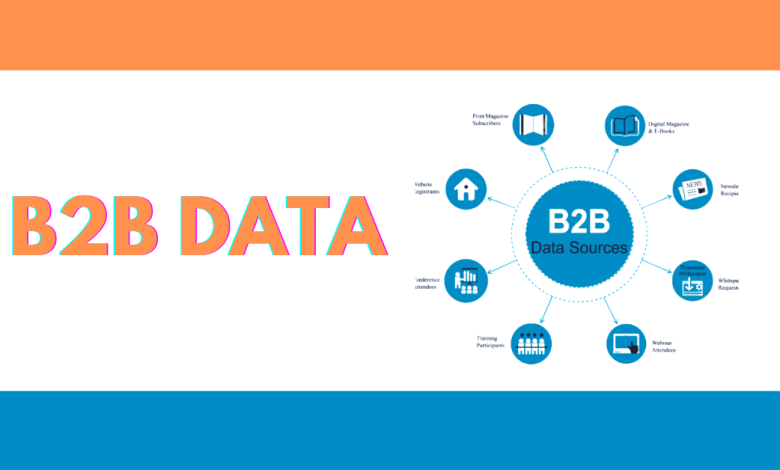 What Is B2B Data?
Business-to-business data is known as B2B data. In the modern era, data is robust as it is undoubtedly the most critical resource in the business sector. You can collect the customer's information to value their interests and needs. It helps you to increase your understanding of the client's expectations, allowing you to send messages and items that please them. Different organizations are trying their best to understand what is going on in the market to keep the competition alive. B2B collects data like the company's name, employee id, telephone number, email id, techno graphs, etc. Sales and marketing teams get data to consult with companies.
Traditionally, you can collect three types of client data:
First Party Data
Second Party Data
Third-Party Data
In the first type, you will collect data directly from the user. The second type defines the data shared by another company about the client. The third-party data category includes buying data, which refers to data purchased from external sources, such as data brokers like Coresignal, without a direct relationship with the user.
5 Steps to Collect data
Determine what information you want to collect
Set a timeframe for data collection
Determine your data collection method
Collect the data
Analyzing and implementing the data
Best B2B Data Collection Techniques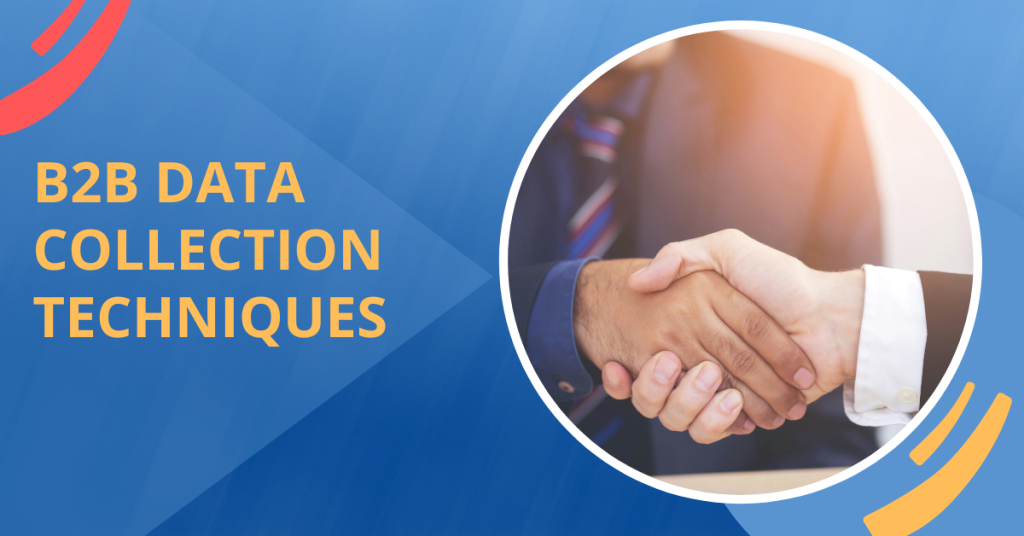 There are various data collection techniques for collecting data to interact with customers. Below are listed some of the best methods:
Surveys
Forms
Online tracking
Polls
Transactional tracking
Observation
Interviews and focus group
Social media marketing
Surveys
Surveys are questionnaires to collect B2B data from customers. It is a time-tested way to collect both qualitative and qualitative data. These questionnaires can be physical and digital feedback after an event. It gives a glimpse of whether the participants enjoyed the event or not. Asking direct questions is the best and more efficient way to collect data.
Closed-ended surveys can be categorical, in which you have to select from the predefined answers or multiple-choice questions. An organization can analyze the group of people by determining what percentage of attendees answered a question in a specific way.
When talking about open-ended surveys, there are no predefined answers. You will get the expected answers if you have an idea about the topic. If the survey concerns a particular subject or teacher evaluation, the solution can be biased toward the author or the teacher. The questionnaire gives the participants more freedom in the open-ended survey.
Forms
Online forms are the best option for collecting qualitative data about customers. It is not expensive when you are collecting demographic data or contact information. These forms can set up webinars or email pamphlets to get online content or registrations. Later on, you can use the individual data can be used to contact those who are ready to work with you.
You can use single-step data collection forms if you want to gather a similar type of data. The best example of this data is to get the contact info you can use to contact them.
A multi-step data collection form is subdivided. The individuals will get multiple forms on the screen to complete the long form. It helps to achieve a structure that is more straightforward and more manageable. According to the report, multi-step forms get a higher conversion rate. You will provide a high volume of information like a registration form gets.
Online Tracking
The best way to collect B2B data about client behavior is to use an online tracking tool like your site or application. You will automatically collect the data when someone visits your website. The collected data will tell you about the multiple visits, how long they stayed, what clicked, and when they quit the website.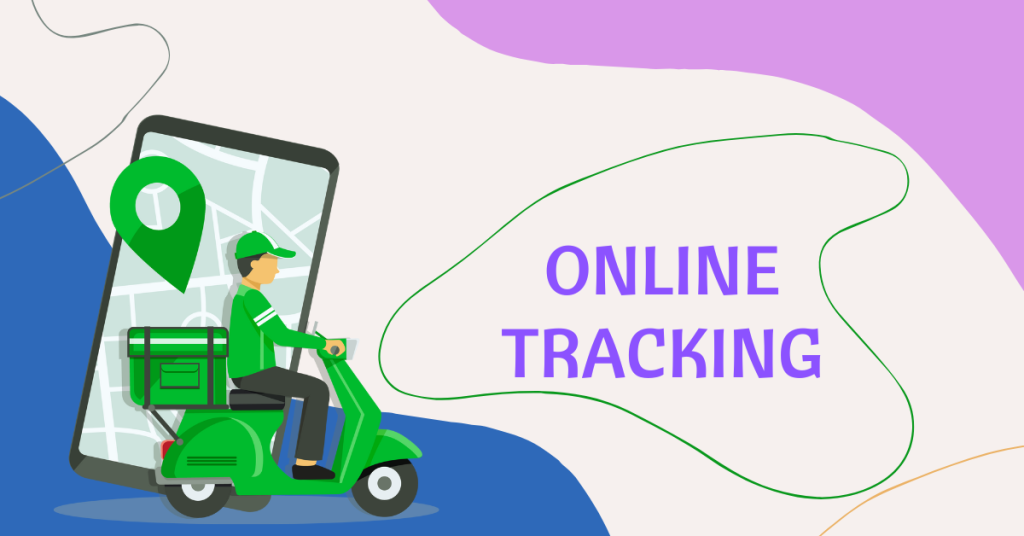 Following clients' behavior gives you a unique understanding of their preferences. It also allows you to track what they purchased, what they left in the bin, and what they were keen on – this data helps plan your business master plan. You can insert a free pixel and implement cookies. They can be easily set up but can collect data alone without maintenance.
Polls
Polls include asking questions with more than one possible and applying numeric qualities to the recurrence with which individuals chose each response. You can vote on a specific topic, generally confined to one response. Polls are a valuable method for checking the preferences and assessments of your target market and can give more compact answers.
One of the most significant benefits of a poll is that you can collect the opinions of the enormous crowd using minimum resources. They are usually focused on a particular community. You have a rarer example of members, and your outcomes reflect the overall population. An individual only has to make minimal effort to complete the poll. It implies that the possibility of getting a large number of data to work with is high. It will not show the full spectrum of opinions because of limited answers.
Transactional Data Tracking
Tracking transactional B2B data can help you to make choices about designated marketing efforts and better comprehend your client base. You might store transactional records in a client relationship with the management system. That information might come from your web store or in-store retail location system. The data can provide insights into the number of items you sell, what type of products are most popular, how often individuals generally purchase from you, etc. Your value-based data can give you essential awareness about your clients and your business whenever you sell something.
Sometimes, online business and retail locations allow you to store information when it was produced. It is a consistent data collection method that can take care of customer experiences.
Observation
Observation is a valuable technique for data collection. When some individuals visit your site or purchase your product, you can observe them by interacting with them. However, it isn't easy to set up observation sessions. You can improve your user experience. You must use a third-party tool to record the user's journey using the beta version or item.
It lets you observe the user experience by interacting with your product or site. Following your clients and possibilities can be one more extraordinary method for gathering data. Direct observation addresses a yielding method for collecting qualitative data. Those leading the observation might be participating, although they gather the information or make the statement.
Interviews and Focus Groups
Interviews and focus groups are simple techniques of qualitative data gathering. When you are doing an individual's face-to-face interview, you will ask multiple questions. The individual will respond accordingly, and you will collect the specific individual's data. On the other hand, focus groups involve conversing with subjects face-to-face about a particular theme or issue. It incorporates an exact number of members inside the leading interest group and surveys them on questions regarding their experience with the item.
The best game plan while collecting data is to conduct qualitative and quantitative analysis to receive the rewards of the two models. Both of them complement each other.
You can get valuable feedback about the item from the target audience when they have experienced your item. It can help to improve product quality.
Social Media Marketing
Monitoring your organization's social media marketing is an accessible method to get information. Multiple social media platforms have an inherent examination, yet the third party provides nitty gritty, coordinated insights from various channels. You can determine the issue your customers are facing by using collected data. You can get profile data from marketing campaigns when they click on your ads. It is the best method to get feedback who are interested in your product. Numerous social media platforms will also provide an investigation of your post's presentation.
You can collect data about hobbies, interests, and followers to know the customer's interests. Multiple social media platforms can help you monitor how often your organization is mentioned or tagged. It is the best use of third-party data that gives you perfect experiences.
You can see the friends list to see who follows you and what attributes they share to increase your understanding of whom your interest group ought to be. It can also help you to monitor your brand on social media by routinely looking through your image's name. The third-party tools will also help you to increase your social media followers.