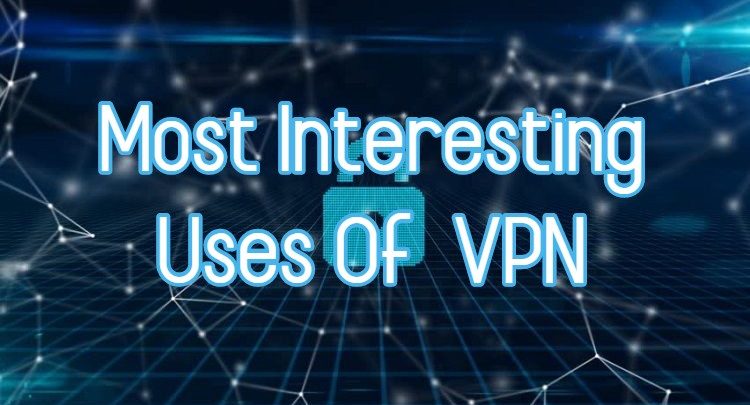 A VPN (Virtual Private Network), is a remarkably useful tool for anyone who is using the internet-connected devices for web surfing either for personal or for business use. Basically, it is a tunnel through which your device's connection to the Internet is routed to keep your more secure, anonymous, and safe when online.
The most common use of VPNs is a professional setting where in-house and remote employees can easily access to a private network without facing the fear of data and privacy compromise. In today's digital world where everyone is using internet-connected mobile devices, the use of reliable VPN is more than a choice as it can help you do amazing things while providing you with greater online security.
In this article, I have listed some most interesting uses of a VPN and how it can provide you excellent online experience while keeping you protected from prying eyes.
1 Privacy from Website info Gathering
In this era of advanced digital marketing, businesses and websites are generating revenues by showing their customers personalized ads based on their interests and spending habits. Brands and companies are using online advertisements that are targeted directly at the internet use via information collected like IP address, geographic location, and device used for surfing, etc. As more and more websites are tracking user information, VPN can serve as a good countermeasure to keep your original IP address and other details hidden from the websites you are surfing.
2 Public Wi-Fi security
As most of the public places and other settings like hotels, schools, and airports offer free internet access, it could be convenient for someone who is in need of checking emails or digital notifications while on the go. Unfortunately, free WiFi connections are very easy to intercept with an intention to gain access to the personal and sensitive information of users connected with the network. Public hotspots are open access to hackers and malicious persons. It is the place where the use of a VPN comes in handy to provide you with a secure internet path as a virtual private network encrypts all the data and information traveled between your device and internet connection. It keeps all your information and data private and protected from cyber threats.
3 Avoid ISP tracking
In this digital world, internet service providers (ISPs) are increasingly interested in tracking their subscriber's information and other data that can be used in targeted advertising by companies and brands. They sell customer data and information to marketing companies and other third parties for $$$$. If you are afraid of any type of tracking form your ISP, the use of a VPN could be the best way to avoid ISP tracking. It is a reasonable and reliable line of defense against such invasions of privacy.
4 Unlock International Libraries of Geo-Restricted Content
Unlocking geo-restricted content is one of the great advantages of a VPN. Most of the sports events, TV shows, educational content, and websites are usually restricted for particular countries and states that we cannot access from another location. If you need access to some international libraries or any other type of geo-restricted content, you can easily bypass all geo-location restrictions to gain quick access to the required data. It can help you save a lot of time, effort, and money (in terms of not buying subscriptions) while enjoying restricted content in your local place. Whether it is a Netflix series restricted for a particular country, sports event or information content on a website, you can easily gain access to the geo-blocked content by using a reliable VPN.
5 Saving Money on Air Tickets
If you are about to visit another country and looking for cheap flight fares, VPN can help you a lot in this matter. As most of the Air Lines offer lower rates for local customers, you can set a particular location from your VPN connection to appear as a local resident of another country to book air tickets online at cheaper rates. By doing so, you can save a lot of money on traveling.
6 Access your Favorite Websites when Abroad
A VPN can help you access and browse the websites that are blocked or unavailable outside the country. There may be numerous reasons why you have trouble accessing the sites and web pages you are used to visiting at home. Thankfully, VPN allows you to securely bypass content restrictions and censorship by changing your original location and IP address. As a result, you can easily access and browse your favorite local websites even when you are abroad for business or personal purposes.
7 Keep your Conversations Secure and Private
Whether it is a teleconference with your boss or a personal call to your mom, someone may be listening to your conversations that later can be used for malicious purposes. Even VoIP service providers are offering more secure and protected services, no one can say that they are infallible. It is the place where combining a VoIP with a trusted VPN can help you organize safe and secure conversations that are protected from third parties.