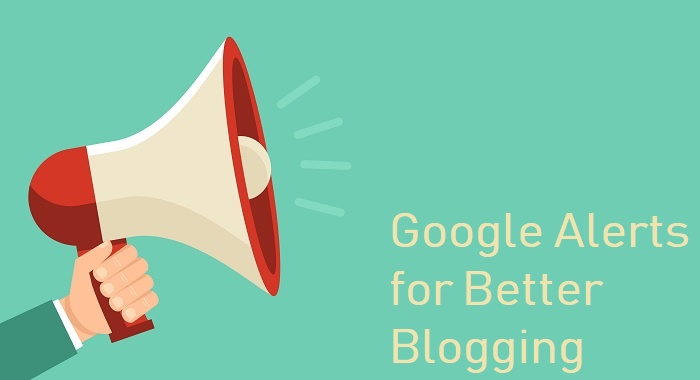 Introduction To Google Alerts
Since there is a wide variety of tools that can be used to keep an eye on different web-related activities, Google Alerts is an amazing tool powered by 'Google' and can be used to seek information about specific keywords or terms.
That keyword could be your business name, brand, or a target keyword you are working on to get high ranks for your blog in search engines.
Believe me, this tool can do wonders if you know better how to use Google alerts for improved blogging to get things on right and desired track.
Basically, Google Alerts are notifications of news, information, and items related to your requested keyword or search terms and are usually sent via email.
There are a lot of ways to use Google alerts for improved blogging. For instance, by using this great tool you can set an alert to get quick alerts when your own name or brand is used by another online resource such as blog, website or online store etc.
How to set up Google Alerts
Its fairly easy like piece of cake, just go to Google Alerts page and sign in there with your personal or business Gmail account details to get instant access.
After setting your Google alert account up, now its time to search there for a keyword or your name that you want to track as well as to get alters in future.
You can choose from the given options to filter the alerts as needed as shown in below image.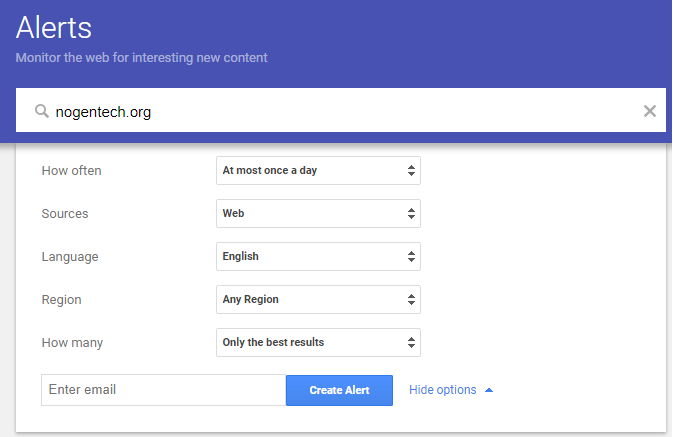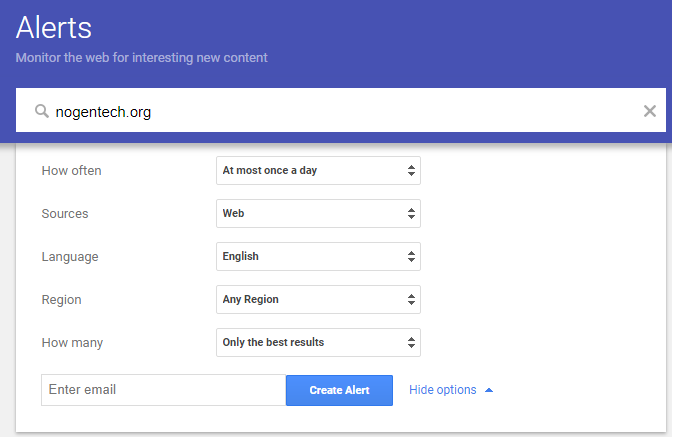 Google alerts is considered as the great tool to monitor the content, keyword or term over the web that you want.
Ways to use Google Alerts for Improved Blogging
A big number of new and expert bloggers is ignoring this tool because they are not aware that the tool can perform a lot of things for them and some of them are listed below here.
To Check Content Indexing
Every blogger wants his or her content indexed quickly in search engines and when it comes to checking whether or not your content is indexed, Google Alerts is the best way to check content indexing without paying bucks to an online company or for a tool.
All you need to do is create an alert with your website or blog name to check whether your blog posts are indexed or are pending.
Whenever a newly published blog posts in indexed, you will get an alert in your stated email inbox.
To Get More Guest Blogging Opportunities
Google Alerts would be your best companion to find blogs in any specific niche or industry to pitch your unique guest post ideas and you will get the quality backlink for your website by taking these steps to writing a successful guest post on.
Just choose the targeted keywords and set an alert for it. After that, whenever someone will post and index on the web around the targeted keywords, you will get a notification in this regard and the chance will be higher to get more high authority blogs for guest posts.
After getting the alert, just visit the source and be quick to pitch your ideas for guest blogging.
Relevant Blogs for Commenting
Blog commenting is one of the handy ways to get more eyeballs on your own content as well as to get quality backlinks.
By setting alerts in Google alerts with your favorite niche or industry, you will get notifications with resources that you can reach to post comments with your own landing page link.
It is the simplest way to search for niche-relevant blogs instead of spending hours in front of the computer screen.
Read Blog Commenting Tips For Link Building Here
As most of bloggers work on trending news and updates in order to get more hits, Google Alert could be the best option to find the latest news and updates without searching for news blogs and websites.
For this purpose, you will need to use Google Alerts with the frequency of notifications to "as it happens", and you will get news and updates right after they happen.
Google alert would be a great choice for you to blog or business branding.
By doing so, you will instantly get a notification when someone links to your blog or mentions it on their posts, and you will be able to conclude the value it adds to your brand or blog.
It is a superb way to know where your brand or blog is getting exposure.
To Keep Track of Backlinks
If you are part of an SEO company or just working as a freelancer that creates backlinks for clients, Google Alerts will assist you to track backlinks generated for a specific blog or website.
After setting alerts with your blog name, whenever the link will appear anywhere on the blogosphere, you will get a notification and will be able to track backlinks for reporting purposes.