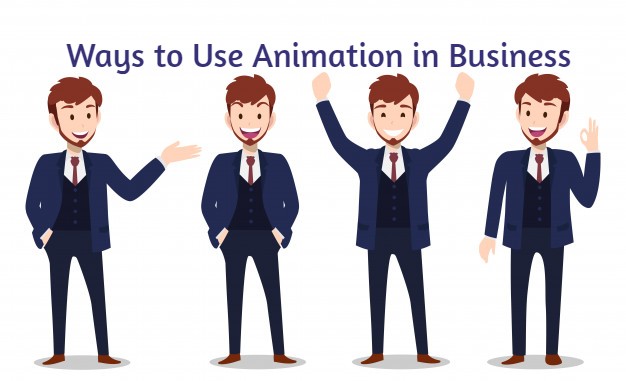 Looking to market your business or company in a creative and unique way?
Animation videos have the vitality to grab the attention of the customer and to make them entertained and wooed.
The animation is a medium that can really help businesses successfully engage with the target audience in a unique way as animations are memorable due to their distinct nature. In this era of digital technology, businesses can stand out in the race of digital marketing by going the extra mile with motion designing (animations). Professionally and creatively designed animation videos can pull the heartstrings and even keep a catchy jingle in the back of customers' minds.
If you are one of the businesses really don't know how and where to use animations, go through the article to find creative ways to use animations in your business marketing efforts in order to create an eternal impact on your customers.
Animate Your Website
Your official website is one of the most powerful marketing tools. In this online world, your website is often the very first thing your customers see about your business. It tells them about who you are, what you offer and why you are the best match for their needs. In simple words, it is a direct connection between your business and your customers. You can make your business website more appealing and attention-grabbing by adding creative animations in it as animation draws attention quickly and can add value to the visual appearance of your website.
Give Your Emails an Appealing Look with Animation
We all receive a lot of emails daily and many of them get lost in the inbox especially those who are marketing emails. Most of the readers delete emails sent by the companies as they see such emails as obtrusive and don't open to seeing what is inside. As email marketing is one of the most effective digital marketing techniques these days, giving your business emails an appealing and professional look with animations can help you increase email open rate and maximize the leads too. Using creative and professional-looking animation in your business emails differentiates your company's emails from the other boring marketing emails. when the email open rate is increased, you are more likely to experience an incredible boost in your leads and revenues.
Use Animations in Your Marketing Videos
In this era of social media and smartphones, video content is known as the most effective way to convey your corporate message efficiently. People love to watch interesting and engaging videos when they are scrolling Facebook and Twitter etc. As all famous brands and companies make videos to market their products or business, you can go one step ahead by creating animated video content for your business. Animations come with the power to explain complex stories in a simple and attractive matter. You can explain a complicated concept in a concise and straightforward way without losing engagement. Animation videos are short and grab the attention of the target audience effectively.
Logo Animation
A creatively made logo summarizes your brand or business because it is known as the most vital element of business branding and is always at the forefront of the branding. Animating a brand logo creates branding multiplicity both internally and externally. A well-designed animated logo stands out among competitors and lasts in the customers' minds for longer. It also helps you increase brand recognition.
Animate Your Product Explainer Videos
Animating your product explainer videos is another best way to use animation for business. It can increase audience engagement incredibly while explaining the benefits and features of your products. Animated product explainer videos not only educate your customers regarding how to use your products for better outcomes but also provide them with an entertainment factor to keep them engaged and build brand trust.
Video Infographics
In this digital world, the present generation has now been shifted from reading to visuals. As infographics were used in the business landscape since very long to till the time, creating video infographics by using animation can help your viewers grasp analytics faster. You can provide lots of information in your video infographics in an entertaining and more effective way. In results, you can get large social media shares to see an amazing boost in SEO performance.