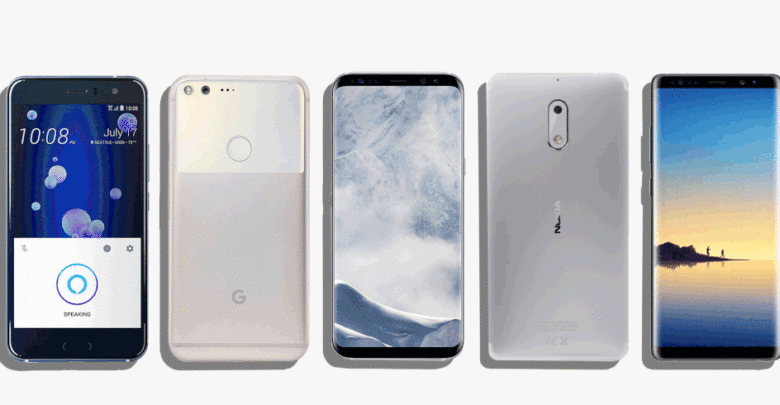 As the MWC 2018 is all set to usher in, people are eagerly waiting for a new host of smartphones powered by Android to hit the market, which includes Sony Xperia XZ2, Samsung Galaxy S9, LG V30s and Moto G6. Are you someone who is eager to get for yourself a new Android phone before the brand new smartphones are reviewed and revealed? Android has improved with regards to its strength since the past couple of years and every new release saw the features which are extremely impressive and which are priced at a competitive rate as well.
If you're someone who is an ardent fan of Apple and you're simply looking forward to upgrade your old handset, it is definitely better to get an Android smartphone for your bucket list. However choosing the best phone among the lot is indeed an intimidating task for the buyers who are extremely tech-savvy. Here is a list of the most sought-after Android phones in the present market. GO and get them before it's too late.
HTC U11+
The U11+ is one of those prepped up versions of HTC's previous model U11 which wasn't at all a poor thing. This phone features a near-bezel display, a refined design, a better screen, a bigger battery and runs on Google's recent Android Oreo 8.0 software. For any gadget-freak, the U11+ is certainly one of the most ideal choices every. Moreover, it is among the most noteworthy things about this phone that it has got the cleanest Android skin ever. Though the skin of HTC Sense has been among the favorites but this one has got a better form.
Razer phone
In spite of Trusted Reviews vouching about the advantages of working with an unskinned Android OS for more than 5 years, majority of the big shot companies insist of using customized skins. This is the main reason behind people waiting to see Razer to take a light and simple touch with the first-ever smartphone. This is one of those phones which are made by a gamer for a gamer. The Razer phone operates on one of the best versions of Nova Launcher Prime and the best part is that the smartphone is bloatware-free.
OnePlus 5T
If you have recently chosen a OnePlus 5, you will be disheartened due to the fact that OnePlus has exceeded its 2017 flagship smartphone after the invention of its OnePlus 5T. The 5T is one super fast and interesting device and it has got a 18:9 6-inch OLED display is amazing and this is one of its noteworthy feature. The Snapdragon 835 offers a viable combo and there is enough storage too. This phone also offers a better back camera and a bigger sized battery. The rear camera is good at capturing shots even when they're taken in the dark.
LG V30
Finally, LG has designed an amazing flagship phone which is free from leather-driven backs and other silly gimmicks. The V30 actually stands out due to its 18:9 display that has got a 6-inch OLED panel within a body that's much smaller than what you could expect. Inside the phone, you will find a Snapdragon 835 CPU, 64 GB internal storage and 4GB RAM and it has also got a bigger battery. Though none of the features is groundbreaking, yet they will get the task done in a comfortable manner.
Therefore, if you're a gadget-freak, you can definitely get the best smartphones from the above mentioned list. Go through the pros and cons and the features of each smartphone before buying them.