When you start a business at the small level, then the whole responsibility (including hiring staff and employees, maintaining the quality in all batches of product manufacturing, marketing, and management) of business growth depends upon you. Even though there is a constant increase in online marketing trends such as digital and social media marketing, still you cannot ignore the significance of physical marketing platforms. One of the most important elements in physical marketing is creative direct mail marketing.
Although the implication of creative direct mail marketing ideas is relatively tough and expensive, once a launched campaign is successful, your business can be boosted up easily.
Read also:
Business Process Automation for eCommerce Guide
Ways to Evaluate Market Opportunities for Business Growth
Why are capital resources important for ultimate business growth?
What is creative direct mail marketing? Why is it needed?
It is a marketing strategy in which new and attention-seeking ideas are applied to the designing of a promotional piece of mail that is then delivered to a company or home mailbox through some authentic delivery service. To make this campaign successful, you need to use new ideas, you can also make a funny add poster, some origami paper, or any other form including brochure, letter, postcard, flyer, pamphlet, etc. Any of these mail forms is the best one for targeting particular demographics.
Research tells us that merely a creative directive direct mail marketing strategy if implemented successfully, can provide the highest ROI (Return On Investment). A creative direct campaign is helpful but the secret of success lies in your approach, proper planning, and innovative approach. Because its a big and most effective investment strategy, it creates a large return on investment.
Here are some influential direct mail ideas:
To grow your business and reach the targeted potential customers, innovative and creative direct mail marketing campaigns are necessary. It is a unique way to improve brand awareness and eventually increase customer retention. Some of the ideas are discussed here: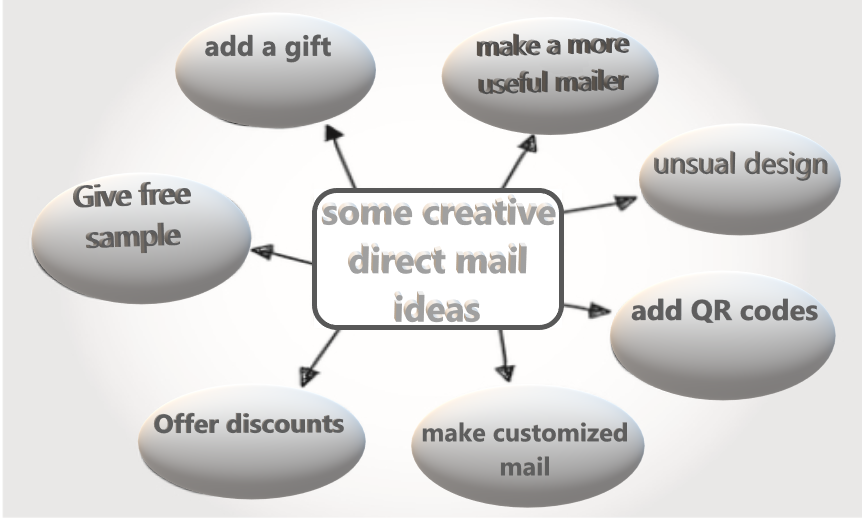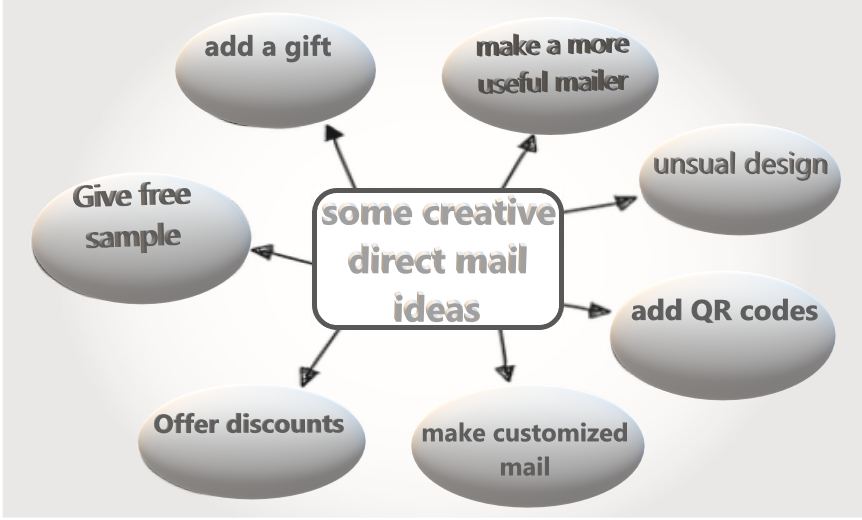 Make a more useful mailer
The targeted audience often uses paper for carrying the grocery and other things such as phone books, notes, notepads, etc. So, you should make a more durable envelope or scrap paper. So a business brand should consider this idea that their mailer should be used for some other purpose also. In this way, if one person gives some notes packed in your company's envelope to his friend, again your brand awareness increases passively.
Offer promotions and discounts
One should deliver the discounts to the potential customers. Sometimes two companies collaborate for instance Shangrila ketchup when launched its new sauce collaborated with a National company and they attached a free sample of their product with the National Chat Masala pack as a promotion. So you can also offer discount offers and promo codes. For instance, you can offer by one get one free offer or by 2 get one free offer can give you great ROI.
Give a free sample of the product
Sending a free sample alongside a pamphlet o brochure is also another creative direct mail marketing idea to increase brand awareness. The audience mostly enjoys the surprise of finding a small gift instead of a regular mail. And more than 60% chances are there that they will like the product and again buy it.
For example, nestle when made the Kit Kat Chunky bar. They made the creative direct interaction with the customer by creating suspense in them. They printed on the mailpiece: We are sorry we couldn't deliver your parcel. When the customers receive mail at their threshold. They asked the reason and the delivery boy gave them a free Kit kat chunky bar. In this way, they encouraged the people to receive and try a free sample. And it was a great success.
When you create your campaign, make sure to design a sample that treats the targeted customers for a personal touch. Another benefit is that after receiving the little surprise gift, the audience may post their findings on social media sites, spreading more awareness.
Add QR codes
Another way to connect the physical campaign to digital marketing efforts is the QR codes. These are simple bar codes that are easy to imprint on pieces of mail and can be easily scanned by smartphones. One scan of a QR code can land your customer directly on a specific page. This will not only convince the customers to buy products but also be a direct way for you to count the potential customers.
Make a lumpy mailer
Your first and foremost goal of a creative direct mail campaign is to get your envelope opened. We have sent a lot of creative direct mailers to the audience, and after surveillance, we found that a mailer that carries a lumpy object inside instigates the curiosity in the receiver's mind and eventually he opens the envelope.
Elements of a successful mailer
A successful mailer should contain the following elements: the first thing in them is large and eye-catching images. Because it plays the most critical part here. The second important thing is the accurate font size. The right font should be easily readable and stick to one or more typefaces. The third thing is the empty spacing between different design elements (e.g texts, images, blocks, etc ).
Add a useful gift
Another creative direct mail marketing idea is to add a useful thing inside the envelope that is used commonly by prospects. For example, if you add a pen or ballpoint containing your brand name and symbol engraved on it. More than 50% of customers keep that pen and use it. As long as the gift is used in their home, you remain in their house. And chances are there that whenever they need a product of the same niche as your brand offers, they will most likely prefer you.
Twist your product according to o theme
Add a little twist to your product according to the coming theme. For instance, we all love the products that are fortunate for us. A fast-food brand named Hell Pizza used a creative direct mail idea and produced a box of Mis-Fortune cookies. That was a unique and unusual experience for customers. Because the customers found the fortunes inside boxes that read: Help me! I am stuck in a cheesy bakery. So they created different misfortunes for each cookie. It created a good sense of humor alongside increased brand awareness and product sales.
Make a unique and unusual mail
Take time to design your mail uniquely. It means d something to look at your mailer differently from a typical parcel. By thinking out of the way, find a creative direct marketing mail idea to make a mail that can convey your product's objective in a better and unusual way. There are many ways to do that such as making a 3D Pop-Up card, folding out a letter, adding a toy (it its a product for kids), cutouts that will pop on letter opening, or anything you want to do. A practical example, in this case, comes from Papa Johns, who sends the 3D paper versions of their pizzas to the customers. It is an unusual way to grab the attention of customers.
Make customized mailers
Another creative direct mail idea is of adding the personalized message in the mail to tell the customer that you know how they use your product or service. For instance, a clothing brand Polka Dots sends a personalized message to every customer who shops from their brand as a token of thanks. It makes a positive reputation of the brand on the customers. Another method is to take the contact, name, and address of customers whenever they come to you so that you can send them customized emails and keeping them up-to-date about new offers and promotions. Sending such creative direct mails makes the customer feel special and valuable. So, find more creative direct mail ideas to target your potential customers.