Software
10 Best Free Video Compression Software on Windows and Mac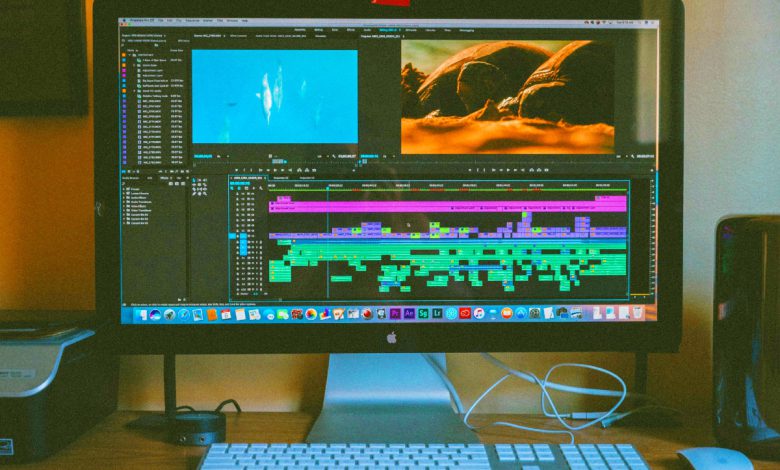 With the upgrade of the camera hardware of smartphones, drones, DLSR, and action cameras, everyone can easily capture 4K, 1080P, HDR, and high frame rate videos. These high-quality videos often come with large file sizes (usually around 200MB to 2GB) which can fill up the storage fast.
Sharing large videos is also a nightmare. The huge consumption in bandwidth and time required when transferring large video files is already a headache. Almost all social media and video platforms only let you send and share videos under specific sizes. For example, in Discord, you can't send videos over 8MB. Twitter and Instagram require you to compress the video file to around 500MB before sharing. Luckily, with a decent piece of free video compression software, it's possible to reduce the video size significantly without damaging the picture quality. 
Here lies the point of this post. It lists the top 10 best free video compression software in the market. Both beginners and experts can play around with these tools to make the video file smaller for easier sharing and uploading on different platforms and devices.  Here's our pick of the best free video compression software on Windows and Mac. 
VideoProc Converter
VideoProc Converter is the best free video compression software available for both Windows and Mac. It works effortlessly, with support for 370+ formats of different quality – most importantly, you can reduce video file size to 90% smaller than the original without hindering the quality.
VideoProc's compression feature lets users shrink video files in multiple efficient ways, including transcoding to a more efficient codec, increasing the GOP length, reducing the frame rate, and more. Thanks to the self-explained UI design and the support for batch compression, users of all levels can compress multiple video files at one time and in just one click. 
Another alluring part about VideoProc Converter is it supports level-3 GPU acceleration. That is to say, you can compress 4K and large video files quickly and smoothly while keeping low CPU usage. Plus, it comes with plenty of video editing tools such as trim, crop, split, cut, watermark, rotates, and filter. With them, you can quickly polish your video and make its file size smaller.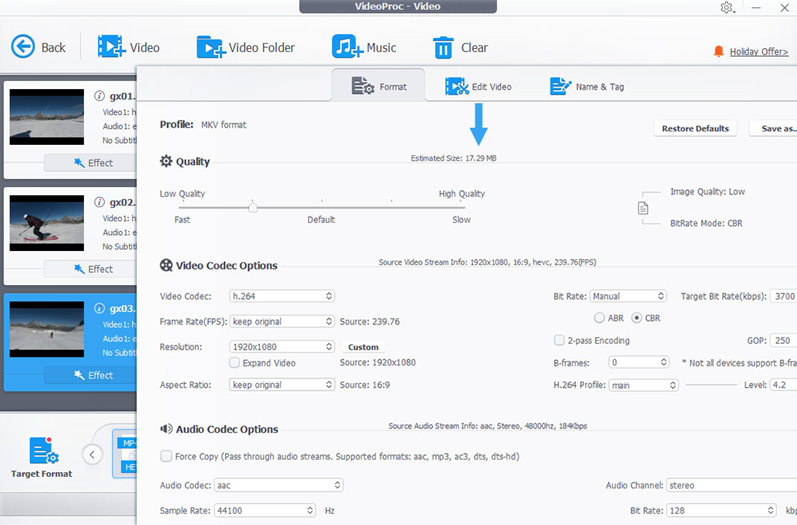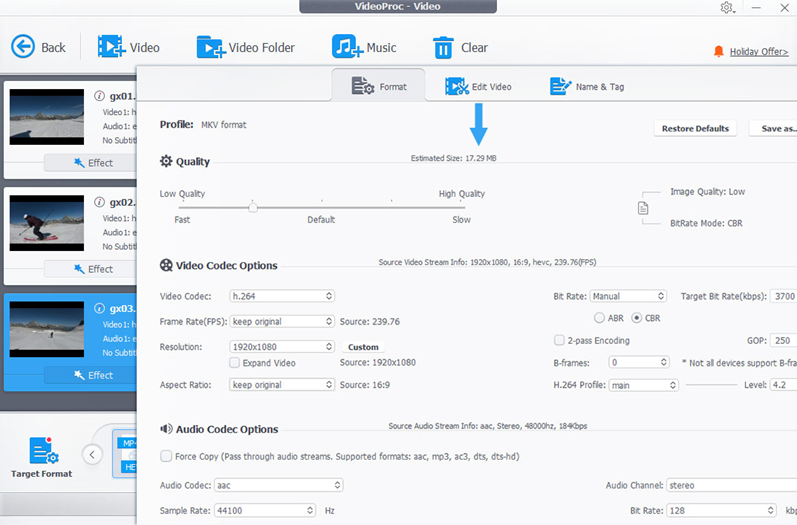 Features:
Reduce video file size 90% smaller than original without visible quality loss
The world's NO.1 fast process speed, powered by the full GPU acceleration tech
Smoothly compress 8K, 4K, 1080P, and 120FPS videos even on less-robust computers
Handle virtually all known formats, MP4, MKV, HEVC, AVI, VP9, ProRes, VOB…
Also the best video converter, a simple video editor, and a capable video downloader
Pros:
It's the easiest and fastest video compressor
Take no compromise in picture quality
A huge array of extra features
Cons:
No support for the DVD burning
HandBrake
HandBrake, an open-source and free-of-charge program, is best known for the capability of ripping homemade DVDs. It supports 1:1 DVD copy and offers simple editing tools such as de-interlace, rotate, downscale, trim unnecessary parts, and add chapter markers.
Pro users can also use HandBrake as a powerful yet free video compression software program. By tweaking the settings for the video/audio codec, bitrate, frame rate, resolution, and plenty of other parameters, users can compress the video to the ideal size. Plus, it supports batch compression and offers output presets for Discord, YouTube, and several other popular devices and platforms.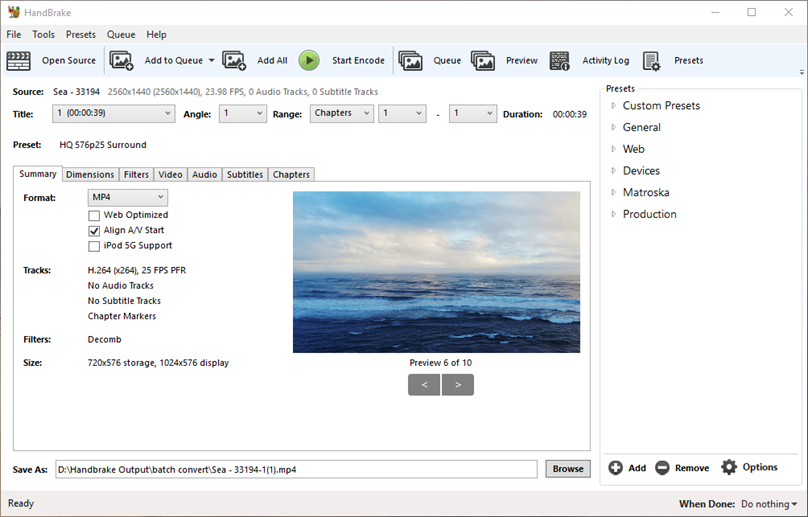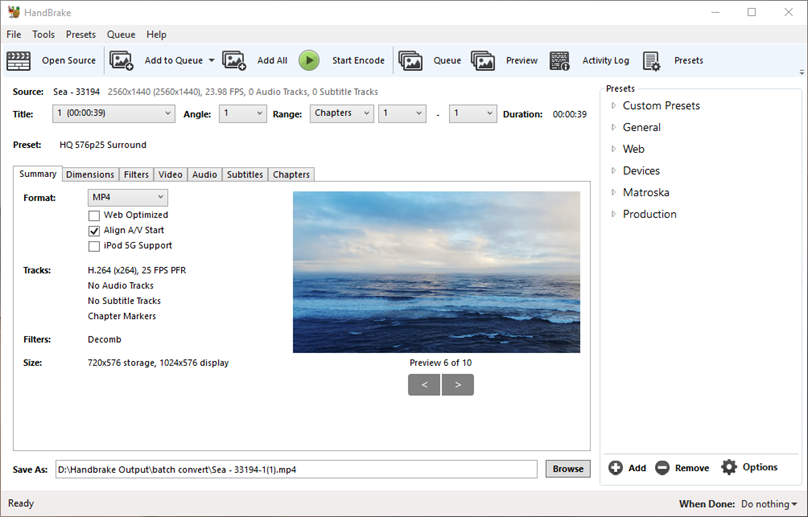 Features:
Tons of built-in device and platform presets for quick conversion
Compress popular video files, such as MP4, MKV, H.264, and H.265
Extra features to denoise, de shake, de-interlace, and crop videos
Pros:
Compress multiple videos at a time
Support a wide range of input formats
It has many advanced features.
Cons:
Difficult for beginners to start with
Turn everything you feed into it to the MKV, MP4, or the WebM format
Slow compression speed and high CPU usage
VLC media player
VLC media player is a powerful multiple media file player that features the capability to play videos in virtually all known formats. As a well-crafted open-source program, it takes no charges and can work on Windows, Mac, Linux, Android, and iOS devices.
Did you know it comes with additional features such as video compression and audio conversion? Thanks to the advanced video codecs such as H.265 and VP9, users can re-encode the original video in a more efficient codec for shrinking the file size greatly. And if you know what you're doing, you can compress the video to the ideal size by assigning the specific resolution, frame rate, GOP, and more properties.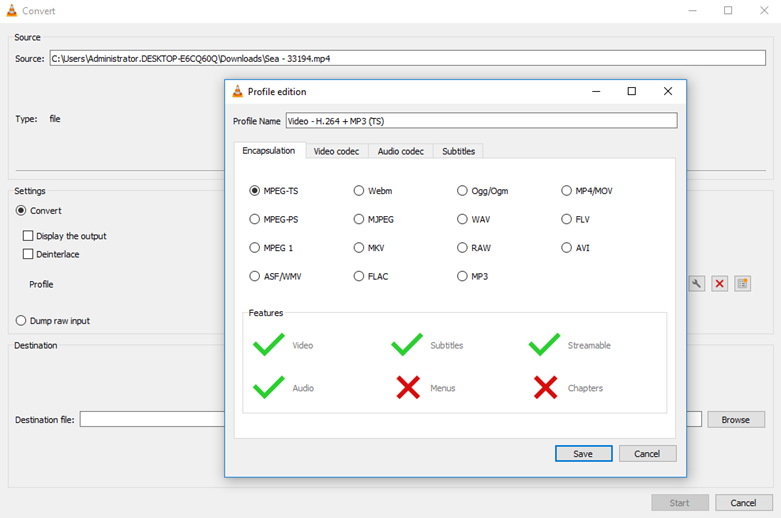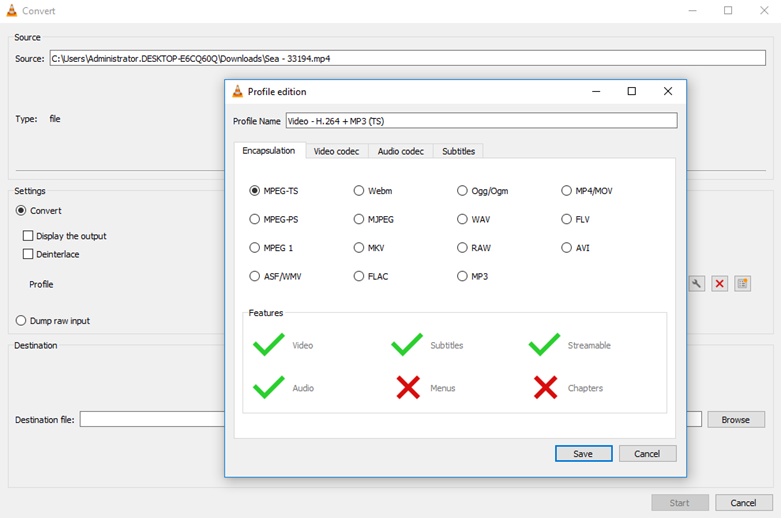 Features:
Play video, audio, and DVD files without compatible issues
Can utilize GPU to accelerate the video decoding process
Handle MPEG-2, DivX, VP8, H.264, and many other prevalent formats
Extra features such as recode live videos and rip DVDs
Pros:
Advanced video and audio setting options
Relatively fast compression speed
Support both loss and lossless video/audio formats
Cons:
Out-of-date and intuitive UI
Errors such as scramble playback happen frequently
FFMPEG
Frequently topping lists for best video and audio converter and compressors, FFMPEG is the top pick for a lot of advanced users and programmers to process multimedia digital files and streams.
By inputting the proper command lines, you can perform tasks like compressing video files to the target size, downscaling resolutions, changing video/audio codecs, denoising videos, removing audio from video, inspecting video metadata information, cropping videos, and adding png watermarks. If you're looking for something that gives more controls into your hands, then FFmpeg is great to go.
However, as said, this free video compression software is for pro users. FFmpeg might generate incredibly large video files or ruin the picture quality when the wrong command lines are used. Newbies might have to take a few weeks or months to learn the ropes to get the most out of it.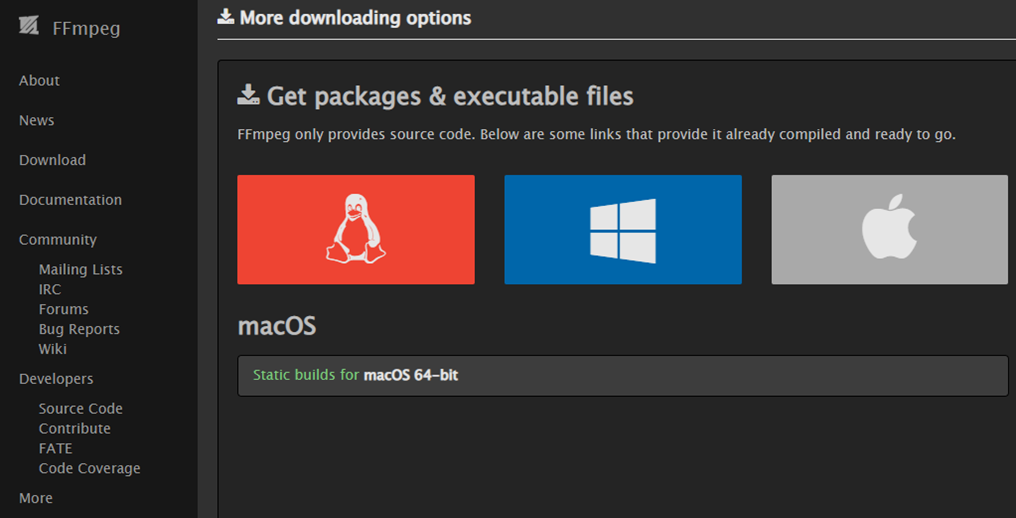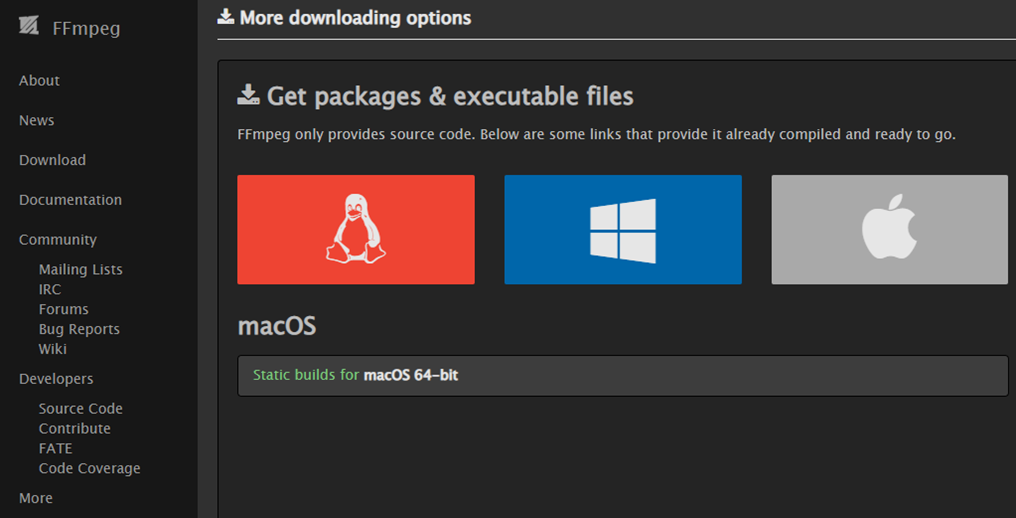 Features:
Compress videos to advanced codecs such as VP8, VP9, H.264, and H.265
Reduce file size by specifying the final size or adjusting the codec/GOP length/bitrate
Developers can access, modify, and distribute the source code
Pros:
It's completely free to use
Handle all fresh and old formats 
Fast compression speed and high picture quality
Cons:
No regular GUI
The steep learning curve for non-technical users
Freemake Video Converter
Freemake Video Converter is a piece of freemium video compression software for Windows through which you can compress video and audio files in 500+formats including DivX, QT, SWF, and MTS. It presets many profiles to help beginners quickly handle the video files for playing or sharing on different devices and platforms, such as smartphones, game consoles, YouTube, Dailymotion, and Facebook.
However, the free version of Freemake Video Converter will put a big Freemake brand marker on the output file size. If you want to get rid of the watermark, you have to purchase the paid version. The free version of Freemake also comes with limitations in terms of compression speed. From tests, it sometimes takes over 10 minutes to compress seconds of videos.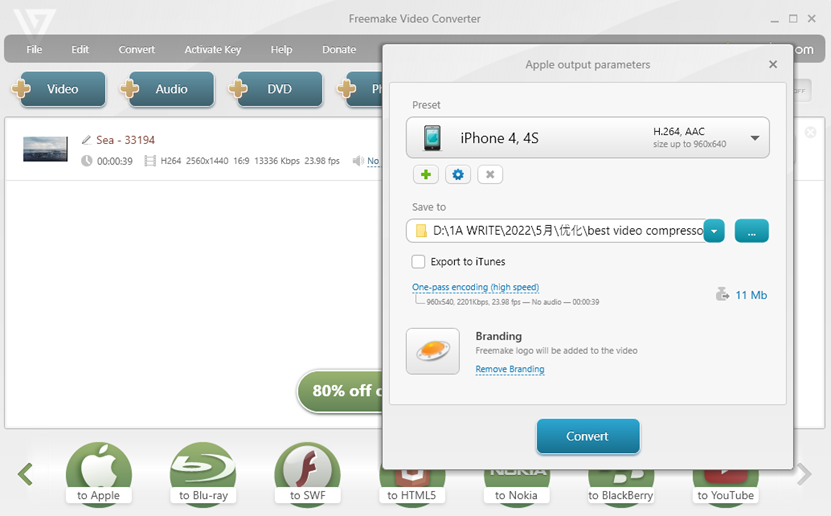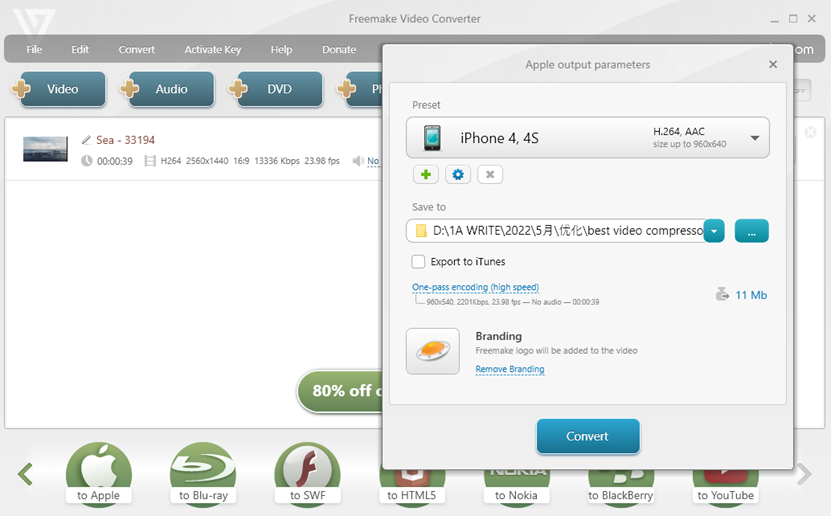 Features:
Easily compress multiple video files to the target size
Loads of extra tools to do basic edits, burn DVDs, make photo slideshows
Instantly share the outcome on YouTube
Pros:
Easy to navigate interface
A vast number of presets
Cons:
Not available for Mac and Linux
No presets for iPhone 13 and other new devices
Add the brand logo to the outcome
Slow response and high CPU usage
8MBCompress
8mb.video is a relative newcomer to the video compression world. It was created in 2020 but quickly creates a name for itself thanks to the incredibly easy procedure to compress video files for Discord. You can import the video from the local disk or the URL and then specify 8MB, 50MB, or 100MB as the target size, 8mbVideo can do the rest. Unfortunately, it's not useful for compressing large or long video files. The maximum video file you can upload to 8mb.video is 2GB. It cannot handle a video that comes with a length exceeding 5 minutes.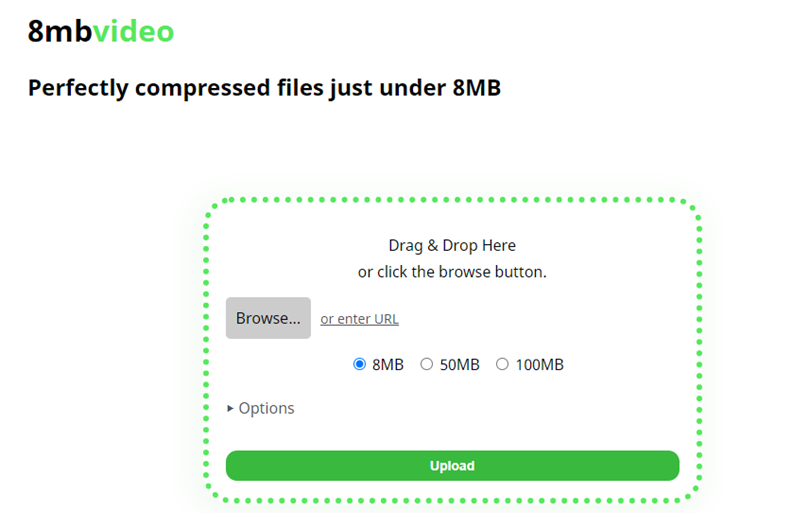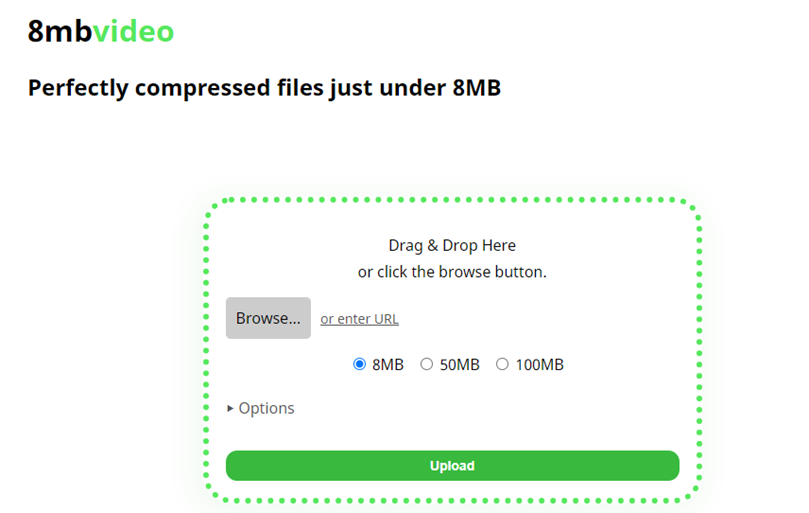 Features:
Reduce video size by trimming the length and removing the audio
Compress video to smaller than 8MB, 50MB, or 100MB in one click
Pros:
Free of charge
No watermark or ads
Cons:
Bring horrible quality loss
5 minutes length limit
Lack customize options
MP4Compress
MP4Compress is another straightforward and free video compression software tool that you can rely on to compress small MP4 video files directly from the web browser. It doesn't offer options to control the compression ratio or other settings for better picture quality. Thus, the outcome might be larger or smaller than the desired and the picture might become a blurry mess.
Another disappointing thing is it can only handle the MP4 file with a size under 500MB. Suppose the source video is larger than 500M or it comes in other formats than MP4 (such as MKV and AVI), then MP4Compress is not for you.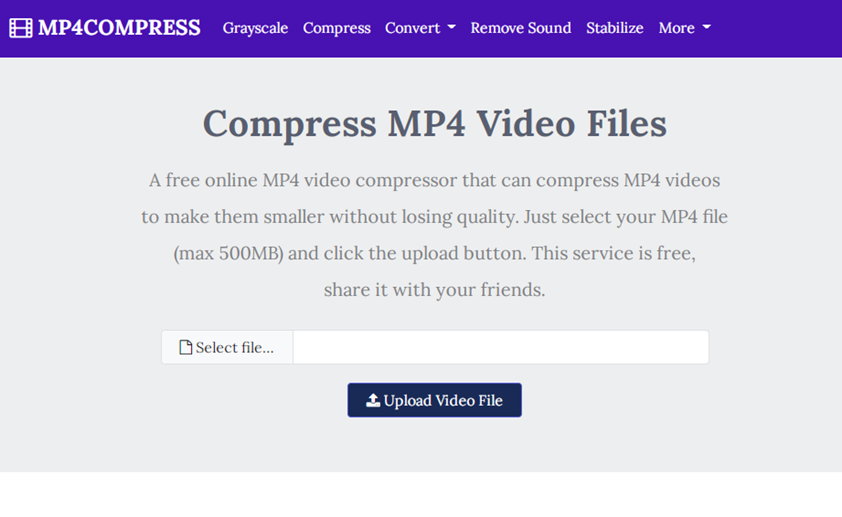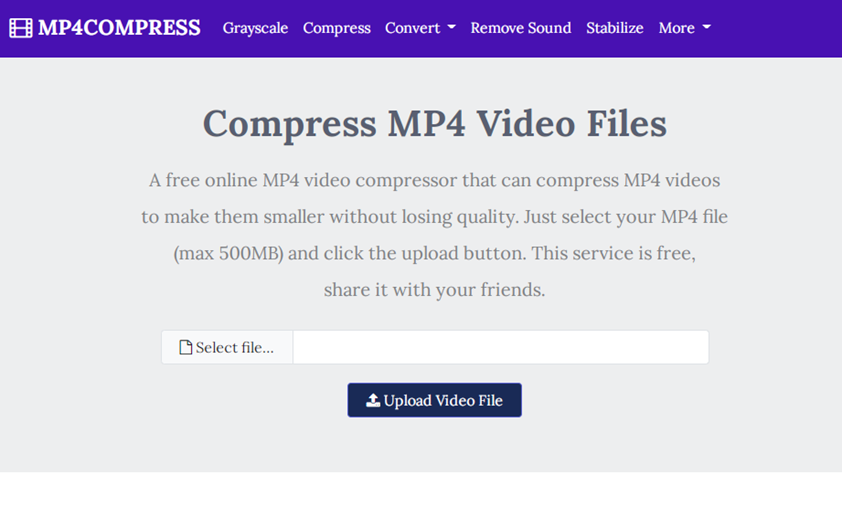 Features:
Compress MP4 video (max 500MB) online without the watermark 
Extra free tools to stabilize video, convert video to grayscale, and remove sound…
Convert video to MP4, FLV, AVI, MKV, and several other formats
Pros:
Cons:
Pop-up and ads
500MB of the upload limits
Can't compress videos on a customized basis
Freeconvert
Another browser-based and free video compression program, Freeconvert has a clean and clutter-free interface but offers flexible toolkits to help you make a video file smaller. It supports batch conversion and lets you select a target file size as a percentage of the source video or enter the desired video size in MB for quickly reducing the video file size. In addition, you're allowed to choose a lower bitrate, resolution, and quality level.
On the downside, the video compressed by Freeconvert might be larger than the original for unknown reasons. And sometimes, it takes over 10 minutes to import a short piece of video even when working in a good network connection environment.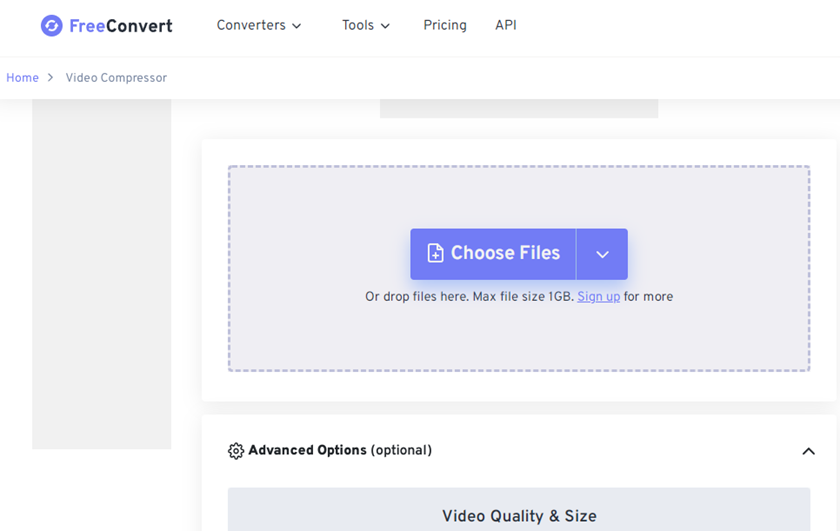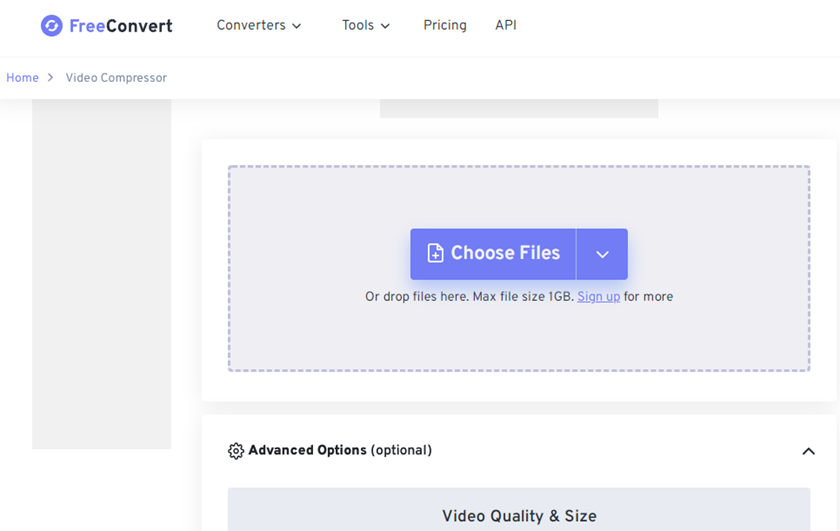 Features:
Compress video files by setting the target compression rate, size, resolution, or more
Also a video, image, audio, archive, vector, PDF, document, and eBook converter
No registration or subscription is required. Handle video files under 1GBs for free
Pros:
Supports almost all popular formats
Offer flexible solutions to make a video smaller
No watermark. Compress 1GB video for free
Cons:
No guarantee to exporting a smaller video
Slow upload and compression speed
Show unwanted ads
Zamzar
Suppose you don't want to delve into the nitty-gritty of compressing and there isn't a specific demand on the output file size, then Zamzar deserves a try. Just drag the original AVI, MP4, or MOV file that you want to shrink the size onto Zamzar, this tool can start the upload and the compression process immediately.
However, here also lies its disadvantage. It doesn't let users customize the compression settings such as the encoding codec, frame rate, maximum bitrate, GOP length, etc.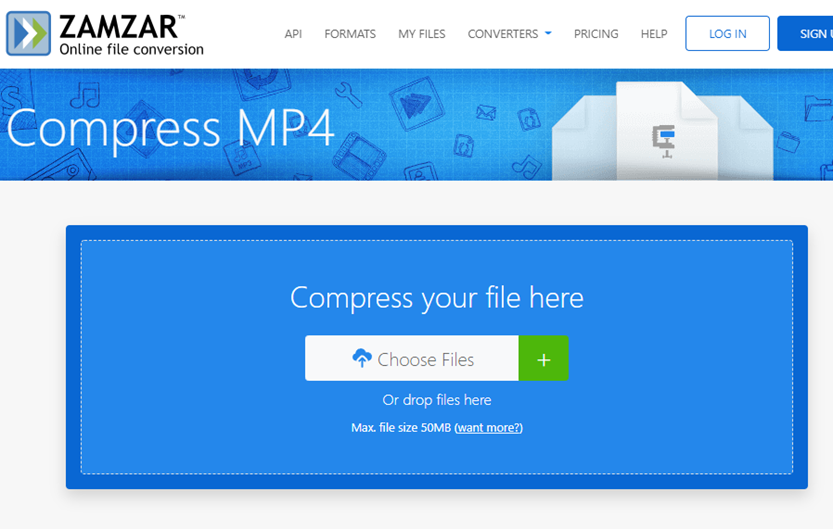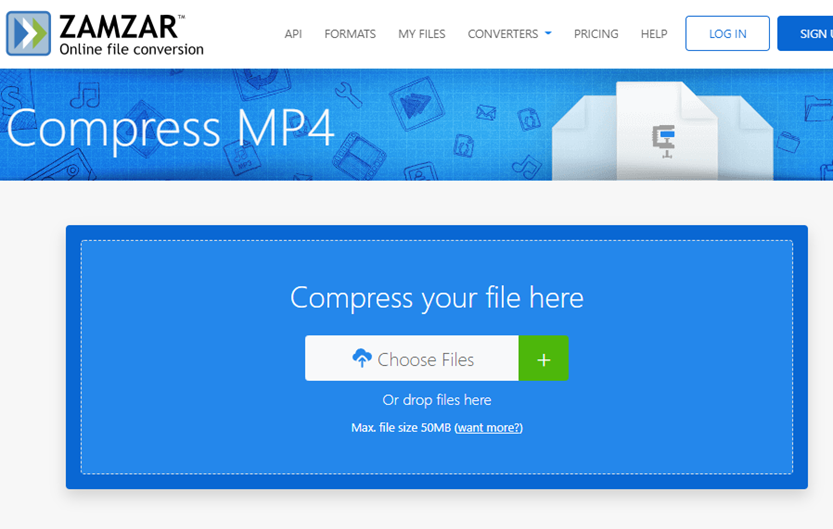 Features:
Compress the video file size smaller automatically 
Can compress and convert audio, image, document, and ebook 
Let you import video files through the URL
Pros:
Simple to use
No annoying ads
Cons:
Compress AVI, MOV, and MP4 files only
Can't customize the compression settings
50MB of daily upload limit
Video Compressor
This free video compression software lets you compress 4K and 1080P videos as well as large images for free on Android. Once you import the source video file to the app, it would pop up tons of output options and tag the size, compression ratio, and resolution information for each. Thus, you can easily make the right pick and compress the video to the wanted size. Plus, this free video compressor offers a flexible cut tool through which you can get rid of the unnecessary segments from the video.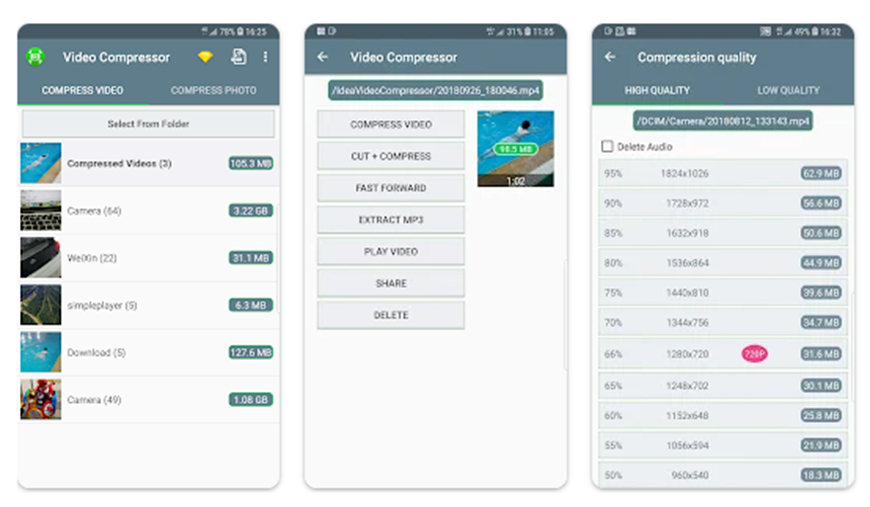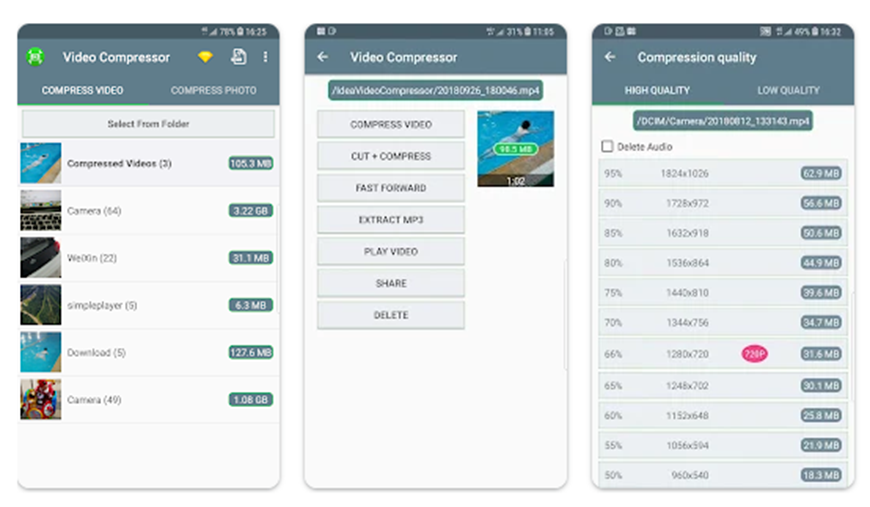 Feature:
Compress videos with different quality levels
Compress multiple image files at a time
Extra features like extracting MP3 from video, removing unwanted clips
Pros:
Quickly shrink video without eating battery
Offer tons of output options 
Cons:
Display too many ads
Sometimes it distorts or blurs the video