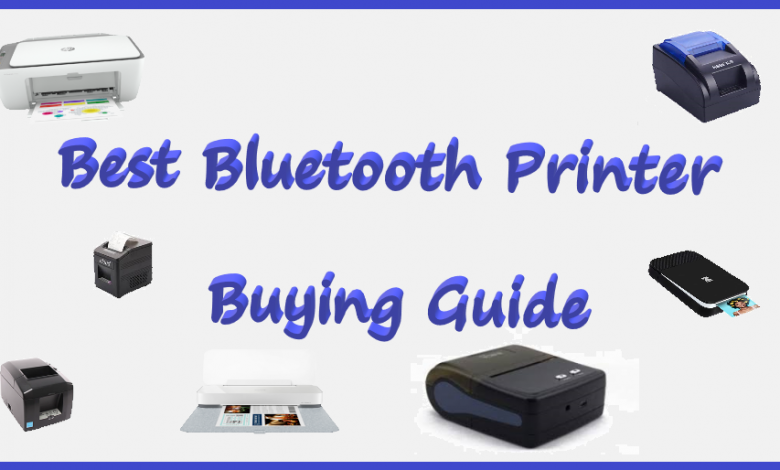 Notwithstanding that world is steadily going towards wireless and paperless technology, one still needs a hard copy of documents and images in certain cases. Some people need to print assignments for submission in hard copy. Sometimes, one needs to print custom pictures or texts to surprise their friends. If you are one of them, you certainly need a printer at home. If you are setting your business, you need a printer at the office to print vouchers, notifications, official letters, strategies, etc. Based on the type of documents you want to print, how frequently you want to use your printer, and which secondary features you need. Whenever you visit an online or offline market, you find numerous brands of Bluetooth printers. The top brands may include Canon, Hp, and Epson.
Must Read:
Harman Kardon Onyx Studio 7-Bluetooth Wireless Speakers
Types of Night Vision Devices You Should Have
Samsung Galaxy Z Flip 3- The cheapest Foldable Phone
Inkjet or Laser? What suits you?
The right choice for a printer according to needs is really tough. Keeping all your needs and comfort in view, here is a Bluetooth printer buying guide for you. Here a question pops up to mind:
Answer these questions before buying a printer
Make a list of features that you want in your printer. Now make a clear answer to the following questions: Do you need a monochrome(laser) Bluetooth printer or an inject Bluetooth printer? You want to print family photos also or merely documents. Do you want a display on your computer? Do you need a wireless (Bluetooth) printer? Let us see the guide to answer these questions.
Why prefer a "Bluetooth" printer?
The reason we have mentioned "Bluetooth" specifically is that you can connect your phone, tablet, Ipad, or any other device via Bluetooth and it will make you more comfortable. Because you do not need to worry about a data cable for connection with the respective device.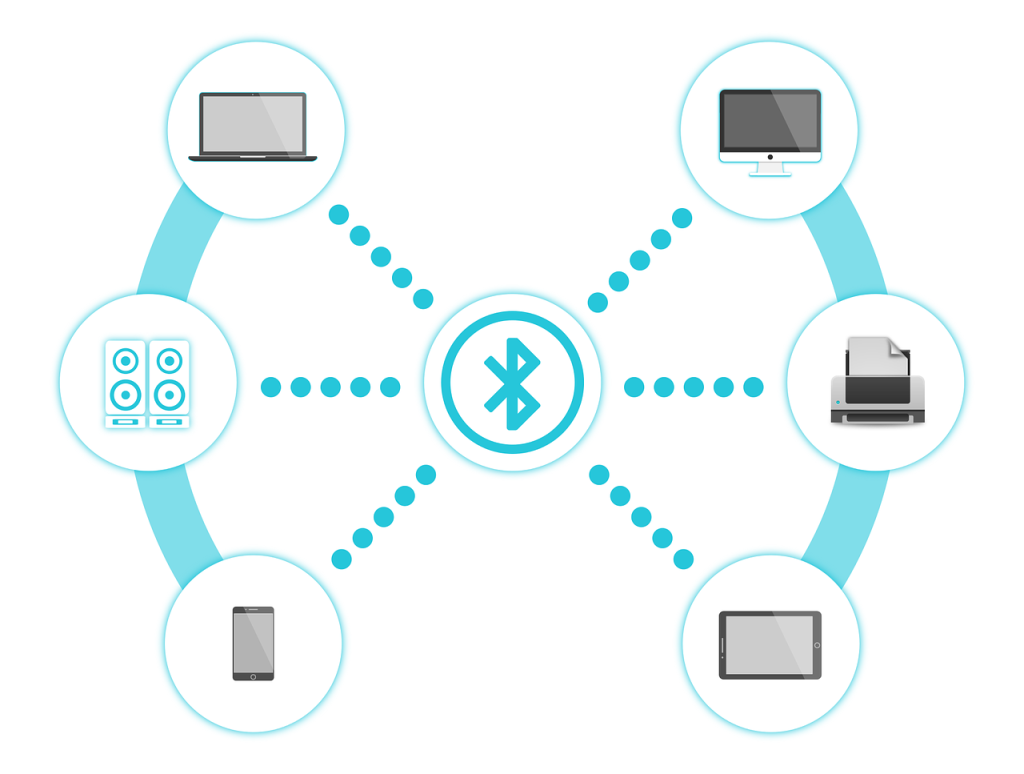 Laser Printer-Description
These Bluetooth printers are high priced compared to inject printers. The main reason for its high pricing is that it has more durability and needs very low maintenance costs. Also, it uses less electricity, so we can say that it also has low printing costs, especially in the case of printing monochrome documents. It also provides you with superior text quality.
They use toners containing a special powder that is applied on paper to be printed, using static electricity. This efficient mechanism makes it faster and more reliable for its users. They have exceptionally sterling page yields; for instance, one-time filled toner cartridges can last between 3000 to 20000 pages before they need to be retrieved. That doesn't matter if you do not need to print much. But it matters for professional use at a photocopy shop or office use.
But it has a drawback-it is noisier. Besides, they print low-quality images when it comes to resolution effects.
Colour laser printer:
These Bluetooth color laser printers are also available in the market and they give you high-quality images but they are much more expensive, and still cannot beat the color image printing quality of injecting printers.
Inkjet printer-Description
These types of Bluetooth printers work by spraying tiny droplets of ink on the page. There are various types of inkjet delivery systems available. The most common system uses separate ink cartridges particularly fitted with a print head. This printhead then separates the ink into tiny (microscopic) droplets. Another advantage is that it can work on heat-sensitive papers while a laser printer cannot.
Inkjets used for professional purposes usually have separate printheads that can be attached and removed when needed and replaced independently. It produces high-quality colored image printing and these colors are created by combining different inks. The yield of inkjet cartridges ranges from 2000 to 2500 on average. One more thing to be noted is that it is slow as compared to a laser printer.
Multifunction or AIO Bluetooth printer
A multifunction printer (also known as All In One printer) provides additional functions of scan and fax alongside printing. They are available in both inject and laser forms.
It is a good option for offices of small businesses and also for homes for two reasons: one is because it is an All In One and a Cheaper Device when compare with the expense of a printer and scanner. The second is that it takes less room.
Other factors to be considered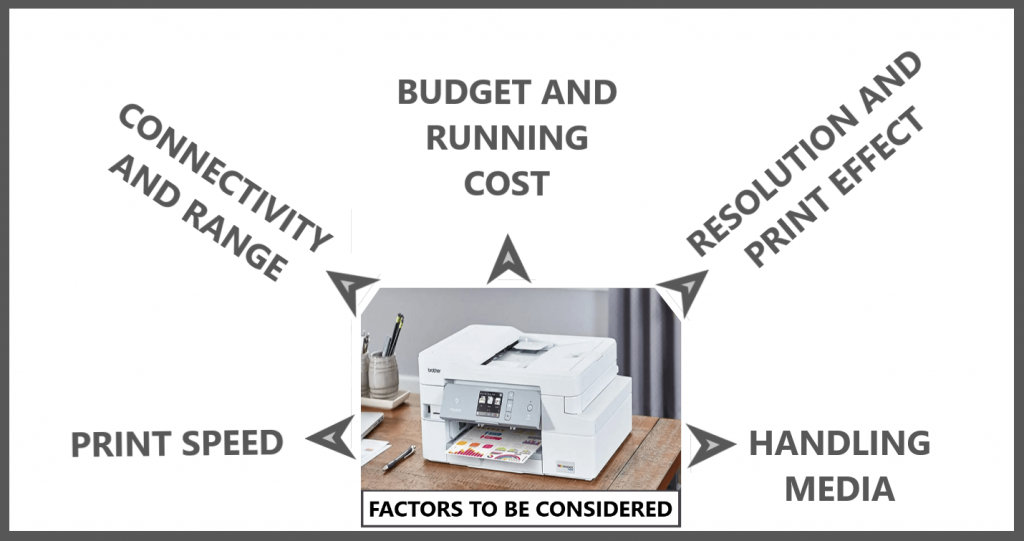 After going through a deep analysis of types of printers, now you should know which factors to be considered while buying a printer so that you can make the best decision.
Connectivity and range
After the decision of getting a Bluetooth printer, make sure to check its Bluetooth connectivity speed and efficiency. It is a key factor because Bluetooth should work properly. And it should have a feasible and appropriate range so that it can detect your device from a certain distance. So make sure to ask about the range and limits of signal catching capacity of the Bluetooth printer. So that you would not have to face any problems later regarding these features.
Print speed
Another important factor to be noted while buying a Bluetooth printer is its printing speed. For instance, if you bought a printer and it is taking too much time in printing a single piece of paper, you will be tired and regret your money. So, for professional and business purposes, every second matters. So it is also a significant factor.
Budget and Running Cost
A printer with a low price and long-lasting performance is preferred. Of course, you would not be willing to allocate a noticeable amount of your resources just to overcome the running cost after some time. To buy a printer with long-lasting durability, you have to spend a lot of time in research. Especially, the cartridge replacement frequency of your selected printer must be checked. Because repeated replacement of cartridges and tones is pretty costly. So try to choose a better Bluetooth printer that needs low maintenance and running costs.
Resolution effect
The printer resolution is another attention-seeking factor. Because more resolution means it can elaborate the slight details of the image on hard copy. The term generally used for printer resolution is known as DPI (Dots Per Inch). More is the DPI, high is the image quality. For a Bluetooth printer, consider at least 12000 DPI resolution.
Feasible printer size
The printer size is also another element to consider when purchasing a printer. If you work in a small company having a lesser room, then consider a Bluetooth printer with a smaller and attractive size. A compact-sized Bluetooth printer with all the desired features should be the best choice for you. So, do not compromise on features while looking for size.
Make sure to handle media
Being acknowledged of various paper types, you need to consider the point that your printer should have the feature to support the specific paper size or type for printing. So to avoid giving bad reviews afterward, choose the right printer in the first place. It will also save you from money and waste regret afterward. Make sure while choosing a Bluetooth printer, that it should give you desired results. For instance, an inkjet Bluetooth printer can work on heat-sensitive paper while a laser printer cannot do that.
Also, keep in mind to note the monochromatic and color printing performance while purchasing.