Software
How to Change your iOS GPS Location?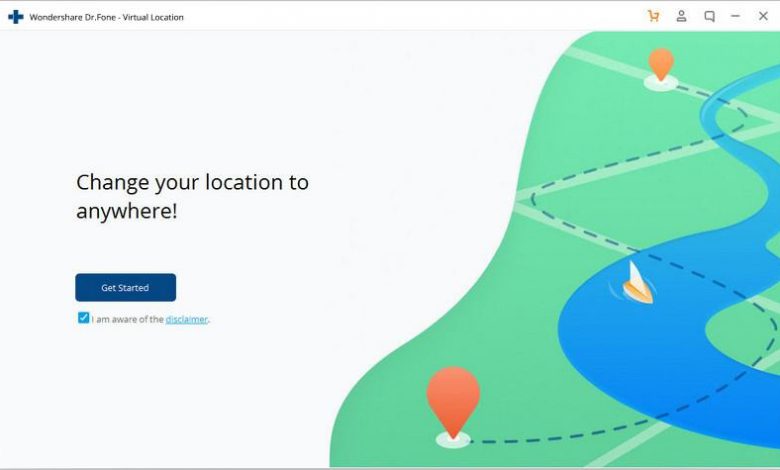 GPS is one of the advanced tech inventions that have made out lives a lot easier than ever before. From booking rides online, getting food delivered to doorsteps to tracking routes, and location-based apps, all we are using in both our personal and professional lives. But there is a negative side too. Most of the popular apps and games limit their access to particular locations that prevent other users to enjoy features and benefits. This is where fake GPS iOS comes into handy and allows you to enjoy your favorite apps and games just by faking the location of your device. Dr.Fone's iOS location faking feature named 'Virtual Location' can be used to change the location of any Apple device conveniently. This app for faking location on iPhone allows users to choose multiple locations around the globe. Furthermore, a user can also make GPS move by simulating GPS movement by using this amazing location changer solution for iPhone.
Reasons to spoof your GPS
There are lots of reasons for faking location on iPhone and privacy issues are one of them. By doing so, you prevent your IPS to track your exact location and online activities. As a Pokémon Go spoofer, you can also enjoy your favorite game anywhere anytime without facing trouble by faking the location of your Apple device.
Location spoofing also allows you to convince your device's GPS and mobile apps that you are using it in a given territory to enjoy all the offered services or features. As a result, a user can easily avail of all the geo-restricted services or features. Most people use a VPN for this purpose but a VPN just changes the IP address. On another hand using a GPS spoofing app makes changes to the GPS and shows the user is using the device in a particular area.
Enjoying online shopping discounts and free air mileages is another popular reason for GPS spoofing. People change their locations to avail amazing shopping discounts and coupons that are just available in specific countries or states. By changing their location, they can get a lot more in less. Not only this, but some game lovers also fake their locations to access and play their favorite games that are restricted in their areas and only accessible in other states or countries.
Plenty of location spoofing apps and software is out there in the market but most of them offer nothing but harm your device and apps installed on it. That is the reason, experts always suggest using reliable fake GPS solutions for iPhone like Dr.Fone's Virtual Location (iOS). You can try this amazing GPS spoofing app on both Windows and macOS for free.
Continue reading the blog to learn how Dr.Fone works and how effectively it can fake the location of your iPhone for a variety of reasons.
Dr. Fone – Virtual Location (iOS)- How it Works
Dr.Fone Virtual Location is powered by Wondershare and known as a safe and stable solution to fake your GPS. It allows you to teleport the GPS of your iPhone or any other Apple device in just a few clicks. It generates a virtual GPS for your device to make your device and apps believe that you are somewhere else you are not.
In order to spoof the GPS of your iPhone, you need to download the software from Dr.Fone website and install on your Windows PC or Mac. After the launch of the software, you will find several options and Virtual Location is one of them.
To fake the GPS location of your device, you need to connect it to the PC or Mac. Once connected successfully, hit the 'Virtual Location' option. After that, you will be shown the world map where you can select your favorite location by entering the location keywords in the search bar shown at the upper left on the screen.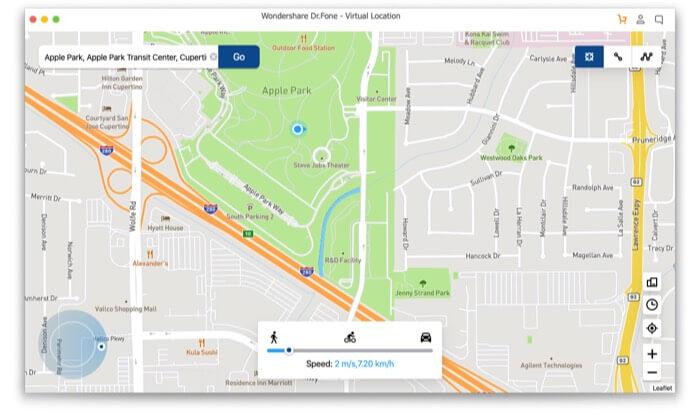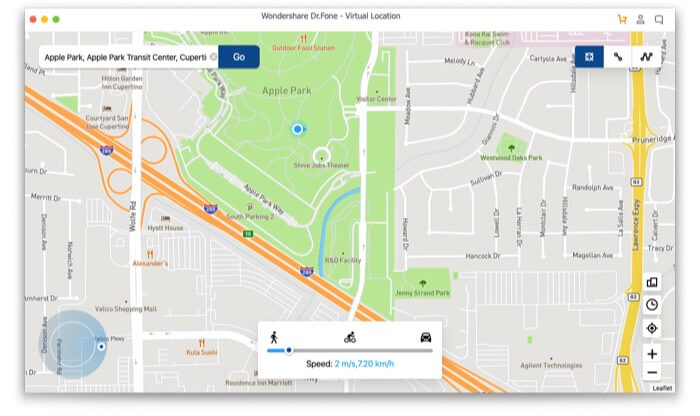 Dr.Fone offers you three modes 1)teleport your GPS location, 2) simulate GPS movement between two chosen locations, and 3) simulate movement for a specific route.
With help of Dr.Fon Virtual Location, you can easily mimic the natural movement which is handy for AR game players. All you need to define a route by choosing two different location spots and set the moving speed as either walking, cycling, or driving. You are also provided with a feature 'pause time' to make the movement more natural.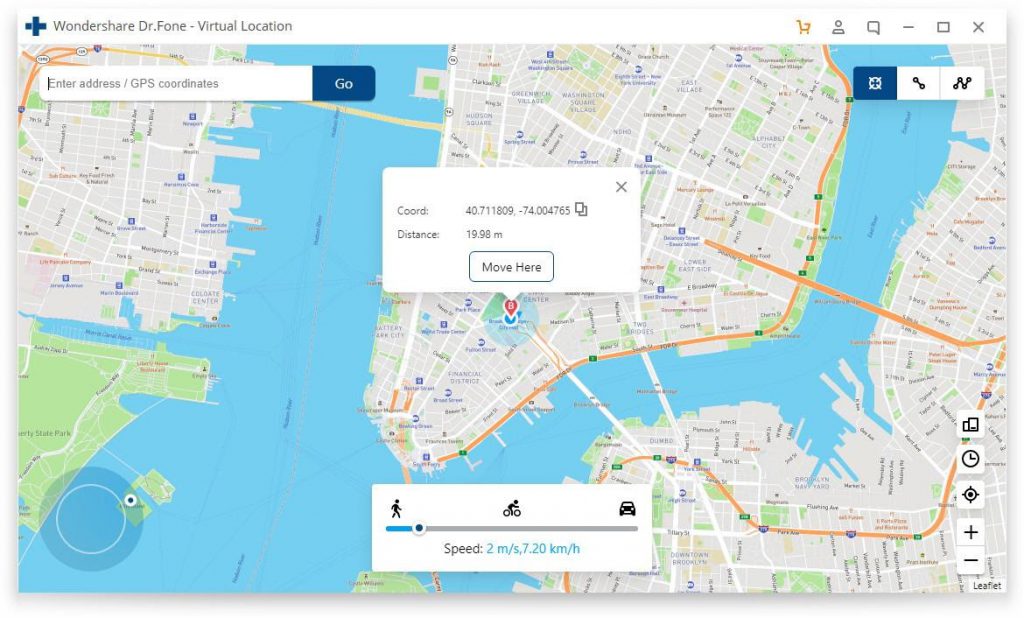 Furthermore, Dr.Fone also provides you with a joystick feature that can be used to simulate the device's GPS movement easily. No matter you are in location teleport, one-stop, or multi-stop location mode, joystick makes the movement more flexible and provides greater movement control.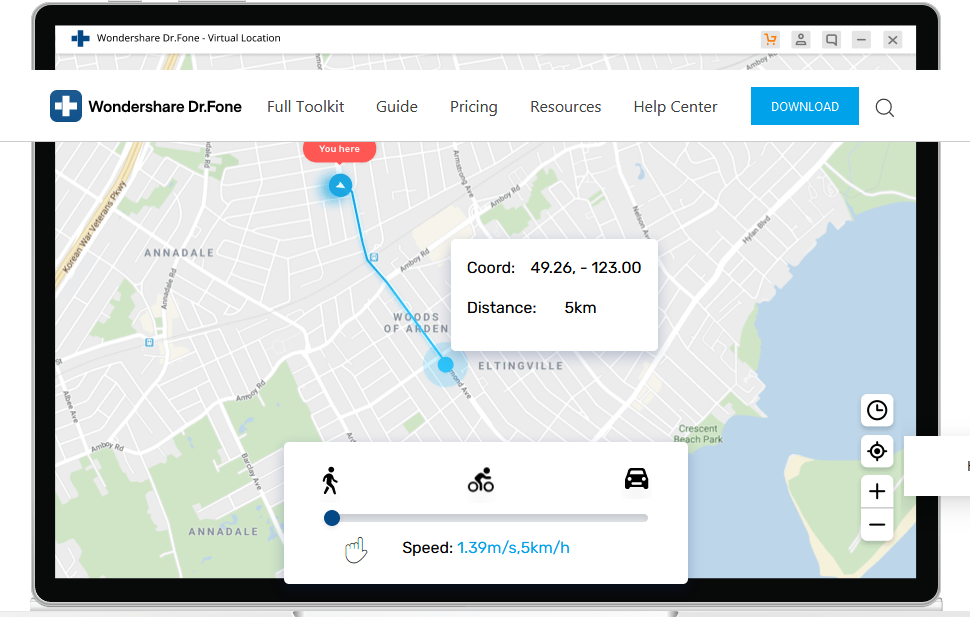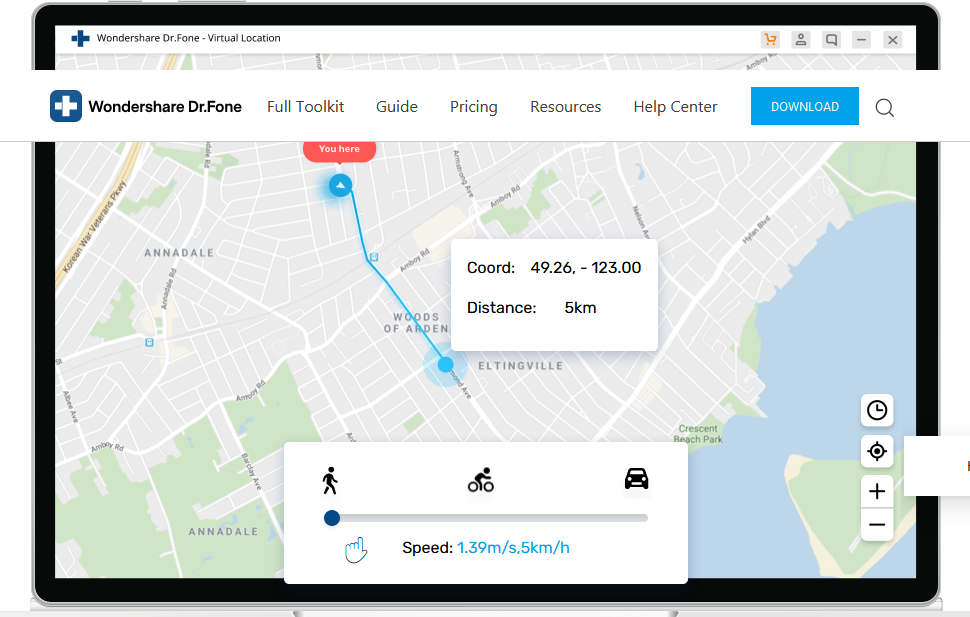 The best thing about this GPS spoofing tool is that you can give it a try for free. However, you may need to buy its monthly license to enjoy all its features and benefits. Moreover, you can fake the GPS location of 5 devices with its license purchased for 1 PC or Mac.