News & Features
Elon Musk Announces New $8 Monthly Charge for Verified Twitter Accounts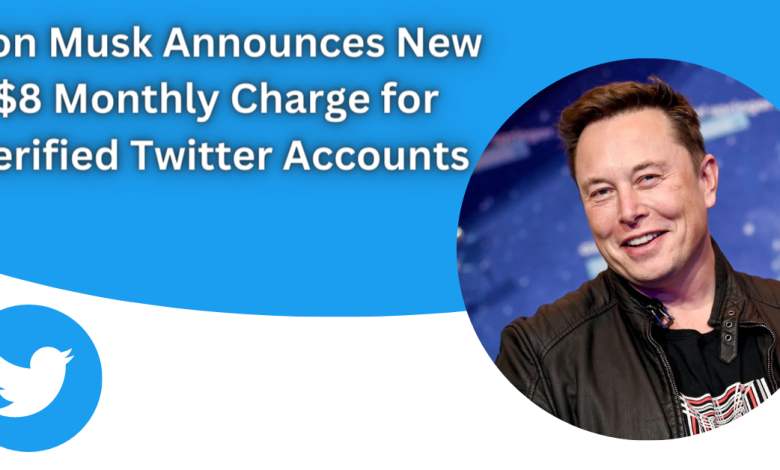 Twitter has been a hotbed of activity lately, and Tesla CEO Elon Musk is no stranger to the platform. He's been known to use Twitter to drop some serious news, like when he announced that Tesla would be partnering with Panasonic to manufacture solar cells.
The announcement, which comes days after Elon Musk took control of the social media giant in a $44 billion deal, gives "Power to the people! Blue for $8/month," Elon Musk tweeted. This message refers to the platform's famous blue checkmark that signals verified accounts.
The billionaire completed the acquisition of Twitter past week, swiftly firing its top execs and disbanding the board. Musk took to Twitter this weekend, polling his followers about bringing back Vine. He also tweeted that he plans to add a "subscription" service to the platform that would give users access to verified accounts and other perks.
Subscription Base Platform:
This isn't the first time Musk has floated the idea of a subscription-based social media platform. In past, he proposed creating a "censorship-free" social media site called "Minds." The site, which is still up and running, has a similar business model to Twitter. It offers a paid tier that gives users more control over their data and the ability to boost their content.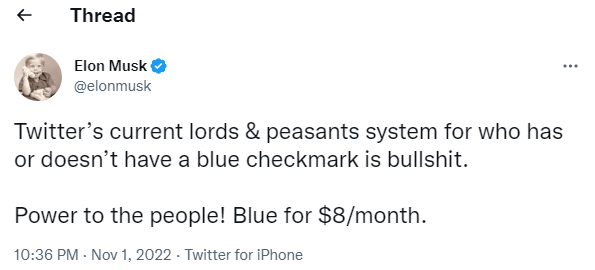 The new monthly charge is just one of several changes that Twitter will be making in the coming months. The company has also announced that it will be rolling out a new algorithm that will prioritize tweets from people that whom users interact the most.
According to Musk, subscribers would get quicker replies, more mentions and searches, the opportunity to post long videos and audio content, and only half as many ads. He also mentioned that publishers who work with the platform will be able to bypass the paywall.
This move is likely to be met with some resistance, as many people see Twitter as a free platform that should remain open to all. However, it's worth noting that Twitter is a business and it needs to generate revenue in order to keep the lights on.
Now, it looks like Musk is shaking things up again with a new announcement: verified Twitter accounts will now be charged $8 per month.
This move is sure to generate some buzz, as it's not clear yet what the benefits of having a verified account will be. However, Musk has said that the fee will go towards "improving the quality of content" on the platform.
This new development is likely to cause some serious changes in the way people use Twitter. For one, it could lead to an influx of verified users as people seek to gain access to the benefits that come with being verified. This could in turn make it harder for the average person to get their tweets seen by their followers.
It will be interesting to see how this plays out in the coming months and years. In the meantime, it's safe to say that Musk is once again shaking things up.