No matter you own a Windows PC or MacBook, you are always at risk of being attacked by potential threats and viruses when connected to the Internet. Compared to the traditional Windows operating systems, MacBooks are highly recommended for their macOS operating system, which is highly secure. However, there are certain chances that you may be attacked by potential threats. Therefore, you need the best antivirus software to install on your device to protect against viruses and other associated disadvantages. We have described the best options in this guide that you can use for your computing gadget.
Best Antivirus Tools for MacBook
After researching the market and understanding the functionality and compatibility of numerous software, we have created a list of the top 5 best antivirus tools for MacBook.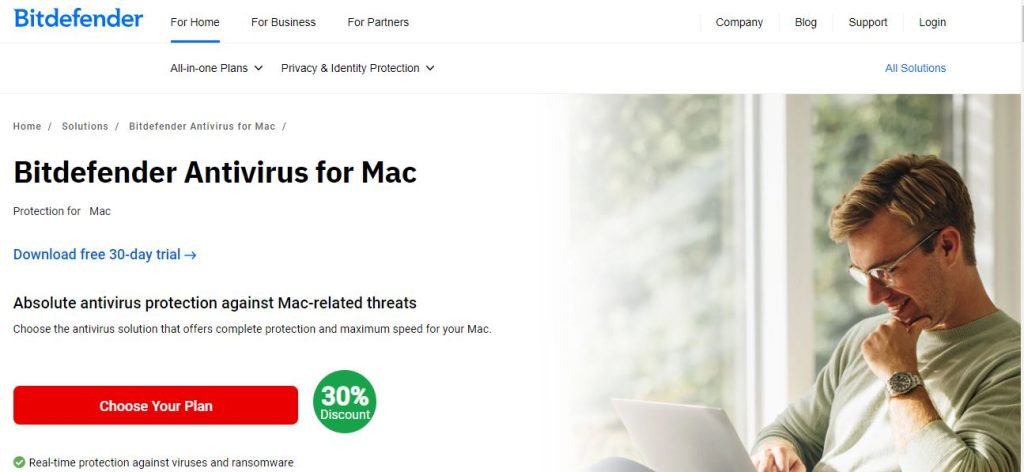 Firstly, we have added Bitdefender in this run down due to its expressional compatibility with macOS. You can install it on your MacBook to enjoy real-time scanning and malware detection. As a result, you can proactively save your data. Besides, it adds an additional layer of security when you browse the internet. Other features are the following.
As explained, Bitdefender delivers real-time protection to your device so that you can detect threats and potential vulnerabilities in no time and take quick actions to eliminate them.
The developers of Bitdefender have integrated a sturdy infrastructure in this software. Thus, it can detect different kinds of malware and treat them accordingly.
This anti-virus automatically blocks hacking websites to prevent you from getting caught in phishing attempts and fraudulent activities.
One of the exclusive features of Bitdefender is that it exhibits a time machine to allow you to recover the infected files in their original state.
Pricing
Bitdefender offers a single membership plan for $27.99 per year. However, if you purchase 2 years membership, it will cost $55.99 per year. On the other hand, the three-year subscription is available for $80.99 annually.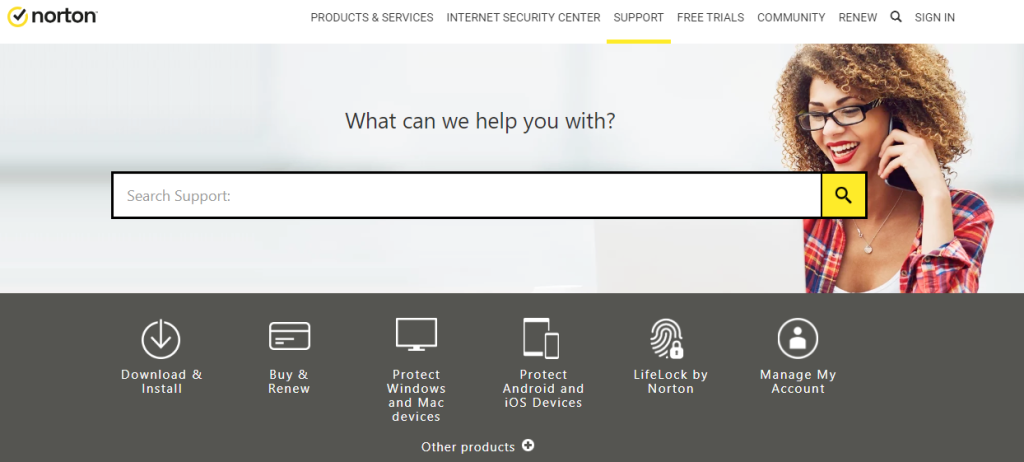 Norton 360 has also proved itself to become the best antivirus tool for MacBook. It works against malware, viruses, and online threats to deal with them more effectively and precisely. In addition, you can keep an eye on the dark web with the help of this tool to determine if your private data is available for sale. If yes, you will be notified quickly. Norton has gained immense popularity because of its amazing password management ability and parental control. Other features are the following.
This antivirus exhibits a comprehensive protection model to detect a wide range of threats and take action.
Parental control is also there to allow mothers and fathers to block several explicit sites to prevent sexual stimulation among teens.
A built-in VPN and password manager come with it to help you secure your browsing experience as well as the storage drive.
Pricing
Plus: $24.74 per year
Standard: $30.93 per year
Deluxe: $37.12 per year
Advanced: $43.31 per year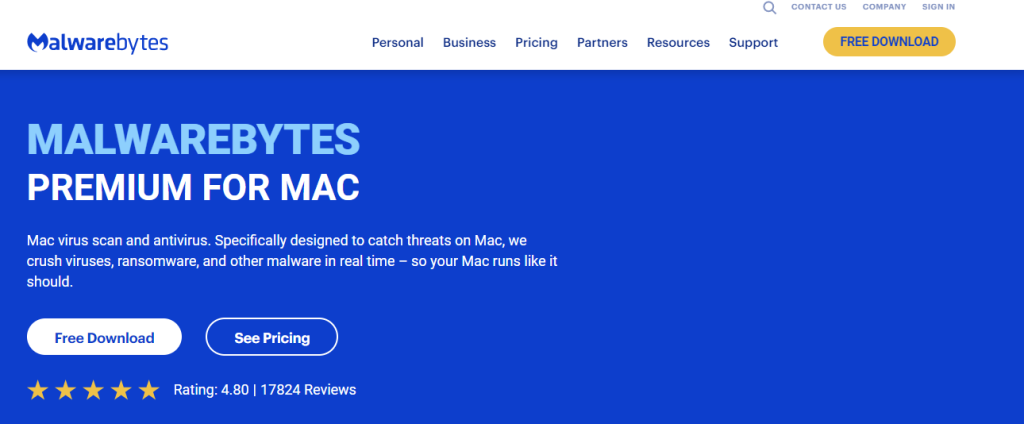 Malwarebytes has the ability to carry out custom scanning of different files and folders. In this way, you can detect the vulnerabilities in the highly important files. Additionally, you can monitor the threats acquired during online browsing and downloading. This antivirus is slightly more advanced than the others and integrates AI algorithms. Consequently, it can manage all the tasks effectively and remove the threats without making your system slow. A free version of this software is available to make sure you can grab the standard advantages for free. Some other top attributes of this antivirus are the following.
Malwarebytes showcases a user-friendly interface that allows everyone to use it to save their gadgets.
This antivirus has gone through numerous evolutions over the years to become the best in the cybersecurity industry.
In addition, it is highly lightweight. Consequently, you can use it on all kinds of modern and old PCs.
It not only limits the malware activities but also removes them completely to prevent further disadvantages.
Pricing
Standard (1 Device): $3.75 per year
Standard (3 Devices): $5 per year
Plus (3 Devices): $6.67 per year
Plus (5 Devices): $8.83 per year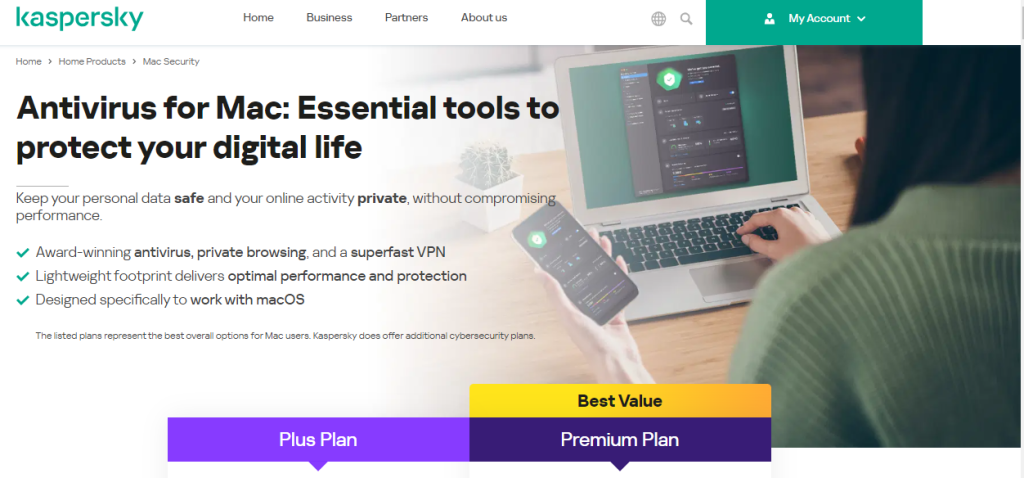 Fourthly, we have added Kaspersky to this rundown on the best antivirus tools for MacBooks due to its enhanced online security feature. As a result, you can browse the Internet and websites conveniently and securely. The highly active AI detectors can block threats and avoid phishing attempts. Kaspersky is designed especially for companies or individuals who perform transactions and deal with finances online. Above all, it is popular for the below-mentioned characteristics.
Microphone and webcam access controls to protect your MacBook from phishing attempts.
Also, provide different tools to optimize the laptop's performance.
Parental control is highly effective in ensuring family use.
Pricing
Two membership plans are available for utilizing the premium features of Kaspersky.
Plus: $55.99 per year
Premium: $58.99 per year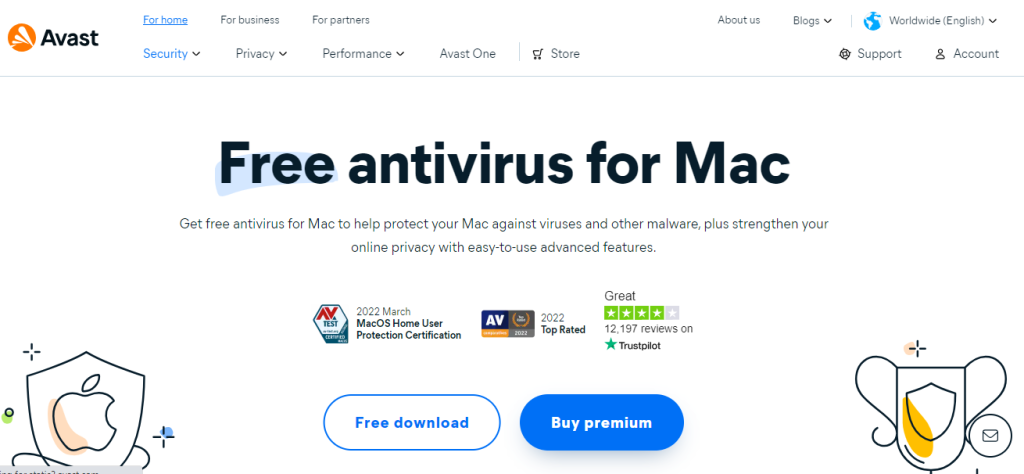 Although Avast's core functioning is related to Windows PCs or laptops, the developers have worked really hard to make it compatible with the MacBook and Mac Operating System. Moreover, it incorporates several automation tools to detect the potential cause of vulnerabilities, such as extensions, caches, and cookies. By removing them automatically, Avast protects your device. The real-time protection and password manager also add an extra layer of protection. This high-end product exhibits several other outstanding performance capabilities, as mentioned below.
Wi-Fi security scanner is present to block access to insecure websites over the ordinary network.
Browser cleanup enables you to enjoy a more secure online experience by deleting the energy-draining junk.
The interface is highly eye-catching and easy to operate. Consequently, people of every experience level can use it.
Pricing
The Avast antivirus for Mac is available on an annual subscription plan for $75.99. However, some promo codes are available that can reduce the overall price significantly.
Final Verdicts
It is necessary to protect your MacBook from malware and online threats in today's digital landscape. The top 5 antivirus tools for MacBooks mentioned in this guide deliver unique features and levels of protection. Whether you prioritize strong malware detection or budget-friendly options, we have considered all the factors to add tools to the list that resonate with your requirements. You only have to assess your needs and budget to subscribe to the one that serves best for you. Also, consider the interface to determine if you can operate the antivirus.