SEO
What Are The Best Ways To Increase Website Traffic?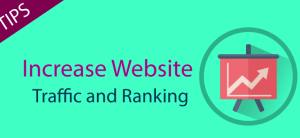 You may have the greatest business in the world, but it's not doing you any good if no-one knows about it. One of the greatest tools businesses have nowadays for getting their company known is a well optimized, skillfully produced website. On your company website customers can get an idea of who you are, what you do as a company, what your company values are, and what benefit your customers can get by choosing your services over another. But in order for them to get to know you, they need to visit your website in the first place. Here we share 5 ways to get more traffic to your website and improve your business profile and growth.
Increase Advertising
Advertising is one of the most effective and useful ways to increase website traffic. The downside with this approach is the cost, which if you're not part of a large corporation, might not seem worth it to you. However, with the right targeted and skillful approaches to online advertising, you can get more traffic to your website than any other method.
When it comes to paid advertising, you're going to want to recruit some professional help to manage and run your advertising campaign. Pay per click advertising management is your best bet here, providing you with the most economical and effective approach to paid marketing, because you only pay for how many clicks you get. Its also a great way to track the effectiveness of your campaign and see what kind of impact your advertising is having, rather than just leaving it to chance.
Have A Great Blog
Having a great blog is a big draw card for your site, and it also gives you the opportunity to guest blog on other sites to provide back links to your own site. A great blog is important because it provides your customers with interesting and valuable information that they will actually want to visit your website for, rather than you feeling that you are trying to draw them in.
Furthermore, a good blog will be shared by readers where your work will be seen by more potential customers. A good blogger can do guest posts on other sites and blogs increasing links back to their own site, and therefore, more traffic.
Post To Social Media
So many of us spend a significant amount of time on social media these days, and having a business presence where your customers are is very important. A Facebook page and a Twitter account can do a lot for your business in practically free promotion, as you can share links to your websites and blogs on your social media page, which will be liked and shared around social networks.
The more your content is liked and shared, the more people it reaches, which is why it's so important to have a presence on social media that's well managed and regularly updated. By sharing valuable content, you can easily collect more organic traffic to your site through social media.
Optimise Your Website
One of the first places many people go to try to find what they need when searching online is a search engine. Optimising your website and your business for search engines gives you a big boost in this area, as it allows customers who are looking for your business or your type of services to find you more easily and quickly.
Search engine optimization is a whole process, but you can take it as far as you want. It could be ensuring you have a few essential keywords about your business on your page, or you could take it as far as to do a complete, professional search engine optimization where you target specific keywords, optimize backlinks and get your business higher and higher on the search results. By putting even a little bit of focus on 'speaking the search engines language', you can really make your business more findable, and bring more traffic to your website.
By using these 5 tips you can really improve your web traffic significantly and make a difference to your business's image and profits.