Software
TunesKit- The Best M4V Video Converter for Windows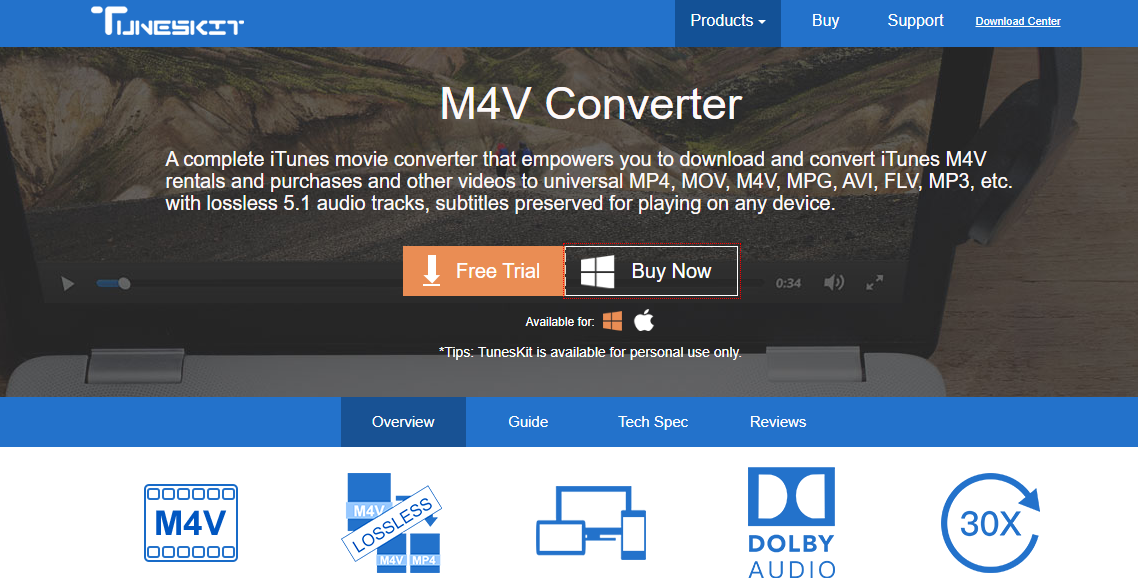 In this era of advanced technology, we can enjoy favorite movies, plays, and music on mobile devices even without leaving our beds. No doubt the latest technology has made our lives entertaining and refreshing with digital content, but it is not always easy to play the favorite music or video files on different mobile devices as most of the files are encrypted and protected by DRM (Digital Rights Management). You can take the iTunes Store as an example, from where you can get DRM protected files that can only be used on a single device and cannot be shared or played on any other device.
Thankfully, not all the hope is lost and there are several tools available that can remove DRM protection from media files and TunesKit M4V Converter is one of them that enables you to play these media files in a host of devices or share them among devices freely. It is the best converting solution available that liberate you from iTunes restrictions and download both iTunes M4V purchases on Windows operating system.
More About Tuneskit M4V Converter Windows
Tuneskit M4V Converter is the best and all in one DRM removal solution available and it is capable of converting the DRM-ed M4Vs files to the DRM-free files in common MP4, MOV, AVI, M4V, and other formats. It helps you convert and transfer files to other devices without facing troubles so you can enjoy your favorite music and videos on all the mobile devices you own. The best thing about this converting software is that it allows you to download your favorite videos on Windows without losing the view quality to provide you with the better and improved viewing experience.
How to Use Tuneskit M4V Converter
There will be no need for the technical know-how and a hell lot of knowledge to operate and use this software as it comes with a simple and very easy user interface. Right after opening the software, you will get 'iTunes Failed' notice if you have not installed the iTunes. That's why make sure to install iTunes in order to use the software in the best way. You need to click 'Add Files' button to import DRM protected files to the software from your iTunes account. Once all files are imported successfully, you will be shown with plenty of output media formats and you can choose an appropriate one as per your needs. Then, click on the 'start convert' button and let the software convert your files into the desired media format.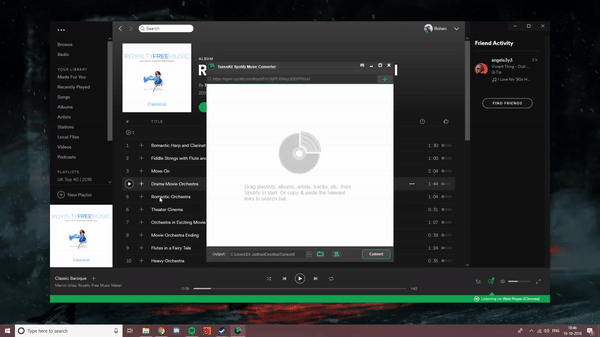 You can download its trial version to check its amazing M4V converting features without spending a single penny.
Features of Tuneskit M4V Converter Windows
1- It Removes DRM Protection
If you are tired of Apple's restrictions on iTunes media files and TV shows, then TunesKit M4V Video Converter for Windows would be the right choice for you as it helps you remove DRM protection from audio and video files to help you play them across different devices. This tool easily removes DRM restrictions from iTunes for you so you can transfer files to other devices you own. All the converted files can be used offline and across different devices.
2- Excellent Converting Output
A lot of converting solutions are available in the market but most of them compromise the quality while converting. But, TunesKit converts all your files without compromising the quality and provide you with better audio and video experience.
3- Support All Popular Devices
Files converted with TunesKit M4V Converter can easily be played across different devices without any interruptions. Users of both iOS and Android operating systems can play converted files easily. Even many other media playing devices can also support the files converted with TunesKit M4V Converter.
4- It Keeps Dolby Audio
Whenever you are converting media files with Tuneskit M4V Converter for Windows, you are getting the individual Dolby audio files for each file you convert. In this way, it takes good care of the audio to provide users with great media experience.
5- Preserve Multilingual Subtitles, CCs
As it is one of the best iTunes converting solutions, TunesKit M4V Converter not only converts DRM protected files into desired unprotected file format but also retains original subtitles, multilingual audios, and close captions to make sure you are enjoying a better experience with converted files.
6- Support Latest iTunes
No matter which version of iTunes you are using, this converting solution will make sure it is getting the right job done for you. It is compatible with all older and latest iTunes versions so you can keep files converting without worrying about the version.
7- 30X Faster
As TunesKit is designed with advanced decryption core, it works 30X faster than its competitors to provide you with better converting performance. You can convert more videos with the TunesKit M4V converter in less time.