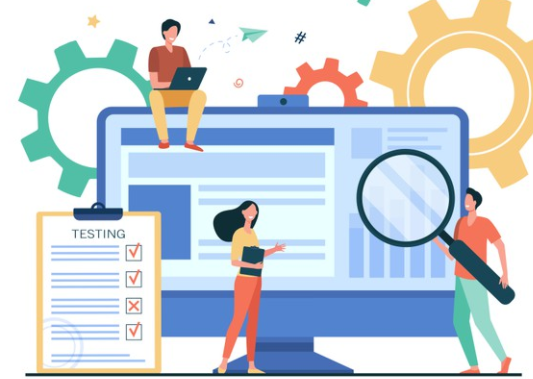 Are you searching for a software testing company to enhance your software quality? Do you feel helpless that even after spending a lot of your bank investment for testing solutions in your firm, you are not able to find a perfect balance for your software application with high quality and safety?
Then you are in the right place, as it's safe to say that building and maintaining a testing team and process for software is not an easy thing.
However, you can outsource a software tester company for cost-effective solutions from all over the world.
The report of research and market states that the software testing services market is expected to grow by $ 6.05 bn during 2020-2024, and the CAGR rate has reached 15% during the forecast period.
These QA service provider companies are the best shot to have control over the testing procedure for higher productivity of your existing teams and releases.
So, it's best for non-tech (even tech in some cases) business executors to outsource testing services from a specialized software development company for a better result.
That's the reason we've narrowed down the top 5 companies that are known for the best qualities and top-notch services in this domain across the globe, it will help you to pick the right one. So, let's start the journey of finding the best software enterprise for your budding business.
The Top Software Testing Service Provider Companies:
1 Lighthouse Technologies
Our first stop for the testing software development company is Lighthouse, their trendy technologies comprehend the downsides of your software that affects your business badly. So, that's the reason why they are the best one for QA and at the top of this list.
This enterprise is well-known for their picking up the defects in the software that saves your money and the damage to the software.
It works quickly on a defected software for preventing the crippling of the quality and productivity of work, plus it leaves a positive effect on the developers who are working on the software.
The latest methodologies Lighthouse applies with their experts are rare in the field, they possess the capability to look underneath the surface and dig out the problems to get a fully-furnished software product.
The testing services provided by Lighthouse for verticals business apps, cloud-based apps, ERP systems, and databases of that software, along with Software products, mobile & web apps, data centers, and eCommerce.
Here we have the approach they took for testing:
Transparent Communication
Defect Prediction Drivers
Metrics-driven Methodology
Roadmap-to-Resolution plans
Code Analysis Algorithms
2 Bluelabellabs
Our next station for the journey of best testing software is Blue Label Labs, it is one of the best development companies that have a sole aspiration to design customer-centric and user-validated software products at a moderate cost.
The headquarters of Blue Label Labs is located in New York, this software development company has its roots established in Seattle and San Francisco as well.
Their experience in creating new products and testing their safety perfectly for over a decade is astonishing and the best for the business. Their expertise leads to outcomes expeditiously, efficiently, and at a reasonable price.
Well, it's a surprising fact that with around 64 employees this digital company has been successful to transfer plenty of vision into reality, and all is possible with their three core pillars:
Their strategic business consultant at the right time
Building user-centric and friendly designs
And proficient engineers
Let's have look over their 5 steps that make the safest software:
Step 1: They design a sprint to discover the process to find the default in the software and design the right protocol that leads the software development in the right direction.
Step 2: In the next step they follow the scrum-based Agile development methodologies for bug-free and work beyond expectations.
Step 3: The third step is all about providing the required support and maintenance with qualitative tracking tools to manage the post-product launch.
Step 4: Structuring user experience design and testing if the software is ready for delivering engaging and unmatched software.
3 iLAB
What is better than having experience in a particular field for more than decades? Nothing, we know that talent does matter, but as Rita Mae Brown says "Good decisions come from experience, and experience comes from bad decisions," which means they know what they are doing.
As iLAB has more than 20 years of experience in the Quality Assessment industry, that means they are aware of their decision and know where it could lead.
It makes them one of the most reliable associates where you could put your faith for risk mitigation and successful end of the software product.
With their innovative approach, the iLAB engineers and analysts conduct modest testing procedures for a top-notch solution, damage-free, risk-free, and bug-less software.
Their combination of experience and expertise in the QA domain of software development renders the following software testing services:
Consulting
QA testing services and Automation
Performance
Security
iLAB believes that when a company develops software then, it's essential to have better quality and up-to-date otherwise your product won't be the best one in the market and it'll come & go and no one notices it.
4 Titan
The next stop we're going to take is Titan, which holds a prestigious reputation for being one of the most successful result-driven software testing services provider enterprises.
And the successful results are an outcome of comprehensive knowledge and domain expertise, which their proficient developers deliver at a modest cost and within time.
Titan Corp focuses on its customer flexibility and mindset, with its whole dedication to providing the best quality in the market.
However, the thing which makes them on this list is their commitment to successful results and predictable delivery lures more and more investors to enhance software development as the core value in their firm.
And that's the prime reason why Titan Corp has a competitive advantage in the software market. They apply best practices in these development aspects:
Process development
Agile development
Quality assurance
All of these are provided with proven engagement designs as per the client's requirements.
When it comes to QA this company proceeds with the following assurance tests for scalable and secure applications:
Localization
Security
Usability
Load and performance
System and integration
Functional
Sanity
Automation
Compatibility
5 W3Softech
W3Softech is the last one with its specialization in Operative, Automation, and non-testing services with high-quality software testing and QA consulting services.
Their team of proficient and dedicated experts ensures clarity and authority to each of the software testing projects.
From the beginning their pioneers in performing testing and QA services with robust methodologies, quality approaches, agile procedures, and the latest tools along with services to automate software application testing.
W3Softech has the aspects that render the quality parameters like:
Customer Satisfaction
Responsiveness
Quality Deliverables
Efficient efforts utilization
Moreover, the programmers have built a unique testing management system to help their clients with measurement, control over their software, and conduct the tests adeptly.
So, the prime reason you have the choice to pick this company is because of these plethoras of benefits:
Stabilized QA processes
Critical tools and resources
Improved performance
Automated tests lab
Sustainable processes
Independent testing team
Management of the QA model
Independent verification and validation
Apart from QA and software testing, the specialties of this company possess expertise in various industries such as:
Telecom
Insurance
Finance
Healthcare
Banking
eCommerce
Bottom Line:
So, after this thorough analysis of the best software testing companies, you can pick one of the best enterprises that suit your business.
Therefore, this list is the best way to figure out which one will be working for you and if you think there is another software testing partner who deserves to be on this list, then let me know in the comment section.