Web Dev
Top 10 Best Web Hosting Companies of 2022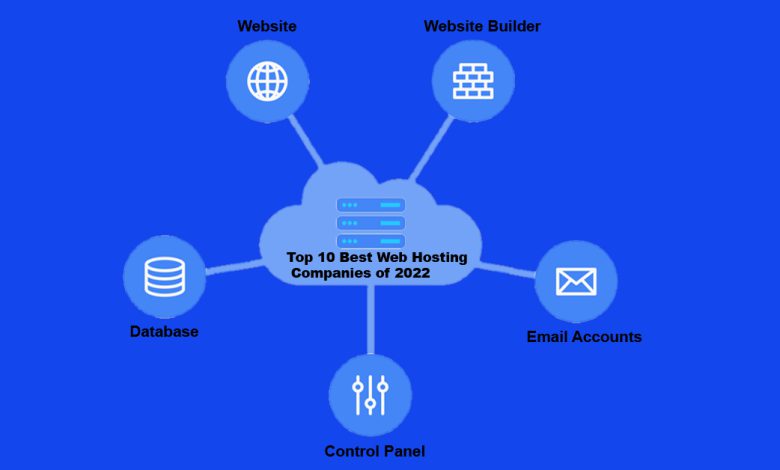 Web Hosting authorizes you to publish your website online as it is an online service platform. On special computers and servers, websites can be hosted or stored. Hosting providers provide the technologies and helping hand required for your website to be viewed online.
If people want to see your website on the internet, they only have to type their website address or domain into the existing browser. Once registered for a hosting web service, you can rent some space on a server. Now you can store the files and data required for your website on the server to work properly. Their computer machines will be authorized to connect to your browser, and the browser will deliver the web pages.
There are many in-depth tested and highly rated hosting services on the internet nowadays. These web hosting services furnish the accuracy and power you need to build spectacular websites for personal or business use. There are the top 10 best web hosting companies of 2022:
Namecheap
Hostinger
GoDaddy
Bluehost
DreamHost
Hostgator
SiteGround
A2 Hosting
InMotion
WPEngine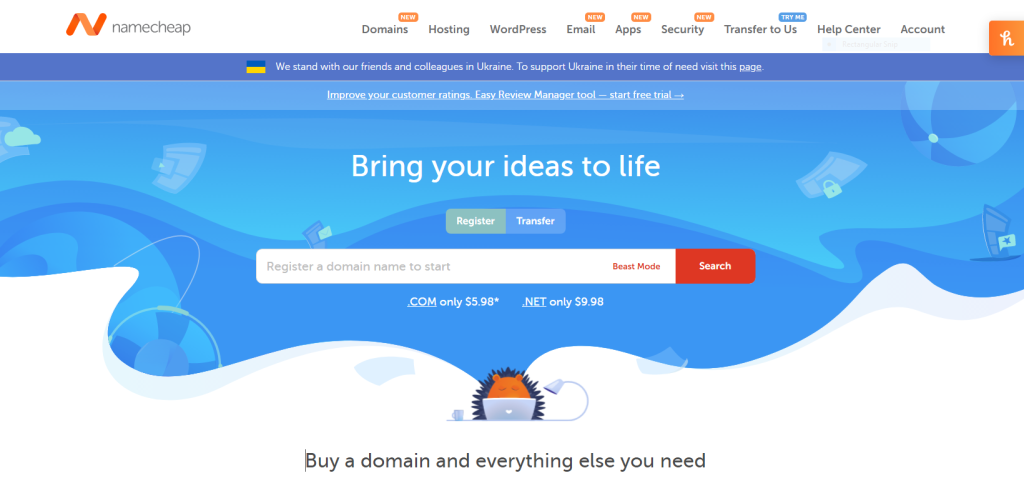 Namecheap is a decent domain registration and web hosting company leading the race. Without any hesitation, you can register your domain on Namecheap. It is the cheapest shared hosting that helps businesses to grow online globally. It comes up with affordable hosting plans and easy domain name registration and offers its users a 100% uptime guarantee. You can not underestimate the quality of Namecheap's services, as it already has a top position in domain registration. Due to its services, it is very famous among most website owners.
Pricing of Namecheap
Namecheap offers three types of plans which are given below:
Steller: $2.88 per month, three websites, 20GB SSD, and Free CDN
Stellar Plus: $4.88 per month, Unlimited Websites, Unlimited SSD, Free CDN, and AutoBackup
Stellar Business: $8.88 per month, Unlimited Websites, 50 GB SSD, Free CDN, and AutoBackup & Cloud Storage
Advantages of using Namecheap Hosting Services
Hosting:
Namecheap is the one with the cheapest rates when compared with other hosting providers.
The range of pricing starts from $2.88 to $8.88 monthly.
The service provided by Namecheap is clean and automatic as it comforts the user when experiencing.
The live support system is perfect as it allows email and chats support.
The servers are located in America and Europe, which boosts the customers' confidence.
The cPanel is very simple and easy to use.
The purchasing process is quick and transparent with unlimited bandwidth.
International users can purchase suitable plans through PayPal.
The setup procedure is very understanding.
Registration of a domain name is a straightforward and quick process.
You can forward your mail as it is free to use.
Domain:
A lot of extensions will help you out with domain name registration.
The first domain registration starts from 0.88 cents.
You can buy the domain and sell it according to the market value.
To view registration data, you can use the WHOIS Lookup tool.
You can take advantage of the Premium DNS services that only cost $5 per year.
After buying a domain for $0.48, you can extend it for five years by paying $5.58.
It offers Free DNS with advanced DNS hosting services.
HOSTINGER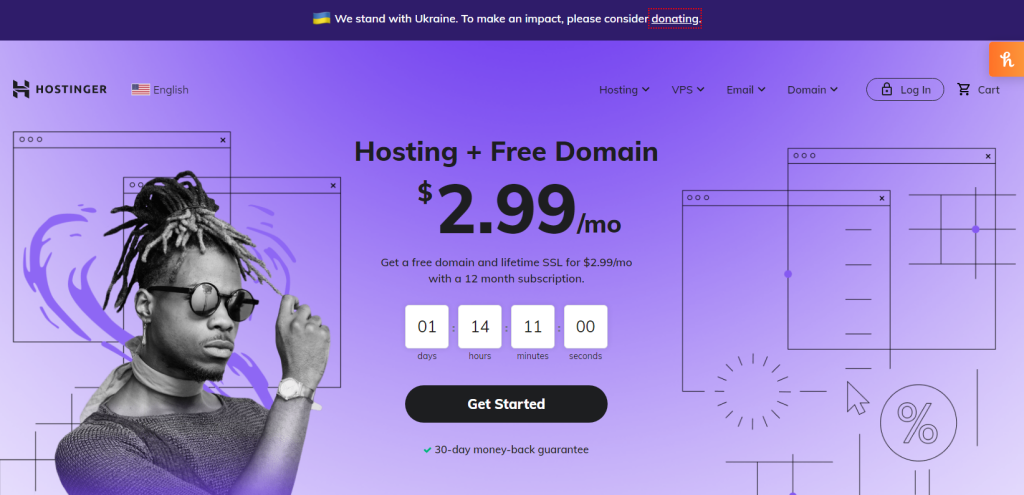 Hostinger is an authentic web hosting service well-known for its speedy loading times and low costs. In order to get your site online, you should select Hostinger. It provides the cheapest hosting plans and delivers affordability without doing something most easily or least expensively. That is why the Hostinger is best for simple sites. You should move to a stronger plan when growing, and you should not change the host. Use Hostinger, if you are on a budget. It is impossible to spend less on decent Hosting.
Benefits of Using Hostinger
There are many benefits of using Hostinger; some are given below:
Cheap web hosting services could appear engaging, but it's not worth trying if your uptime rates are insufficient.
Hostinger provides the fastest loading speed for the price mentioned on the plan, which can start from an incredible $1.99 per month. On the site, the server response time is perfect, and it is 43 milliseconds. You can hope to have an average loading speed between (300 – 400) ms range, which is pretty good. The industry average loading speed is more than 900 ms, double the number.
If you are not comfortable with the services, you have the option to get your money back within 30 days. Either way, you are getting 30 days of free Hosting.
If you find an error or your website crashes, that can affect your conclusion. Hostinger provides easy and fast live support where the representative will get in touch with you in less than a minute if you ask them for help.
All the plans have a free domain and website builder. It is excellent for a beginner or someone who will build a website from scratch.
GoDaddy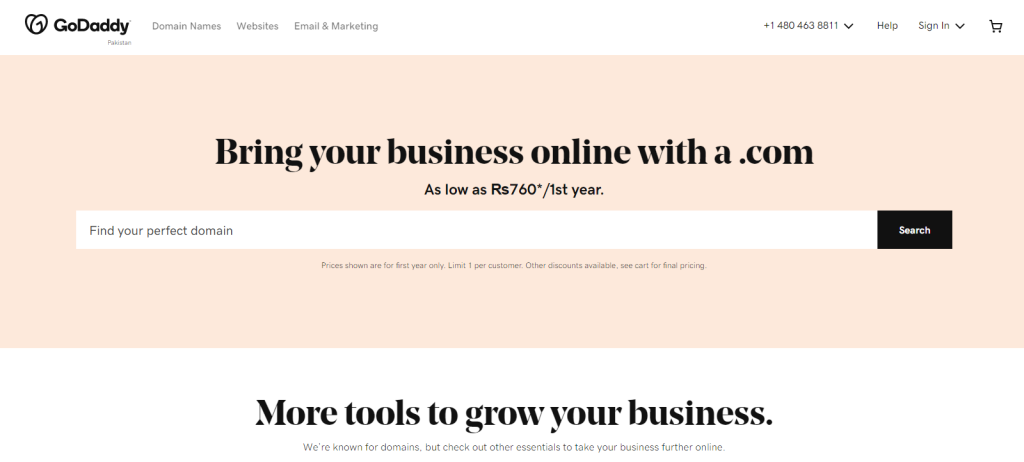 GoDaddy is the largest ICANN hosting company that offers a massive variety of website maintenance and authority products, which also deal with applications. It gives multiple opportunities from sharing a server with many sites for a few dollars in one month. It has more than 20 million customers globally and provides tools and services to small and large businesses. That is why it is often a top choice for the best website builders.
What services does GoDaddy offer?
It offers many web services for any individual, small and large business. The most popular services provide:
Web hosting
domain registration
SSL certificates
Website Design
Microsoft Office 365 software packages
Business Email
WordPress Hosting
Digital Marketing
Website security
Social Media Marketing Services
Website Backup
Pros of Using GoDaddy
Affordable Plans
100+ mobile responsive design templates
Free version available
Cons of Using GoDaddy
Limited site design customization
Limited e-commerce features
Pricey add-ons
BlueHost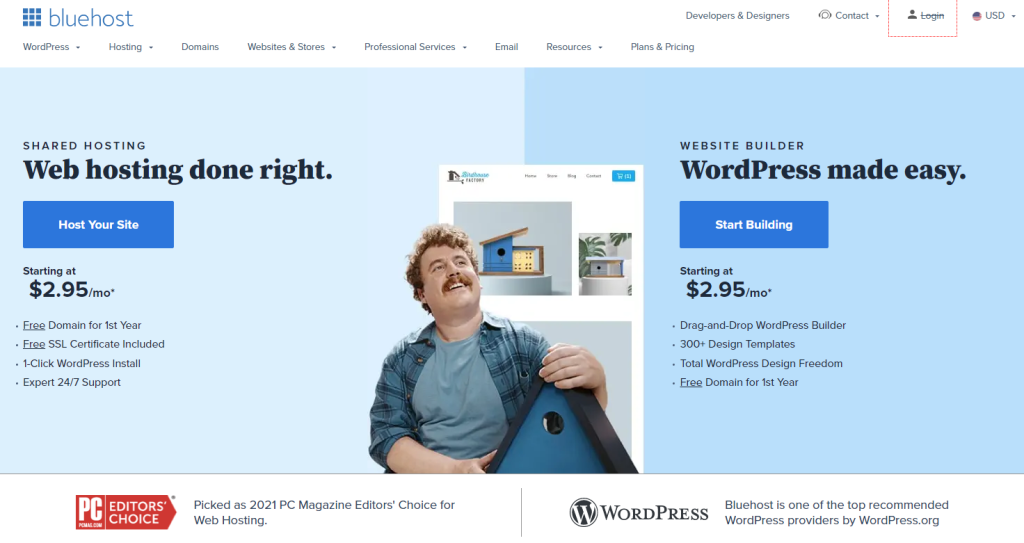 Bluehost is one of the biggest web hosting platforms nowadays. The site has one of the most trusted hosting providers and is already powering over two million websites globally. It provides a discount of up to 63% off your Hosting, including a free domain. You require web hosting and a domain name for your site, but Bluehost offers both.
Why should you use Bluehost?
There are many reasons why you should prefer using Bluehost.
One of the main reasons is cost. The Pricing is affordable as the Bluehost offer web hosting services for at least $2.95 per month.
The second reason is to set up a website, which is a rapid and easy setup. It can get your site up and running with just one click. Keep in mind that WordPress also recommends Bluehost.
It provides excellent customer service where you can reach the officials via email, phone or chat.
Bluehost has a 30-day money-back guarantee. Within 30 days of your service, you can get your money back if you are not pleased with the services.
DreamHost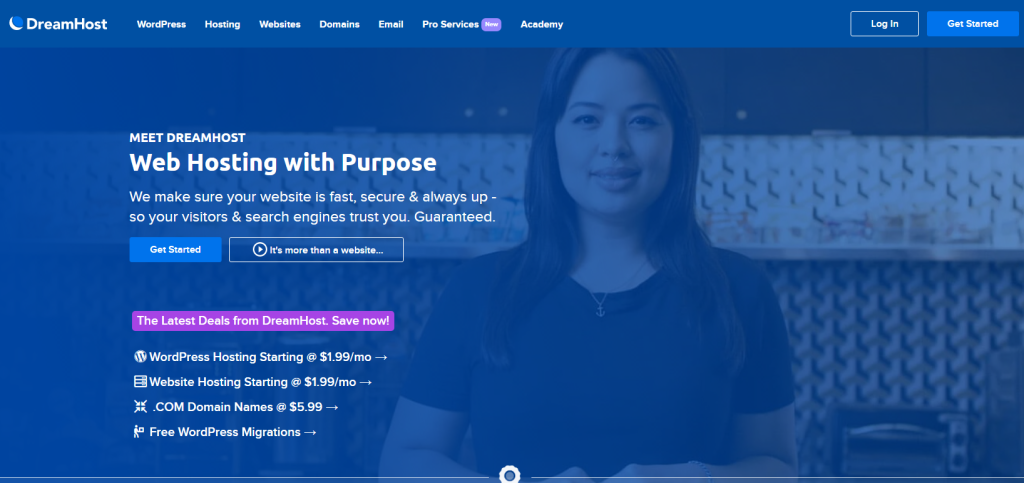 Dreamhost is a web hosting company that provides various hosting plans to customize individuals, small businesses, and large businesses. It is one of the most trusted websites, with more than 1.5 million websites and a list of products, including Shared Hosting, Managed WordPress Hosting, VPS Hosting, Dedicated Hosting, and Cloud Hosting. The hosting providers offer a secure, reliable, fast hosting platform for your personal or business websites. The site also provides a 100% guarantee and many security features. Starting from $4.95 a month, you can choose the best suitable plan according to your need.
Dreamhost Domains
Dreamhost has expanded the business by giving you the access to buy domains from them. You can pick over 400 popular domains including: .biz, .io, .shop, .online and the traditional domains like .net, .com and .org.
Features of DreamHost
The following are the features that can be accessed:
Shared Hosting
VPS Hosting
WordPress Hosting
Cloud Hosting
Control Panel
24/7 Customer Support
Domain Registration
100% Uptime Guarantee
Dedicated Hosting
WP Website Builder
Email Hosting
HostGator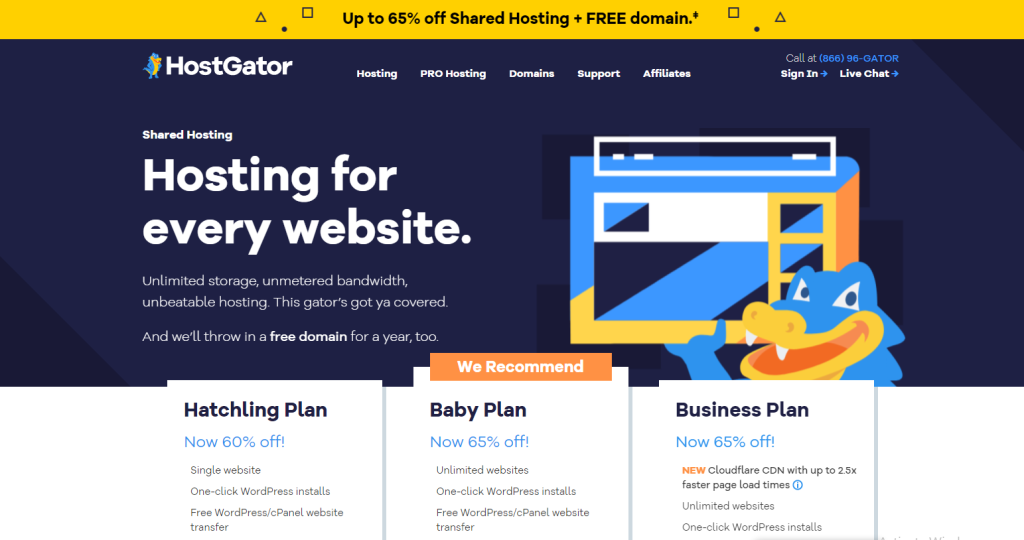 HostGator is one the most famous companies globally, hosting over 10 million domains. The site offers shared Hosting, dedicated servers, managed WordPress plans, and VPS hosting. It is the best choice for every website owner as you can get various benefits like 1-click WordPress installation, 24/7 live support, 99.9% Uptime guarantee. The website builders offer a 62% discount on every site, a free SSL certificate, and a free domain name.
Pros of HostGator
1-click WordPress install
Authentic web Hosting
Free Domain name
Free SSL Certificate
45-Day Money-Back Guarantee
Free Business Email Address
Cons of HostGator
Aggressive Upselling
Monthly pricing is so high
Features of HostGator
HostGator has some valuable features that increase its value as a web host.
HostGator helps you to store all the files you need as it has unlimited storage in hosting plans. It does not matter whatever your requirements are.
You can register, buy or transfer your domain name from only one place using HostGator.
As you know, advertisement of your site is necessary to make awareness. The site has plans with $15 in Google ad spend credits and $100 in Bing and credits.
There are more features like unmetered bandwidth, Easy app integration, Site Security & SSL, and many more.
GreenGeeks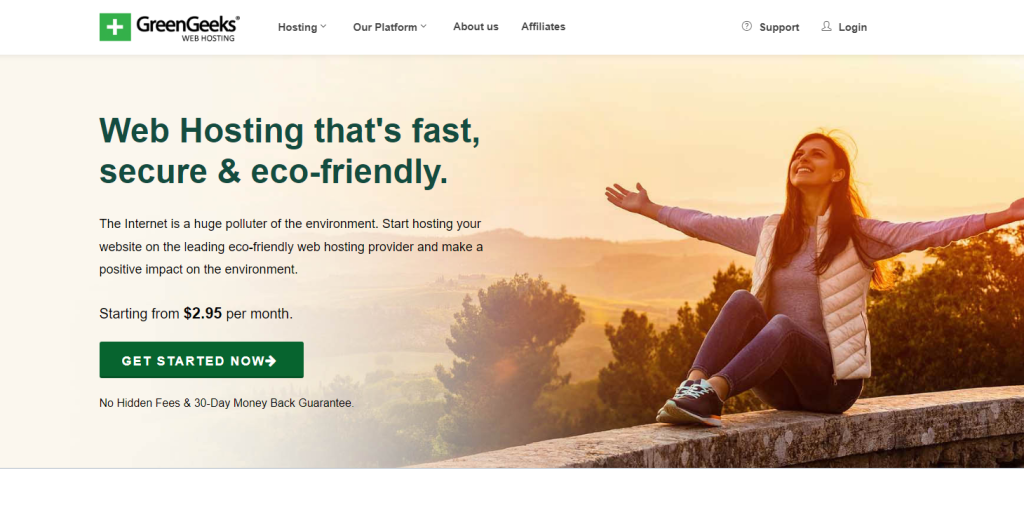 It is a hosting supplier with fast and secure servers powered by 100% renewable energy. You can reduce your carbon impression and get your website hosted simultaneously by using the GreenGeeks site. They provide two types of guarantees—the first guarantee on a 30-day risk-free money-back guarantee which can help you try them out. The second one is an uptime 99.9% guarantee giving you a stable platform to host your small or big website. Starting from $2.95 a month, you can choose the best plan that suits you.
Hosting Options of GreenGeeks
When using GreenGeeks, you will find various hosting options. It includes the popular shared Hosting and fast WordPress Hosting, which will be great for personal blogs and low-traffic sites. The following are the plenty of free services that you can get:
Free website backups
Free CDN
Migrations
Unmetered bandwidth
built-in cashing
free SSL certificate.
GreenGeeks Features
There are multiple features of GreenGeeks that are given below:
Web Hosting
99.9% Uptime
VPS Hosting
Website Builder
WordPress Hosting
WooCommerce Hosting
Reseller Hosting
24/7 Live Support
SiteGround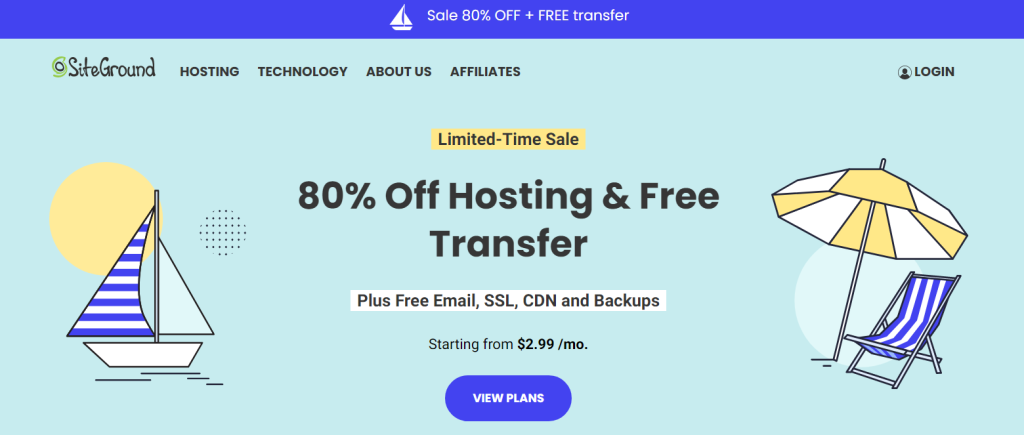 SiteGround is a famous host for WordPress clients that anyone could hope to find. The web hosting providers can show impressive Uptime, simple UI, solid server statistics, and a fabulous support team. They can also have exceptional hosting choices that are traditional-tool for elegant themes for individuals and Divi users.
Without any doubt, SiteGround has become a solid, reliable WordPress host. You can cooperate with your teammates and clients separately. The website from the installation process to file management to maintenance is designed according to the user experience.
Pros of SiteGround
Free website backup and migration
Low Pricing
Supercacher technology
Quick Live support
PHP 7.4 hosting
Free SSL Certificate
SSD Hosting
Cons of SiteGround
Data storage is limited (20GB, 30GB), yet a simple WordPress blog does not require over 2-3 Gb of disk space.
Renewal prices are high.
SiteGround Pricing
SiteGround provides three tiers for hosting members:
Prices remain the same for standard shared web hosting, WooCommerce Hosting, and WordPress hosting.
A2Hosting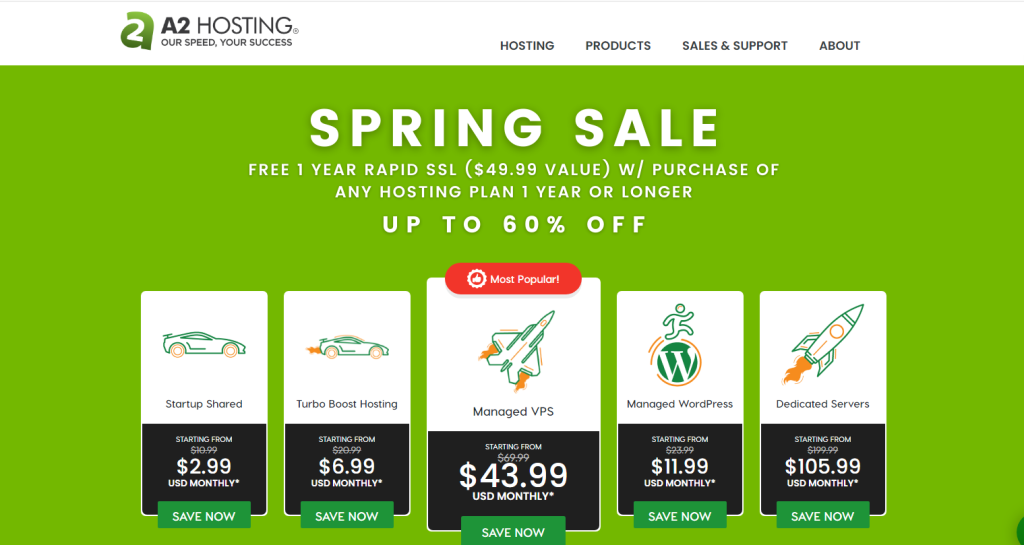 A famous hosting company that offers impressive uptime, great support, and speed, it is a main developer-friendly hosting provider that offers limitless adjustments and multiple features. It provides the industry's leading anytime money-back guarantee so that you can host your website without any risk. It is also famous because of its ultra-fast and authentic web hosting.
Pricing Summary of A2 Hosting
There are 5 types of web hosting services that A2 Hosting offers:
Shared web hosting: $2.99 – $14.99 per month
WordPress hosting: $2.99 – $14.99 per month.
VPS hosting: $5 – $40.91 per month.
Reseller hosting: $13.19 – $40.91 per month.
Dedicated server hosting: $99.59 – $290.49 per month.
Pros of A2 Hosting
Developer-friendly as it supports a large number of frameworks, languages and technologies.
Excellent speed and Uptime.
Cons of A2 Hosting
Not as beginner-friendly as some competitors.
It costs more than other competitors.
InMotion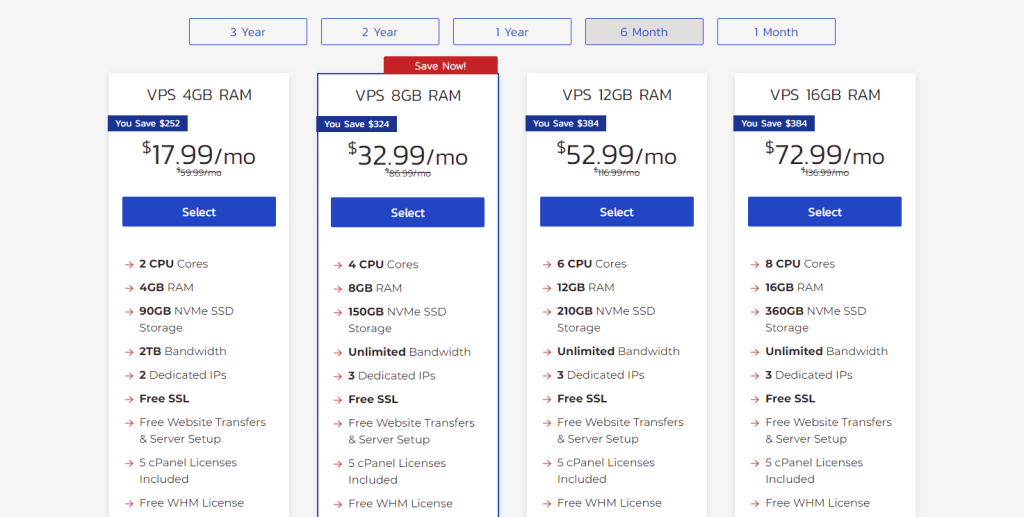 InMotion Hosting is a long-running web host with many packages, but its relatively poor performance makes its higher prices hard to swallow. It offers very generous hosting packages, but you should take care of paying extra for automated backup and purchase a domain for the Core plan. The plans do not hold the same value as they offer an incredible number of resources for a reasonable price.
InMotion Pricing
InMotion provides four types of plans in which you can choose the best suitable plan for yourself. It offers various kinds of web hosting services.
Shared web hosting
WordPress hosting
VPS hosting
Reseller hosting
Dedicated server hosting
Levels of Shared Hosting Plans
Core: $2.99 per month
Launch: $4.99 per month
Power: $4.99 per month
Pro: $12.99 per month
Pros of InMotion
Free Domain
1-click WordPress installation
Free SSL Certificate with WAF
Free website migration
Easy Staging Tools
90-day money-back guarantee
Cons of InMotion
Servers are located in the US only
Automated backups are an extra charge
Higher than average prices
No monthly subscription
WPEngine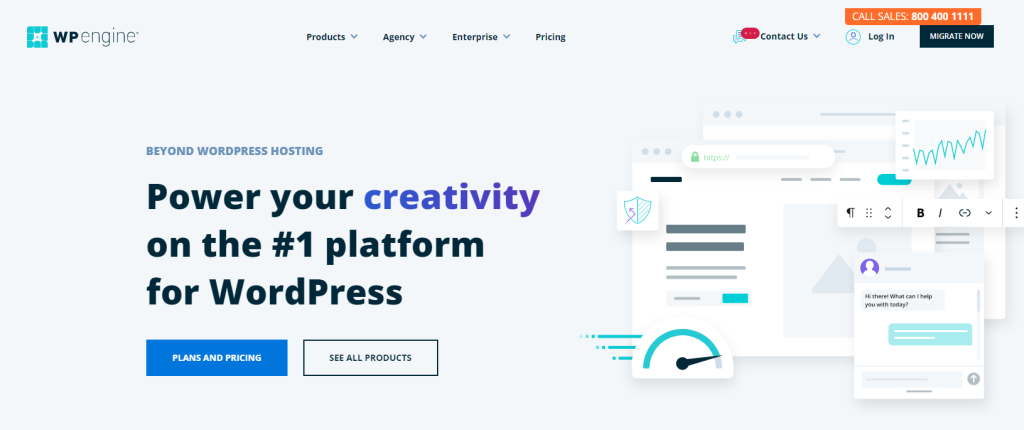 WPEngine is the WordPress Digital Experience Platform that provides all sizes of sharpness, performance, intelligence and merging to support the companies. It offers these to every individual, small and large business, and drives their business fast forward. Yet, it is a combination of tech transformation and a team of WordPress experts. More than 120,000 customers trust WPEngine across 150 different countries.
Pros of WPEngine
There are critical pros of WP Engine you should be aware of:
WordPress specific support
Stable and fast servers
Free CDN, SSL and multiple themes
Automatic site backup
Cons of WPEngine
The most crucial cons of WP Engine are given below:
Relatively expensive
No support for email
Some limits on plugins
Features of WPEngine
All the hosting plans include the following features:
35+ Studio themes
24/7 chat support
Genesis Framework
Transferable sites
Global CDN
Dev, Stage, Prod environments
Automated SSL Certificate
Bottom Line
Hosting providers offer various types of web hosting which include shared hosting, WordPress Hosting, Cloud Hosting, and VPS Hosting. You only have to choose which will suit you after evaluation uptime, site speed, and support. When your site traffic grows, you should need a hosting provider. The hosting provider will help you in scaling your site. Whenever you want to switch the web hosting in this process, this guide will be helpful.