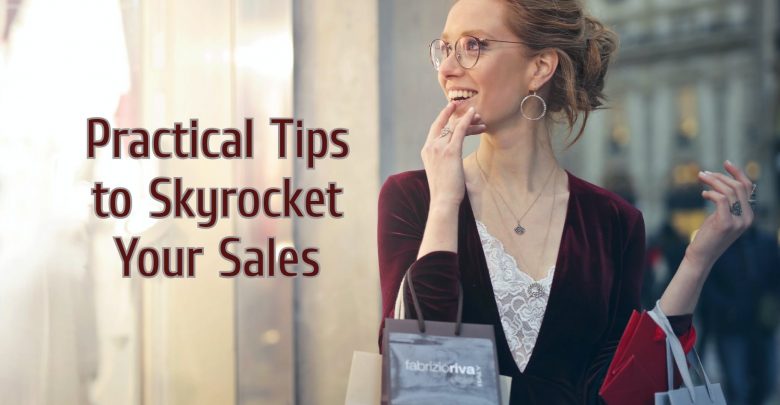 While a strong and loyal sales team can make a huge difference in your sales performance, you don't want to ignore the ways how you can boost your sales and grow your customer base. There is not a single definitive way to secure more sales for your small business or a giant company, but there are different strategies to increase sales both online and offline. The way you generate sales for your business depends on a lot of factors like the nature of your business, industry, your location, and, most importantly, target customers.
In this article, we have some practical tips and ideas you can use to skyrocket your sales to make your business grow effectively.
Sell To Customer Needs
People buy what they need. For that reason, make sure that your product or service is the best fit for customers' needs and requirements. Highlight the features and benefits of your service or product in a way that reduces customer costs and helps them solve their problems efficiently. Be creative in sales and marketing efforts to convince potential customers to make purchases from your business or company. You should also carefully choose a target audience and reach them by using appropriate marketing tactics to convert them into invaluable and repeat customers. You may try voice of customer software to help determine your customer or prospect customers' needs. It uses AI to analyze calls or conversations with the customers and generate insights on their questions, concerns, and feedback. This way, you'll know what your customer wants, what your sales team needs to do, and what improvements your product needs.
Focus On The Existing Customers
Retaining old customers is always cheaper than making new customers. That is the reason, focusing on the existing customers is the best way to boost sales for your business. According to the experts, the best prospects are those you have already converted into valuable customers rather than convincing strangers. So, work on customer retention strategies like a customer loyalty program and sales incentives to get them to visit your outlet again and again for more sales. Using a reliable loyalty program software can help you build and manage a great customer loyalty program to increase sales while giving incentives and rewards to your customers on purchases. When you can focus on existing and proven customers, you can incredibly boost your sales without spending a lot of business money.
Be Social
In this digital world, there are so many ways to get your products or services in front of the target customers that you must take advantage of social media. The best part of the latest marketing channels and platforms is that they are free to use and can help you promote your business and products effectively to secure more sales. Social media sites like Facebook, Instagram, and Twitter are totally free and can provide you with more opportunities to reach the target audience. You can build strong and reliable relationships with your customers by using social media sites. Social media is an ideal marketing channel for both business owners and marketers as it provides more access to qualified leads and sales. Social media marketing is more cost-effective than traditional marketing methods. 
Invest in Trending Marketing Techniques
Marketing is a definitive way to get your products or services in front of your target audience and to convince them to purchase more. Effective marketing is the only way to grab the attention of prospects and to convert them into valuable customers. In this digital world, building a strong online presence is one of the best ways to boost your sales as more and more people use their internet-connected devices when they need to buy something. Digital marketing helps you reach your target customers on their mobile devices so you can accomplish your sales goals effectively. Best and latest marketing tactics may include social media marketing, running social media contests, rewarding existing customers via loyalty programs, and providing your customers with informative and problem-solving content to become an authority in the industry.
Build a Better Customer Service Approach
Providing your potential and existing customers with excellent services are one of the best tips to skyrocket your sales. When customers feel valued, they are more likely to purchase from your business. Offering exceptional customer services is the best way to give your potential and existing clients 24/7 access to what you offer. It also helps you monitor complaints in real-time and resolve customer queries as soon as possible to make them feel valued and welcomes always.
Provide as Many Payment Options as Possible
As customers have more options and choices than before, you should also provide them with more options in terms of how they can pay for goods purchased from your company or business. In this era of digital currency and digital wallets, not everyone prefers to make payments via cash. For this reason, you should provide your customers with more payment options to stand out from your competitors. By offering more payment options like PayPal, Google Pay, and Apple Pay, you make it easier for them to pay for stuff purchased from you. Whether you are running an online store or a physical business outlet, make sure to provide your customers with more than one payment option as it can help you boost sales by offering customers with payment convenience.