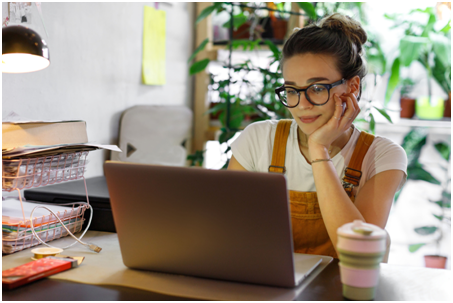 Phishing is a common form of cyberattack that criminals can easily carry out. This type of attack can also provide all the information hackers need to hack into their targets' accounts. Phishing Scam is carried out via email, although it has spread to other mediums such as phone calls and app notifications.
You are tricked and be guided as the scammer desires
Phishing is another popular way for attackers to deliver malware. They encourage victims to download documents or click on links that will secretly install spyware or malware that could include Trojans, Ransomware, and other disruptive files. These frauds can be both aimed at specific individuals/groups.
For example, one morning, you see an email including a link. If you click on the link, you will get a chance to date your favourite porn star. You could win sure prizes. Now, you could not resist clicking on the link. It is very lucrative. You register your number, address, and mail id. On the next day, you find a deduction of $500 from your account. It is estimated that an average of 1.41 million websites is created each month to defraud people.
It is your data at risk, so be careful
A complex Phishing Scam may be more difficult and take a lot of work. Hackers use fake social media profiles, email addresses, and other methods to establish relationships with victims over many months or even years. It is especially true when targeted individuals are being targeted for data they will only give to trusted people. For example, a cryptocurrency investor will only share his data with someone very close to him. This kind of relationship does not build in weeks, even months. The scammers will wait until they do not get your trust. This data could include personal/corporate email addresses and passwords, date of birth, credit card details, online banking credentials, etc.
Fraudsters can use all that information to commit malware such as identity theft, using stolen data for buying things, selling private information to the dark web. Sometimes it is done to blackmail the victim. Even your close friend could hire a scammer to defraud you. Whom would you trust? Anyone can be a victim. Despite its ultimate goal, phishing is a fraud that entails tricking victims into giving up their data and access to systems. Users are misled into believing they are dealing directly with someone they trust.
It is what scammers are trying to exploit
In basic Phishing Scam, fraudsters attempt to trick users into providing personal information. As we have mentioned in the beginning, email is the most popular method for performing these attacks. Symantec researchers have found that nearly one in 2,000 emails are phishing emails, which means that around 135,000,000 phishing attempts are made daily. Can you imagine what we are talking about here? Can you imagine how risky it could be to click on a suspicious link? You stay in New York, and someone uses your credit card to buy 10000 $ jewellery in Paris.
Similar tactics are used in frauds where attackers claim they are from a bank or online shop attempting to verify details. Sometimes attackers will even claim that they are from tech security companies. Other frauds are more sophisticated and targeted at business users. These attackers may act as someone within an organization. A common tactic is to send a Microsoft Office document. The document contains a message to trick potential victims. To achieve their goals, attackers will often resort to high-profile events.
Through several lucrative means, fraudsters will attract your attention. Many people do not have time to read every message in their inbox. It will allow them to grab the attention with their email subject line. Malware campaigns often offer prizes in fake competitions, such as lotteries/contests provided by retailers. To claim the reward, victims will need to provide their details.
The use of email address
An address ending in "@ Gmail dot com" will not be used by legitimate organizations. If you have won a lottery worth 50,000$. If it is true, only a big company/financial organization can afford it to give you. A legitimate company will send you an email from its domain. Except for small businesses, most organizations will have their email domains and company accounts. Even a nominal adult dating site has a domain. It will not use "@ Gmail dot com" to send you lucrative deals.
The use of domain spelling
Another clue is hidden in domain names. It is a strong indicator of phishing fraud. Anyone can purchase a domain name through a legal registrar. For example, you got an email from "@ Mercedesbenz dot com," claiming that you have won a car. You click the link and register with personal details. You were so unlucky that you did not see the domain name. The original domain name would be "@Mercedes-Benz dot com." At least it is what Google shows when you search for Mercedes Benz cars.
A poorly written email is a sign
Have you ever written an email to one of your close, casual friends informing that you are sick? Have you ever written an email to your boss telling them that you are ill and want to leave? Can you guess the difference of format between emailing your friend and your boss? Poor spelling and grammar are often indicators in which cybercriminals target only the most stupid. It is believed that if you ignore the message's format, you are less likely to detect clues in the scammer's scheme. It is easy to see Phishing Scam, but criminals have many tricks up their sleeves.
Conclusion Many frauds ask you to act quickly, or it will be too late. It is evident in all of the examples we have seen. PayPal, Windows, and Netflix offer services that are frequently used. Any problems with these accounts can cause immediate inconveniences. Organizations must ensure that staff are aware of the dangers of Phishing scams and provide ongoing training. Your team will only develop good habits and recognize malicious messages if you reinforce avoiding scams. We strongly recommend contacting ReportScamOnline if you have been a victim of a phishing scam.