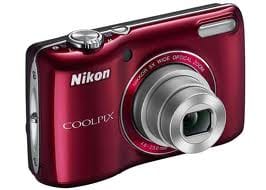 When decided to buy a camera, the first choice of many individuals is Nikon Camera. Universally Nikon is loved by majority of people. Quality is the first thing that makes Nikon incomparable with any other brand. Never mind, you are a novice or a proficient photographer, it gives a great feel to own Nikon. Since many years, Nikon is the leader in the market of cameras. Many new technologies are introduced by Nikon then and there, which is one of the main reasons for its success.
Many people who use other cameras have a common complaint that doesn't get a clear picture. In spite of investing huge money, they are not able to shoot picture according to their satisfaction. Even if you shake a little, you are sure to come out with a bad photograph.
This is the main reason why many people prefer to buy Nikon camera. Even if you shake, it doesn't' matter; your photograph will be excellent and clear. Pictures taken with Nikon will definitely earn the appreciation of onlookers. The D series cameras are quite popular. The exact picture that you shoot with D- series can be viewed. High resolutions are found in many models of Nikon.
Nikon Camera – A Matchless Invention
In 90's it is the SLR cameras of Nikon that were used by many people. Even with people who use high end cameras, you can still find SLR cameras. New view screen is its specialty. There are some cameras which can be used by both beginners and professional photographers. The D-series is one such camera that can be used by any type of photographers.
D3100 is one of the most sold cameras. D90 also comes in the same list. 14.2 megapixel camera features of D3100 series makes its attractive to photo lovers. It also has 3.0" LCD monitors with image sensor cleaning option. The guide mode feature is an added advantage in D3100. The D90-series comes with 12.9 megapixel camera. Face detection feature makes it very special. It also has 3D tracking system. In most of the Nikon cameras you can find the feature of image sensor cleaning. Sensor dust buster feature helps the camera to stay away from harm that is caused by dust.
With the support of vibration, the dust is removed from the filter, which is a really appreciative feature. As mostly dust is the cause of damage to cameras, many people show interest to buy this type of camera. The S50C series of Nikon is known for its 3" view screen with the help of which shooting photos had been made easy. Each model introduced by Nikon is definitely an improved version of its previous model. Whether it is capturing the special occasion or recording, Nikon is the best choice.