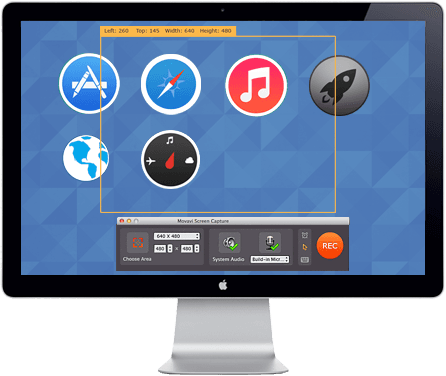 Screen capturing has come closer to achieving perfection, although it is truly hard to achieve these days. Mac screen recorder produced by Movavi offers almost a majority of options and features offered by most of its competitors. Movavi delivers you the best irrespective of whether you're looking forward to capturing video clips, video games, color values, and images. Out of all screen capture software, it dominates the field by capturing every single item or image. In a dynamic industry, Movavi shows you the largest number of support and help options besides it efficient editing capacity. Above all things, it's pretty much easy to use.
Capture
The website image capture that comes with this product is unique and allows you to edit text and images pretty easily. Individual image files will be created out of the images of any website just as you type its URL. Custom profiles are created with the help of its screen capturing program; these profiles help you save the captured screen by following an easy-to-use wizard.
Capture keyboard mouse actions
While recording the videos, the keyboard controls need to be demonstrated
A variety of colors are there to highlight the cursor.
Capture any audio source
Use audio headsets
Microphones
Sound effects of programs
Adjust your frame rate
Videos worth up to 60 fps can be recorded
The recording area can be chosen by you
Videos can be made out of full-screen or partial captures
A wide variety of media formats like AVI or MP4 can be used to convert videos
Ease of Use
A lot of things can be captured using the screen recorder like streaming video, Skype calls or video formats.
The software offered by Movavi to help you record screen for mac is truly quite simple to use. You'll need to follow 3 easy steps to develop the screencast that looks professional –
Assign parameters for screen recording
Capture the screencast
Choose a simple format to save your video
Features
Various sources can be used to capture audio
Both mouse and keyboard can be captured
60 fps or less of screen is captured through Mac
Specific parts or whole of windows can be captured
Use hotkeys to manage the process of capturing
Help & Support
Movavi is here to serve the needs of its partners, press members, analysts, and prospective customers. Depending on your specific situation, you ought to use the contact information specified on their website.
Summary
Movavi offers the Mac screen recorder software that provides several screen capture methods for Mac. For customizing items, it uses filters very effectively. Items once captured can be passed through a variety of options. It uses filters in terms of size, color and edge. This software gives you an opportunity to assign capturing parameters, capture entire pages, and unrestricted length to cover for viewing pages. You may use a freehand tool to trace what you actually want to capture.