SEO
Long-Form & Short Form Content – Things to Make it Work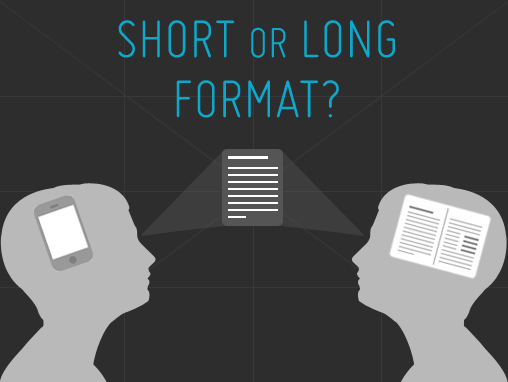 When attempting to market your website, content plays an important role in your SEO marketing strategies. But there is a constant debate about the content size and whether you should opt for a long or short form of content. It is indeed a challenge to bridge the difference and strike a perfect balance.
Thankfully, there is a way out to solve this confusion by understanding what long content really implies and how it affects your marketing plan. It is best to have a mix of both long and short forms of content on your website. But before you attempt to balance both, care needs to be taken that you understand both these concepts and the advantages it caters to. So let us know in detail about both these approaches.
Short Form Content
Blog posts under 1000 words fall under the category of a short form of content. In fact, social media content and infographics are also considered to be short content. In fact, short contents are extremely effective when it comes to social media marketing. Short-form contents have facts mentioned but they don't focus on too much in-depth knowledge.
Short contents are extremely useful because they help viewers get answers to their specific questions without having to read excessive information. The content is a lot more focused and specific to the thoughts of readers. In fact, this content is easy to share on social media as well which helps further in marketing your brand. It enhances the experience of readers because they can easily scan for the information they have been looking for.
Long Form Content
SEO marketers are of the opinion that long-form contents have tremendous SEO benefits and how improves search rankings for your website. Readers benefit a lot in the case of long-form content because they get detailed information that helps them increase their knowledge base. Going by statistics, content with 1700 words is considered to be long-form content. These contents are a great way to attract the attention of potential readers. Long-form contents are a great way to increase the credibility and value of the website. The higher the word count, the greater will be the ability to cross-link the entire content with authority links. In fact cross-linking is a great way to increase website traffic and improve website visibility. You get to receive detail-oriented researched content. The approach is storytelling and information-based.
So make sure you understand both these concepts very well and strike a perfect balance between them to get effective results.