Software
Joyoshare UltFix- The Best iPhone Recovery Tool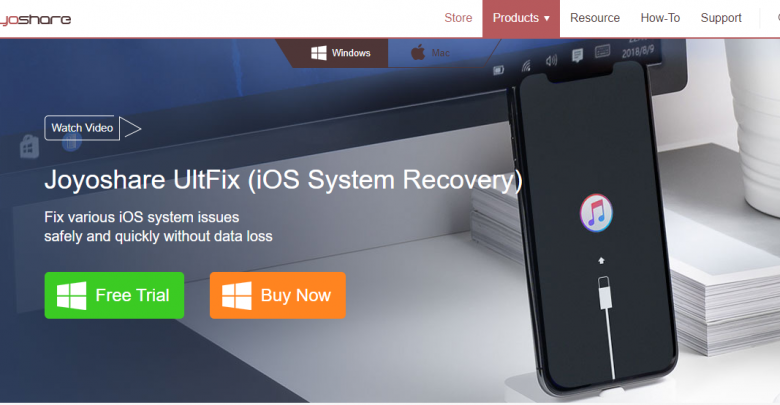 What to do when your iPhone or iPad is not responding, stuck in recovery mode, frozen, not installing updates, showing black screen, or keeps restarting?
A professional and best quality iOS repair tool can bring your Apple device back to the normal and Joyoshare UltFix is known as one of the best iPhone system recovery software that can resolve dozens of problems in moments. The multi-talented team of Joyoshare has designed and launched this iPhone System Recovery Software named Ultfix for Windows, that all iOS users can use to get rid of the problems with their devices.
It is developed with advanced system recovery technology that makes it easier to recover any Apple device and to protect it from several common and unwanted issues like iTunes disabled, device not charging, failed to install updates, and so on. Ultfix is a superb iOS repair specialist in the market that can easily be installed on the Windows operating system to get all the iPhone related issues resolved quickly. If you want a more powerful alternative that has a higher success rate, then StarzSoft Fixcon will be a recommended option, this software can fix any iPhone system issues without data loss!
More about Joyoshare UltFix
It is an excellent iOS repair solution that can fix more than 30 issues associated with different Apple devices like iPhone, iPad, Apple TV, and iPod, etc. just in 3 simple steps. It comes with 2 different standard and advanced modes to fix Apple device-related issues.
The Standard Mode of Joyoshare UltFix covers all the basic iOS issues like device won't turn on, stuck in recovery mode, hanged, failed to update, not connecting to iTunes and black screen, etc. The standard mode can help you fix any of the above-mentioned problems without losing important data stored on the device.
Its advanced mode can come in handy to deal with some complicated snags like when a device is stuck on the boot loop, or when you want to remove the passcode lock. However, the use of advanced mode will remove all your data stored on the device. That is the reason, experts suggest the standard mode of UltFix to get rid of the common iPhone related problems without compromising user data.
When using this recovery software, you are pretty sure and aware of what you are going to perform with it as its user interface is very simple, easy to use and informative as well. A user is provided with plenty of information and guidance about the steps he/she is going to take with it while recovering an iPhone or iPad.
How to Use
1: First of all, you need to download (from their official website), install, and run Joyoshare UltFix on Windows operating system and connect an infected iOS device to the software. Then you need to hit the 'Start' button displayed on the screen to start the recovery process.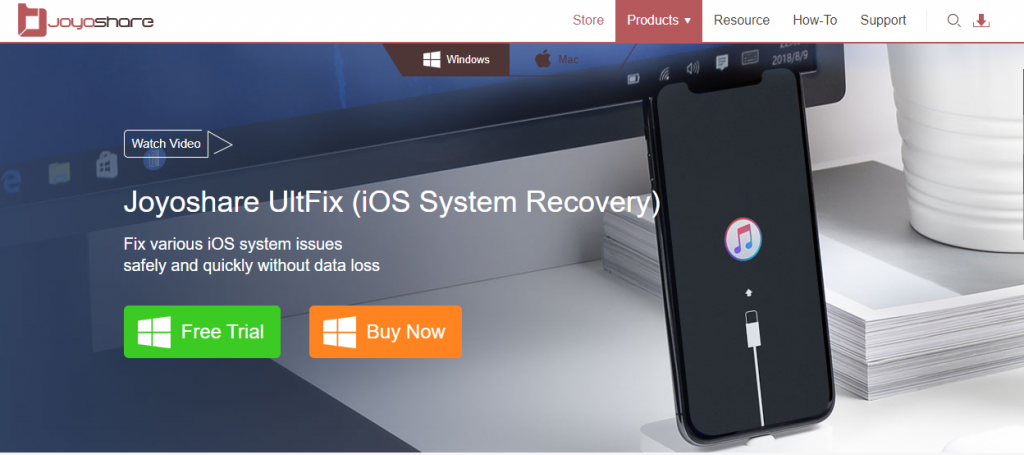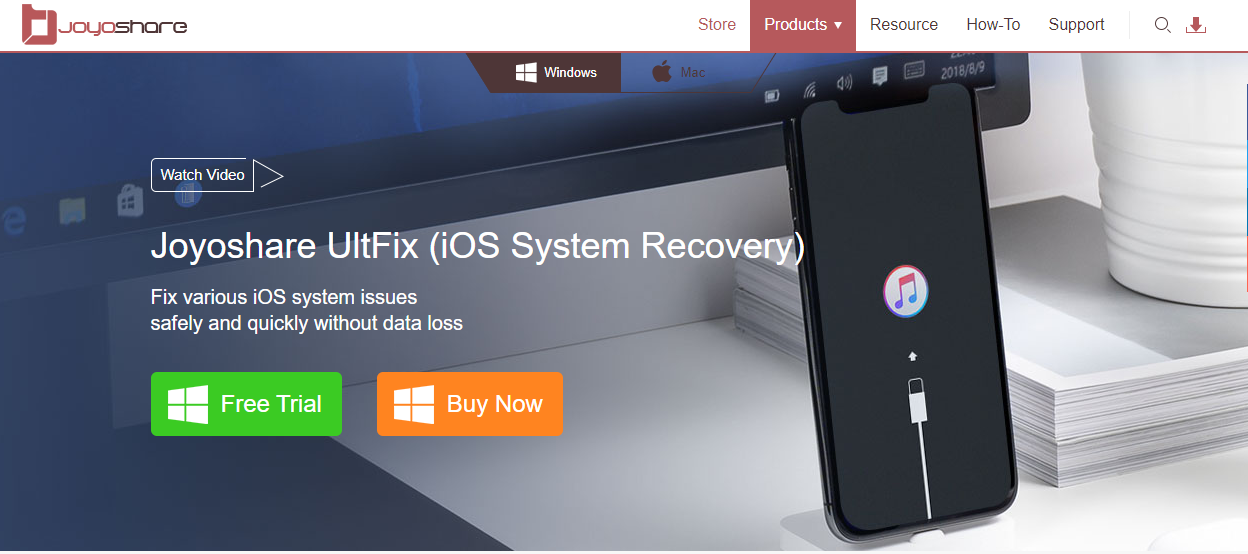 2: Once the device is successfully connected, you must choose a recovery mode from both Standard and Advanced to get the issue resolved. As it is mentioned above, the standard mode should be used for common issues like black screen, the device won't turn on, or the device is not charging, etc. If there is a critical problem with your iPhone, you should go with Advanced mode as it will remove all the data stored on your iPhone or iPad.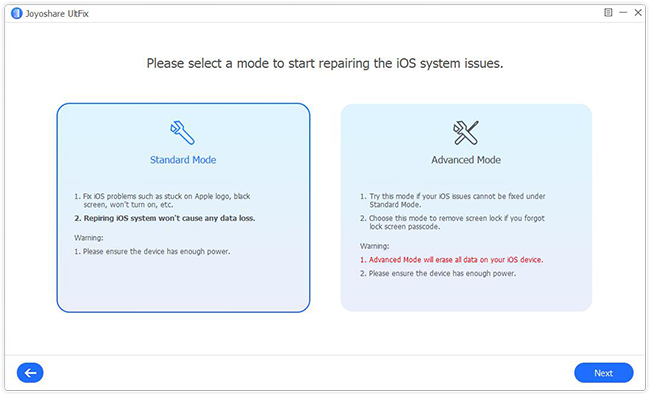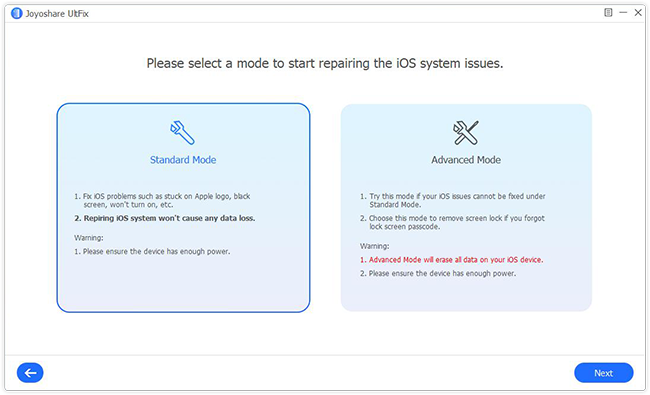 3: At this step, the software will find the issue and download the apt firmware package for the connected device. So, just confirm your iOS device on this screen and hit the Next button to download the required firmware package. It usually takes a while to download so be patient while it is downloading.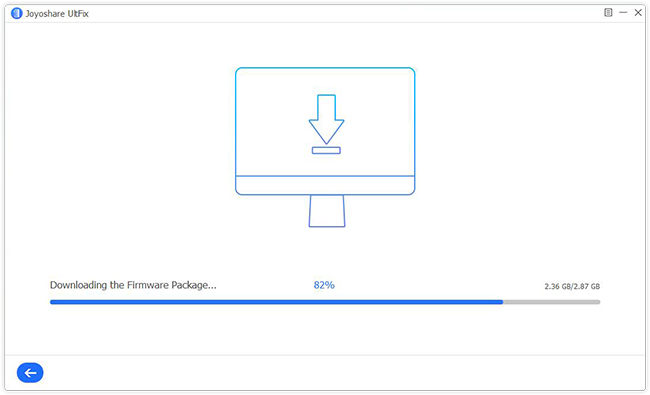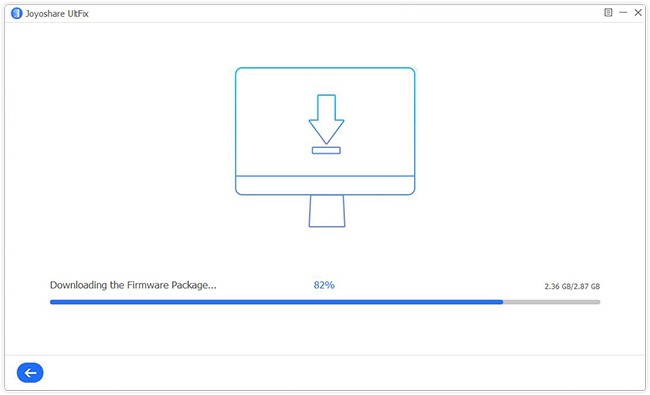 4: Once the required package is downloaded, you are all set to repairing your iOS devices. Hit the repair button and the repairing system will be started.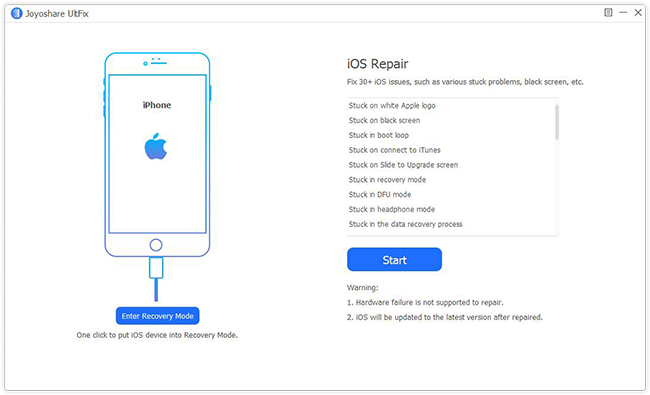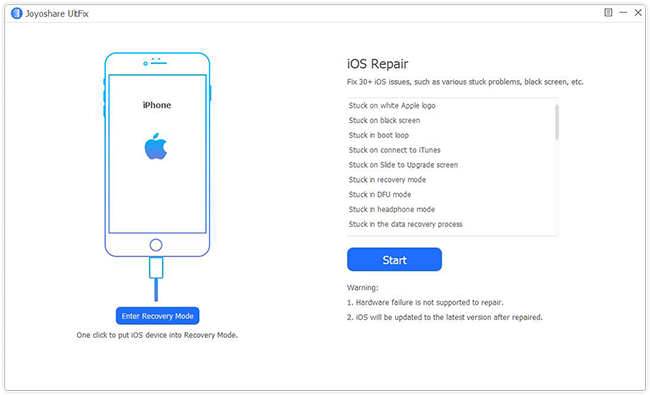 Make sure not to disconnect the device while it is fixing the problems.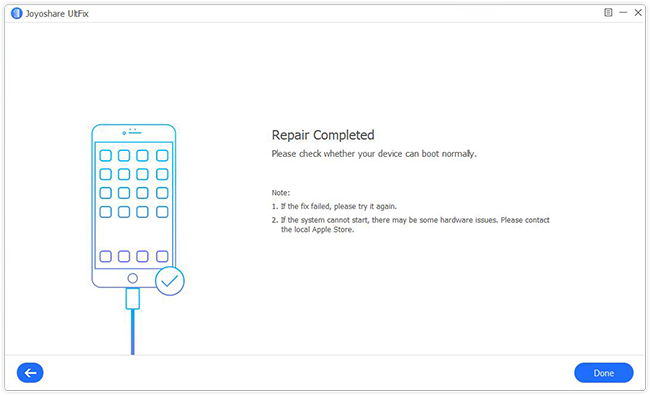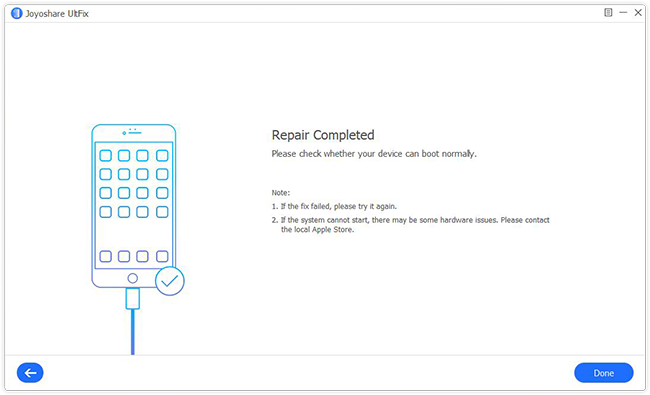 Features of Joyoshare UltFix
No Registration Required
No matter you are a registered iOS user or not, you can easily enter into the system recovery process with this software for free. No registration or additional steps are required to use this iPhone System Recovery software so you may quickly get your device fixed within moments.
More than a Dozen Issues Addressed
It is an all in one recovery solution for Apple devices as it is developed to address dozens of problems associated with iOS systems. Whether your device is showing a white Apple logo, black screen, iPhone keeps restarting, Not connecting to iTunes, stuck in DFU mode, or red screen, Joyoshare UltFix would be the best match for you.
Easy to Use
It comes with a simple, easy to use and engaging user interface which means there is no need for technical skills and software operating to know how to use it. Users are guided with sufficient information and details on every step to make the process easier.
Safe and Secure
Joyoshare UltFix iPhone recovery software also makes sure that all the data stored on your devices isn't lost while using the software with standard mode. However, the advanced mode automatically tells the users that their data will be removed so they can choose what sounds good to them.