SEO
Improve Your SEO Skills By Mastering Excel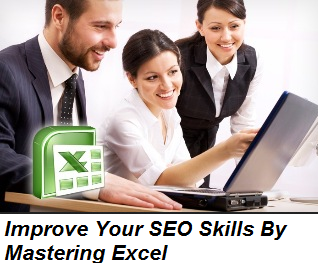 When you specialise in Search Engine Optimisation (SEO), there are many tools that you can use to help you to master your profession and Excel is one of them. It providesyou with every data analysis tool that one could ever need and learning about Excel and how to use it effectively is vital as a professional optimiser. The great thing about using Excel is that it will do a lot of the hard work for you, leaving you to focus on all of the funbits.
So, what do you do if you don't know much about Excel?
Learning about Excel is important and can be done by attending specialist Excel training courses. You can learn how to utilise Excel for SEO purposes during these courses and they will cover everything you need to know in order to master using Excel in your everyday work. If you find that you are spending far too long processing data, it's time to master your Excel skills by attending a course.
What Will I Learn?
Here are some of the things that you can learn about on a specialist Excel course:
SEO tools
Excel resources
How to manage errors and mistakes
How to manage tables of data
How to fill in days, amounts, times and dates
Learn shortcuts to save time
How to work with URL strings
Learn about how to manage text
Knowing how to use tools like Excel will help you to work faster and more effectively and attending a course is a far easier, quicker and more efficient way to learn than trying to teach yourself using online tutorials.
What are the Benefits?
SEO is something that is always evolving and changing, yet one constant remains and that is how you can manage data effectively using Excel. As someone who uses data all the time, it is vital that you can manage it and as Excel provides you with a base from which to put all of the information that you need such as facts and figures, dates and amounts – there is no better tool to master.
Getting good at Excel is a skill that you'll value irrespective of whether you're using it for SEO or something else. Among the top uses of Excel in the workplace are: accounting, graphing, data organisation, calculating, and managing office operations.
Training Sessions
Finding a company that will train you on how to master Excel can be done by doing an online search.
You will need to do the following:
Find a company that will provide you with an air conditioned learning environment
Look for training sessions that are hosted by highly skilled trainers
Read online reviews to see what other people think of the company
It is important to find a training company that comes highly recommended and you will find that some companies will provide the option to have on-site training at your place of business if you want to organise a training session for employees rather than yourself.
As an SEO expert, you will need to be able to utilise tools like Excel in order to master your profession and going on a training course is the best way to ensure you know everything you need to know.